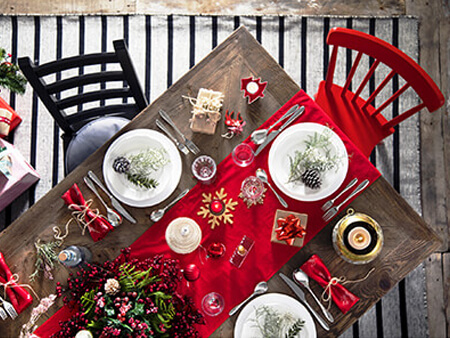 Popular Danish Holiday Foods
---
By Eric Olesen
Sunday, November 22, 2020
Just like every true Dane, we love Christmas time for the festivities it brings, the chance to get together with family and friends and, of course, to eat delicious and popular Danish holiday foods. While Christmas in Denmark has a unique sense of magical wonder, especially if you're lucky enough for it to snow in December, we love that there are so many Christmas traditions from Denmark that you can easily recreate anywhere in the world. What's even better is when you pair these traditions with a yummy all-day feast of Danish Christmas food to have a hygge-filled holiday celebration you'll always remember.
Danish Breakfast Foods
Danes take their food seriously, and on a typical morning, they consider breakfast the most important meal of the day. They love to savor the flavor and experience of a wholesome meal which usually consists of cereals or oats along with a delicious cup of freshly brewed coffee. However, if a special occasion calls for it, then you can see them sitting down with aebleskiver, the Danish version of a pancake. These soft and fluffy pancake balls taste divine with lingonberries, powdered sugar, and other accompaniments.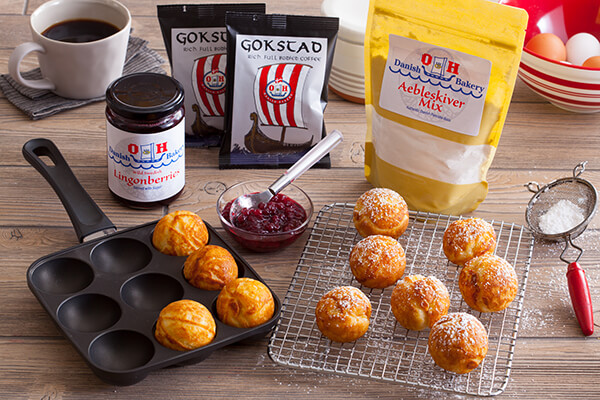 If you want a Danish kickstart to your Christmas morning, grab our Aebleskiver mix to whip up fresh for your family or our Christmas Morning Danish Style package featuring decadent Kringles and Seven Sisters Coffee Cake. When you have a crowd to feed, our Scandinavian Breakfast Buffet which includes Kringles, a Danish Crown Cake, Apple Cinnamon Coffee Cake, and Gokstad coffee will kick your Christmas morning off to a relaxed and satisfying start.
Danish Christmas Lunch
Julefrokost is a traditional Danish Christmas lunch (or all-day party) that involves plenty of food and drinks. The lunchtime feast typically includes a juicy Flæskesteg with crispy skin, the Danish version of roast pork, and smørrebrød with a selection of goodies such as fish, potatoes or leverpostej. Other yummy foods you can find at Julefrokrost are marinated herring, shrimps, smoked salmon, and deep-fried plaice filet with remoulade on rugbrød (Danish whole grain bread). And if none of that sounds like your cup of tea, then just do what we do and eat dessert FIRST with our Christmas Danish Layer Cake!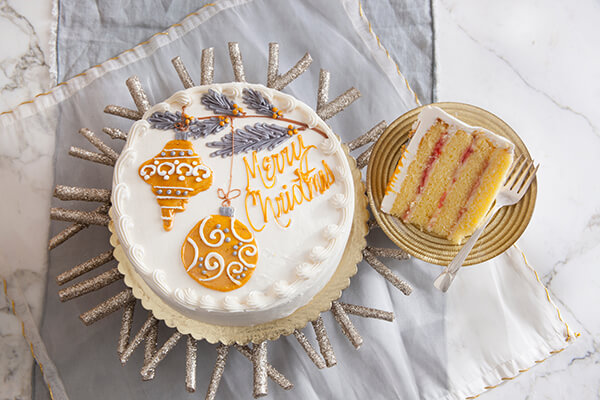 Danish Christmas Dinner
A Danish Christmas dinner is usually celebrated the day before on Christmas Eve with a satisfying feast that leaves you sleepy and content. You will find that festive decorations and candles set the scene for a warm and inviting gathering, and if it's not pork that is presented for the main course, then most Danes will cook up a delicious roast duck. Inspired by German and French Yuletide traditions, Danish farmers started breeding and selling the birds in the 1800s to prepare for the holiday season. While meat is the centerpiece of Christmas dinner, the Danes keep the rest of the feast simple with boiled or caramelized potatoes, sauteed red cabbage, and sweet beetroot or cranberry sauce. Be sure to sneak a slice of our Nordic Noel Kringle before dinner!
Danish Christmas Desserts
Regardless of how you feel about the dinner options, Danish Christmas desserts are unlikely to disappoint. Risalamande is a special rice pudding dish served cold. Made up of milk, rice, vanilla, almonds, and whipped cream and sometimes cherries, the joy of eating this dessert is the flavorful taste and the excitement of finding a whole almond, or Mandelgave so that you can win a present. Just be sure not to tell everyone else - keep them on the lookout! We've even created our ode to Risalamande with our A Very Danish Christmas Kringle which is layered with our scratch made almond and cherry filling.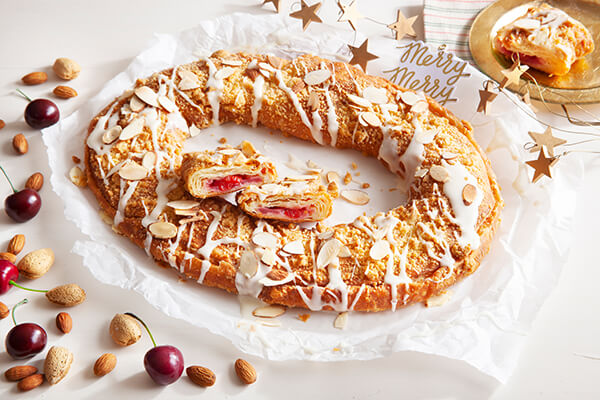 Risalamande is the standout dessert for a Danish Christmas, yet the season is full of other sweet treats including Klejener - a deep-fried, bow-shaped dough, and Vaniljekranse and Jødekage cookies. We delight in sharing our heritage with our customers, and you can find a selection of yummy desserts from our bakery that will go perfectly with your Danish Christmas celebration. You can enjoy the sweet taste of our coffee, layer, and crown cakes or the satisfying crunch of a flaky Kringle bursting with Christmas flavor.
Order Your Favorite Holiday Danish Food Online from O&H Danish Bakery
Planning your holiday menu is part of the excitement leading up to Christmas, and when it comes to an authentic Danish dessert, our pastries, cakes and cookies hit the mark. You can readily order a crowd-pleasing sweet treat online or reach out to us with any questions, and our staff will happily assist you in finding the perfect dessert for your holiday feast.