Looking for an easy and memorable gift? Try Kringle!
We know the importance of making a good impression. That's why we do our best to make business gifting easy, no hassle and memorable for your giftees. Here is our promise to you:
A dedicated staff to take the burden off you to help ensure your gift is sent to the right people at the right time, no matter how small or big a list you have
We will work along side you to ensure that you and your company are presented in only the best fashion
Our family guarantee is to ensure that you and your giftees are happy down to the very last slice
Ordering Guidelines: How it works
We try to make submitting your list easy and we are always here to help!
We recommend you send us your list in spreadsheet format, so feel free to try our easy to use order form. This will help us process your order faster and more reliably. If you cannot send via spreadsheet, no big deal, we will work with you to get it right.
What to include with your list:
Your contact information (Name, Address, Phone Number, eMail Address)
Requested Ship date
Items you wish to ship
Payment method (Master Card, Visa, American Express and Discover)
Note: The email address you provide will receive confirmation of shipments with tracking numbers the day after your order ships
Download the O&H Danish Bakery Order Form (Spreadsheet for large orders)
How you can send it to us:
Email your list using our Customer Service page (use the "paper clip" to attach your list)
Fax it to: 262-631-5395
Mail the list to: O&H Danish Bakery, 5910 Washington Avenue, Racine, WI 53406
Inserts - Looking to add a personal or business holiday card:
We can include your card free of charge
Cannot be larger than a normal piece of paper (8.5 X 11)
Mail the inserts to: O&H Danish Bakery, 5910 Washington Avenue, Racine, WI 53406
We must have the inserts 10 Days before your order is set to ship
Please help us out:
We are a team, so we rely on you to please check and ensure the addresses are correct and your list have been proofed for any typos and errors. That way we get your gift to exactly the right person at the right place.
Even so, sometimes no matter how diligent you are about sending your list error free and up-to-date, people move or are not where you expect them to be. If you supply an address that proves to be non-current, we handle the return, call you immediately, set up a new order and give you a discount on the reshipment. Teamwork!
Meet your expert customer service team!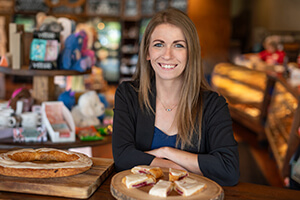 Cassie has been with the O&H Danish Bakery mail order team since 2017 An expert in pairs, she recently has expanded her family with twin girls, making life a little busy for her She is happy to help you with your order and share what pairs go together well or discussing the joys that come with double the kids. Her favorite Kringle is the sweet Raspberry Kringle that pairs perfectly with our Pecan Kringle.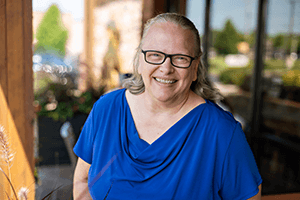 Cynthia has been with O&H Danish Bakery mail order team since 2015. A true aficionado of things artisan and handmade, she is known for her many homemade crafts. She also loves a challenge for her green thumb, which provides many "farm to table" dishes for our team. It's probably no wonder then why her favorite Kringle is the Wild Blueberry Kringle.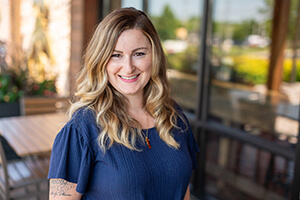 Britney has been with O&H Danish Bakery mail order team since 2021. An adventurer by heart, she enjoys camping and lake trips with her family throughout Wisconsin and has a love of all farm animals (especially cows!). It probably then makes sense that her favorite Kringle is the Wisconsin Kringle, made with our silky smooth cream cheese, fresh from the bog cranberries and famous Door County, Wisconsin cherries. Her adventurous spirit makes her one of our most avid taste testers and she'll be happy to share her other favorite flavors with you!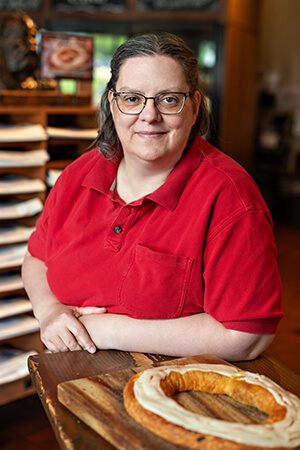 Lynn has been a valued part of the O&H Danish Bakery mail order team since 2018. An active member of a local renaissance fair, she doesn't play around with her selection of seasons and pastries. Fall is her favorite season, so it's no wonder the Cinnamon Kringle is one of her favorites! When she isn't acting a part, she loves to help people and enjoys brightening her coworkers' days by organizing potlucks and other fun events. That probably makes her the best person to ask about the bakery perfectly made for entertaining!
Discounts: Volume & Early Shipping
Our experience has shown us that gifts received early in December are fondly remembered. When the Kringle arrives in early December they are available to serve at upcoming office parties and gatherings for more to enjoy. The message you ask us to insert with the Kringle can even suggest that.
Year Round Pricing Discounts!
A 5% discount is offered for orders with product values totaling between $2,500.00 and $4,999.99.
A 10% discount is offered for orders with product values totaling $5,000.00 and over.
An additional 3% discount is available for orders over $2,500.00 that are prepaid by check and received before shipment. This offer is NOT valid for orders received between Friday, November 17th, 2023 through Monday, December 25th, 2023.
Shipping Costs are not subject to discounts.
***No discounts can be applied to Kringle by the case***
Early Shipping Discounts
An additional 5% discount is offered for orders totaling $250.00 and over if your order is shipped between Monday, December 4th, 2023 and Friday, December 8th, 2023.
To receive this additional discount your order must be received on or before Friday, November 17th, 2023.
Shipping Costs are not subject to discounts.
Some Customer Quotes:
"Love the combination of flavors and it's always presented so well. The packaging protects the product and looks great. My clients LOVE to get these as Christmas gifts. I have people fighting to get on my Christmas list!"
"I give these away for Christmas, always at least a WEEK before Christmas so that people are home. I am a professional Realtor and usually sell 20 to 30 homes annually. I sent out Kringles to this year's clients and potential clients and favorite past clients. Seems a little pricey BUT it is the BEST positive advertising that I can do as I am in a RELATIONSHIP based business and Kringles solidify the fact that I do appreciate my clients. Also the message section gives the opportunity to add a special message or thank you. I also send these to people that refer clients to me. Who doesn't love a Kringle?"
"We sent these to clients this year because we received one last year from a client. It is so delicious, and we have gotten only wonderful comments from our clients about how much they enjoyed. It is so nice that you order, and they can be shipped immediately. Thank you for such great service"