Danish Kringles: Wisconsin State Pastry & O&H Bakery Specialty
Monday, July 1, 2019 by Eric Olesen - 3rd generation owner
If you are interested in trying the official Wisconsin State Pastry, then be sure to visit us at O&H Danish Bakery, where for generations, we have been making traditional Kringles. In the 70 years we have been passionately baking in the Racine, Wisconsin community, our customers both here in Wisconsin and across the country have shared their favorite ingredients and flavors with us. Whether it's using local Wisconsin Cream Cheese or travelling to Maine to find the ripest wild blueberries, you're sure to be delighted with our artisan Danish Kringle.
Where Can I Find a Great Danish Kringle?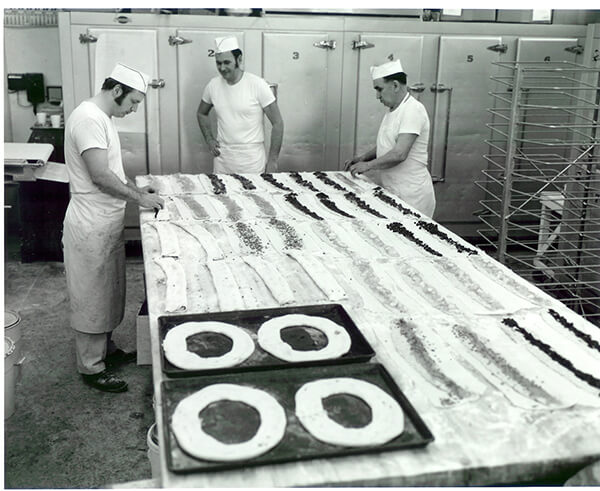 To get your hands on an incredible Kringle in Racine, come and visit us at O&H Danish Bakery. Not only do we promise to treat you like family, but we have five convenient bakery locations in Racine, Wisconsin: the first one is on Durand Avenue, another one is conveniently located just off of Washington Avenue. Our third location is on Douglas Street, and the fourth is in Sturtevant on South Sylvania Avenue. Our fifth location can be found just north of Racine, right off of I-94 and Ryan Road, on South 27th Street, in Oak Creek.
The Danish proverb states, "The Road to a Friend's House is never long.", so we always look forward to friends and family visiting us for a hot cup of coffee and one of our delicious scratch made pastries. With all these locations in Racine and with our focus on providing outstanding customer service, it's no wonder why the Danish Kringle has become a staple sweet treat in Wisconsin. It's also why Racine has become synonymous with the Danish Kringle over the generations since the Danes first came to the USA.
If you are just travelling though, then no worries! You can easily find our bakeries near many freeways and main roads. We absolutely love to share our passion for Kringle that has been passed down for four generations and we hope to spread a little bit of Kringle happiness to as many people as possible. Each Kringle we bake is still hand made using traditional methods that have been handed down over the years. Our Kringles are made by rolling butter into our homemade dough then letting the dough rest overnight; then we repeat the process continuously for three days straight to give you the excellent 36 layer pastry dough that we are so proud to share with the community. Once this dough is baked, it creates the rich, tender, flaky, and flavorful pastry that many of our Wisconsin family, friends and neighbors have come to love.
The History of O&H Bakery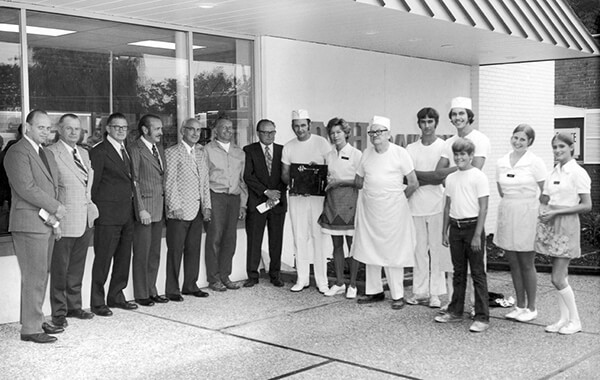 Our family belief is and has always been that "there is nothing quite as comforting as a slice of delicious Kringle and a cup of hot coffee". Our family, the Olesens, has been committed to baking excellent Kringles since 1949. O&H Danish Bakery was started initially in the late 1940s in Racine, Wisconsin, our hometown. To this day, we still use many of the original methods that our grandfather, Christian Olesen, came up with and passed down to his children and their children. We are now in our fourth generation of Kringle bakers and lovers, and we aim to continue honoring the baking techniques that were first honed in Denmark.
We are incredibly proud of what our family has built over the years and as the Olesen family, we always strive to offer only the best to our neighbors and friends. We feel honored to have the opportunity to serve and meet new people every single day, whether they are from all over the world, or visiting us from just down the street. Each person that walks through our doors becomes part of the O&H Danish Bakery family, and our personal guarantee is that if you are dissatisfied for any reason, we will do everything in our power to make it right. Call us old fashioned, but that is what our grandparents taught us.
Types of Danish Kringles You Have to Try
We are proud to offer a substantial variety of Kringles for your enjoyment. Here are a few of our personal favorites to get your mouth watering.
The Cherry Kringle, The Blueberry Kringle, and The Raspberry Kringle. Our simple yet delectable Cherry Kringle is stuffed with the world-renowned Wisconsin Door County Montmorency cherries, and the Blueberry Kringle is filled with wild Maine and Nova Scotia blueberries which are picked when they are perfectly ripe and ready before we blend it into a superb blueberry jam. We fill the Raspberry Kringle with Pacific Northwest, ruby red raspberries blended to perfection. These Kringles are the ideal way to introduce your taste buds to what may become your new favorite dessert. Topped with sweet icing, these Kringles are always crowd pleasers.
Come to O&H Danish Bakery today to try out any of these delectable Kringles and maybe you'll be in time to try some of our special seasonal Kringles. We are obsessed with only selling top-quality Kringles and pastries, which is why we never use shortcuts, and we always stick to the original and traditional baking methods that have been passed on through the family for generations.