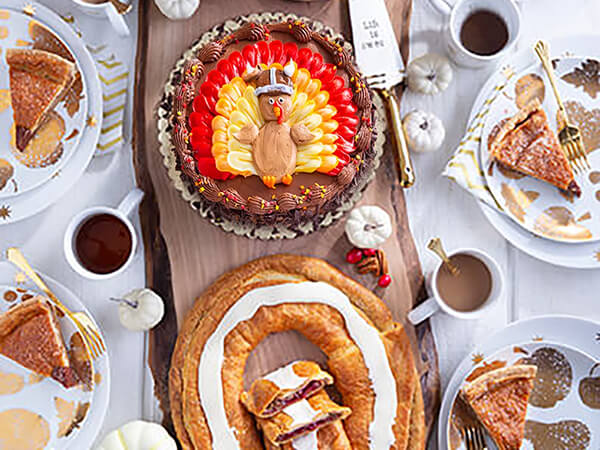 Thanksgiving Dessert Ideas to Send Your Friends & Family
---
By Eric Olesen - 3rd generation owner
Sunday, October 16, 2022
Everyone loves to celebrate the holidays, and it doesn't get more special than Thanksgiving, when you gather around the table with those you love to eat, drink, and count your blessings. But if you can't be in the same place this year, we have the perfect selection of yummy Thanksgiving dessert ideas you can send your family and friends to let them know you're thinking of them.
Thanksgiving Desserts for a Large Crowd
Thanksgiving is the perfect excuse to share a feast with loved ones. Make sure no one misses out on delicious dessert with our crowd-pleasing favorites.
Royal Scandinavian Collection

As a tribute to our love of almonds, these desserts are the perfect sweet delight to enjoy while you share tales of the past year with family and friends. Featuring our Almond Kringle, Almond Custard Seven Sisters Coffee Cake, and Scandinavian Almond Crown Cake, this collection will make choosing your first bite very difficult.

Give Thanks Package

When everyone gathers around the table, you have to be ready with the best of both food and drink. Our most popular Thanksgiving desserts are the stars of the limited-time Give Thanks Package. Start off with our famous Thanksgiving "Stuffed" Kringle, which was featured in Midwest Living magazine's 2019 Holiday Gift Guide. Then, warm up our Apple Cinnamon Kringle Pie in the oven for a few minutes and top with scoops of ice cream. You'll have everything you will need to please everyone at the table with this pair.

Scandinavian Breakfast Buffet

Shower your family and friends with love and a selection of delicious sweet treats with our Scandinavian Breakfast Buffet. Catering to a range of tastes, the buffet includes our Danish Pecan Sticky Buns, Apple Cinnamon Coffee Cake, Apple Kringle, and Cinnamon Kringle, all nicely delivered in one sweet package.
Light Desserts for Thanksgiving
Traditional holiday feasts can leave you with only a small amount of room for pudding, which is why we also have a selection of light desserts for Thanksgiving that won't leave you bursting at the seams. These also make great options to send to family and friends all across the country!
Pumpkin Desserts
Pumpkin and Thanksgiving desserts go hand in hand, which is why we have a large selection at our bakery, including our favorites below.
Chocolate Desserts
Our chocolate Thanksgiving desserts will go down as winners with every holidaymaker.
Cinnamon Desserts
If you love a bit of spice with your cakes and pastries, we have the perfect cinnamon Thanksgiving desserts.
Apple Desserts
Apple Thanksgiving desserts not only smell decadent warmed up in the oven, but their sweet aroma is the ideal way to create hygge.
Pecan Desserts
Pecan Thanksgiving desserts are treats to look forward to every year and are must-have dishes at every celebration.
Order Thanksgiving Desserts Online from O&H Danish Bakery
When you need easy Thanksgiving desserts for a crowd or to send to family and friends, count on us to deliver on flavor and appearance. You can order online from the comfort of your home and let us take care of the delivery.