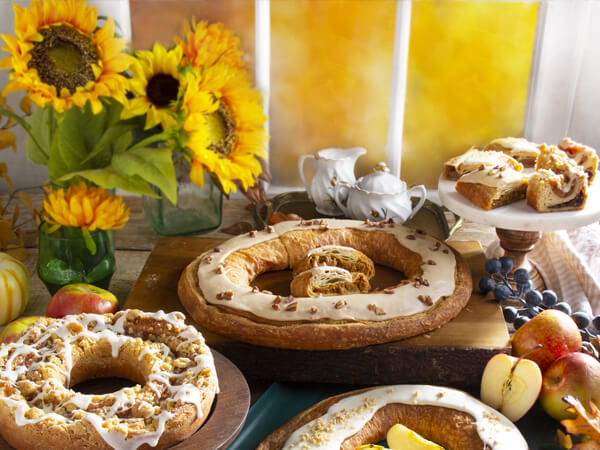 Classic Fall-Themed Desserts from O&H Bakery
---
By Eric Olesen - 3rd generation owner
Wednesday, August 17, 2022
We love the transition of summer to fall, from watching the leaves change into bold red and orange shades to anticipating the new and delicious fall flavors we can include in our desserts. We also don't mind that cooler weather sends us indoors more often, as it is the perfect excuse to invite family and friends over for good conversation. Just don't forget a hot cup of java and a slice of fall coffee cake!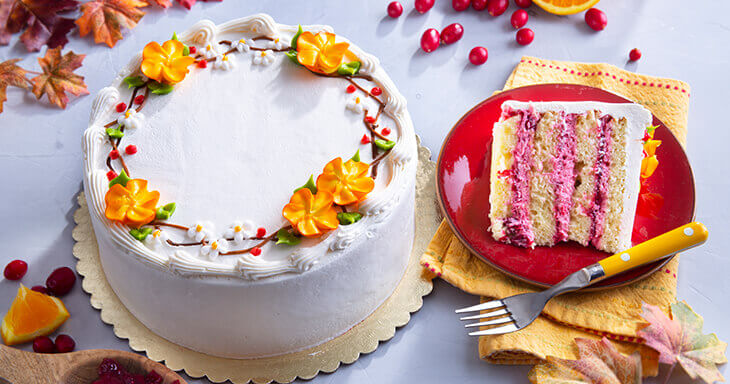 Whether you love the classic combination of apple and cinnamon or our recent pairing of cranberry and orange, we have a delicious assortment of new and traditional Danish desserts to suit any fall occasion.
New Fall Desserts
Changing seasons means delicious new flavors at our bakery. Our talented bakers take our authentic pastry and cake recipes and come up with winning combinations so you can find good fall desserts to enjoy in the cooler months.
Cinnamon Roll Cake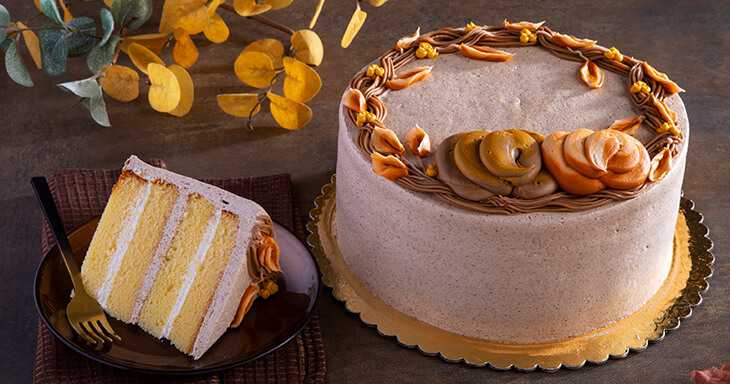 As fall emerges, so do the comforting flavors that define the season. Our bakery welcomes the allure of autumn with the Cinnamon Roll Cake. Built upon a foundation of soft yellow cake, it boasts layers of velvety cream filling and cinnamon buttercream. Topped with our signature frosting, this cake is a testament to the cozy, heartwarming spirit of fall.
Cherry and Apple Galette Hand Pies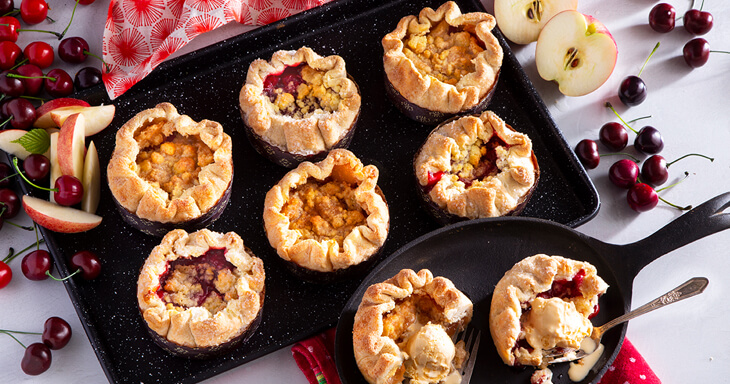 When summer fades, nature's harvest takes center stage. Our Cherry and Apple Galette Hand Pies celebrate the beauty of simplicity. Handcrafted like traditional French Galettes, these pies overflow with the natural essence of Door County cherries and cinnamon-kissed apples. A warm treat, accompanied by ice cream, turns every bite into an ode to autumn's bounties.
Chocolate Pumpkin Pie Cake Roll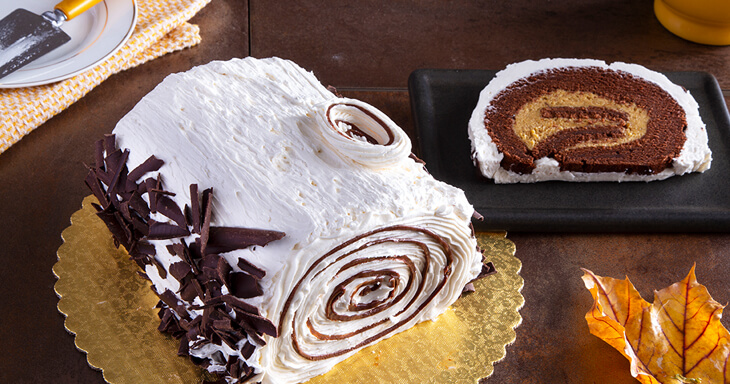 Uniting heritage with indulgence, our Chocolate Pumpkin Pie Cake Roll pays homage to a European classic. A luscious chocolate cake meets silky pumpkin pie filling, forming a delightful union of flavors. Rolled, frosted with care, and adorned with dark chocolate bark, this cake roll embodies the essence of fall in each exquisite slice.
Classics That Are Back
Fall Harvest Coffee Cake
This delicious dessert is a cinnamon cheesecake and coffee cake in one. We start with our tasty pie crust and layer with smooth and creamy cheesecake before adding our cinnamon cake. Apple filling and a sprinkling of buttery streusel ensure this dessert bursts with fall flavor in every slice. Our Fall Harvest Coffee Cake embraces everything we love about this season, from the crisp, juicy apples to the drizzling of caramel icing.
Cinnamon Swirl Braided Coffee Cake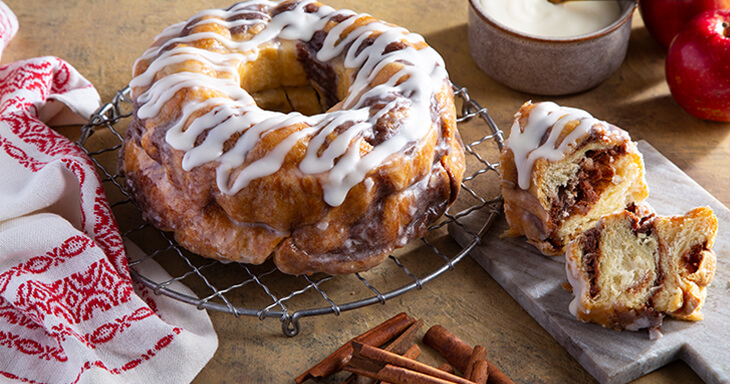 We combine artistry and delicious fall flavors with our cinnamon swirl coffee cake. We fill our Danish pastry with a touch of apple and copious amounts of cinnamon before twisting it into a stunning braided cake. You can impress your friends with this delicious fall dessert topped with sweet glaze and icing, or enjoy a slice alone while keeping warm at home. Just warm it up in the oven and swoon in this cozy fall treat!
Danish Butter Cookie Cake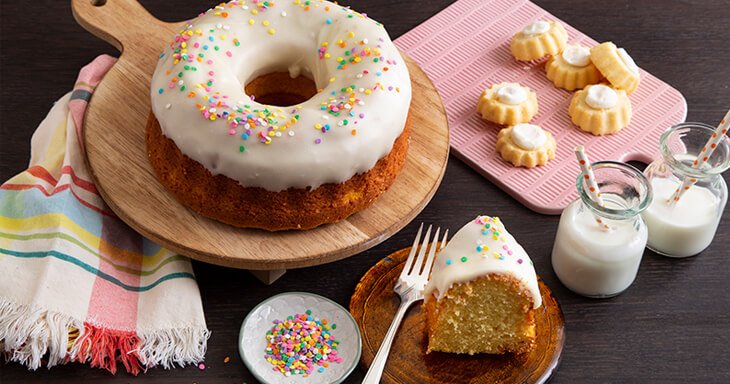 If you love how butter cookies melt in your mouth, you'll love our Danish Butter Cookie Cake. We take a butter cookie batter, add a generous serving of vanilla, and bake slowly so you can enjoy a soft and velvety cake. Of course, a cake wouldn't be the same without frosting, so we top this decadent dessert with vanilla bean icing and rainbow sprinkles to remind you of a classic butter cookie.
More Fall Dessert Flavors
While we love making delicious new pastries and cakes filled with seasonal flavors, you can also satisfy your sweet craving with our tried-and-true classic fall desserts.
Cinnamon Seven Sisters Coffee Cake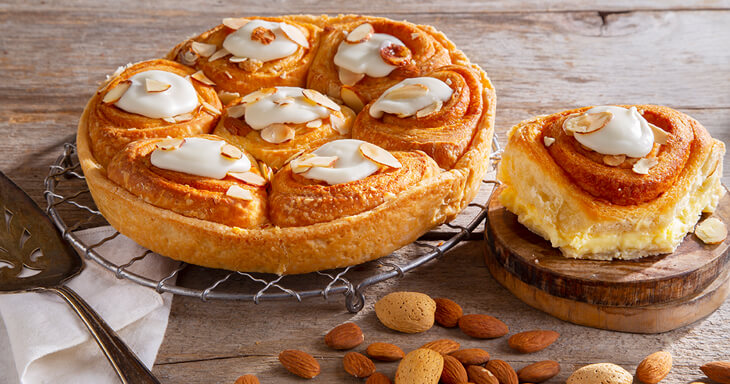 You can celebrate any fall occasion with this decadent treat. We start with a combination of cinnamon and smooth cream cheese mixed into Danish pastry spirals with a dollop of custard. Our Cinnamon Seven Sisters Coffee cake is named after the Pleiades cluster, so when you see the stars shining in the sky, you know it's time to indulge in this delicious namesake dessert.
Apple Cinnamon Coffee Cake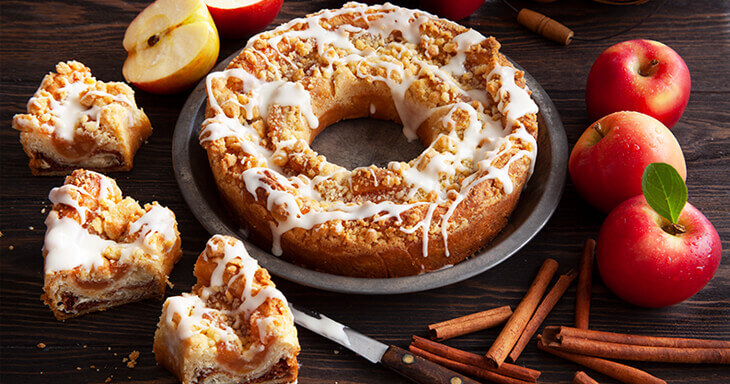 Apple and cinnamon are always a favorite combination, especially when infused in our authentically made coffee cake. We top our Apple Cinnamon Coffee cake with our famous crumbly streusel and smooth icing for a sweet dessert filled with the best fall flavors. Enjoy warm from the oven or serve at room temperature.
Pecan Custard Coffee Cake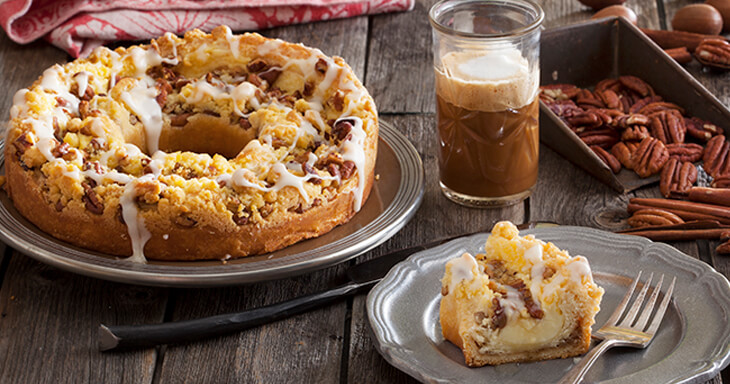 Our Pecan Coffee cake is a customer favorite and perfect if you enjoy custard desserts. We fill our famous flaky pastry with rich butterscotch filling and silky-smooth custard before topping with fancy pecans and icing.
Order Fall-Themed Desserts Online
We use the finest ingredients, homemade fillings and authentic Danish techniques to create our coffee cakes. You can browse our delicious range of fall desserts online and order for delivery with our flexible postage options.