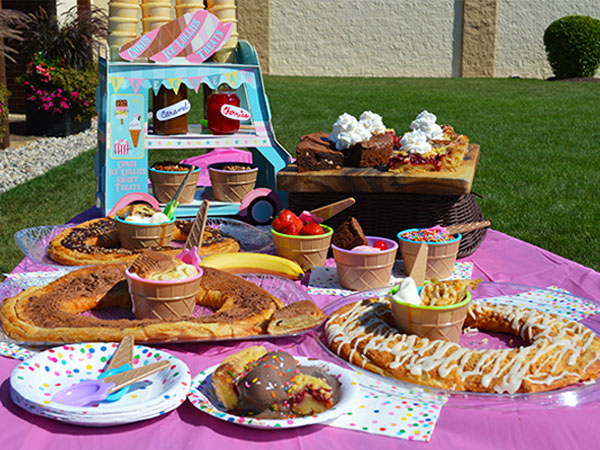 Ice Cream Party Staples
---
By Eric Olesen - 3rd generation owner
Wednesday, August 11, 2021
Nothing helps us beat the heat on a warm August day better than a delicious scoop of ice cream! We love inviting friends and family to our very own Ice Cream Socials where they can enjoy a whole variety of flavors. Of course, here at O&H, we like to get creative and share our favorite bakery items to serve, layer and even sandwich with ice cream. There's no wrong way to add ice cream to your O&H favorites, but if you're looking for things to do with ice cream, you've come to the right place.
Chocolate Milkshake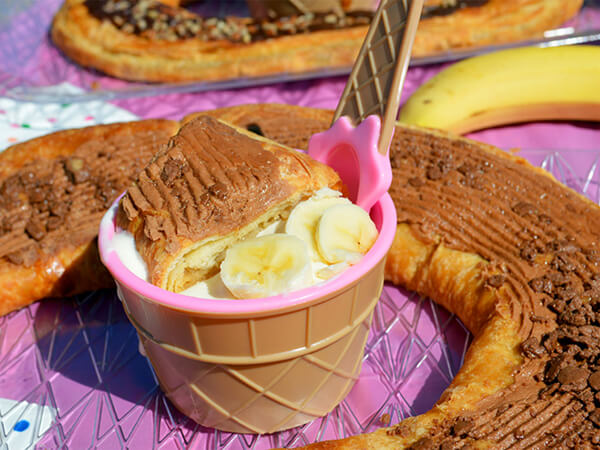 For ice cream buffet ideas, our Racine Chocolate Malt Kringle is the perfect complement to a scoop of ice cream. Inspired by the delicious malted milk invented in our hometown of Racine and the many soda fountains and ice cream shops that featured rich chocolate malts throughout our childhoods, you can't go wrong adding a slice of this treat to your sundae. The malt filling, frosting, and pieces are especially tasty paired with vanilla ice cream, bananas and strawberries. For the more adventurous indulgers, try adding a slice to your milkshake!
Peach Cobbler With a Twist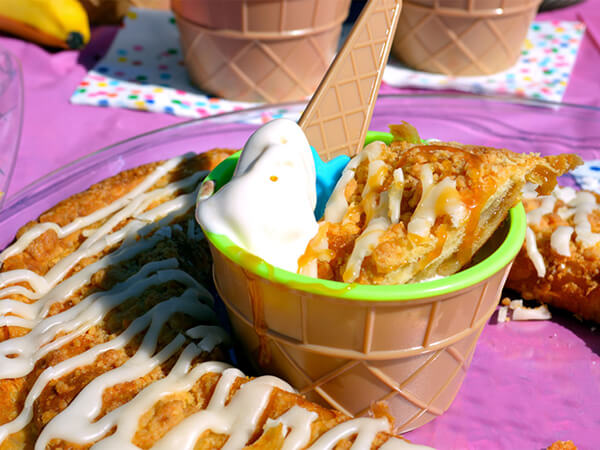 Peach cobbler always tastes better warm from the oven and served with a generous helping of vanilla ice cream, and our Peach Cobbler Kringle, with its sweet peaches and buttery streusel, is no exception. We love heating this one whole or in pieces to make it last just a little longer. If you want to soak up the sun and avoid the oven, you can heat slices of it in a pan over a campfire or even on the grill before adding ice cream and your favorite toppings. We love to drizzle a generous amount of caramel over the top to really bring out that butterscotch and cinnamon taste!
Cherry Bread Pudding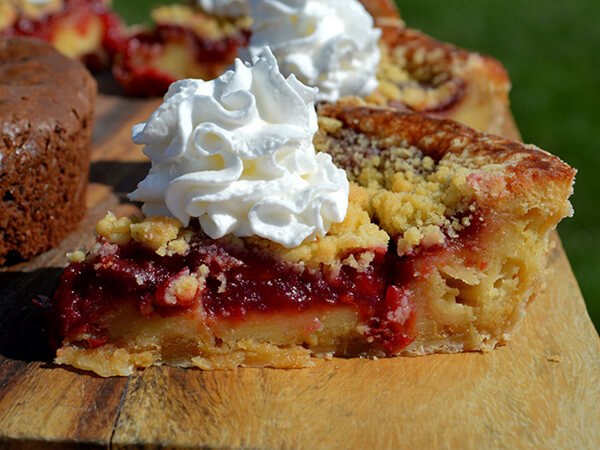 Summer is cherry season in Wisconsin, and we love using the best fresh-picked Door Country Montmorency Cherries in our Bread Pudding. Like any bread pudding, it's even tastier when warm and topped with a generous amount of ice cream. Add dark chocolate ice cream for a cherry chocolate dessert that is just the right balance of sweet and tart. For large groups, you can serve traditional slices or get a little more creative by cutting the pudding into smaller pieces that your guests can scatter over their ice cream. It is sure to be a hit at any summer party!
The Brownie Sundae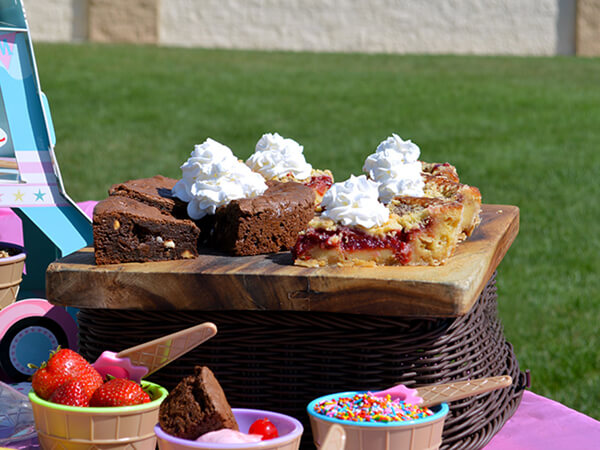 The best ice cream bar ideas always include a brownie sundae. Our Gluten-Free Triple Chocolate Brownies are perfect for guests with dietary restrictions and can be a big hit with the rest of the family. The combination of semisweet, white and milk chocolate chips with thick and chewy brownie batter reaches new heights when you top it with one or two big scoops of your favorite ice cream or chop it up to add to everyone's bowls. Brownie bits, anyone?
DIY Ice Cream Sandwiches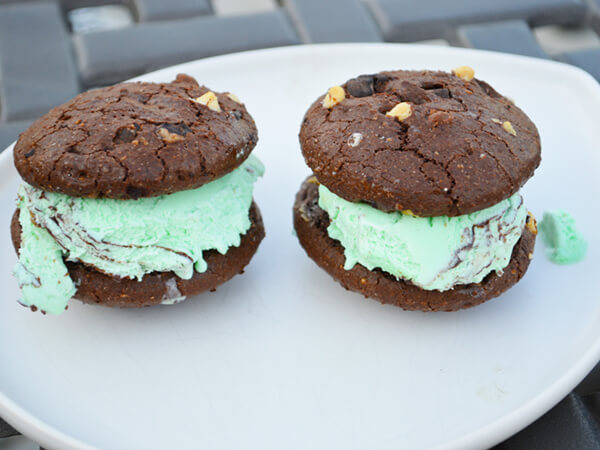 When throwing a summer ice cream party, a classic handheld ice cream sandwich is easy, convenient and reminiscent of our childhoods. Our personal favorite is mint chocolate chip ice cream between two of our Gluten Free Triple Chocolate Cookies.
For even more layers of flavor, take two slices of Kringle with the frosting side in and sandwich in your favorite ice cream! You can't go wrong with an offering of fruit Kringles from our bakery, such as our Raspberry, Wild Blueberry, and Cherry flavors. If you can't decide, our red, white and blue Freedom Kringle gives you a selection of three summer fruit Kringle. Alternatively, enjoy some ice cream between slices of our Turtle Kringle, with its caramel and pecan filling and chocolate icing, for an instant turtle sundae in your hand.
Get Summer Desserts from O&H Danish Bakery Delivered Straight to Your Door
No matter how you scoop it, ice cream can become the launching point for your very own unique and delicious summer traditions! You can upgrade your summer cookout or ice cream party with a selection of delicious desserts from our bakery. We have something for everyone to enjoy, from flaky Kringle, soft and chewy chocolate brownies, cherry bread puddings and more. Select a mouthwatering dessert or two to accompany your favorite ice cream flavor and your summer gathering is sure to be a hit.
No need to leave the relaxing comfort of your backyard — we can gladly deliver your order directly to your door. Just be sure to have the ice cream ready to go in the freezer!