Danish-American Culture & Kringle Making in Racine
Saturday, July 6, 2019 by Eric Olesen - 3rd generation owner
When Danish immigrants first started arriving in America to seek opportunities for their families, no one thought that we would be where we are today. O&H Danish Bakeries in Wisconsin are proudly Danish and proudly American at the same time, and we believe that our Kringles show how perfectly Danish-Americans have built a new home in the USA.
How the Danish Arrived in America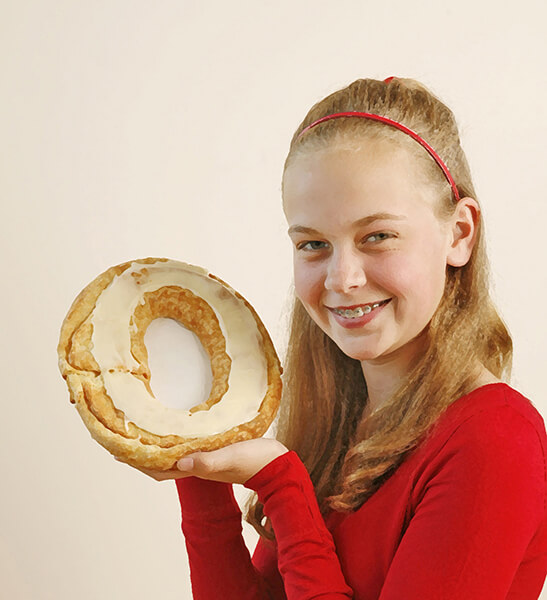 The first waves of Danish settlers began arriving in America in the 1800s. The first substantial group of Danish immigrants were looking for a way to protect and feed their families during the European Potato Famine of the 19th century. America was a land of opportunity for many Danish people, and Racine quickly became the most Danish city in America with 10% of all Danes in America having settled in Racine. Back in Denmark, the Danish Bakers Association went on strike in 1850 and bakers from Vienna and Austria were brought in to fill the gap. The bakers from Vienna, Austria, and Denmark shared their knowledge and baking secrets and when Danish bakers returned to work, they combined these new techniques with the traditional Danish ingredients and Danish pastries we know today were born.
Inspired by the waves of Danish migration and struggling to sustain himself and his family, Anton Olesen decided that America provided endless opportunities for himself and his six children. Two years after leaving Denmark, Anton had finally saved up enough to bring his teenage son, Christian Olesen and his five siblings to the USA to join him. Anton was able to bring all of his children over and after spending $550 for the long trip, he only had $5 left to his name. His children arrive just in time for Christmas and although he was short on money, he was said to declare that this particular Christmas was the best he had ever had, because he was finally reunited with his children. A short time later, Christian found a job at a local bakery in Racine, and after learning everything he could about the baking trade for 25 years, Christian opened O&H Danish Bakery in 1949, and the rest, as they say, is history.
Danish-American Culture in Racine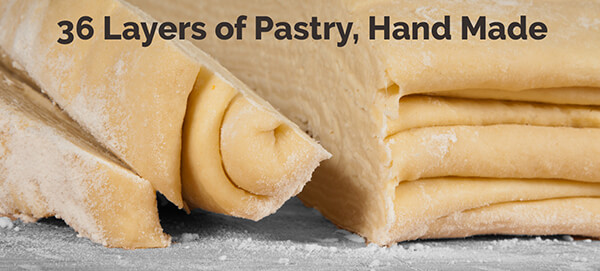 As Danish and American culture became increasingly integrated, customers started requesting more fillings in their pastries, and the Racine locals had a particular love of the Kringle. To keep their customers happy and to learn more about the American people and their culture, bakers started to change the shape of the Kringle from the traditional pretzel shape to an oval, so it could contain more fillings, and as more requests came, even more flavors and combinations were introduced in the 1950s.
After decades of pastry delight and growth across Wisconsin, the Kringle became the Official State Pastry of Wisconsin in 2013. After over 100 years after Kringle was first introduced to Racine, we are exceptionally proud to be part of this rich history and the culmination of hard work, cultures coming together, and the sharing of a delicious pastry that cemented the Danish influence in America. To this day, we stick to the original baking methods that have been passed down through generations of Olesens. Everything is handmade from scratch, and we still use the three-day preparation method for our Kringle dough to deliver that flaky pastry that our customers have come to know and love.
To honor our ancestors who were incredible traders, world travelers, and experts of experiencing new cultures we have created The Explorer's Kringle Club which gives you a VIP pass to enjoy new yearly flavors a full week before everyone else. By signing up for this club, you will get to try any new Kringle flavors we come up that are inspired by ingredients and cultures from all over the world and share your thoughts with us. This spirit of exploration, allows us to celebrate the beauty of food and flavors that have transcended our bakery for generations.
Danish-American Pastries in Racine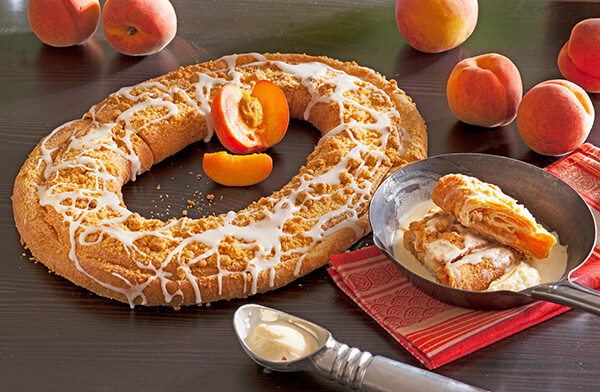 While are proud of Danish heritage, we know that our family's story would not have been written this way unless our ancestors decided to move to the land of opportunity. We are proud to be from Racine, Wisconsin and understand the beauty of how the melting pot of American culture has shaped each of everyone of us. We view our family as truly Danish-American, we for that reason we continue to find ways to honor our heritage and at the same time celebrate American traditions. We offer very special seasonal Kringles that you will only find during specific times of the year.
The Viking Very Berry Kringle. The Danish people have a prevalent Viking history, and as proud Danes, we show off our Viking pride with the Viking Very Berry Kringle. This particular Kringle is only available during August as it is then finally berry season in Wisconsin. Inspired by our homeland, where it is tradition to use the finest local berries, this Kringle is filled with blueberries, strawberries, raspberries, and blackberries. This Kringle is all about the best summer fruits, plump, ripe and juicy berries that are made into our scratch made filling and then added inside our delicate, flaky Kringle pastry.
The Peach Cobbler Kringle. This Kringle is only available for a few weeks at the end of Summer, when sweet peaches thrive but boy is this one worth the wait! With a delectable butterscotch and cinnamon filling and a sweet layer of peaches, this Kringle is baked with a crunchy streusel and drizzled with sweet white icing. Served with a scoop of your favorite ice-cream, this Kringle could become your new favorite Summer treat.
The Key Lime Kringle is a July exclusive that many of our customers look forward to all year. Made with tart key lime juice, this Kringle is refreshingly tart and creamy. When we first came up with this flavor, we had no idea whether it would be a hit or a miss, but here we are, many years later, and people still line up to get their first Key Lime Kringle of the year. It's especially tasty as a cool treat right out of the fridge!
To celebrate our American culture, we created what we believe to be the ultimate Wisconsin treat for the Fourth of July. The Red, White, and Blue Kringle is gloriously American and celebrates the coming together of Danish and American culture. Our signature flaky pastry surrounds a delicious combination of cherries, blueberries, and cream cheese to help you celebrate your American pride with only the best ingredients we could find from across the USA, from Maine to our home state of Wisconsin.
When the Kringle was crowned the Wisconsin State Pastry, we created the aptly named Wisconsin Kringle. This Kringle is available year round as we believe it says everything you need to know about Wisconsin in a single bite. Every ingredient in this Kringle comes straight from Wisconsin: the silky smooth cream cheese, Door County Montmorency cherries, and fresh from the big cranberries come together to create a blend of true Wisconsin essence. Creamy, sweet, and tart, this is the ultimate Wisconsin pastry.
If you want to experience how Danish culture and American culture have intermingled, stop by any of our five O&H Danish Bakery locations to pick up one of our seasonal or everyday Kringle sensations or experience any of our other Danish pastries in Racine. We are always happy to see a new face or just to slow down and catch up with a frequent customer. Always made with the best quality, we continue to use recipes that go back four generations, and we are sure you will find a Kringle to satisfy your cravings and experience a little taste of our Danish-American culture.