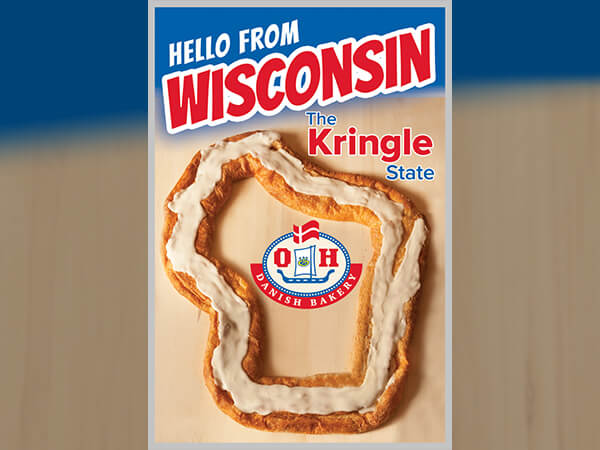 What is a Kringle
---
By Eric Olesen - 3rd generation owner
Sunday, January 22, 2023
If you live in Wisconsin, or your heritage is Danish, the question, "What is a kringle?" has an easy answer. And for those new to Kringles, you will discover that this Danish treat is impossible to forget.
An oval-shaped pastry, the Kringle is made with 36 layers of buttery dough and filled with cheese, fruits, nuts, and other amazing fillings. Once baked, the Kringle is drizzled with icing and sometimes other toppings like cinnamon sugar or crushed nuts.
What Does a Kringle Taste Like?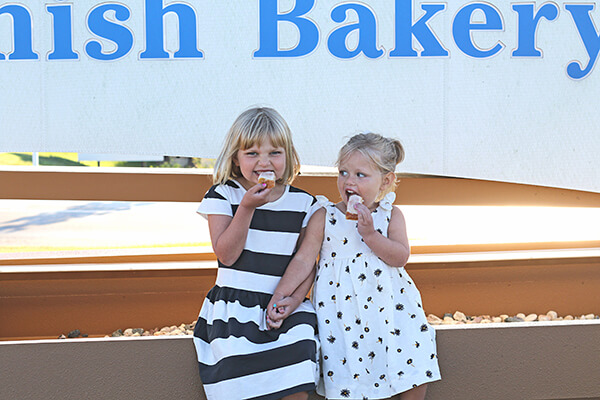 Now that you know what a Kringle is, let's talk about how it tastes. Imagine the Kringle as a little slice of heaven: its flaky, delicate layers just melting in your mouth; the fresh ingredients in the fillings causing you to swoon. Yes, it's that good.
What Are the Most Popular Kringle Flavors?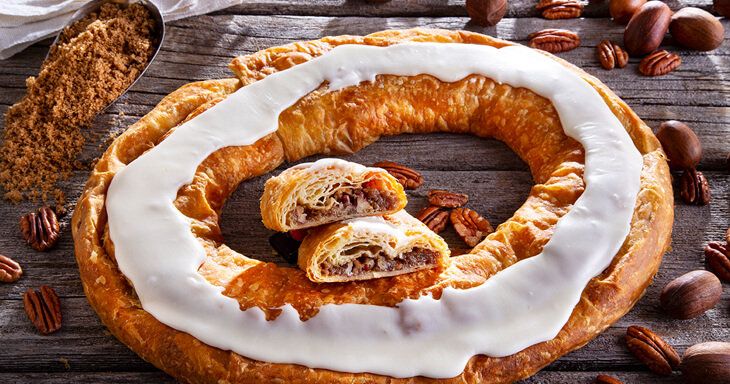 We love exploring new flavors, so there are more than a hundred different Kringles at O&H Danish Bakery. Of course, everyone has their favorites, which are hotly debated, but some of the most popular classic Kringle flavors include:
What Makes O&H Kringles Special?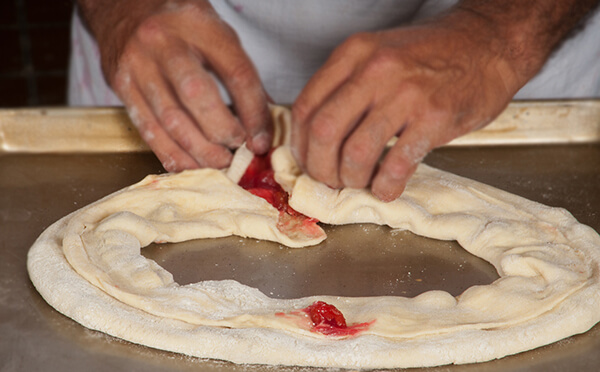 Quality, patience, and tradition. Our bakery is in its fourth generation of family stewardship, and we do our best every day to respect the traditions and methods of baking Kringles as taught to us by our great-grandfather. That way, you get to enjoy the results of time-honored techniques, baking from scratch, and using only the freshest ingredients.
Each Kringle takes a full three days to make (which is where the patience comes in!). We then add the finest ingredients, like Grade A fruits and nuts, to our homemade fillings and top everything with scratch-made icings, cinnamon sugar, the works … you can start to see why the Kringle is so renowned.
Patience in Our Process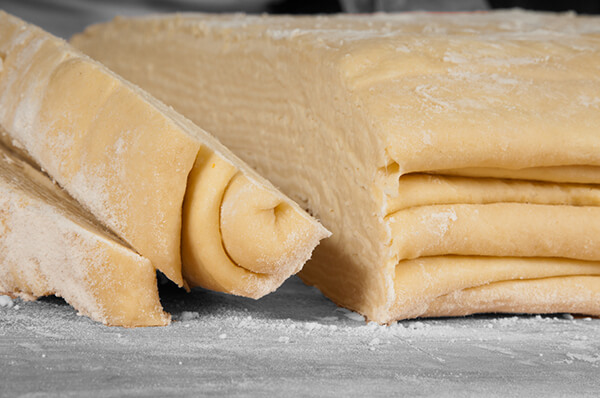 We hand-form each Kringle individually, just like the bakers of Denmark made them in their kitchens centuries ago. After rolling out the slightly sweet, tender dough, we add butter to each layer and let the Kringle rest overnight. We repeat that process for three days, resulting in a 36-layer pastry dough that is rich, yet light and flaky.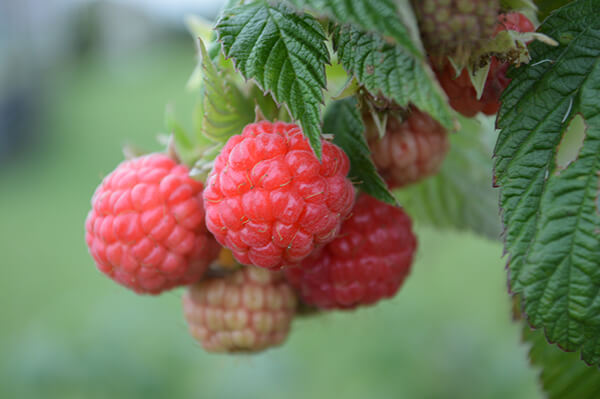 The seafaring prowess of the early Danes sent them exploring throughout the known world. Just like these traders and merchants who traveled far and wide, we search high and low for the best-quality ingredients for our pastry. We're picky about the ingredients, too, so we select only the best, like Grade A ruby red raspberries from the Northwest. A general rule of thumb: If the ingredients taste great by themselves, they'll make the pastry that much better!
Global Search for Culinary Inspiration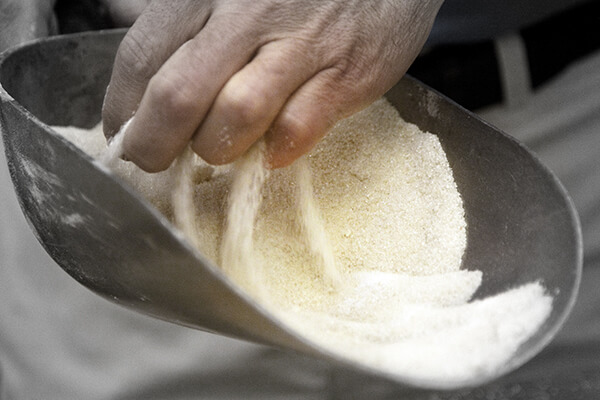 Our search for the finest ingredients and flavors doesn't stop in Wisconsin. We source our vanilla from Madagascar, because it is the best the world offers. Our cinnamon arrives from Indonesia, and our chocolate from Sweden. We scour the globe to find new ingredients and flavors to provide you with a local or international journey with each Kringle.
We enjoy creating new Kringle flavors to match the seasons and special occasions. Explore some of our favorites ahead.
Wisconsin Kringle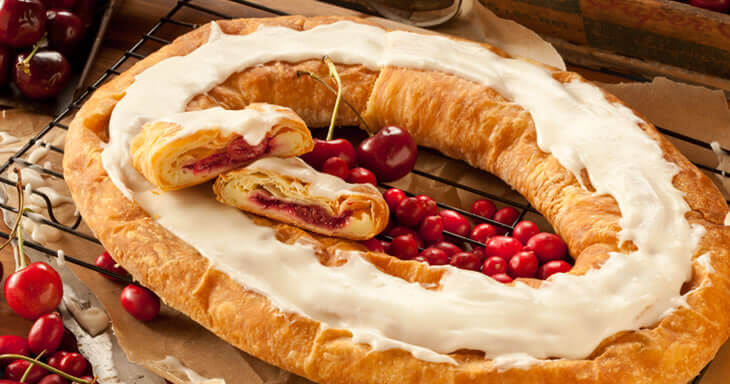 What is a Wisconsin Kringle? It is a delicious pastry featuring all the best local Wisconsin ingredients. Door County Montmorency cherries are star players within the filling, while the farmed and locally grown Wisconsin cranberries fresh from the bogs during the fall harvest play a sweet supporting role. Combining these fruits with the state's velvety cream cheese creates the Wisconsin Kringle, a tart and creamy pastry from the first bite to the last.
Apple Kringle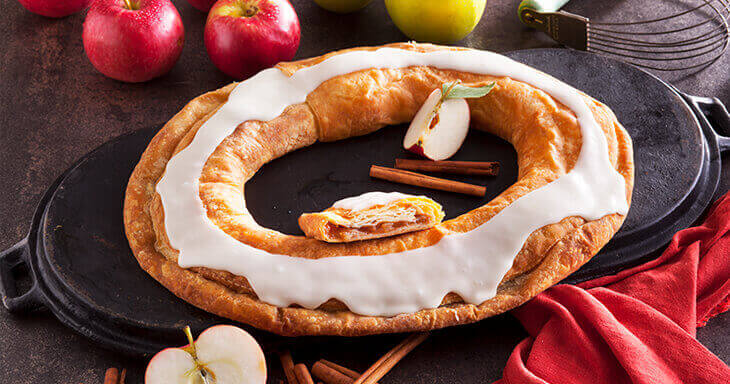 Everyone loves apple pie, so we decided to fill our traditional flaky Kringle with the classic flavor. Of course, we put our signature touch on the Apple Kringle by making the filling from scratch and sweetening the crisp fruit with cinnamon for a cozy dessert that will remind you of home.
Cinnamon Roll Kringle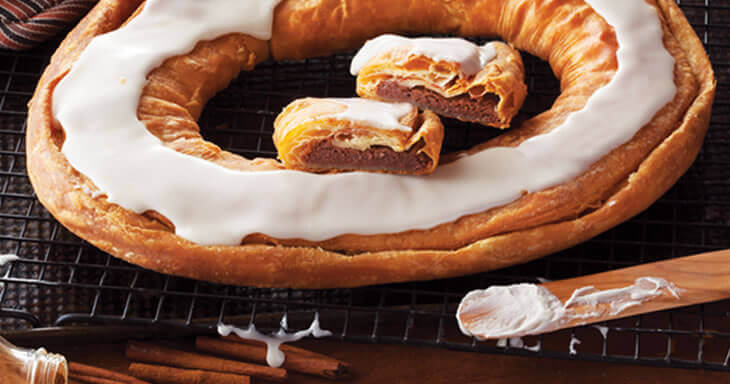 If you love desserts with a hit of spice, try our Cinnamon Roll Kringle. We surround our sweet cinnamon and sugar filling with our decadent pastry for a delicious, tasty parcel topped with sweet icing. It's so good you may not want to share!
Turtle Kringle
Chocolate and nuts always go beautifully together, and our Turtle Kringle is further proof of that. Sure to satisfy every sweet tooth, this one offers a taste of creamy caramel, fancy pecans, homemade chocolate sauce, and our flaky pastry in every bite.
Cherry Cheese Kringle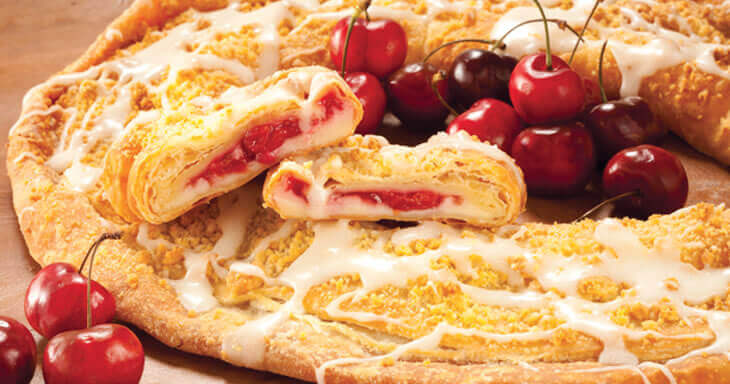 Another Wisconsin favorite is our Cherry Cheese Kringle, which combines the state's two most popular products: cream cheese and cherries. Every bite of our Cherry Cheese Kringle is filled with flavorful homemade cherry and cream cheese filling, and topped with a drizzle of icing.
The O&H Difference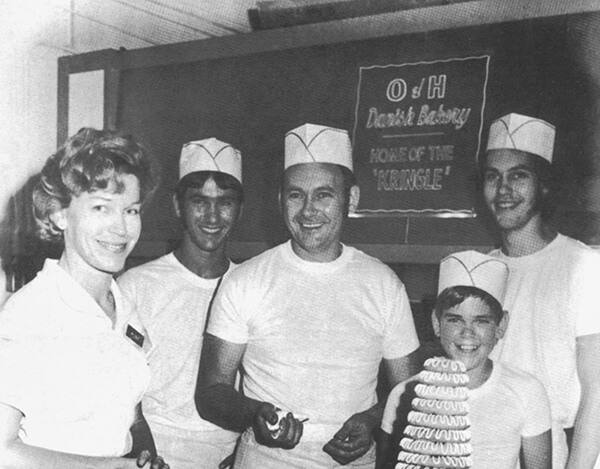 We consider our customers family. Whether you come into one of our stores in Wisconsin or contact us via phone or email, we will offer you the same attention and care we use when we bake our goods. The customer comes first, and we believe that as much today as when our parents, grandparents, and great-grandparents did generations ago.
We make the best everyday Kringles and seasonal Kringles to suit every occasion. Visit our bakery or order online and enjoy a flaky, light, delicious Kringle, or reach out to our team if you still have questions.