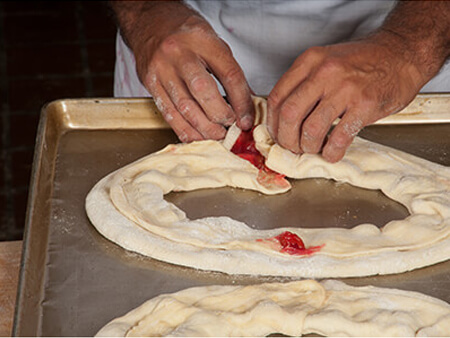 How is a Kringle Made
---
By Eric Olesen - 3rd generation owner
Sunday, May 10, 2020
At O&H Bakery, we are renowned for our delicious Danish Kringle. Made from layers of buttery dough, a kringle is a light and flaky Danish pastry holding yummy fillings. Our famous Racine-made delicacy boasts a large oval shape filled with various kinds of fillings such as fruit, nut and rich chocolate flavors then topped with a velvety icing.
From the moment you first bite into our tender decadent treat, you will start wondering, "how is a Kringle made?" As our customers are like part of the family, we gladly share some ways to even enhance Kringle for some fun ways to try some recipes. For a Kringle recipe, it takes a full 3 days to make, so just let us do the work on that one and get the finished pastry! We value the time-honored techniques and methods passed down through the generations and believe scratch-made baking produces delicious results that are worth the effort.
Danish Kringles Made at O&H Bakery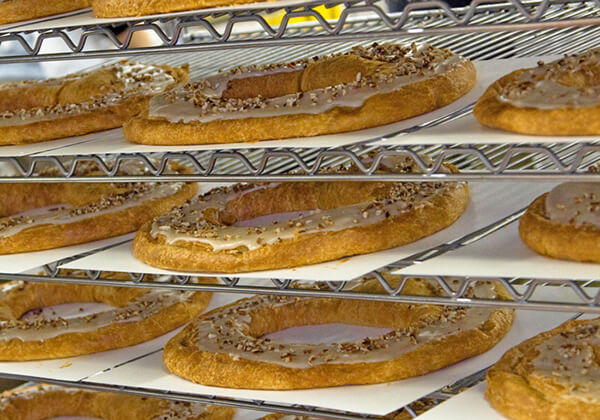 We live by the saying that patience is a virtue. While Kringle baking is labor-intensive and takes time, the growing popularity of this Danish pastry over the years has proven that the baking methods perfected by our grandparents continue to be successful. Our talented bakers can show you how to make a Danish Kringle in our video. However, one important step for ensuring a rich, buttery, flaky pastry, and that we always remain faithful to carry out precisely is the rolling of butter between numerous layers.
Our Kringle takes three consecutive days to prepare as we delicately roll the butter into thin layers of the yeast-laden dough then leave to rest overnight. This process produces our 36-layer pastry dough that, once baked, results in an exquisitely rich, yet light, tender, flaky and flavorful Kringle.
What is in a Kringle?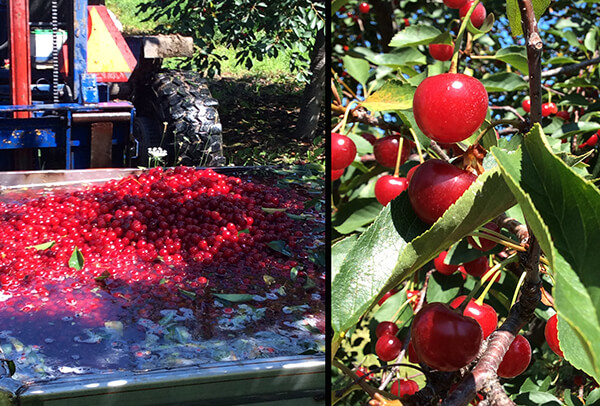 Once we make our decadent pastry dough, the options for delicious Kringle centers are endless. Yet, whatever homemade filling graces the middle of our pastry, we ensure that it is made using the finest ingredients. Sticking to our Viking roots, we have scoured the world to find the best quality fruits, nuts and exotic flavors that we can use for our scratch-made fillings.
Our Everyday Kringle flavors, which are just too good not to have around all the time, include our classic Cherry Cheese Kringle. We couldn't pass up the opportunity to showcase the famous Door County Montgomery cherries that are grown right on our doorstep. We blended this beautifully with the velvety smooth Wisconsin cream cheese that we get from a local creamery, for the perfect balance of tart and sweet.
With more than thirteen delectable "classic" flavors to select from every day, including Apple, Pecan and Raspberry, Pecan, Turtle, Wild Blueberry, Almond and more, you are sure to discover a favorite. However, our options don't stop there. We love that a change in season brings with it exciting new flavors to try out or the chance to revisit those once-a-year specialties. Just as every Danes love any excuse to celebrate, we embrace those special occasions throughout the year to create uniquely flavored commemorative Kringles.
Kringle for Everyone
Speaking of celebrations, twelve portions is the answer to your question 'how many servings is a Kringle?' Although, we have heard of some customers saying there was only 1 serving for them...hmmm. The sizeable oval-shaped pastry stuffed with our homemade filling makes for generous servings that everyone can enjoy for dessert, a sweet snack or even a breakfast treat. Anytime is a good time to eat a Kringle and, as they store well in the freezer, you can easily order your favorite flavor well in advance to ensure you always have enough treats on hand.
Ensure you and your lucky guests don't have to wait longer than necessary to bite into our flaky pastry by removing the Kringle from your freezer and leaving to thaw at room temperature for six hours. You can also serve it warmed in the oven for 3 1/2 minutes at 350 degrees, which makes for an exceptionally cozy treat in the cooler months. We know Kringles taste so good that sometimes you can't wait for the oven to heat up, so thankfully they also warm nicely in a microwave. No matter how you like to eat your sweet delight, you can cut it into one or two-inch slices to share with family and friends.
Your Kringle will stay fresh for five days to a week in the pantry, ten days in the refrigerator or six months in the freezer, yet we seriously doubt you will be able to resist the mouthwatering taste for that long.
Where to Buy a Kringle?
The Kringle is the official state pastry of Wisconsin and, while some could say it's just a Wisconsin thing, we ship our yummy pastry all over the world so wherever you reside you can enjoy our mouthwatering treats. If you are lucky enough to live in the Racine area or happen to be passing through, we have several store locations that boast a friendly atmosphere, flavorsome Kringles and other delicious Danish delights.
O&H Danish Bakery has expanded since our first store opened in 1949 and we now have multiple sites that cover the North, South, East and West side of Racine to ensure there is a bakery near you. Whether you order a Kringle package online or visit our bakery, the first taste of our flaky pastry will soon tell you that a Kringle is not just a Wisconsin thing. It's a beautiful blend of American-Danish culture that everyone will enjoy. So, start satisfying your Kringle craving today and order from our Everyday or Seasonal Kringle flavors.