Gourmet Care Package Ideas
---
By Eric Olesen
Sunday, November 15, 2020
Sending your love to someone and putting a smile on their face is easy with our inspirational care package ideas. Whether you need gift ideas to send to a military family overseas, an interstate college parcel, a quarantine care package or special delivery for a sick friend, you can't go wrong with a sweet and delicious package from our bakery. You can even send something right to yourself, since we all need our own little pick me up now and then!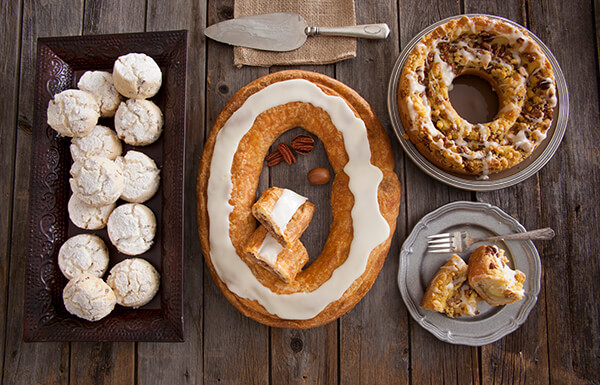 Gourmet Care Packages for Delivery
When you want to send a sweet treat to a friend or loved one, yet don't know where to begin, we've carefully crafted some Danish pastry packages that are the perfect place to start. Our talented bakers carefully pair an assortment of delicious and complementing baked goods, which is why customers keep coming back and again for the same ones year after year. The best part of ordering an online care package from us is that we have a flexible shipping option, and we can have your gift delivered within one to two business days, which we know is really important with any food!
Seasonal Danish Treasures Dessert & Coffee Package
Love Autumn? This comfort care package is sure to give your recipient the perfect excuse to sit back and relax with a warm cup of coffee and a delicious slice of sweet pumpkin or cinnamon goodness. With light, buttery and crispy Cinnamon Roll and Pumpkin Caramel Kringles, and a Pumpkin Crown Cake, it will be a hard choice deciding which one to eat first. Thankfully, this Danish Treasures package comes with two packets of our delicious Gokstad coffee, so there is no rush for someone to eat their way through these delightful seasonal indulgences.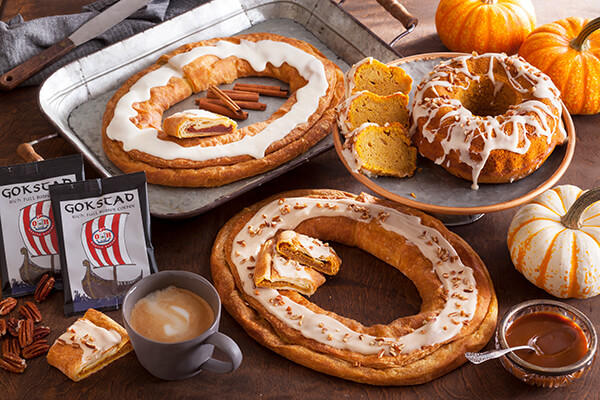 Fancy Pecan Dessert Trio
For a fancy care package delivery that tastes as good as it looks, you can't pass up our Pecan dessert trio. Featuring our award-winning Pecan Kringle with blended pecans, brown sugar and cinnamon, heavenly Angel Food cookies, and Pecan Custard Coffee Cake, this package will taste like heaven from the first bite. The secret is our use of Grade A fancy pecans, which are so good that you could just eat by the handful. That's why it will be hard to resist eating these bakery treats any time of the day.
It's All Jul Need Christmas Dessert Package
Jul means Christmas in Danish, so whether you need a festive care package or something to remind your loved one of home, our Christmas inspired dessert collection is perfect for everyone. Our famous Dream cake with caramelized coconut and brown sugar topping offers a slice of comfort with every bite while our almond and cherry Kringle will put anyone in a happy and festive mood. We think it's all Jul need this year.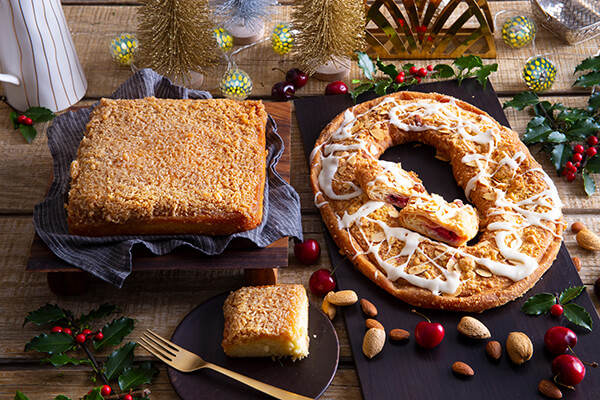 Gourmet Foods to Add to a Care Package
Are you adventurous and like to chart your own path (like our Viking ancestors)? Then no problem, go for creating a custom care package with a personal touch, we have plenty of unique and gourmet dessert options. You can select one or more of your favorite Danish specialities to add to a care package or opt for a seasonal treat from our Kringle range. You really can't go wrong with whatever you choose, because we take great care in selecting the best bakery items possible. In fact, we believe that every bakery item needs to be served in our own kitchens before we share it with you. We'll tell you that the taste testing is really one tough job! :)
Gokstad Coffee
Nothing goes together better than a cup of hot coffee and our bakery. This organic, fair-trade coffee blends a rich, full-bodied dark roast with a sweet, light roast for a deliciously smooth flavor. Sourced from the best coffee growers around the world and roasted locally, this blend is aptly named after the Gokstad Viking ship. Coffee lovers will enjoy this rich blend on its own or paired with a sweet bite from one of our flaky Kringles.
Danish Kringle
It's award winning and featured on gift guides for a reason. Every day is a great day to enjoy a Kringle, and it makes the perfect addition to any care package. We have a wide range of flavors, so there is sure to be a favorite you can send to a loved one or you can select from our seasonal creations. Each Kringle is carefully layered with our scratch-made filling and skillfully wrapped in our 36-layer pastry dough. Once baked, this pastry has a light butter and flaky texture and a soft center that bursts with flavor.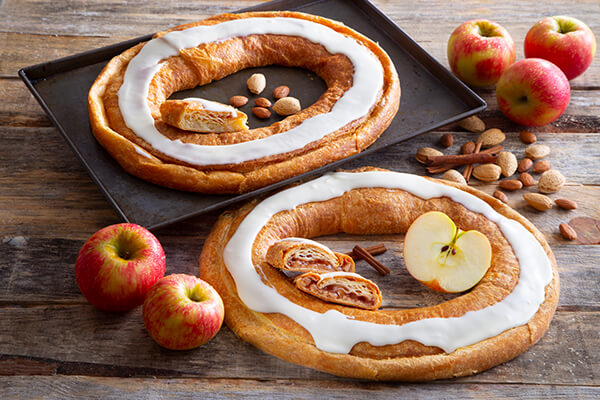 Lingonberries
For a versatile food gift to add to your care package, our handpicked Scandinavian Lingonberries are a sweet and tart topping that you can put on anything. While they are an essential topping for Aebleskiver pancakes (which you can make with our very own mix!), they also taste delicious with yogurt, ice cream, soft cheeses, and oatmeal. It's even great with savory dishes like pork or turkey! Anyone would be delighted to find this gem hidden in a care package.
Bakery Gift Card
Of course, when you are out of ideas or enjoy the thought of letting someone pick their own tasty treat, you can always send a bakery gift card. We have a range of cards with various values available so you can let your recipient satisfy their craving right away or enjoy a seasonal dessert throughout the year.
Order a Gourmet Care Package Online from O&H Danish Bakery
You can readily order a yummy care package from our delicious collection of treats and send it to your loved one wherever they are around the world. Alternatively, visit our local Racine bakery to pick up the perfect addition for your care package or reach out to us with any questions and our staff will happily guide you through our sweet selection of bakery pastries, cakes, and desserts.