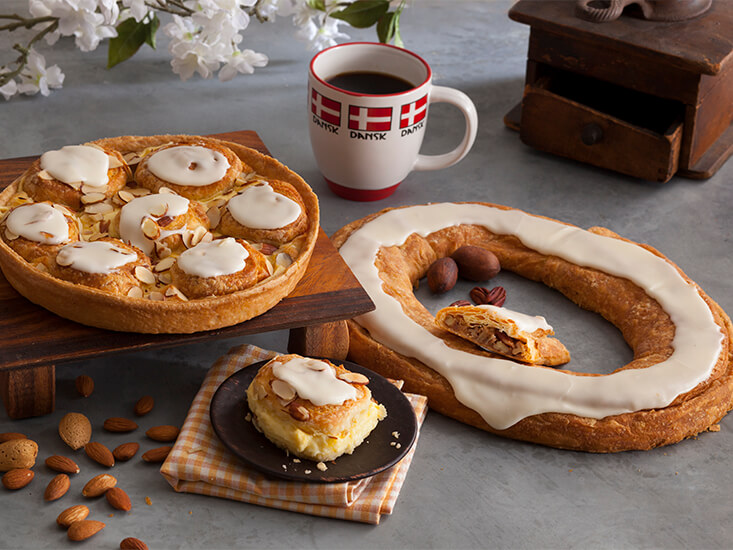 Give a Gourmet Care Package to Sweeten Someone's Life
---
By Eric Olesen - 3rd generation owner
Monday, October 23, 2023
Sending your love to someone and putting a smile on their face is easy with our unique care package ideas. Do you need gift ideas for military families overseas, a student away at college, a special delivery for a sick friend, or a housewarming gift? In that case, you can't go wrong with a sweet and delicious package from our bakery. You can even send something to yourself since we all need a little pick-me-up care package occasionally!
Gourmet Care Packages for Delivery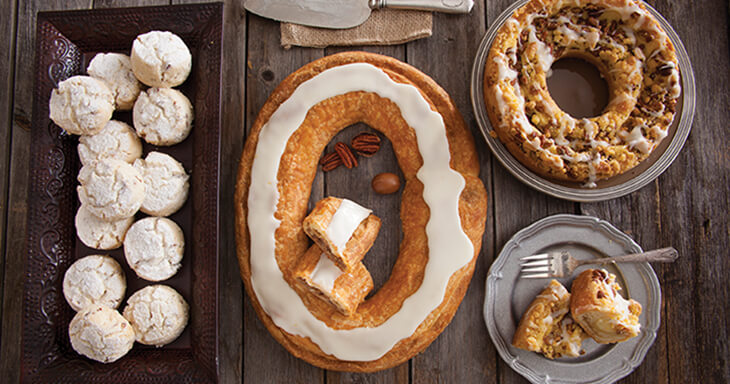 When you want to send a sweet treat to a friend or loved one yet don't know where to begin, we can help. We make delivering to your favorite person an easy process, especially when you're not sure what to gift. We've carefully crafted some Danish pastry bundles that are the perfect place to start. Our talented bakers thoughtfully pair an assortment of delicious and complementing baked goods that keep customers returning for the same ones year after year. Here's a taste of what we have in store:
Kringle Pairings
Our Kringle pairings are award-winning and featured in gift guides for a reason. Every day is a great day to enjoy a Kringle, and it makes the perfect addition to any care package.
We have a wide range of flavors, so there's sure to be a favorite you can send to a loved one, or select from our seasonal creations. We carefully layer each Kringle with our scratch-made filling and skillfully wrap it in our 36-layer pastry dough. Once baked, this pastry has a light, butter-flaky texture and a soft center bursting with flavor. Here are some of our most delightful Kringle combinations: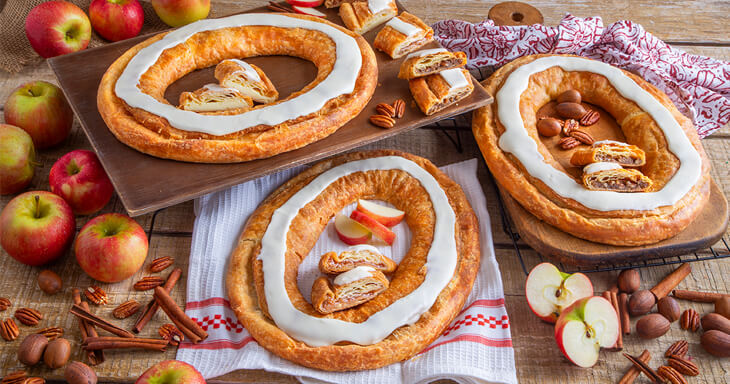 This trio includes one each of our perfect Pecan, Apple, and Cream Cheesecake Kringles. Whether you're indulging in our famous pecan, cinnamon-sprinkled Michigan apples, or mouthwatering Wisconsin cream cheese filling, these Kringles are suitable for breakfast, an after-dinner treat, or whenever you want to pamper someone or yourself.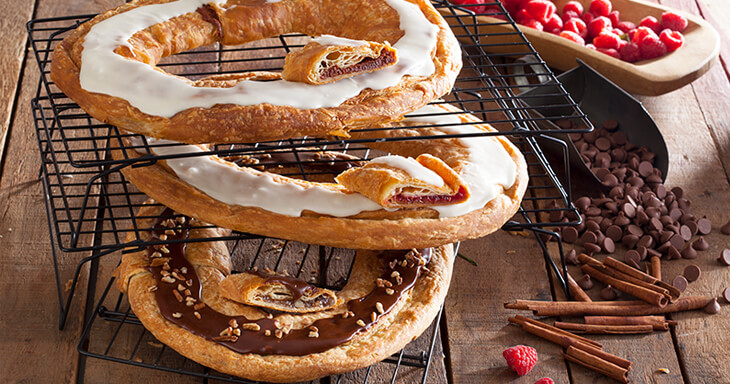 This selection features three Kringles: a tart, ruby-red Raspberry, a sweet and buttery Cinnamon Roll, and a decadently indulgent Turtle Kringle. It's the perfect choice if you appreciate the combination of pecans, brown sugar, cinnamon, and a hint of raspberry.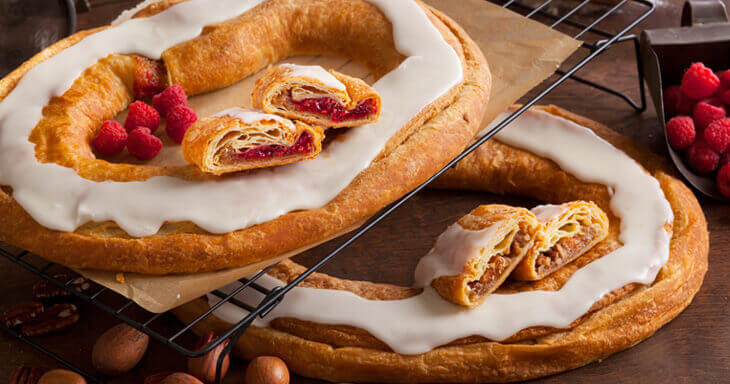 If you're a fan of pecans and the vibrant taste of raspberries, this pairing includes one Pecan Kringle and one Raspberry Kringle.
Our Kringle packs can serve anywhere from 24 to 36 people or just one very lucky individual! Plus, they are kosher certified, ensuring they meet the dietary preferences of many. Whether you're sharing with a group or indulging in some self-care, our Kringle pairings are a delicious choice.
More Popular Dessert Pairings
Kringles aren't the only delicious treats available in curated packs. As you explore our delectable Kringle options, don't forget to delve into our equally tempting dessert care packages. Consider our Royal Scandinavian dessert care package collection or our Orchard Apple, Royal Pair, or Pair of Pairs selections for pure dessert heaven.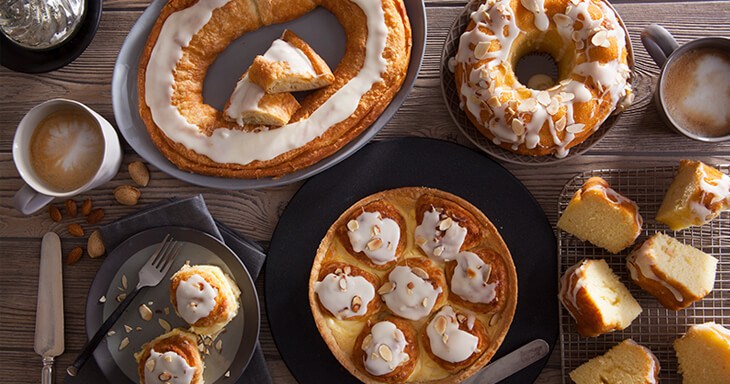 What could be more Kringle than Scandinavia and more Scandinavian than almonds? Our Royal Scandinavian Collection provides one Almond Custard Seven Sisters Coffee Cake, one Almond Kringle, and one Scandinavian Almond Crown Cake. Don't wait too long to place your order – these Nordic taste-bud pleasers are among our bake shop pastry bestsellers!
Also celebrating glorious Scandinavia is our Breakfast Buffet pack. Choose this combination for one Apple Kringle, one Cinnamon Roll Kringle, delicious Danish Pecan Sticky Buns, one Apple Cinnamon Coffee Cake, and two Gokstad Coffee Packets. This warmly welcoming bundle is not only for breakfast – enjoy any time of the day or night.
Then there's our exciting Pair of Pairs pack. As our most in-demand baked goods care package option, this combo contains one Pecan Kringle and one Almond Custard Seven Sisters Coffee Cake. It's an ideal pairing that's lovingly layered – creamy, silky, spiraled, and utterly delectable.
You can also choose our gift-worthy Fancy Pecan Collection or No Added Salt and Sugar Kringle bundle. Alternatively, why not select 12 Assorted Kringle of your choice? Pick from our most-loved flavors. Choose 12 to 36 of your or your friends' or family's best-loved flavors.
Seasonal Packages
What would life be without comforting seasonal holiday Kringles and dessert feasts? Prepare for the change of seasons with our Festival of Fall, Cozy Fall, It's All Jul Need, and Give Thanks combinations. Warm up while you celebrate with a Cinnamon Roll and Pumpkin Caramel Kringle selection, or give thanks with Thanksgiving "Stuffed" Kringle and Apple Cinnamon Kringle Pie.
Share the warmth of the holiday season with O&H Bakery's Holly Jolly Christmas Collection, a perfect gift to brighten someone's winter wonderland. This thoughtful gift includes Santa's Secret Christmas Kringle, A Very Danish Christmas Kringle, and a Wisconsin Christmas Coffee Cake. It also contains a White Christmas Crown Cake and an Artist's Edition Watercolor Santa's Sleigh Gift Box. What better way to spread holiday cheer?
The best part of ordering an online care package from us is our flexible shipping option. We can complete your comfort care package delivery within one to two business days, essential to any food!
Order a Gourmet Care Package Online From O&H Danish Bakery
You can readily order a care bundle from our delicious collection of treats and send it to your loved ones wherever they are in the world. Alternatively, visit our local Racine bakery to pick up the perfect addition to your care package, or contact us with any questions.
Our staff will happily guide you through our sweet selection of bakery pastries, cakes, desserts, gourmet coffees, and handpicked Scandinavian lingonberries. If you're still not sure what to gift, you can also give joy with one of our thoughtful bakery gift cards.