Best Food Gifts to Send by Mail
---
By Eric Olesen - 3rd generation owner
Saturday, November 25, 2023
Wondering how to send a food gift in the mail? You can easily send desserts from O&H Danish Bakery to someone you love. Our online food gifts contain delicious mail-order baked goods, such as our Almond Custard Seven Sisters Coffee Cake (spiraled rolls filled with creamy almonds and custard) or our sweet, buttery Cinnamon Roll Kringle.
Kringle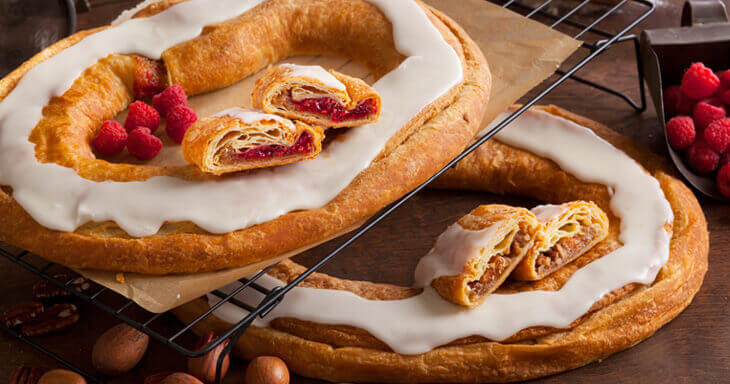 Why choose Kringle? These sweet, flaky, and delicious-tasting pastries are famous in Denmark, Norway, and around the world. Our Kringles are handmade and we offer delicious, fun, and festive fillings. Plus all of our Kringles are iced to perfection. They are ideal as gifts for all occasions, from holidays like Christmas and Easter to celebrations like birthdays.
Your special someone will love our Almond, Turtle, or another of our wide range of flavors, such as our mouthwatering:
Wisconsin Kringle
We've named our Wisconsin Kringle for our beloved home state, famous for its dairy. We created it using homegrown Door County Montmorency cherries, fresh from the bog Wisconsin cranberries, and Wisconsin cream cheese.
Cherry Kringle
The team makes our Cherry Kringle from scratch using freshly picked fruit, our famous flaky pastry, and delectably smooth icing — perfect for a surprise mail-order dessert anytime.
Birthday Kringle
Birthdays are a popular occasion for sending tasty baked goods in the mail. Help someone celebrate with this creamy custard and raspberry jam Birthday Kringle.
Pecan and Raspberry Pair Kringle
Why not send a lovingly curated Kringle pack for more of what your special someone loves? Pair refreshing raspberries with pecan perfection in our Pecan and Raspberry Kringle Pair. Our most popular flavors and best sellers!
Cakes and Pastries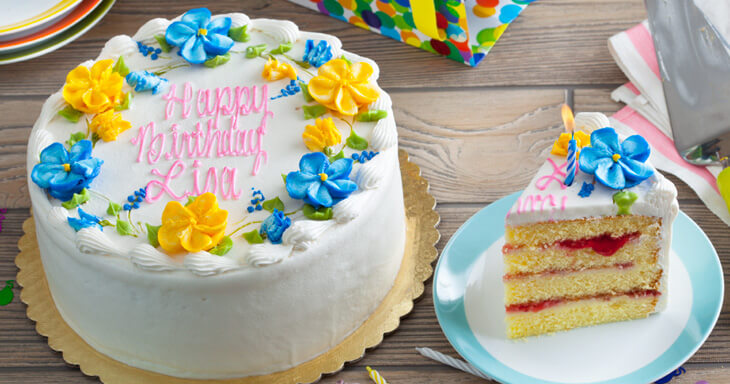 Beyond our enduringly popular Kringle, we have an extensive collection of Danish cakes and pastries. Some of our fan favorites include our out-of-this-world:
Apple Cinnamon Coffee Cake
Warm an Apple Cinnamon Coffee Cake and enjoy it with freshly brewed coffee. This layered bake infuses apples with cinnamon, topped with creamy icing and crumbly streusel. Yum!
Pecan Sticky Buns
These gorgeously gooey Danish Pecan Sticky Bun delights are among the best food gifts to send by mail. These tantalizing rolls smothered in pecan caramel goodness are another treat best enjoyed warm.
Birthday Layer Cake
Our Danish Birthday Layer Cake helps celebrate another milestone with three layers of creamy custard and homemade raspberry jam sandwiched between four layers of dreamy, buttercream-frosted yellow cake. You can also customize it with professionally scripted wording.
Valhalla Brownies
These Valhalla Brownies are divine – and good enough to grace the great hall of Valhalla! A smooth layer of caramel is sanwiched between two chocolate browines, with either fudge or vanilla bean frosting, and topped with chocolate curls.
Gluten-Free Desserts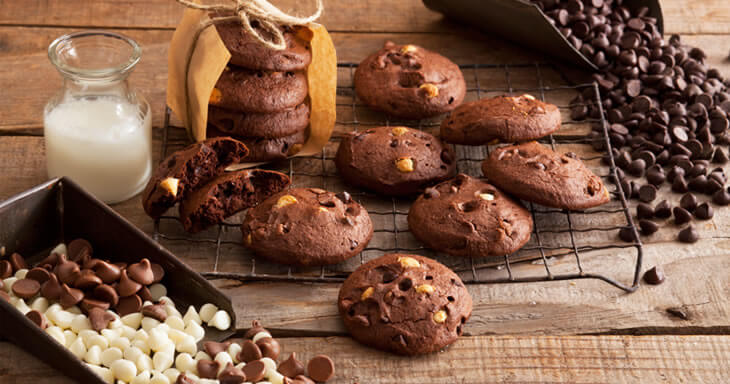 For the special someone in your life with gluten dietary restrictions, we've got you covered with our delicious gluten-free desserts!
Gluten-Free Triple Chocolate Cookies
Who doesn't love cookies? Our Triple Chocolate Cookies are no ordinary treats! We use three types of chocolate - milk, dark, and white - to make these scrumptious and gluten-free cookies. Best enjoyed warm with a delicious glass of milk.
Gluten-Free Trinity Layer Cake
We bake our Gluten-Free Trinity Layer Cake with a mix of Wisconsin cranberries and cherries between a layer of gluten-free cake and a layer of cheesecake–the ideal option for a family get-together.
Gluten-Free Triple Chocolate Brownies
Mmmm, brownies! Now, everyone can enjoy these lovingly made sweets. Our Triple Chocolate Brownies are an ideal gift for all your lucky friends. We make these two 6-inch triple chocolate brownies from milk and white chocolate and semi-sweet chocolate chips. If your friends can resist scoffing them down on the spot, these brownies can be frozen for later.
Danish Breads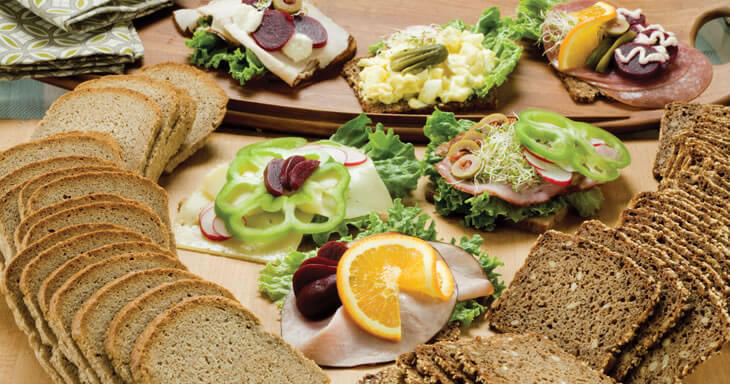 Not only cakes and desserts can be sent by mail. Our talented bakers carefully and authentically craft traditional Scandinavian breads using methods passed down through the generations.
Pumpernickel
Our thinly sliced dark rye Danish Pumpernickel bread is ideal for sandwiching your favorite greens, meats, seafood, or salads.
Rugbrod
Rugbrod Danish grain bread is perfect for a simple yet tasty snack, even with a dab of butter, jam, or a slice of cheese.
A "Smorrebrod" Selection
Ever tried Danish "smorrebrod"? It's an open-faced sandwich with copious toppings smothering a thin slice of dark rye bread. So if you plan to send a fabulous food gift through the mail, consider this Pumpernickel and Rugbrod combo for a lip-smacking feast.
Add a Keepsake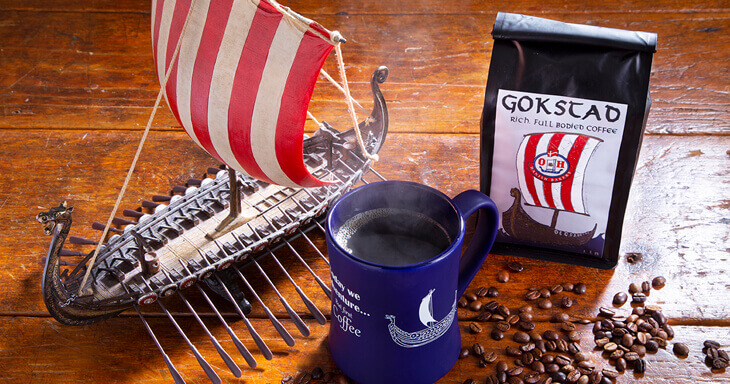 You may ask, "Can I send a gift with food in the mail?" Definitely. Choose from our Danish Aebleskiver pan, Gokstad premium coffee, Lingonberry jam, or Danish Pancake Balls mix. We also recommend Our Favorite Knife. Its comfortable, ergonomic design will soon also make it your favorite accompaniment to food gifts you can mail.
Gift Packages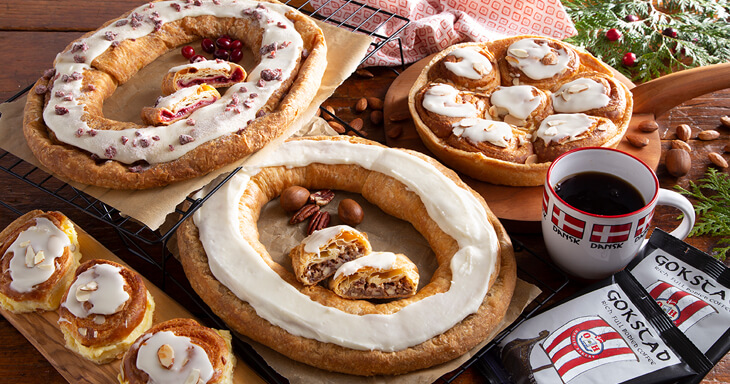 Now you know how to send food through the mail. However, choosing only one Kringle is tricky. So we've assembled various food gift combinations ideal for any celebration:
Kringle Gift Packages
We call our Kringle Gift Packages "a gift unlike any other." We know that making a great impression is essential. So we've combined satisfyingly crowd-pleasing flavors in each Kringle gift pack.
Other Dessert Packages
Beyond our always-welcome Kringle baskets, consider one of our equally impressive pastry and seasonal gift packages. Whether it's a curated or customized assortment of our most popular or seasonal pastries, a thoughtfully selected gift package will surprise and delight you.
Kringle Subscriptions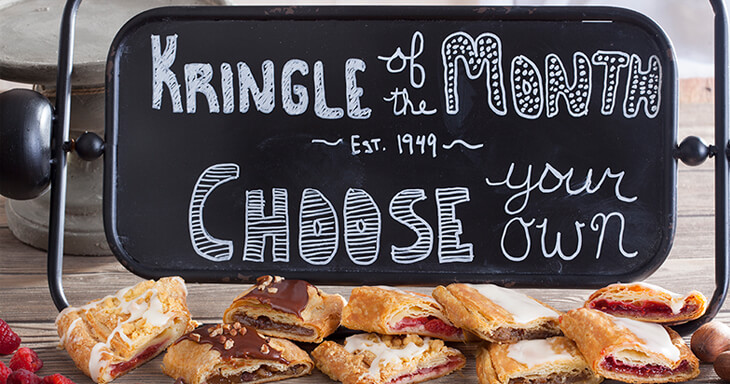 Don't let a day go by without the joy of our Danish Kringle! Subscribe to our Kringle of the Month club today to send family and friends a monthly Kringle shipment for three, six, nine, or 12 months. Order from our preselections or choose your own.
We also invite you to join our Kringle Explorer's Club. Be among the VIPs who experience our new flavor adventures before we launch.
Discover the Best Online Mail Order Food Catalogs
Beyond baking high-quality pastries since 1947, we dedicate all our efforts to exceptional customer service and shipping. In addition, we want our memorable mail food gifts to be for everyone.
So can you send O&H Danish Bakery food in the mail to people with special dietary needs? Yes! Our tasty gluten-free and special diet selection includes gluten-free Triple Chocolate Brownies and sweet rolls with no added salt or sugar.
Send O&H Danish Bakery Gifts Straight to Someone's Door
Find out how effortless it is to send baked items in the mail with our assortment of sweet and savory goods and fast, flexible delivery options. Order online today or find a location near you for more food gift ideas.