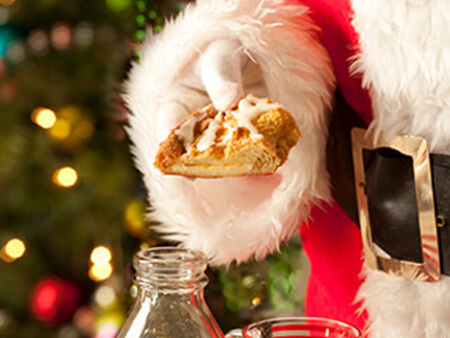 A family tradition of Danish treats for the Holidays
---
By Eric Olesen - 3rd generation owner
Saturday, November 23, 2019
Christmas is right around the corner, and it's never too early to start planning your holiday. This time of year, many families look forward to spending time together, enjoying good company, good conversation, and good food. We love all three, but it's the "good food" part that's the heart and soul of what we do here at O&H Danish Bakery.
We offer a wide variety of Danish sweets to help you celebrate with Kringles, coffee cakes, crown cakes, bread puddings, Scandinavian breads, and much more. Not to mention the warm, comforting feeling of being home for the holidays and taking part in Christmas traditions that have been passed down through the years. Here are some of the irresistible Danish treats you'll find at O&H Danish Bakery, crafted with the same care that our family has been taken for generations.
Kringle
Kringle and bakery have become a tradition for many families, particularly around the holidays. Many families formed this tradition when they received Kringle as a gift from a friend or family member, and now, they give Kringles as Christmas gifts themselves. Some families have been enjoying this tradition for generations, and now look forward to spreading a little of the joy that comes with sharing memories with the special people in their lives by giving the gift of this favorite Danish delight.
Our selection of Christmas Kringle includes several tempting flavors sure to bring smiles to any holiday table. With flavors such as Santa's Secret Christmas Kringle, Cranberry Kringle, A Very Danish Christmas Kringle, Eggnog Kringle, and more, we bring you the tastes of the season. We use fresh, quality ingredients to create the best possible products, from our perfectly flaky pastry to our sweet, creamy, and fruity fillings.
Danish Layer Cakes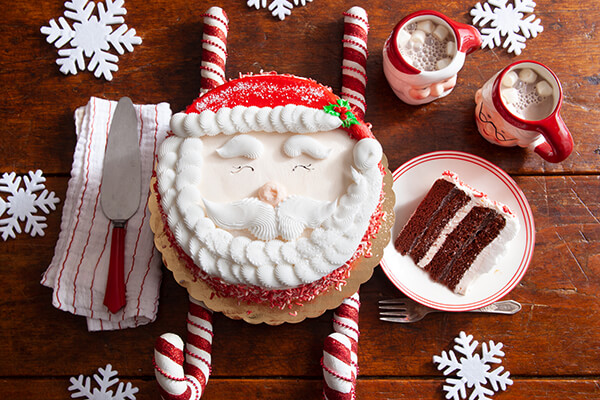 Our Santa's Chocolate Peppermint Cake is the ultimate dessert to bring along to your next holiday gathering. This scrumptious and adorable confection is made with layers of cocoa cake and filled with a chocolate silk custard. We top the whole thing with delicately flavored peppermint frosting and garnish the side with miniature candy canes before artfully hand-decorating the surface to look just like jolly old St. Nick.
This cake is just one of our delicious Christmas Danish layer cakes, a selection of tempting treats made with the two most essential ingredients to add to a cake: personal attention and the perfect cake-frosting balance. We make all our cakes with care to be moist and delicious and decorate them individually by hand so that you're getting a unique bakery treat made just for you. Be sure to try our Ohhhh Fudge! Layer Cake, Christmas Eve Cake, King's Poinsettia Cake, Rudolph's Red Velvet Cake, or Christmas Pecan Dreams Layer Cake - each more festive and delicious than the last.
Danish Coffee Cakes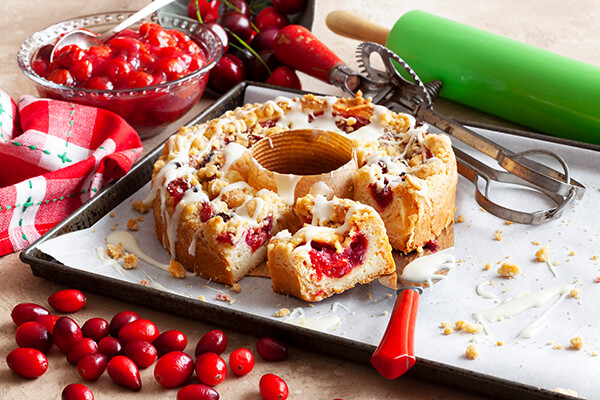 Our Wisconsin Christmas Coffee Cake is a must-have this holiday season. Not only does this cake look lovely sitting on any holiday table, but we also make it from the finest ingredients from our home state, for superior taste and quality. We fill our moist coffee cake with velvety cream cheese and 100% Wisconsin cherries and cranberries, then top with crumbly streusel, honey glaze, and sweet, creamy icing for an incredible treat your guests won't forget any time soon. Serve it for breakfast, dessert, or anytime at all.
We have a tempting variety of coffee cakes homemade using our family recipes. Are you looking for something to take to a party, serve after dinner, or have on hand for unexpected visitors? We have you covered. Try our Pecan Custard Coffee Cake, Dark Chocolate Croissant Pie, Cinnamon Seven Sisters Coffee Cake, Apple Cinnamon Coffee Cake, Merry Cherry Christmas Pie, Danish Dream Cake, or any of our other delicious Danish treats.
Danish Crown Cakes
Our Christmas in Copenhagen Crown Cake is a delicacy that you should not miss this holiday season. Every December, Copenhagen transforms into a true Christmas city, alive with lights. We've always loved seeing the bright lights against the night sky, and that was our inspiration for this cake. We started with our classic cream cheese, and vanilla crown cake then covered it with chocolate ganache. We sprinkled it with tiny pearl sprinkles and finished it with festive Christmas cookies on top shaped like decorated trees.
While our Christmas in Copenhagen Crown Cake is a favorite, any of our crown cakes would add a touch of magic to your Christmas. Try our Imperial Chocolate Crown Cake, Scandinavian Almond Crown Cake, Pumpkin Crown Cake, White Christmas Crown Cake, or Copenhagen Crown Cake. We use our secret family recipe to make each cake incredibly soft and moist and suitable for Christmas or any other occasion.
Pastries and Bread Puddings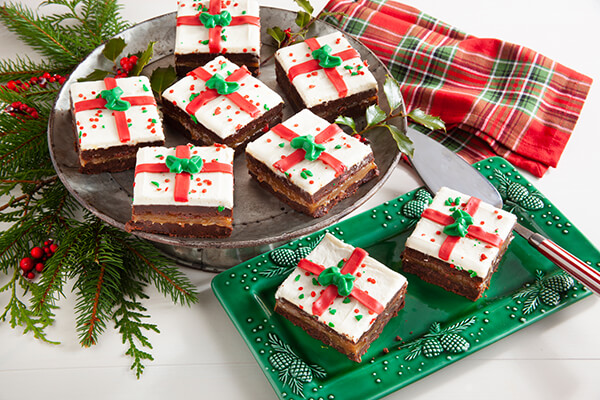 Are you looking for the perfect Christmas gifts - something that won't cost too much, take up too much space, or sit unused in a closet all year? You've come to the right place. Our selection of pastries and bread puddings will tempt your taste buds and impress your guests. We handcraft each pastry with high-quality ingredients using the recipes our family has been using for generations.
Our Christmas Present Brownies are the perfect gift to bring with you to a cozy holiday party. With a layer of smooth caramel in between two rich fudge brownie layers - and hand-decorated to look like a gift-wrapped package on top - these festive little numbers will steal the show. Or, choose our Brandy Old-Fashioned Fruitcake. We make our fruitcake in true Danish tradition with 96-score Grade A Wisconsin butter, premium brandy, rum-soaked raisins, fancy pecan halves, and lots and lots of fruit.
Whether you choose red velvet cake, Christmas coffee cake, a holiday Kringle, or another of our Danish sweets, you're sure to serve up a festive table your family, friends, and guests will love. We invite you to enjoy our family Christmas traditions along with yours this season. Celebrate with Kringles - and celebrate with O&H Danish Bakery. We wish you and yours a very happy holiday.