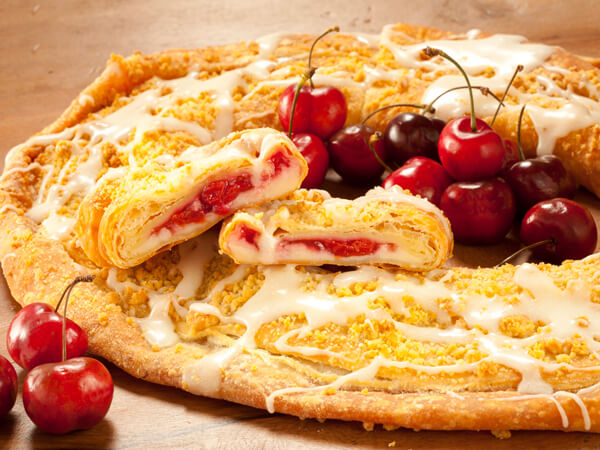 Desserts for Cherry Lovers
---
By Eric Olesen - 3rd generation owner
Sunday, May 2, 2021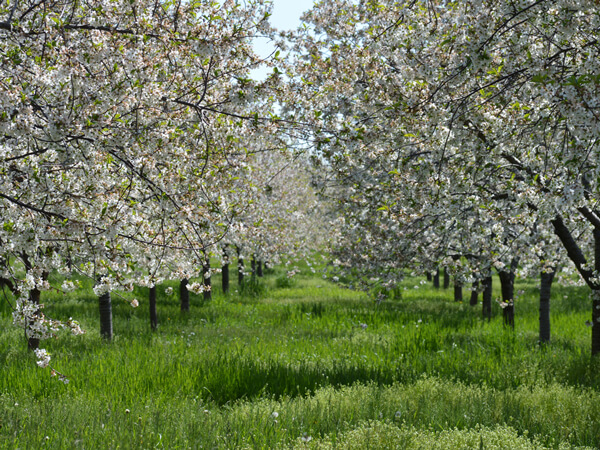 Nothing says summertime the way that a sweet, ripe, juicy cherry does! From the delight of eating them straight off the tree to their place in salads and meat marinades, cherries are a versatile fruit — and we think that they taste best infused in our array of delicious desserts. We were fortunate to be introduced to cherries at a very young age because of the abundance of cherry orchards in the great lakes. In this area, cherries were brought to the United States by French colonists from Normandy, who planted the trees along the Saint Lawrence River and along the Great Lakes. In Wisconsin, and Door County in particular, the temperate climate, shallow, rocky soil and insulation to late frosts due to its proximity to Lake Michigan, led to plentiful cherry crops. And lots of delicious, fresh cherry desserts!
Whether you prefer pairing it with our light and crispy Kringle pastry, warmed in a cherry pie, or with a drizzling of chocolate, you can enjoy this fine, slightly tart fruit flavor with our wide selection of desserts for cherry lovers.
Cherry Kringle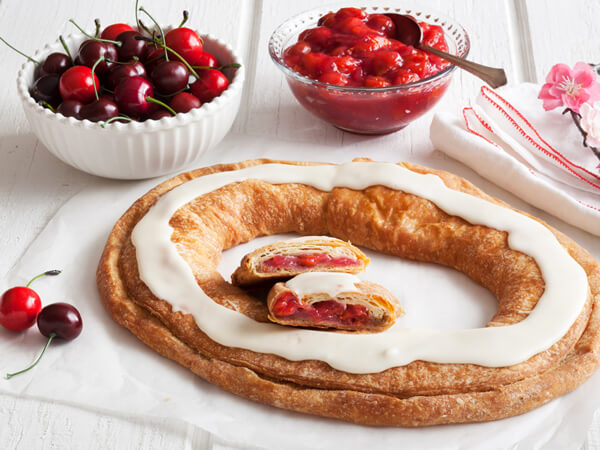 Just because this Kringle resembles a simple cherry dessert doesn't mean that it's not bursting with flavor. We pack our delicious 36-layer pastry dough with a sweet homemade cherry filling for a tasty treat that you can eat at any time. Made with local Door County montmorency cherries, the aroma in our bakery when we make this is absolutely heavenly. And the light, buttery, and flaky pastry is the perfect wrapping to showcase this summer fruit, while the smooth icing gives this dessert a hint of sweetness.
Danish Cherry Bread Pudding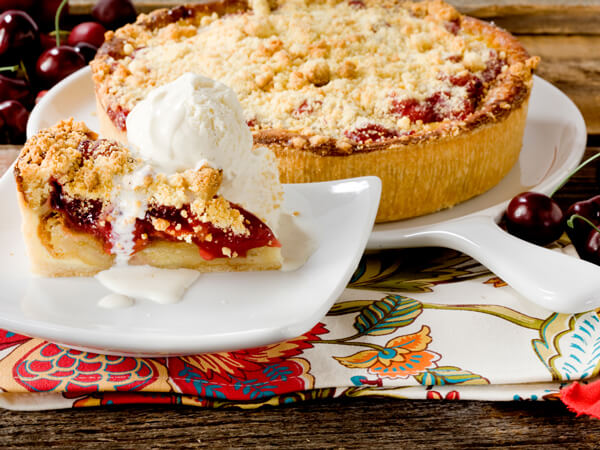 For a delicious and comforting dessert, warm up our Danish Cherry Bread Pudding and serve it with your favorite ice cream or topped with whipped cream. However you decide to serve it, you are sure to enjoy the tart cherry flavor combined with our Danish pastry, which we soak in vanilla egg custard and top with buttery streusel. If you are like us, nothing ends a great meal like that perfect dessert and when you warm this up - it sure fits the bill.
Black Forest Coffee Cake
Inspired by the world-famous Black Forest cake, we take our made-from-scratch cherry filling and pair it with rich dark chocolate to fill our Kirschwasser (cherry brandy)-soaked pastry. We then garnish our Black Forest Coffee Cake with buttery streusel and sweet icing to create one of the best cherry desserts available. It's great with coffee and great company.
Wisconsin Kringle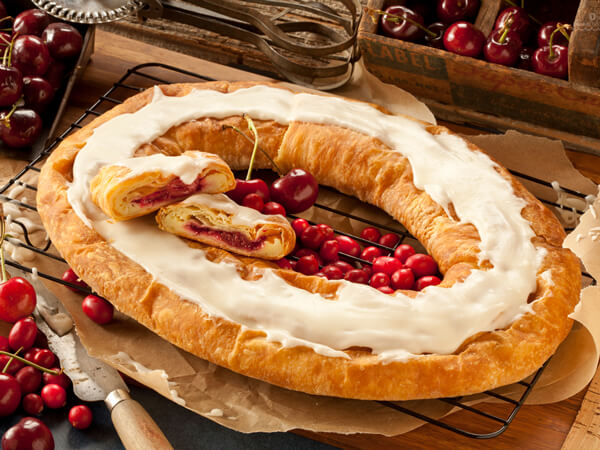 You can enjoy a taste of home with our delicious Wisconsin Kringle. With state-grown ingredients, including freshly picked Door County Montmorency cherries and cranberries, we combine fruity delights with cream cheese to proudly showcase the finest flavors that Wisconsin has to offer. For a creamy, sweet and tart dessert, this decadent Kringle is at the top of the list. It is quickly becoming one of our most popular Kringle and our customers definitely rave about it.
Cherry Cheese Kringle
Desserts made with cherries always taste yummy when we pair them with velvety smooth Wisconsin cream cheese, top them with streusel and drizzle them with icing. That is exactly what we have done with our Cherry Cheese Kringle, a mouthwatering dessert that will have you reaching for another slice. This reminds us of a combination of a cherry cheesecake and cherry cobbler, which is a pretty fine duo indeed.
Gluten-Free and Special Diet Desserts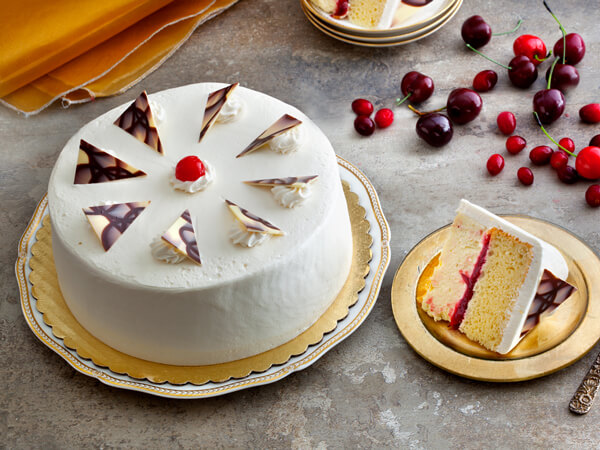 We believe that everyone should get to enjoy cherry desserts, which is why we have created a selection of gluten-free and special diet treats.
For a no added salt or sugar dessert, we have adjusted our pastry recipe slightly to meet your needs while still delivering a light, tender and flaky Kringle bursting with our tasty cherry filling. You can also enjoy our sweet Danish Rolls, which look just as good as they taste with their spiral shape and fruit-filled center.
Our Gluten Free Trinity Layer cake is another must-try dessert for cherry lovers. We start with a silky-smooth cheesecake and layer it with a generous serving of our delicious Wisconsin filling of tart Door County cherries and cranberries. We then layer it with our soft and moist gluten-free cake before covering it with frosting and placing a cherry on top.
Get Cherry Desserts from O&H Danish Bakery Delivered Straight to Your Door
With so many delicious cherry desserts to choose from, you are sure to find one that satisfies your taste buds. We use the finest ingredients to make our decadent pastries and cakes and are proud to showcase the sweet and juicy cherries from our home state! Order your favorite cherry dessert online from our bakery today and have it delivered straight to your door.