Give the Gift of Seasonal Kringles this Year
---
By Eric Olesen - 3rd generation owner
Wednesday, December 4, 2019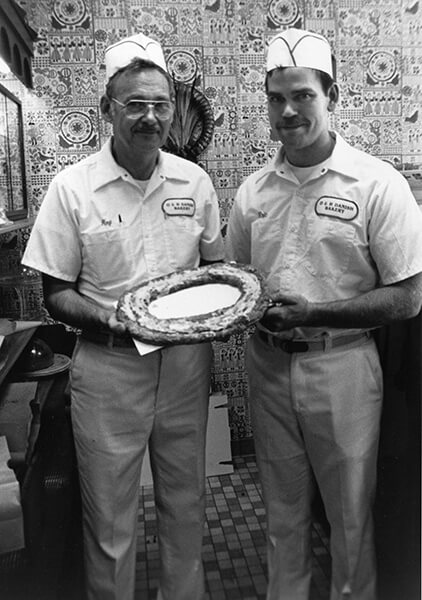 Does your family have holiday traditions? Perhaps you look forward to choosing and decorating your Christmas tree together (or maybe even cutting it down yourself), volunteering at a local charity, counting down the 25 days of Christmas on your Advent calendar, wearing matching Christmas pajamas, opening presents around the tree on Christmas morning, or sharing a traditional Christmas morning breakfast together such as Kringles or cherry Danish. Maybe your family even has its unique traditions that may seem odd to others but that you cherish dearly.
Sometimes, it's hard to say when or where traditions originated. All you know is that they become something that you look forward to each year, and they become something you long for when things inevitably change. From year to year, things are never the same; new babies are born, older kids move out to begin college life, jobs are lost and gained, families relocate - the list goes on and on, and the adage is true: the only thing constant is change. And while change is inevitable, traditions are the fabric and helps us stay connected throughout the years.
That's why we cling so tightly to our traditions, and our family at O&H Danish Bakery is no different. We love the way the holidays bring people together to spend time enjoying each other's company, share special memories, and treat themselves to delicious, comforting Christmas food, such as eggnog and cheese Danish. Yum!
Here are a few of our favorite Danish Christmas traditions, which you might find that you'd like to make your own, and we'd be honored if you did.
Christmas trees with real candles
In Denmark, Christmas decorations tend to be more natural than many of the ones you see in the US; think simple pine boughs, white fairy lights, and Christmas trees with real candles. (Don't worry! The Danish often help ensure fire safety by getting a fresh tree to decorate on Christmas Eve and by keeping a bucket of water nearby just in case!). Also, if you'd rather not use open flames (despite the lovely ambiance!) around a real tree inside your home, you can still replicate this fun tradition by using your traditional Christmas lights and singing carols around your tree before digging into your main Christmas meal.
Paper star lanterns
Rather than strings of multi-colored lights illuminating home exteriors and yards, you're more likely to find large paper star lanterns brightening December windows in Denmark. Whether you buy them or make them yourself, these beautiful yet simple lights are a great way to bring a little hygge into your home this season. Stars symbolize the star of Bethlehem that, according to the Biblical story, guided the wise men to the baby Jesus. For those who aren't religious, the star is still a beautiful holiday symbol representing warmth, hope, and the toasty warm feelings of closeness we enjoy so much around Christmastime.
Christmas lunch
In the US, we often celebrate the season with office parties, quick dinners out with colleagues, and casual gatherings of friends and family. The Danish, however, have another tradition they look forward to - Christmas lunch (julefrokost). This luncheon is an all-out affair that may last for hours. Large groups will gather to enjoy the fellowship and Christmas food, which might include everything from roast pork, Danish open-faced sandwiches, cabbage, rice pudding, apple Danish, and many other traditional, and irresistible, dishes.
Kringles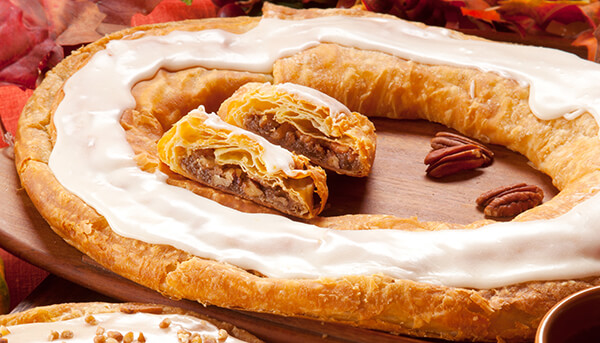 Of course, at O&H Danish Bakery, one of our very favorite holiday traditions revolve around food - especially Kringles. These flaky, filled, and iced pastries first came to Racine in the late 1800s, introduced by Danish immigrant bakers. At one time, there were more Danes in Racine than anywhere else in the country. That's why our city is home to a number of traditional Danish bakeries and how our family came to be among them.
When it comes to our Kringles, we use the same methods our family has used for generations before us. We don't cut corners, and that means that each Kringle takes three days to create. We roll rich butter in-between layer after layer of delicate pastry dough, then stuff it with fresh, homemade fillings of fruit, nuts, cheese, and more. Finally, we bake it to a perfect golden brown and add on our sweet, creamy icing for an irresistible finish.
Christmastime at O&H Danish Bakery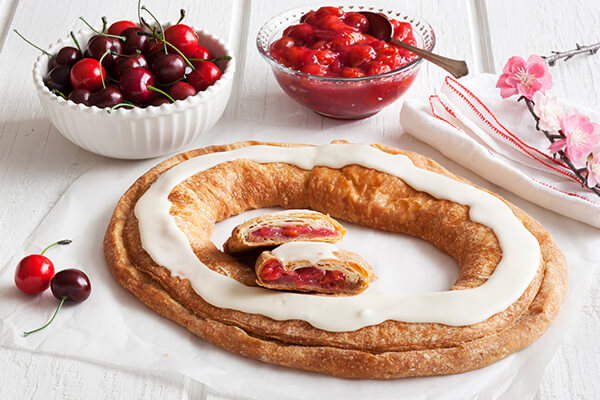 No matter which traditions you're looking forward to this season, we invite you to celebrate with O&H by treating yourself and your friends and family to some of our delicious bakery treats. Choose a Christmas-themed Kringle such as Santa's Secret, Cranberry Kringle, Eggnog Kringle, or A Very Danish Christmas Kringle. Or surprise your family with a breakfast Kringle and that will take your Danish game up a notch. Who doesn't love a cherry Danish, apple Danish, or cheese Danish along with a steaming pot of fresh-brewed premium Gokstad coffee?!
As we're counting down the 12 days of Christmas this year, we know that gift-giving is one of the traditions that most families hold dear. So, we make it incredibly easy to shop for the special people in your life. From our Kringles, layer cakes, coffee cakes, and other baked goods to our easy-to-use baking mixes so that your friends can create a taste of Denmark right in their own kitchens; you can find all you need to check off everyone on your gift list. Our sweets and gifts are perfect for parents, siblings, friends, colleagues, and more.
Perhaps best of all, however, is the feeling you'll get from visiting us or enjoying our traditional family recipes. That's because we pour personal attention and meticulous care into everything we do, from each sweet, flaky Kringle to each interaction with our valued customers. You'll feel like part of the family and get a true sense of what hygge is all about. Why not make O&H Danish Bakery one of your family's Christmas traditions?

We wish you and yours the very best this holiday season.