Midwinter Feast and More Danish Holiday Traditions You Need to Know About
---
By Eric Olesen - 3rd generation owner
Wednesday, December 15, 2021
Decorated trees, lively dancing, twinkling lights and delectable food sound like everything you need for a festive Christmas celebration! But did you know many of our Danish holidays and traditions were inspired by the Vikings? Our Viking ancestors celebrated winter holidays long before Christianity reached their shores, and many of their customs carried over into the Christmas celebrations and other Danish holiday traditions that we still practice today.
Midwinter Feast
Even before Christianity spread through Denmark, Vikings celebrated the Midwinter Feast around the time of winter solstice and as the days finally began to lengthen. They would feast for days in honor of their abundance and farming gods to ensure a fruitful new year. Food played a huge role in the festivities, with the Vikings sacrificing and eating wild boars, a precursor to the modern Christmas ham (we might just stick with the ham though!). Danish feasts today are similarly hearty and of course followed with sweet desserts!
The Christmas Tree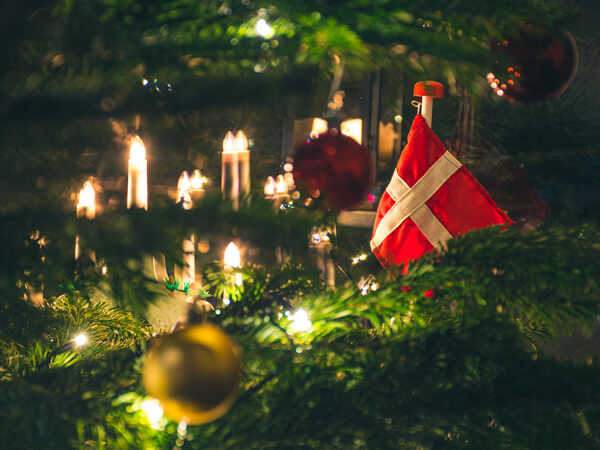 The Christmas tree as we know it has origins in Germany, but Vikings had long been decorating trees in Denmark. Decorations made from wood or cloth and statues of gods were intended to please the tree spirits and coax them into returning in the spring. The arrival of Christianity resulted in these decorations becoming more patriotic, featuring flags and war-inspired trinkets. However, an essential element that remains throughout history is candles. Burning candles reflect the gradual return of sunlight and is considered an essential part of Julhygge, or Christmas hygge. Our family isn't quite brave enough to decorate the tree with real candles, so we instead use a combination of string lights and artificial candles on the tree itself, and save the real candles for tables and mantles to continue the tradition. There's nothing quite as cozy and inviting as a Pecan or Apple Kringle Candle cheerily flickering away while you share hot coffee with family and friends over the Danish winter holiday.
Dancing
Dancing around the Christmas tree is taken quite literally if you're from Denmark! After filling up on dinner, the Danish family traditions continue as everyone gathers to dance and sing Christmas carols and hymns. One of the most popular songs, "Nu Er Det Jul Igen," translates to "Now it is Christmas Again" and has been sung since the 18th century. During the song, families hold hands and whirl around the tree before running around the house and continuing the festivities with presents and delicious desserts.
Santa Lucia Day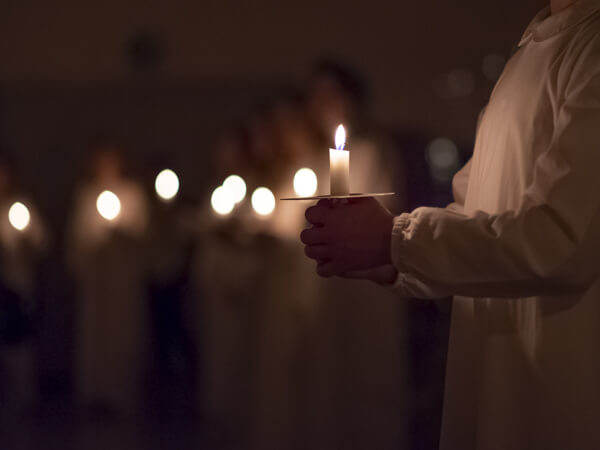 Each year on December 13th in Denmark, a young girl in white, with a crown of candles carefully perched on her head, leads a procession of people dressed in white and often each carrying their own candle. So goes the celebration of Santa Lucia Day, bringing light in the darkness and a dose of Christmas hygge to all who participate in keeping with the Viking focus on candles. Much like the American tradition of the Nativity play, children look forward to participating in the Santa Lucia parades at school and in their communities — although maybe even more important are the hygge-inspired treats they enjoy afterwards! We bring some of that cozy cheer into our own homes with the Christmas Hygge Kringle package, an easy way to please lovers of both classic and seasonal Kringle flavors.
Desserts
Being a family of bakers, our Danish holiday foods include tasty Christmas desserts. We love to combine traditional Danish flavors with more modern tastes at this special time of year.
A Very Danish Christmas Kringle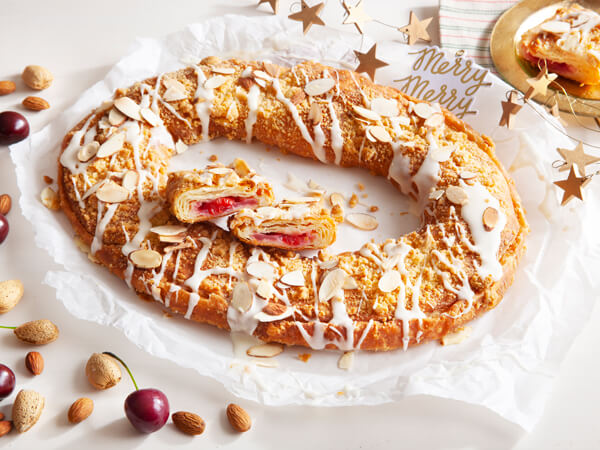 Desserts like Risalamande, a rice pudding with cherry sauce and a surprise almond, inspired us to combine Door County cherries with our smooth almond filling for this delicious Kringle. With streusel, icing and slivered almonds on top, you can't get much better than this! There is a reason this Kringle is award winning!
Aebleskiver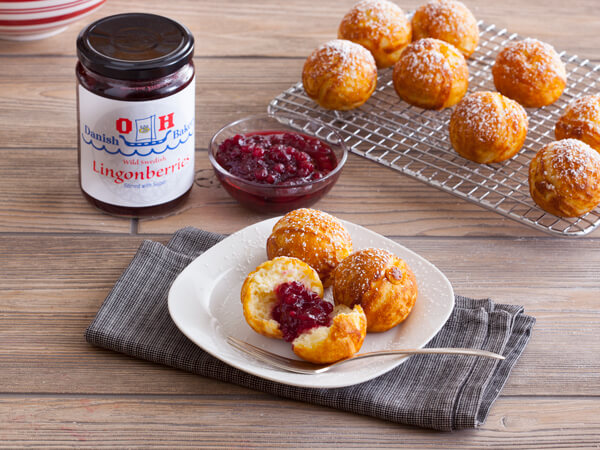 Considered more of a Christmas breakfast treat, these traditional Danish pancake balls are the perfect mix of soft and fluffy ' and our family will happily eat them at any time of day! To share the hygge, we turned our family recipe into an easy mix that you can try at home. We love a dollop of sweet and tart Lingonberries with our Aebleskiver, though you can also enjoy them with a variety of berries, whipped cream and even chocolate!
Scandinavian Almond Crown Cake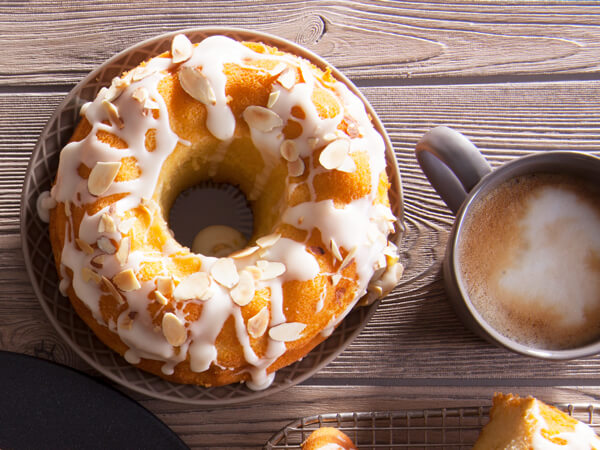 The Crown Cake is another lovely almond treat that turns up the intensity with a marzipan-like flavor that is perfect for Christmas celebrations. This moist and dense cake is topped with our sweet icing and slivered almonds for a little extra crunch. We like to pair it with a cup of Gokstad coffee and a helping of fresh fruit and cream!
Get Holiday Desserts from O&H Danish Bakery Delivered Straight to Your Door
Enjoy a Danish family holiday this year with a delicious array of sweet desserts delivered to your door. We create tasty Christmas Kringle treats and cakes that everyone is sure to love and will be the perfect addition to your festive celebration. Reach out to us for more dessert ideas or order online to ensure your desserts arrive in time for your family gathering.