Order an Edible Gift Package to friends & family this Christmas Season
Saturday, October 19, 2019 by Eric Olesen - 3rd generation owner
Everyone knows that Christmas is the season of giving, yet we can struggle to find the perfect gift for our loved ones. In true giving fashion, we want our gifts to be something that symbolizes thought and care, and that brings joy to our friends and family. We want to put a smile on our loved ones' faces, to show that we are thinking of them this holiday season and to express our love through a personal gift, that seems to be made just for them.
While you sip on your warm cup of cocoa, watch snowflakes drift effortlessly to the ground and hum along to the carols playing in the background, you can cast off the worry of how to find the perfect gift for those closest to you when you treat them to a delicious, flavorful selection of Danish sweets from our bakery. Every festive season, we make it easy for you to embrace the spirit of giving with an array of edible Christmas gifts for you to send to your loved ones near and far.
Christmas Kringles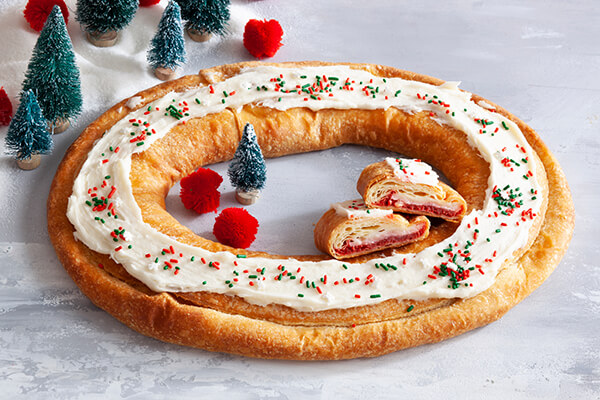 During the holidays, we make our Kringles to the same high standard that we abide by throughout the year yet are filled and topped with scrumptious Christmas flavors. With tribute Kringles to Santa and Mrs. Claus and a nod to Danish Christmas traditions, your loved ones will delight in the sweet taste and crispy texture of our festive pastry. Using family recipes and traditional baking techniques that have been passed down through the generations, our Kringle dough, once it's baked, results in a rich, buttery and flaky pastry that originated from Denmark's famous baker's strike around 1850.
When Danish bakery owners found themselves in desperate need of workers to fill the roles left by their protesting bakers, they ended up hiring skilled Austrian pastry makers. The Austrian bakers brought with them a new technique for making pastry which included adding shortening in between layers of dough. Once the Danes grabbed hold of this new technique, they adapted it to their liking by adding more eggs or butter and filling it with their homemade fillings to create what we know as the "Danish".
Our talented bakers at O&H Danish bakery take care to implement the same technique that our grandfather learned, carefully and patiently rolling out the pastry dough over three consecutive days. The 36-layer succulent pastry is filled with scratch-made fillings using the finest fruits, smooth chocolate and crunchy nuts. Around Christmas time, we take the opportunity to get into the festive spirit and create delicious treats that smell and taste just like the holidays.
A Taste of Christmas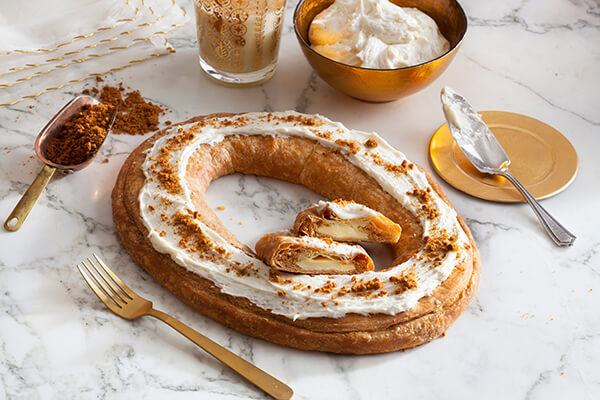 Whether peppermint, cinnamon, eggnog or a sweet fruit flavor comes to mind when you think of Christmas food ideas, we have Kringle flavors to satisfy them all. Our classic Christmas Kringle is a seasonal delight made with our chocolate cake filling, and a touch of peppermint then topped with vanilla bean frosting and sprinkled with red velvet cake. If you want more of our red velvet cake goodness to share, then the secret is out in Santa's Secret Christmas Kringle which layers silky smooth vanilla pudding with our special red velvet cake recipe. We finish this treat with a creamy frosting that will melt in your mouth.
For the eggnog lover in your family, you can gift them our Eggnog Kringle that is inspired by the favorite holiday drink of many. We blend our homemade eggnog with a smooth and creamy custard filling surrounded by our flaky pastry and covered with a velvety frosting and crisp gingersnap cookie pieces. This flavorful sweet treat is sure to put a smile on anyone's face from the first bite. Of course, when you are unsure what flavor to select, we also have the traditional holiday flavors that remind us of home all year round. Our delicious Cinnamon Roll Kringle will start mouths watering when you warm it up, and its decadent aroma fills the room. Alternatively, our Pecan Kringle has remained a firm favorite for more than 60 years and is packed full of our pecan, brown sugar and cinnamon blend. Still undecided on which flavor to order? Our selection of cakes and pastry packages make a perfect Christmas foods gift basket.
Danish Bakery Holiday Gift Packages for Friends & Family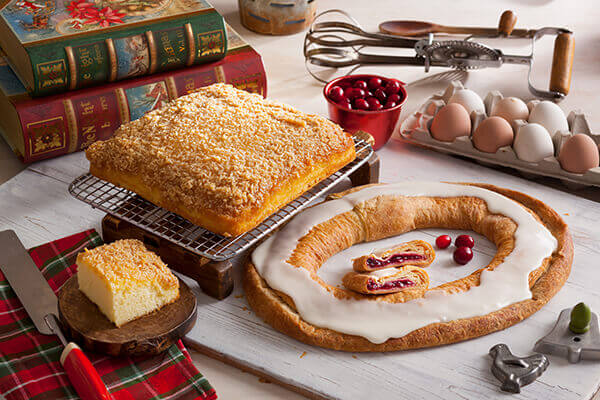 We make it easy for you to send holiday cheer to your friends and family with our collection of Christmas layer cakes, seasonal Kringles and other delectable Danish food gifts. Our Festive Holiday Greetings is the perfect gift to send to someone whether they are one or one hundred. Two of our favorite Kringle flavors, Raspberry and Pecan, come packaged in a beautiful, hand-painted box from a local Racine artist Sue Horton.
You can send a delightful treat from Mrs. Claus herself with her famous trio of Kringle flavors - Cherry, Almond and Cinnamon Roll or warm the hearts of your family with our North Pole Package. We team our perfectly sweet and tart Cranberry Kringle with Denmark's famous Danish Dream Cake. If you want to send a taste of home to a loved one far away, then our 'Christmas from Wisconsin' food bundle is perfect. With thoughts of a white Christmas, a warm fire and great company, we created a home state treat using 100% Wisconsin cherries, cranberries and cream cheese as the star ingredients in our Wisconsin Kringle and Wisconsin Christmas Coffee Cake.
Alternatively, why not create your own holiday food gift package with one of our hand-decorated Christmas layer cakes, White Christmas Crown cake, Christmas present brownies, Merry Christmas Pie, A Very Danish Kringle or Aebleskiver Mix. You can personalize your gift to the liking of your loved one and embrace the spirit of giving and making all things bright.
Order Online from O&H Danish Bakery
Now that your taste buds are buzzing and you can't wait to bite into a delicious Racine Kringle, your "where to buy?" question is quickly answered by ordering from our Danish bakery online. We love to help you share in the holiday spirit of giving with our edible, sweet and tasty Christmas gifts that will delight any recipient. You can order your package today, whether you fill it with a mouth-watering crispy Kringle, holiday layer cake or our Brandy old fashioned fruit cake, there is something for everyone to enjoy.
Our edible, Danish treats freeze and thaw well so you can start spreading the magic of this festive season now, with your family and friends by ordering your gift online to be delivered. If you happen to be in the Racine, Wisconsin area, a trip to visit one of our stores will never disappoint with our friendly customer service, warm and inviting atmosphere, divine aroma and holiday spirit. Celebrate Christmas like the Danes - sharing in the good life through a taste of happiness, one slice and one gift at a time.