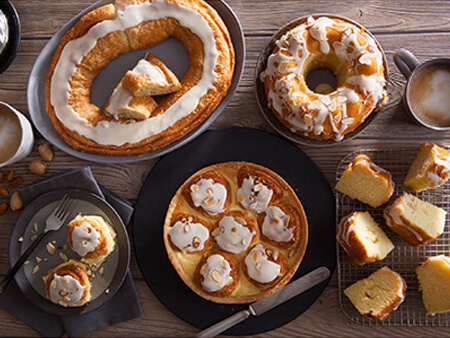 Send Christmas Cheer to Your Clients with an Edible Danish Gift Basket
---
By Eric Olesen - 3rd generation owner
Saturday, November 16, 2019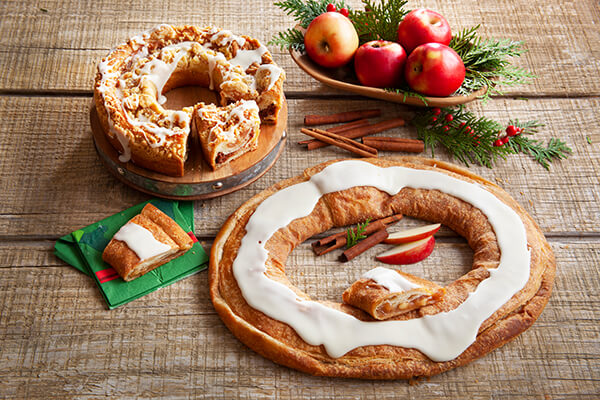 Christmas is the perfect time of the year for giving, celebrating and showing appreciation to your valuable clients. As a bakery with strong family traditions and values, we love that our Danish sweets are a source of joy and a gift that many people around the country can cherish. You can easily send your clients one of our delicious Christmas food gift baskets which is sure to put a smile on their face and impress them with your thoughtful festive token of appreciation.
Our decadent and edible Danish gifts are a delight to share among the office and help to create memorable moments that will be treasured forever. The enticing aroma of a tender and flaky Kringle or the sweet taste of our Danish coffee cake is more than just another treat. We believe that all our pastries and cakes are a taste of happiness that your clients will enjoy - one slice at a time. This festive season give a heartfelt and personal gift that your clients will treasure and know how much you appreciate them.
O&H Danish Bakery Family Tradition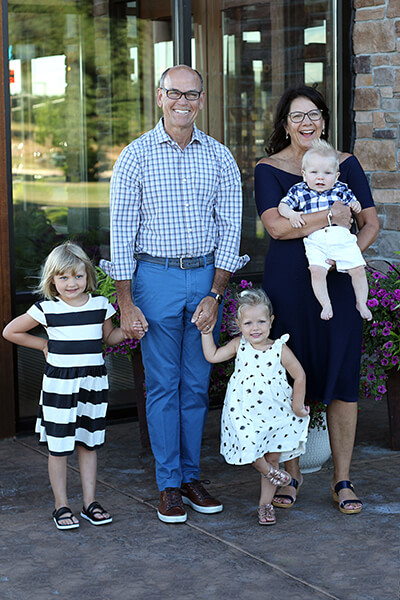 We have been faithfully baking quality Danish pastries from O&H Bakery in Racine since 1949, yet our family's love for all things sweet and Danish started long before we first opened our doors. As a young teen, our grandfather, Christian Olesen, followed his father to America to begin a new life which saw him working at a local bakery. Rather than just working the job, Christian chose to embrace the craft, develop his skills and master the trade. Christian worked diligently and faithfully for 25 years as a local baker until he proudly launched his own endeavor - O&H Danish Bakery.
Through the years, Christian's dedication to authentic Danish recipes and traditional baking techniques have been passed down through the generations as well as his love for creating quality cakes and pastries made from the finest ingredients. We are now in the fourth generation of family ownership with each member along the way using their unique talent to help us spread a little happiness, all without losing sight of our humble beginnings. We have found that our bakery has brought families, friends, co-workers and clients together which is something we are incredibly proud of.
We still bake our cakes and pastries with the same methods and passion that first inspired our grandfather, and this is evident in every creation we make, especially our decadent Danish Kringle. Created with patience, we roll and layer our Kringle pastry with butter over three consecutive days, resting it at night, to produce a succulent 36-layer dough that is light, flaky, rich and flavorful when baked. We make sure to fill our authentic pastries with some of the sweetest fruit, smoothest swedish chocolate and finest ingredients from around the world to create unforgettable flavors and seasonal delights. What better gift is there to send to your clients than one made with decades of dedication, passion and patience? And we do our best everyday to satisfy everyone of our customers, and treat them as if they were the first customer who walked through our doors, over 70 years ago.
Edible Christmas Gifts to Send
With our mouthwatering, flaky and buttery Kringle pastry, sweet homemade fruit filling, authentic Danish coffee cakes and more, we fill our gift packages with sweet treats that will brighten anyone's day. ou can send a Holly Jolly Christmas greeting to the CEO or a valued client with our collection of festive Kringles and cakes in an original hand-painted box from a talented local artist. Send this gift package and share a memorable and unique gift, as they savor the sweet chocolate filled seasonal delight of a Christmas Kringle or dive into our Wisconsin Christmas Coffee cake chock-full of Wisconsin cherries and cranberries and garnished with buttery streusel and drizzled with sweet icing.
If you want to send your recipient joy and cheer this season, they are sure to feel festive and perhaps start singing songs when they feast on our rendition of A Christmas Carol. Filled with three Kringle flavors, a Christmas in Copenhagen crown cake, a Wisconsin Christmas coffee cake and Gokstad coffee, this gift basket filled with edible delights contains all our best holiday items that will have your recipients overflowing with happiness. There are enough sweet treats to go around everyone in the office with our large and generous sized cakes and Kringles, making our Christmas packages the perfect way to say, "happy holidays."
Whether you prefer an almond inspired Royal Scandinavian Collection, our warm and welcoming apple and cinnamon Scandinavian Breakfast Buffet or any other Christmas flavor in between, you will find the perfect combination of taste and festive goodness to deliver to any client. Our talented bakers put in the same amount of passion and dedication when creating all our delicious desserts and can help you deliver a red and white Christmas from Wisconsin with our state's famous tart cherries, cranberries and smooth cream cheese filling our two mouthwatering treats. We create the ultimate cherry and cranberry blend to pair with our crumbly streusel-topped coffee cake and Wisconsin Kringle before finishing both with our creamy and sweet icing. You are sure to impress with this quintessential combination of creamy, sweet and tart in one package.
Order Your Danish Food Gifts Online
You can share your favorite Kringle or Danish cake with your clients by ordering from our Danish bakery online or if you want that extra special service, call our expert team at 1-877-369-3565 or visit our Business gifts page and we can help answer any questions you may have. We deliver near and far so that no-one needs to miss out on our sweet treats and your generous gift. For your recipients with special dietary needs, browse our selection of gluten-free, low salt and sugar options and go the extra mile to make someone smile this Christmas. Our Kringles are sure to be a hit for everyone, and we guarantee satisfaction and that everyone of our customers love them to the very last bite. Call us old fashioned, but that is the way our parents and grandparents taught us.
Regardless of the pastry, cake or dessert you choose, we guarantee to make it from premium ingredients, time-honored techniques and divine recipes. How will you know? Because every year our customers have shared success stories where their clients will immediately on the phone to thank you and rave about their flavorsome office pastries. So, this holiday season, look no further for client gift ideas because our Racine Kringle shop is where to buy the perfect package.