Send Christmas Cheer to Your Clients with an Edible Danish Gift Basket
---
By Eric Olesen - 3rd generation owner
Sunday, November 14, 2021
Christmas is the perfect time of year for giving, celebrating and showing appreciation to your valuable clients. As a bakery with strong family traditions and values, we love that our Danish sweets are a source of joy and a gift that many people around the country can cherish. You can easily send your clients one of our delicious Christmas food gift baskets which is sure to put a smile on their face and impress them with your thoughtful and festive token of appreciation.
Our edible gift baskets, featuring decadent Danish cakes and pastries, are a delight to share among the office and help to create memorable moments that will be treasured forever. The enticing aroma of a tender and flaky Kringle or the sweet taste of our Danish Coffee Cake is more than just another treat; we believe that all our pastries and cakes are a taste of happiness that your clients will enjoy - one slice at a time. This festive season, give a heartfelt and personal gift that your clients will treasure as a sign of how much you appreciate them. Give them one of our Christmas edible gift baskets!
Edible Christmas Gift Baskets to Send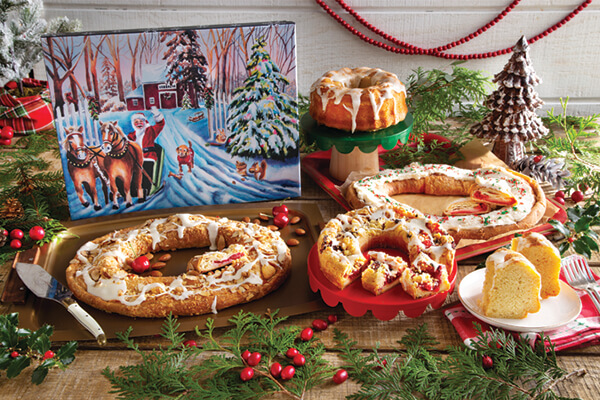 With our mouthwatering, flaky and buttery Kringle pastry, sweet homemade fruit filling, authentic Danish Coffee Cakes and more, we fill our edible gift baskets with sweet treats that will brighten anyone's day. There are enough sweet treats to go around for everyone in the office with our large and generously sized cakes and Kringles, making our Christmas packages the perfect way to say "happy holidays!"
Holly Jolly Christmas Collection

You can send a Holly Jolly Christmas gift package greeting to the CEO or a valued client with our collection of festive Kringles and cakes in an original hand-painted box from a talented local artist. Send this gift package and share a memorable and unique gift, as they savor the sweet red velvet and vanilla pudding filled seasonal delight of a Santa's Secret Christmas Kringle or dive into our Wisconsin Christmas Coffee cake chock-full of Wisconsin cherries and cranberries and garnished with buttery streusel and drizzled with sweet icing.
Order Your Danish Gift Baskets Online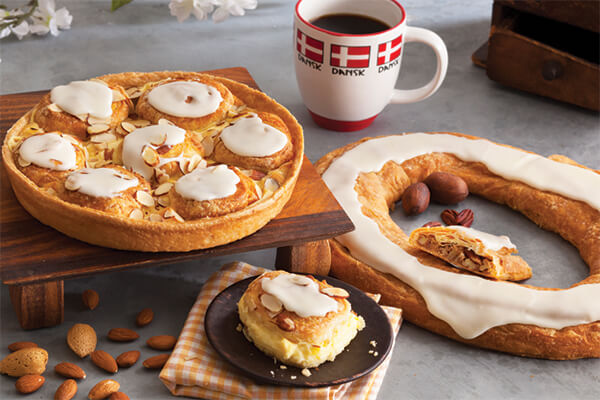 You can share your favorite Kringle or Danish cake with your clients by ordering Christmas edible gift baskets from our Danish bakery online or, if you want that extra special service, call our expert team at 1-800-709-4009. You can also visit our Business gifts page where we answer many questions you may have about the process.
We deliver near and far so that no one needs to miss out on our sweet treats and your generous gift. For your recipients with special dietary needs, browse our selection of gluten-free, low salt and sugar options and go the extra mile to make someone smile this Christmas.
Our Kringles are sure to be a hit with everyone, and we guarantee satisfaction so that every one of our customers loves them to the very last bite. In fact, regardless of the pastry, cake or dessert you choose, we will make it from premium ingredients, time-honored techniques and divine recipes to guarantee customer satisfaction.
How will you know? Because every year our customers have shared success stories where their clients will immediately call them up to say thank you and rave about their delicious office pastries. So, this holiday season, look no further for the perfect edible gift package for your clients!