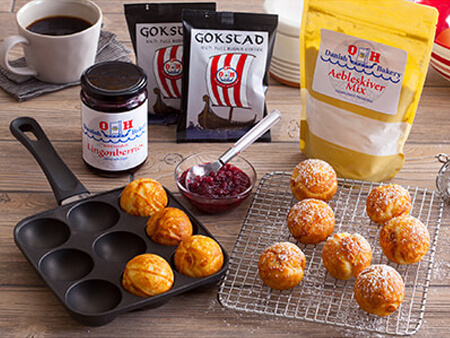 Danish Christmas Traditions inspired by our Viking Heritage
---
By Eric Olesen - 3rd generation owner
Saturday, October 12, 2019
With the weather turning colder and the holidays just around the corner, we love going back to our Danish & Viking heritage for the Christmas traditions our family has loved for generations, and we know that many of our customers have and enjoy the same traditions. They tell us about their families who came from Denmark and how they long for the same Danish pastries that their parents and grandparents used to make. Or, they say that they used to live in Racine and want to reconnect with their roots, and our bakery gives them that opportunity.
We have many different customers with a wide variety of preferences, but two things are certain: first of all, we always strive to bring a taste of home for the people of Racine and throughout the country, and second, that everyone of us has a fondness for their Christmas traditions. At O&H, we love them too - especially how they remind us of our family and the many years that we all gathered together to celebrate the holidays. Here are a few of our own "Viking Christmas" traditions we look forward to every year.
Santa Claus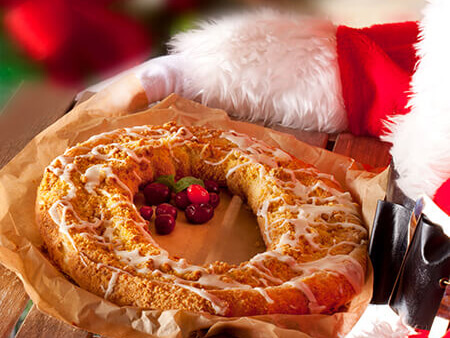 Yule had a strong connection to Odin for the Vikings. During this time of year, you could watch the God of Gods fly through the night sky, paying visits to people in their homes. Often depicted as old, wise, and fatherly, Odin would fly across the sky on Sleipner, his eight-legged horse (Eight reindeer anyone? Sorry Rudolph - you were a couple centuries later but we still love you!). Sound familiar? Many people think that Odin is, in fact, the original Santa Claus. The Dutch later took on the Norse tradition and made him into Santa Claus, or Sinterklaas, as they call him. It was Saint Nicholas, however (who is entirely unrelated to Norse mythology), that perfected Santa Claus into what he is today - the giver of gifts for the good. So is it fate and destiny that perhaps the stories of Vikings could have created both an iconic person in Santa Claus and a delicious pastry called Kringle, that just happens to show up in his name? We're not sure, but this bit of trivia will probably earn you some points in your families get togethers!!
Mistletoe
The Norse god of light and goodness was Balder. Everyone's favorite god was slain by a mistletoe-poisoned arrow - the only thing that could harm him. When Balder's mother, Frigg, found him vanquished, she was inconsolable. As she cried beside her son, her tears fell onto the mistletoe's red berries and turned them white. Her tears made the berries so powerful that they restored Balder to life. Delighted, Frigg then declared mistletoe a symbol of love and vowed to plant a kiss on all those who passed beneath it. That's why mistletoe stands for life, goodness, renewal, and love to the Vikings, making it one of the Viking Christmas traditions that's so perfect for the Christmas season as we know it now. A piece of advice, if someone is waiting for you under the mistletoe these days, we recommend waiting a few minutes until sharing this story, because as refusing the kiss immediately is viewed as bad luck.
Christmas Ham
Next to an irresistible Danish Christmas dessert, there are few things we love as much as a good Christmas ham. For the Vikings, the brave souls who gave their lives heroically in battle were destined only for more strife in the afterlife. Each day, they would wake only to fight yet another battle against the giants who threatened the peace in Valhalla. Anyone who did not make it through the battle, was fortunately resurrected, because even the Vikings knew you don't miss dinner with the family. Each night, they would hold a large feast attended by both Odin and Thor. The main dish was, naturally, the ham.
Every evening, the story goes, a wild boar known as Sæhrimner would be served, and there was always enough to go around, no matter how many warriors there were seated at the table. Furthermore, each day before the feast, Sæhrimner was resurrected to act as the centerpiece of the feast yet again - just like the savory hams on our family Christmas tables. We're guessing they just overestimated their guest count and had some "leftovers" to eat for a few days - at least that is our own theory on why they served, for what seemed like an eternity. We know our grandparents would not approve of wasting any good food!
Aebleskivers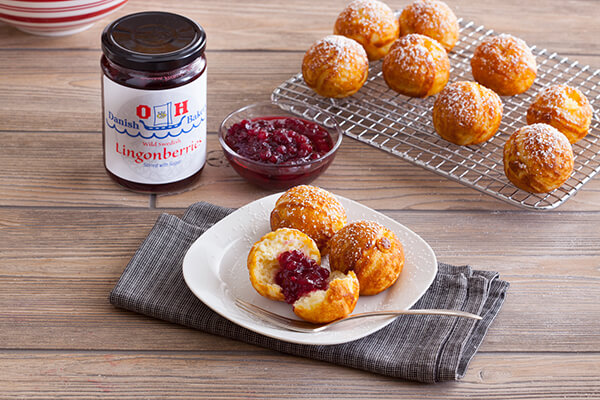 One of our favorite yule traditions is the aebleskiver. Aebleskivers, or ebelskivers, are special Christmas pancakes cooked in a specially-designed aebleskiver pan. This pan is meant to be used on the stovetop and features half-spherical molds. The earliest aebleskiver pans are more than three centuries old and made of hammered copper. However, cast iron quickly replaced copper, as cast iron forms a naturally nonstick surface and distributes heat more evenly. Today's pans are also sometimes made of aluminum with nonstick coating.
You'll find many different recipes for these Christmas pancakes, but they'll generally fall into two categories: those made with yeast as a leavening agent and those made with baking soda. Either way, the result is a soft and fluffy pancake with a center that's almost creamy. The crust is browned and crisp. In Denmark, you'll find aebleskivers plated up traditionally in threes, filled with lingonberry jam, and dusted with powdered sugar. An excellent, mellow Scandinavian coffee is served on the side.
Curious about how these tempting treats came about? Legend has it that when the Vikings roamed the coastal waters of England, one band was hit hard in battle. They made their way back to their ships with dented shields and helmets and made pancakes to regain their strength. However, they lacked proper cookware, so they greased their damaged shields and cooked pancake batter in them over a fire.
Today, families have long used their own special ebelskiver recipe and served these puffy pancakes at their table for afternoon coffee breaks or the occasional breakfast. They're also ubiquitous at Christmastime, often served as a way to welcome friends and family and share the warmth, comfort, and goodwill of the season. Each Christmas morning our family gathers together and makes a traditional Danish breakfast, with aebleskivers and lingonberries, powdered sugar and many other accompaniments. It's one of our families favorite traditions. Treat yourself to some of our easy aebleskiver mix, which is our families own recipe, and be ready to serve your guests this traditional Danish sweet - be sure to have plenty of whipped cream, maple syrup, butter, and lingonberry jam on hand for the full experience. You can even grab an aebleskiver pan that we recommend!
Kringle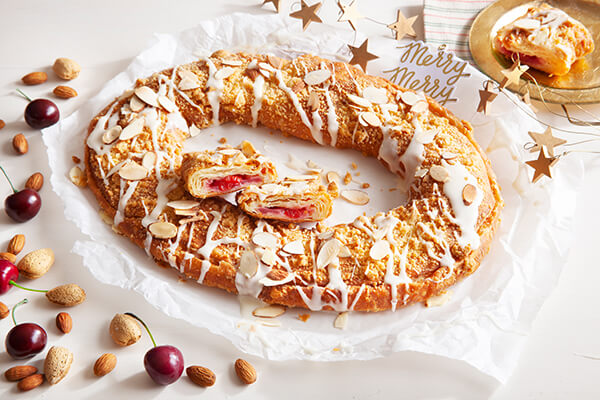 Another extremely popular Danish Christmas dessert is the Kringle, our best-loved bakery item. When it comes to Danish sweets, nothing is better-loved than the Kringle. As the Vikings explored distant lands, they discovered many gorgeous cities, but like many of us have learned, they found out there is nothing like home at Christmas. We have created a special Kringle flavors in honor of a classic Danish tradition - Risalamande. This tradition started in the early 19th century when the Danes created this dish to satisfy a mischievous little elf named Nisse. Since Nisse liked to play jokes on people around Christmastime, some smart Danes wanted to persuade Nisse to be kind to them, so they left Nisse a bowl of rice pudding or porridge on Christmas Eve. This pudding was served with a cherry sauce and almonds - in fact, if you found a whole almond you would be rewarded with a present! This inspired us to create our delicious A Very Danish Christmas Kringle, made with almond and cherry filling. But we also bake a wide range of other Kringle flavors including several holiday-worthy options because Christmas is just a little sweeter with Kringles. Kringles are also the perfect choice whether you want to send a corporate gift of Danish sweets, experience some new and adventurous flavors, or find the right breakfast or dessert to share around your family holiday table. We hope you'll share in some of our Danish Christmas traditions this year, from food to festivities. We wish you and yours a wonderful holiday season.