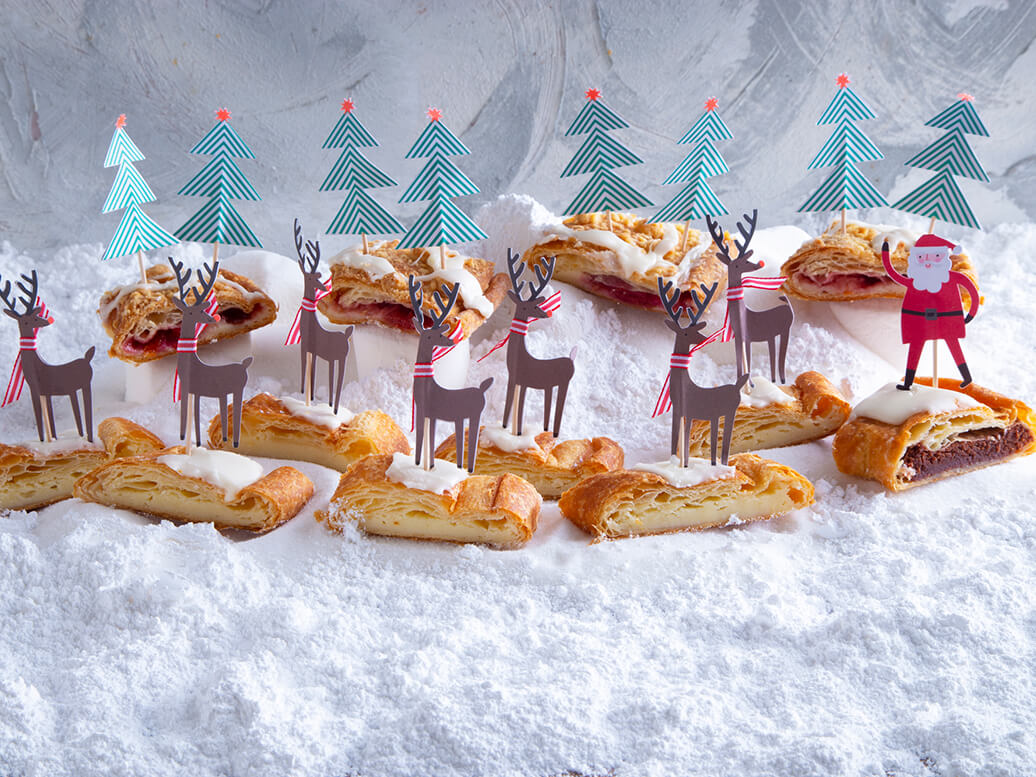 Christmas Dessert Ideas to Send Your Friends & Family
---
By Eric Olesen
Wednesday, December 9, 2020
In normal years, as the holiday season approaches and you're attending Christmas party after Christmas party, you can quickly lose track of what you need to bring or gifts you need to send to loved ones. Yet, with our delicious selection of unique Christmas desserts, you may just go to the top of someone's 'nice list' when you share the joy of a yummy Danish treat. From Santa's favorite Christmas Kringle to a tribute to his reindeer and a very white Christmas, embrace the holiday season and spread the joy with fun Christmas desserts from our bakery.
Light Desserts for Christmas
We know that Christmas parties are filled with platters of yummy food, so when you want a light dessert to finish your meal, our soft and superbly moist White Christmas Crown Cake is just the treat. Crafted with our homemade eggnog recipe, smooth icing, and a sprinkle of nutmeg, this simple yet delightful cake will satisfy your sweet craving.
Another delicious dessert to relax with is our Christmas in Copenhagen Crown Cake. Inspired by the sparkling Christmas lights in Copenhagen during the holiday season, this vanilla and cream cheese crown cake is topped with decadent chocolate ganache, tiny pearls and handmade white chocolate Christmas trees for a light dessert with a twist.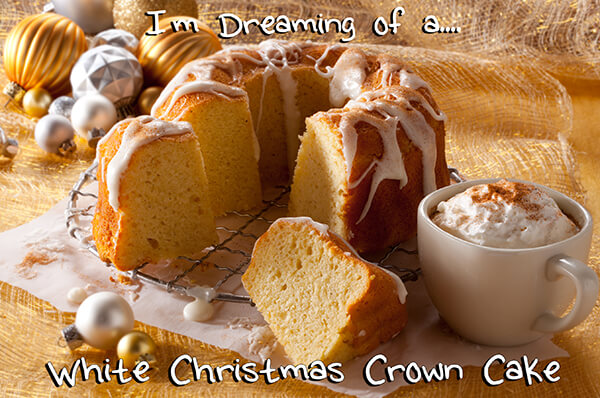 Christmas Themed Desserts
You can quickly get into the festive spirit with our selection of fun Christmas themed desserts that taste just as divine as they look. Whether your favorite holiday character is Father Christmas or his friendly red-nosed friend, you can spread the joy of Yuletide with our delicious hand-decorated layer cakes.
Rudolph's Red Velvet Marble Cake pairs perfectly with our smooth cheesecake mousse for an exquisite Christmas dinner dessert. Santa's Chocolate Peppermint Cake will have you going back for another slice once you get a taste of our delicately flavored peppermint frosting that covers this cocoa cake and chocolate silk custard filling. Our famous Christmas Danish Layer Cake is sure to suit any Christmas party theme with its moist yellow cake, creamy custard and raspberry jam filling that we wrap beautifully in smooth buttercream frosting. Of course, everyone loves to receive a gift at Christmas, so why not give your family some of our Christmas Present Brownies with a smooth caramel center? The wrapping looks so good you could eat it - which you can!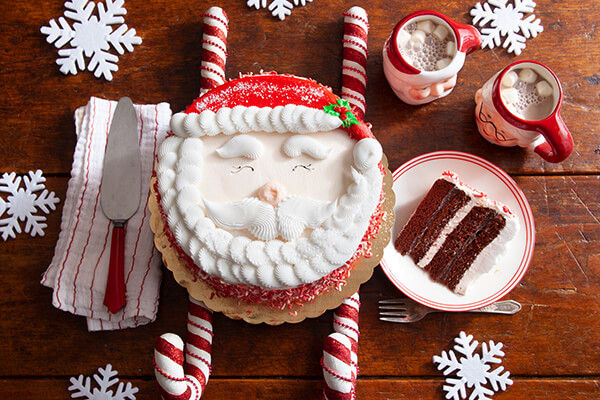 Unique Christmas Desserts
For a unique dessert to go with an exceptional season, our Christmas pastries will have guests singing carols in sheer delight after one bite. Santa's Secret Christmas Kringle with red velvet cake filling and silky smooth vanilla pudding tastes so good that it won't stay a secret for long because you'll be sharing it with everyone! Yet, if it's an extravagant dessert you need for your Christmas party, have fun with our Kransekager (15 Rings) that you can decorate with fondant icing and maybe even hide a surprise in the middle of your ring tower.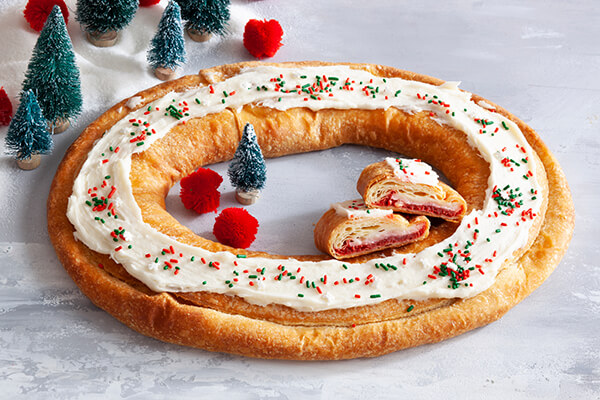 Chocolate Desserts for Christmas
Everyone loves an indulgent treat - and what better time to relish the decadent taste of chocolate than at Christmas with your family and friends? Our special Christmas Kringle is a seasonal delight that takes chocolate cake filling, adds a touch of peppermint and wraps it in tender, flaky pastry before garnishing with delicious vanilla bean frosting and sprinkling with bits of red velvet cake. If your family is full of chocolate fanatics, our Ohhhh Fudge! Layer Cake will exceed your expectations. With its midnight chocolate cake, layers of chocolate silk mousse, fudge pieces, and chocolate buttercream, you will not regret cutting into this beautiful hand-decorated masterpiece.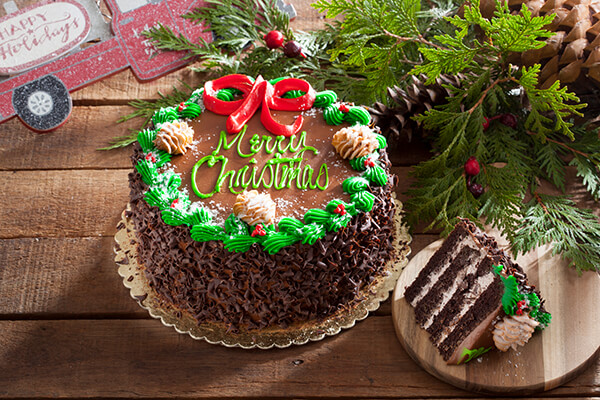 Fun Christmas Desserts
This Christmas, treat your family to a tasty Kringle carefully wrapped in a beautifully printed gift box. These fun Christmas desserts are delicious and bursting with flavor from our scratch-made fillings. Double the fun with our Festive Holiday Greetings package that includes our popular Pecan and Raspberry Kringle or send Santa's favorite treats with our Kringle Kris Kringle bundle. What is more fun than seeing pure joy spread across faces as they bite into our Pecan, Raspberry or Cream Cheesecake Kringle?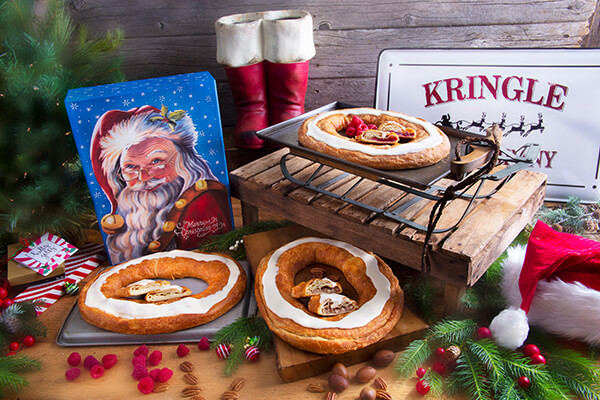 Order Christmas Desserts Online from O&H Danish Bakery
You can share your favorite festive pastries or chocolate Christmas desserts with family and friends when you order online for delivery from our bakery. We delight in making our customers' Christmases extra special, which is why we created a unique range of holiday season desserts to share the joy of a delicious Danish treat with family and friends. Of course, don't be shy about ordering a Danish treat for yourself - after all, it is Christmas!