From our family to yours Merry Christmas from O&H Bakery
Saturday, November 9, 2019 by Eric Olesen - 3rd generation owner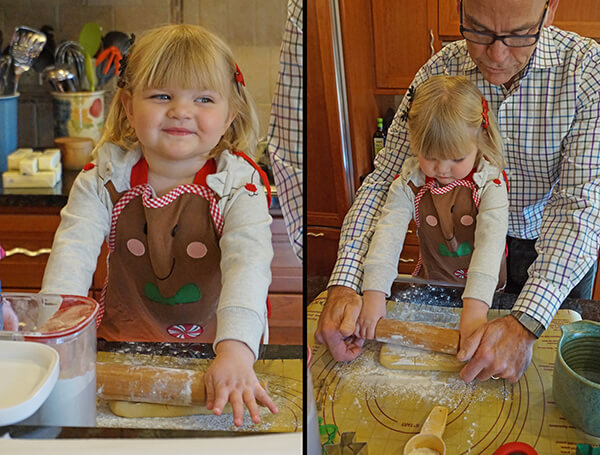 Here at O&H Danish Bakery, celebrating Christmas is part of our family's heritage and we love the holiday season and everything it represents. Whether it's greeting traveling family members as they return from far away or having our annual Christmas cookie decorating, these traditions are often enhanced by the flickering flame of a warm fire and of course good food. However you decide to build anticipation and excitement for your festive end to the year, we hope you have a Merry Christmas and, of course, we are truly honored that our delicious Danish pastries are a small part of treating your family and friends this holiday season.
Our Danish bakery in Racine has a decadent array of traditionally made pastries, cakes and sweets that our customers love to indulge in for Christmas breakfast and dessert. Memories float in our heads of past Christmas mornings where you hear the pitter-patter of little feet and an exclamation, "Mom! Dad! Come quick! Santa has been here!". While the kids need no further excitement, the enticing aroma of our Kringles rouse your teens or guests from their beds. We love to help you create the Danish concept of hygge (coziness and comfortable conviviality) on your cold festive morning and nothing partners better with a warm cup of cocoa or coffee than our sweet, tender pastry. Discover our favorite Christmas traditions and mouth-watering Danish dessert ideas that will match perfectly with any meal you prepare for the season, as you meander through Christmas party after Christmas party.
Christmas Traditions in Denmark
Some say that Denmark is the most magical place to celebrate Christmas and with the Danes' knack for creating a warm and inviting atmosphere when the snow covers the ground, you can understand why. Yet, when visiting this beautiful country is not an option for the holidays, we love to incorporate the Danish Christmas traditions in our Wisconsin hometown.
Calendar Candles: Creating Christmas hygge always starts with the warm glow of a candle and why not make it exciting with a calendar countdown? Each morning at breakfast, the Danes love to light their "kalenderlys", or calendar candles with numbers 1 to 24 on the side, melting the wax down each day in anticipation for the holiday.
Danish Christmas markets: Christmas markets are a great chance to escape the normalcy of life and surround yourself with the festive spirit. Denmark has a large market in Tivoli that runs from November to the new year and we enjoy a casual stroll around any Christmas pop up market with food stalls, homemade crafts and Christmas decorations.
Christmas tree with real candles: While Christmas Eve traditions can vary from family to family, some Danes get a fresh tree the day before Christmas to decorate it with real candles! While we might not recommend that, the fresh tree helps to prevent fires as it's not dried out. (To be extra safe, an emergency bucket of water is still kept in the corner just in the off chance the tree catches alight.)
Julefrokost: Julefrohost, otherwise known as Christmas lunch, can happen on any day in December. Throughout Denmark, you will see large groups of colleagues enjoying each other's company and feasting on a smorgasbord of Danish food while sipping drinks. This Christmas brunch, unlike a low-key office party in America, is an all-out affair that can go on for hours. Danes sure like to party!
Risalamande: Don't be fooled by the French-derived name of this delicious meal as Risalamande is a traditional Danish rice pudding served with cherry sauce and chopped almonds. What makes this dessert special and exciting to consume is the discovery of one whole almond in your bowl. Whoever finds it in their serving gets to open an extra present. We even have our A Very Danish Christmas Kringle which was inspired by this very tradition!
Aebleskiver: Danes know how to celebrate with good company and great food. Aebleskivers are traditional pancake balls and they are topped with powdered sugar and jam, often lingonberries. While these are common in the Danish markets and go down a treat with a hot mug of glogg, you can easily make them at home when you invest in the special pan. We look forward to our very special Christmas brunch each year where we serve these delightful breakfast eats!
Elegant Christmas Desserts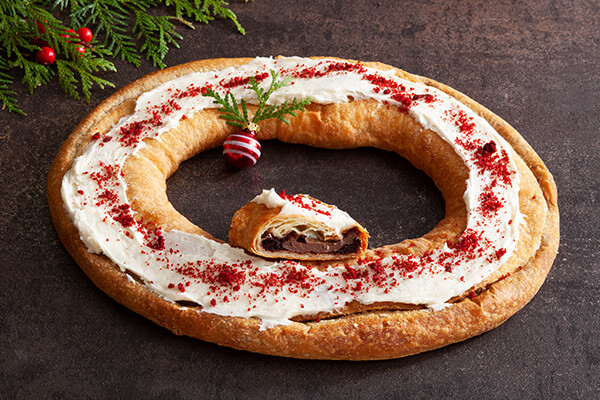 If making your own Aebleskiver is not for you, then you can easily order your baked goods online. We can have them delivered to your home, ready for your Christmas celebration. Danes traditionally keep their Christmas decorations simple and only use the colors white, red, gold, silver and green. Therefore, in true Dane spirit, we like to keep our Kringle fillings simple yet packed full of flavor.
From our everyday crisp apple, delicious cherry or wild blueberry Kringle delights to our extra special Christmas flavors; you will enjoy every mouth-watering bite. Our talented bakers love to go to the next hygge level at Christmas, which is why we bring you more Danish-inspired pastries to celebrate the holiday season. We have included a tribute to the man in red, Santa's Secret Christmas Kringle, a red velvet cake combined with a silky smooth vanilla pudding wrapped up in our light and buttery pastry.
Our other delicious Kringle flavors that come in party size to share at your festive gathering include almond and cherry - a Risalamande inspired flavor, Eggnog Kringle and a delectable Christmas Kringle filled with chocolate, and a touch of peppermint then topped with smooth vanilla bean frosting which we sprinkle with red velvet cake.
From Our Family to Yours - Merry Christmas from O&H Bakery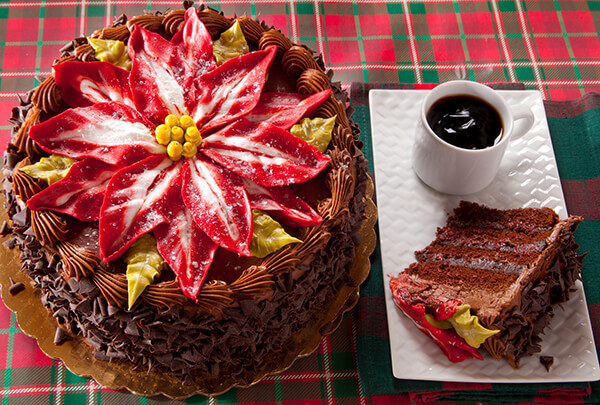 For some families, it wouldn't feel like the holiday season without the traditional Christmas cake, and our Brandy Old Fashioned Fruit cake with rum-soaked raisins and premium brandy fulfills that tradition. These cakes will remind you of the ones your grandma used to bake because we only use the finest ingredients with tried and true traditional recipes handed down through the generations.
Alternatively, if you prefer the sweet treat of our handmade layer cakes, you can still get into the Christmas spirit with our artfully hand-decorated Rudolph, Santa, Poinsettia, or Christmas design cakes. From present brownies and a Wisconsin Christmas Coffee cake to a holiday package filled with a selection of goodies, a delivery from our bakery will be just like unwrapping a present from our O&H family to yours. Regardless of who you share your Christmas with or what holiday traditions you follow, we want to thank you for allowing us to be a part of your festive celebration. We wish that your day is filled with hygge, great food and joyful conversations.
Merry Christmas from the Olesen family and everyone at O&H Bakery.