Celebrate Dad This Father's Day with These Delicious Desserts
---
By Eric Olesen - 3rd generation owner
Sunday, May 16, 2021
Are you in search of the best desserts for fathers? Look no further than the mouth-watering dessert options at O&H Danish Bakery. From Kringles to eclairs, we have everything you need to add a sweet touch to your Father's Day festivities. Our bakery proudly ships our desserts around the world, so no matter where your dad is for Father's Day, you can send him a unique gift to let him know that you're thinking about him.
Father's Day Torte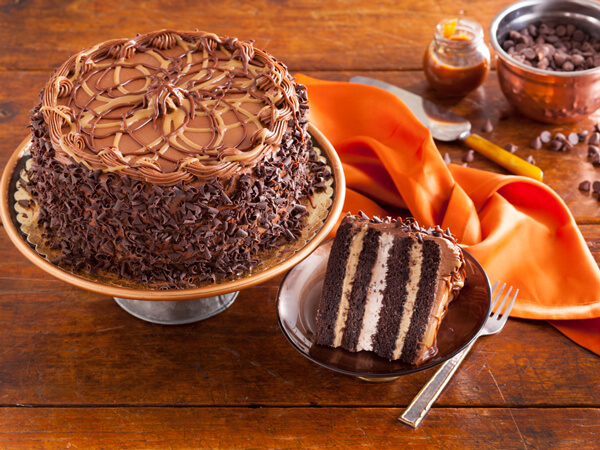 Is your father a chocolate lover? Our Father's Day Torte should be at the top of your list for a Father's Day gift delivery. Not only is this torte packed with chocolate flavor, but caramel as well. The combination of midnight chocolate cake, mousse and buttercream frosting are sure to keep your Dad asking for more. This Torte serves up to 15 people, making it the perfect addition to any Father's Day festivities. If your dad and his guests can't finish the torte during the party (unlikely with how good this is!!), he can store it in the refrigerator for a couple of days and enjoy the leftovers.
Whiskey Kringle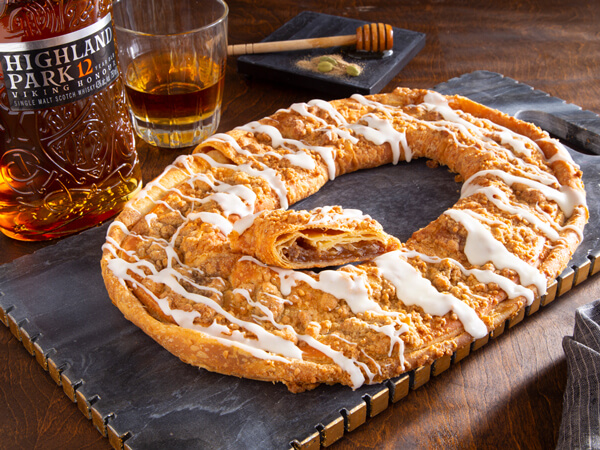 This delicious dessert will undoubtedly become one of your Dad's favorite Father's Day treats. Our Whiskey Kringle is one of our newest additions to our bakery menu. Why Whiskey? As the Vikings roamed the North Sea, they traverse through rough seas and stormy skies and explored the surrounding islands. One of these stops, happened to be the Orkney Islands in Scotland where Vikings settled over 1000 years ago. Today, the Orkney Islands are famous for whiskey, specifically Highland Park Whiskey®. So we decided to join our Viking clans and introduce a collaboration between Highland Park and O&H. We fill our famous flakey pastry with a caramel that has been infused with Highland Park Whiskey®, finished with buttery streusel garnished with a honey glaze and drizzled with our trademark vanilla icing. It's definitely a hit for Dad!
Sinful Chocolate Eclairs
If you want to send your father an early Father's Day treat that he can save and pull out on his big day, our Sinful Chocolate Eclairs are a great option. One order comes with eight scrumptious eclairs filled with a sweet custard and topped with a layer of chocolate fudge. You can order these eclairs ahead of Father's Day and tell dad to pop them in the freezer and defrost them for Father's Day. There is a reason these are one of our most popular Father's Day items!!
Maple Bourbon Banana Coffee Cake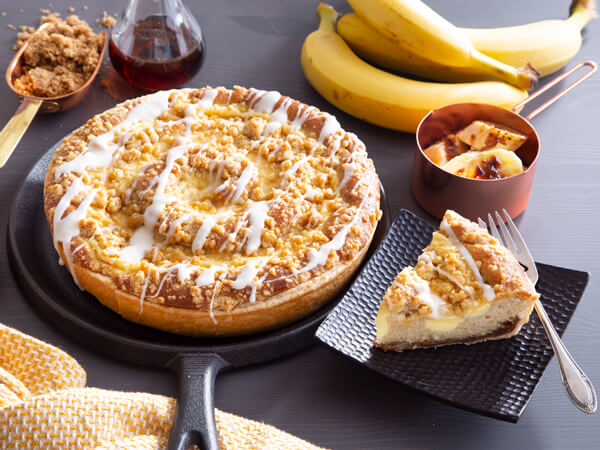 If Dad is the versatile type, we've got the perfect bakery treat for you? One of the reasons why our Maple Bourbon Banana Coffee Cake is so popular is because you can eat it any time of the day. You can cut yourself a slice for breakfast or indulge in a piece for dessert. Do you want a quick snack? This cake is a great option. Be careful, though — with a mix of banana cake and bourbon custard, it may be difficult to stop at just one piece.
Cream Cheesecake Kringle
Does your father love cheesecake? If so, why not consider our Cream Cheesecake Kringle as one of your Father's Day dessert ideas? This delightful dessert features not only our famous Kringle but smooth and delicious Wisconsin cream cheese. Topped off with vanilla icing and paired with a hot cup of coffee, every father is sure to love this dessert. What's better is that our Cream Cheesecake Kringle is available all year around so you can surprise your dad not only on Father's Day, but any time to tell him you're thinking of him.
King's Chocolate Layer Cake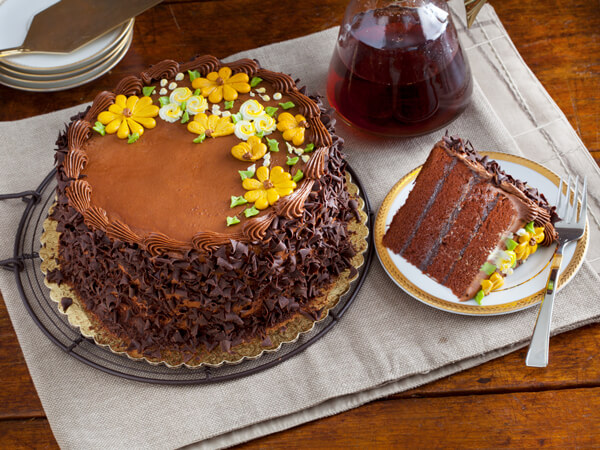 On Father's Day, every dad should feel like a king. A King's Chocolate Layer Cake is one of our most popular Father's Day desserts. This cake is the epitome of a royal dessert and includes a chocolate cake with chocolate buttercream frosting topped with chocolate curls. Do you want to include a special message to your father? Just let us know. We can add a personalized message on top of the cake. Remember, your dad can freeze this cake until Father's Day and simply let it thaw for a couple of hours before serving and enjoying.
Get Father's Day Desserts Delivered for Dad from O&H Danish Bakery
We dedicate the first half of June to baking desserts that fathers throughout the country are sure to love. Regardless of the dessert you order for Dad, you can rest assured that he will enjoy a fresh and delicious bite of baked goodness at every mouthful. Do you need more help narrowing down Father's Day delivery ideas or want to learn more about your dessert options? Reach out to us today.