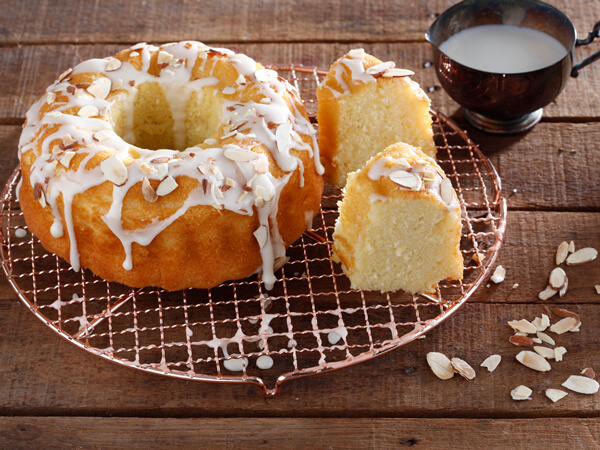 Desserts for Nut Fanatics
---
By Eric Olesen - 3rd generation owner
Sunday, March 21, 2021
If you love a little extra crunch in your favorite sweet treat, we have an assortment of delicious desserts for nut fanatics. As with all tasty delights, we create a perfect balance between a smooth almond or crunchy pecan and cinnamon brown sugar filling. Our talented bakers are obsessed with quality and delivering exceptional flavor, which is why we use traditional Danish recipes passed down by generations to carefully craft our pastries and cakes so that you can enjoy an explosion of flavor and decadent texture in every bite. Here are some of our favorite nut desserts that you can order from our bakery.
1. Pecan Kringle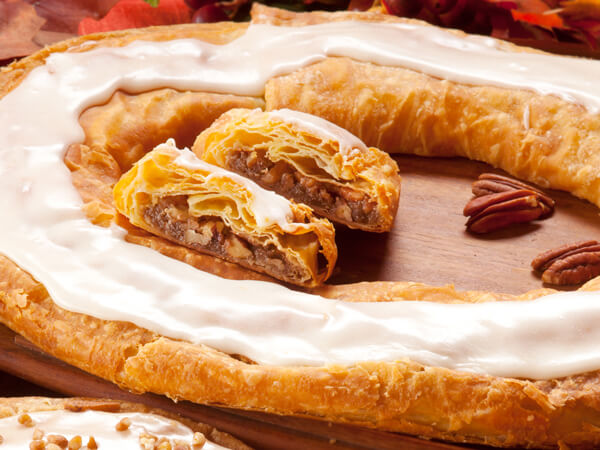 There is a reason why this is our popular Kringle flavor. It's divine! You can get your sweet treat fix and satisfy your craving for nuts in one delicious dessert with our Pecan Kringle. Made from scratch using our 36-layer dough, this rich and flaky pastry is chock-full of fancy pecans and smooth brown sugar and cinnamon filling. You will love every bite so don't be surprised when you start reaching for another piece (and another and another)!
2. Almond Kringle
For the almond lover, you'll find delight in the yummy goodness of our best-loved pastry. With exceptional flavor and a smooth taste, you will see why our Almond Kringle has maintained its popularity for more than 70 years. First hand-crafted by our grandparents, we are honored to use their authentic Danish recipes passed down through the generations to make delicious pastries and bring delight and happiness to our customers. It's a classic for a reason.
3. Danish Pecan Sticky Buns
For years we have made a Danish Pecan sweet roll in our stores. Our customers absolutely love them and we believe that pecan desserts covered in caramel sauce taste like heaven. Our Danish Pecan Roll blends these two ingredients beautifully to deliver one tasty package of nutty caramel goodness. We first start with artisan pastry, swirl on a generous serving of brown sugar and cinnamon filling, top with crunchy premium pecans and caramel before baking to perfection. Warm this dessert in the oven before serving, then sit back, relax and enjoy every bite.
4. Almond Macaron Kringle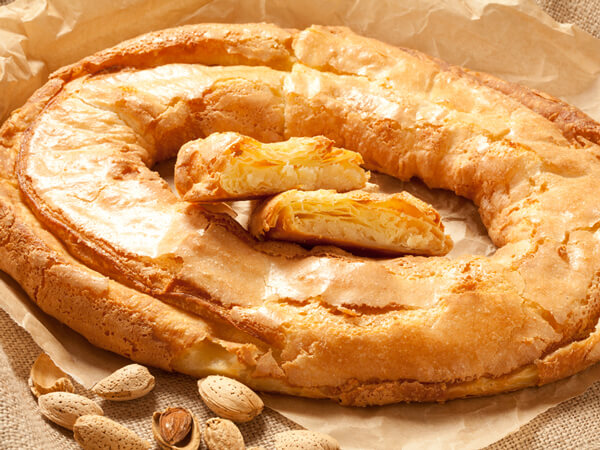 Shhh! Here's a little secret - this is the favorite Kringle of my family and you'll have to try it to see why! We've added a twist to our famous Kringle recipe by creating a macaron version using almond infused batter that bakes to a fine, crunchy shell while holding our yummy soft and smooth center. We pack our Almond Macaron Kringle with traditional Danish almond paste filling, then bake this treat until it is light, airy and golden.
5. Scandinavian Almond Crown Cake
Almond desserts don't get any better than our soft and moist Crown cake. From the intense almond taste in the cake to the smooth icing and almond slices on top, our classic Scandinavian treat is bursting with this distinctive flavor that makes it hard to resist. Pair it with your favorite ice cream, whipped cream, fresh fruit or enjoy this delicious treat by itself with a hot cup of coffee. It takes the traditional bundt cake and makes it absolutely amazing.
6. Almond Custard Seven Sisters Coffee Cake
Speaking of favorites, there is a reason why our customers fight over the middle piece on this coffee. You can share (only as much as you like!) your fanatical love for nuts with your family and friends when you serve our Almond Custard Seven Sisters Coffee cake. We take our classic Danish pastry and fill it with creamy almond filling and smooth custard before rolling the dough into seven spiraled rolls. We top this coffee cake with smooth icing, and almond slivers to make it the perfect treat for any occasion or simply just because.
7. Turtle Kringle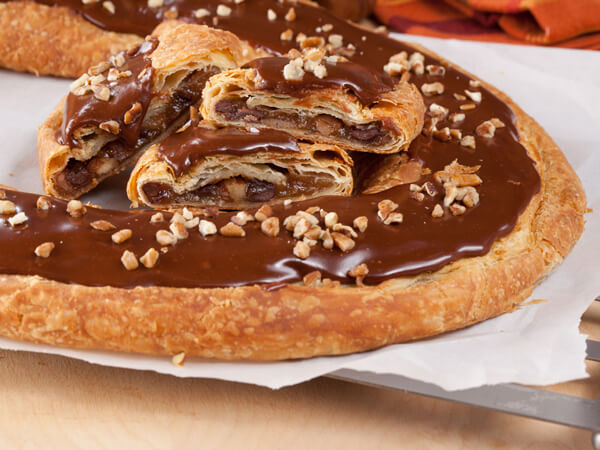 Do you have a sweet tooth? Then you are sure to tantalize your taste buds with our indulgent Turtle Kringle that is every chocolate and nut lover's dream. With bits of creamy caramel drenched pecans covered in our homemade chocolate sauce and surrounded by our flaky pastry, you can take your taste buds on an exploration of flavor. To make the journey even more enjoyable, we top this Kringle with semi-sweet chocolate and a sprinkle of pecans.
Get Desserts from O&H Danish Bakery Delivered Straight to Your Door
Whether you love your pecans mixed with caramel, are a strict almond fanatic or enjoy your nuts with a dash of chocolate, we have a delicious assortment of nutty desserts that is sure to satisfy your craving. You can easily order your favorite treats online and have them delivered straight to your door. We use the finest ingredients from around the world and authentic Danish recipes to create our pastries and cakes so that everyone can experience a taste of happiness, one slice at a time. Reach out to our friendly team to ask about more of our delicious desserts that include nuts.