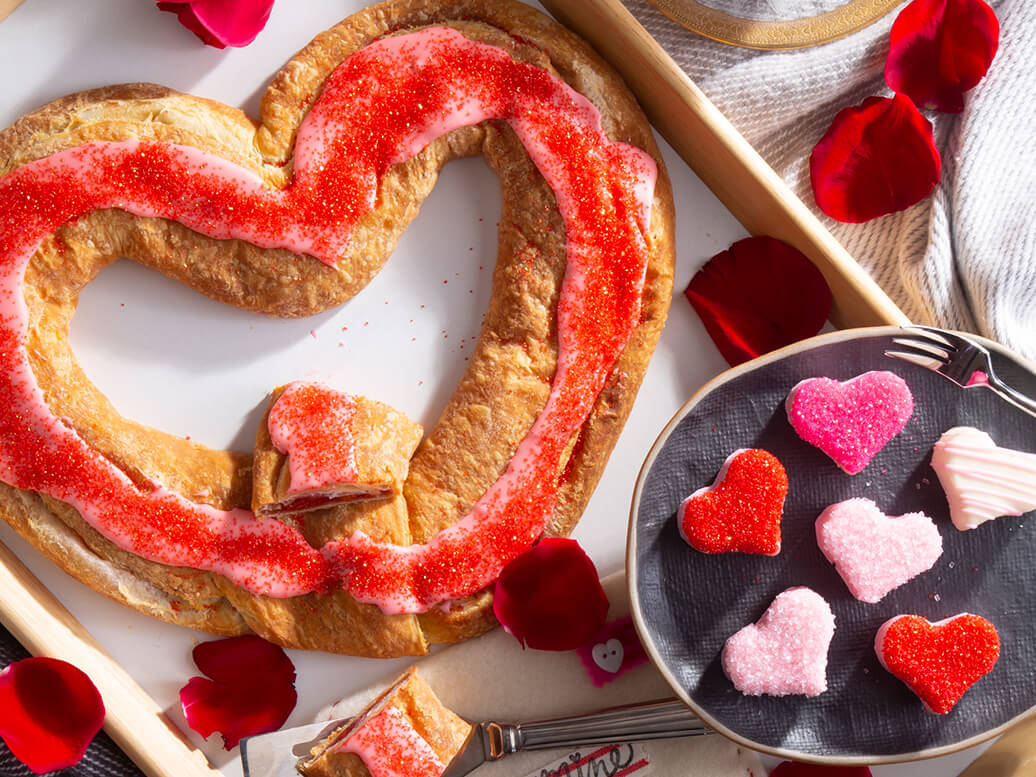 6 Valentine's Day Desserts You Can Have Delivered
---
By Eric Olesen - 3rd generation owner
Sunday, January 10, 2021
Valentine's Day is almost here, and that means it's time to treat your special someone (or yourself!) to some of the sweeter things in life. This year, give the same old box of candy a break and try something memorable and different: a homemade dessert from O&H Danish Bakery.
We have a wide range of irresistible Valentine's Day pastries, pies, and cakes to choose from—and we make each one using the traditional methods passed down through the generations of our family. Best of all, we'll deliver your dessert of choice straight to your doorstep, keeping you safe at home and away from the crowds. Here are some of the best Valentine's Day options that you'll find at O&H.
1. Heart-Shaped Kringle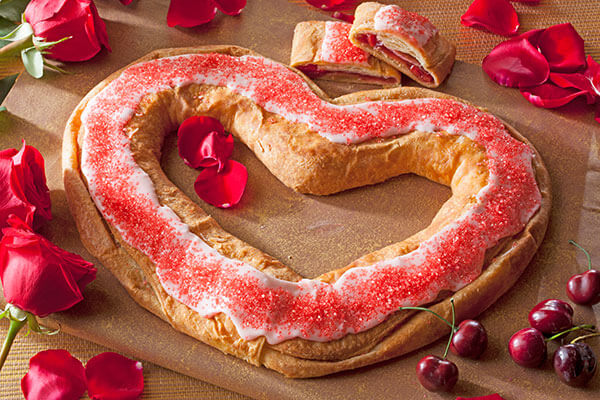 The heart is not just a Danish symbol of the good life–it's also an international symbol of love, making heart-shaped desserts ideal for this holiday. Treat your sweetheart to a romantic take on our traditional Kringle. It takes three days to make Kringle our way, with layers of light and flaky pastry, tempting fillings, with sweet icing on top and garnished in red sugar. Inside our Heart-Shaped Kringle, you'll choose either our beautiful Door County Cherry or our fancy Pecan filling - either one is fit for a king (or queen).
2. Danish Sweetheart Kringle
Looking for ideas for a Valentine's Day dessert? Our beautiful and decadent Danish Sweetheart Kringle has a delightful twist: a filling of red velvet cake and vanilla pudding. We top this treat with cocoa cream frosting and add a festive red velvet cake crumb garnish. We craft this Kringle with layers of love, making it a perfect way to celebrate Valentine's Day as the Danish do: with romantic gifts and a delectably sweet Valentine's Day pastry.
3. Three Layers of Love Cake
While Kringles are some of our top sellers at O&H, they only scratch the surface of our special Valentine's Day dinner desserts. Our Three Layers of Love Cake is gluten-free, but you'd never know it. We start with a layer of our silky-smooth GF cheesecake, smother it with our Door County Cherry filling, and then top it all with our rich and delicious GF chocolate cake. We frost the whole thing with chocolate buttercream and add adorable holiday decorations on top.
4. Decadent Valentine's Day Brownies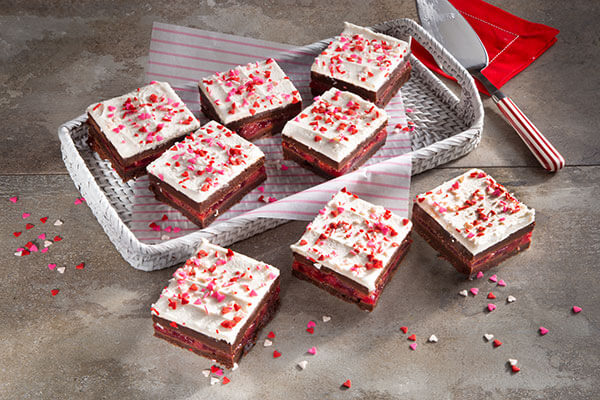 Nothing says Valentine's Day the same way as chocolate, and our Valentine's Day brownies say it loud and clear. Our Valentine's Chocolate Cherry Brownies are festive, fresh, and utterly irresistible. Each delicious bite starts with a fudge brownie layer, spread with a generous layer of sweet and tart Door County Cherry filling, and then smothered with another fudge brownie layer. To top it all off, we add vanilla bean icing and hand-decorate the whole batch for a lovely way to celebrate a lovely holiday.
5. Danish Cherry Bread Pudding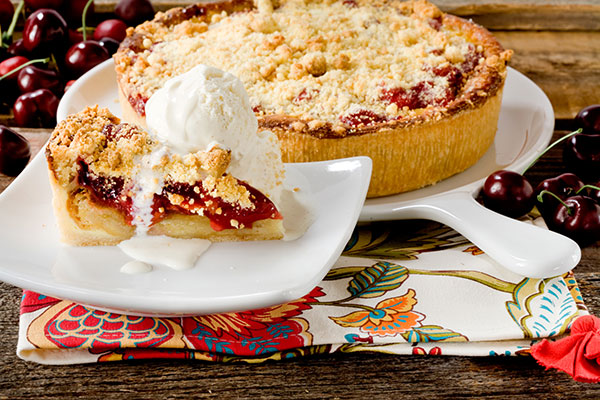 If you like the idea of celebrating Valentine's Day with a unique treat, you can't go wrong with our Danish Cherry Bread Pudding. We start with our traditional Danish pastry, which we soak in vanilla custard to make the amazingly moist base of this special dessert. We add our delicious Door County Cherry filling and top the creation with buttery streusel. We recommend warming your bread pudding and adding a scoop of ice cream for a treat that's equally appealing, whether you're having brunch in bed or curling up by the fire for after-dinner indulgence.
6. Chocolate Cherry Pie
Last but not least, we invite you to treat yourself and your sweetheart to our Valentine's Chocolate Cherry Pie. We make this festive and tempting Valentine's Day pie with our dark chocolate cake (not to mention a generous helping of gloriously decadent chocolate chips). Next, we layer on our Door County Cherry filling and add a sprinkling of buttery streusel and a topping of sugar cookie hearts (complete with red sprinkles). This beautiful pie promises the perfect ending to a romantic day.
Get Valentine's Day Desserts from O&H Danish Bakery Delivered Straight to Your Door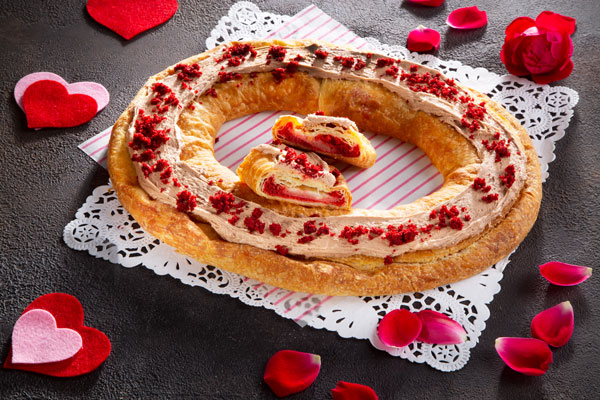 Sweet treats are the perfect way to let someone special know that you care–and the surprise is even sweeter when you get your treats delivered straight to their door. Whether you're treating your sweetheart, a family member, a friend, or the whole office, Valentine's Day is the perfect occasion to give O&H a try. Shop all our Valentine's Day desserts here, and get ready for a sweet and delicious holiday.