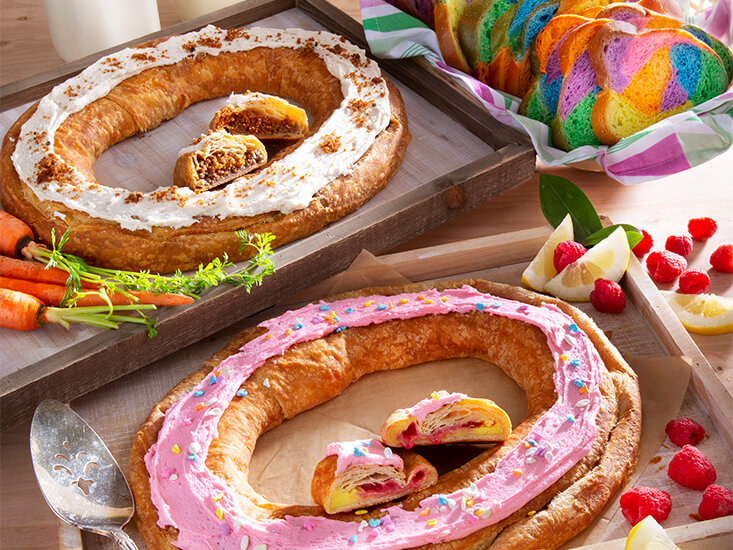 8 Easter Dessert Ideas
---
By Eric Olesen - 3rd generation owner
Sunday, March 12, 2023
For us, Easter is a renewal we look forward to. It's no secret that Wisconsin winters can be long, cold, and somewhat dark. When Easter arrives, it's exactly the spark we need to gather together and see family and friends. Since every holiday meal needs a showstopping treat, we've done all the hard work this Easter. If you're planning a traditional Easter brunch, we have a range of tempting Easter breakfast pastries or desserts to choose from that you, your family, and guests will love. From Kringle to layer cakes to petits fours, these Easter brunch dessert ideas are perfect anytime of day.
Easter Kringle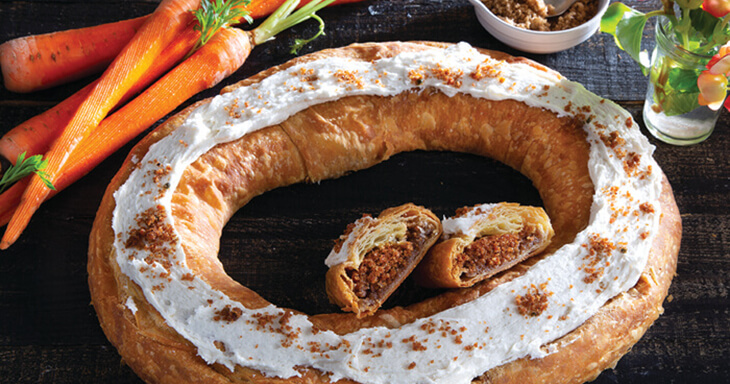 If you're looking for dessert ideas for Easter Sunday, you can't do better than our Easter Kringle. This unique dessert is made with our traditional flaky pastry stuffed with our Grandma's Famous Carrot Cake and a cinnamon-and-sugar filling. We then top this Kringle with cream cheese frosting and a sprinkling of carrot cake pieces for a festive and sweet look you won't be able to resist. Everybody (or is it everybunny?) who tried it couldn't stop eating it!
Easter Layer Cake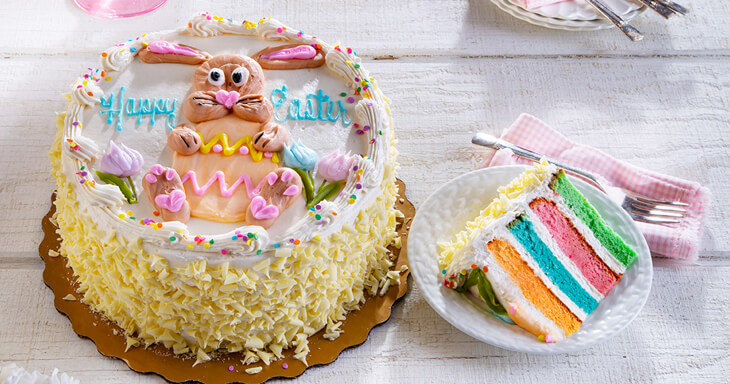 Easter isn't Easter without cake. One of the best Easter brunch desserts we can think of is our lovely Easter Layer Cake. We start with layers of our moist white cake and add pretty pink, green, and yellow buttercream frosting in between. The entire cake is then frosted and decorated in a fun Easter theme for everyone at your table to enjoy. Your guests will ooh and aah over how beautiful and spring-like this cake is as you cut each tempting slice. And it's hand made and hand decorated to boot!
Easter Basket Crown Cake
Nothing says Easter like our adorable Easter Basket Crown Cake. We take our Grandma's Famous Carrot Cake, a moist, densely packed delight, and frost it with delicious cream cheese icing before garnishing the whole thing with chocolate Easter eggs and festive sprinkles. A centerpiece that looks as good as it tastes, this cake is truly one of our favorite Easter brunch dishes. Grandma Eunice Olesen (Jensen) would be proud!
Easter Egg Package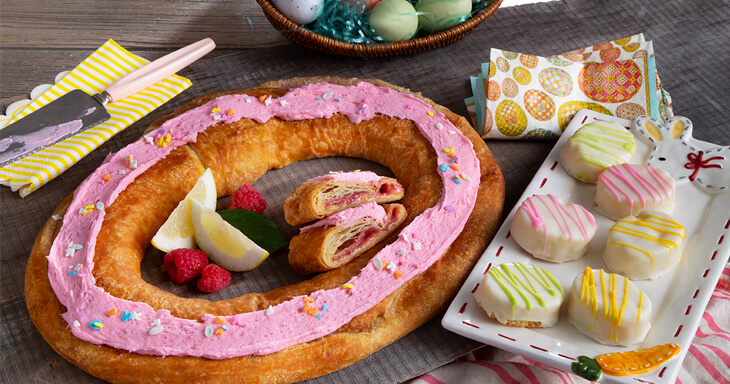 How about a sweet Easter egg hunt? Our egg-shaped petits fours are moist white cakes hand-dipped in white icing, then drizzled delicately with more icing in the colors of spring. These mini cakes are perfect for many occasions, from weddings to baby showers to teatime, but especially Easter. Paired with our Raspberry Lemon Cheesecake Kringle, our Easter Egg Package makes for the perfect spread. This is our kind of Easter Egg hunt.
Carrot Cake Brownies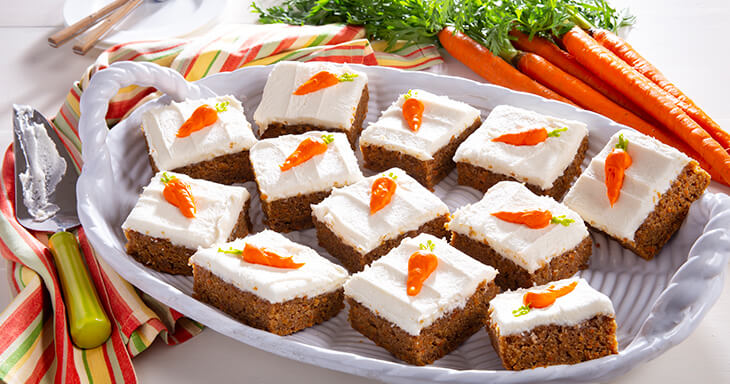 No list of Easter brunch dessert ideas would be complete without our irresistible Carrot Cake Brownies. Carrot cake and cream cheese are perfect partners in these sweet delights. Using our signature carrot cake recipe, we make eight large brownies, all topped with our famous cream cheese frosting. Finally, we hand-decorate each one with a cute icing carrot guaranteed to make you and your guests smile - as long as you can restrain yourself from not biting into them immediately.
Mediterranean Apricot Kringle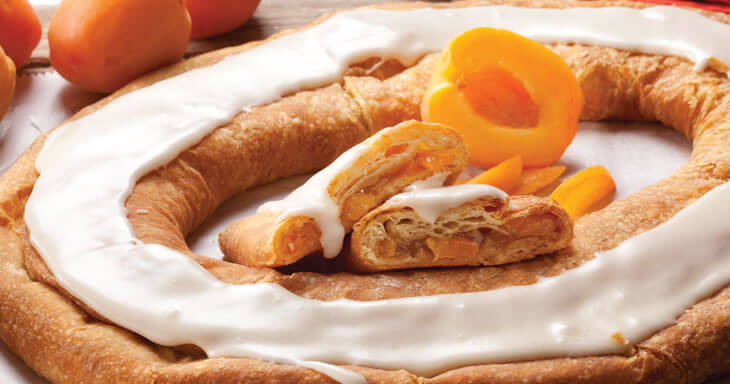 Our Mediterranean Apricot Kringle tastes so light and sweet you'll wish it was available year-round. We use deliciously tart and bright Mediterranean apricots grown in central Turkey to sweet, juicy perfection. These delicious stone fruits have been cultivated in this region for thousands of years! Layers of flaky pastry envelop the delicious filling, and then the whole Kringle gets topped with a smooth ribbon of white icing. No wonder it's one of our most popular springtime flavors.
Easter Braided Colored Bread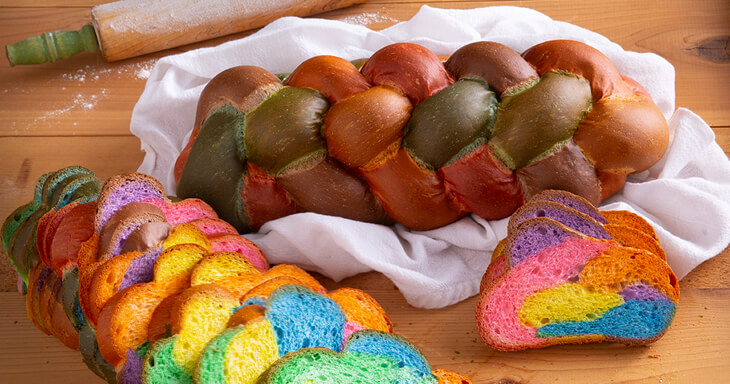 Not all sweets have to be traditional Easter pastries. Our Easter Braided Colored Bread may not be sweet, but when you serve it warm and top it with jam or other jellies, it's the perfect addition to your Easter brunch. You can also slice it up and use it for sandwiches for a casual get-together — the festive spring colors speak for themselves. Kids love this bread and here's a pro tip: Use a loaf for French toast to elevate your Easter celebration.
Easter Bunny Pair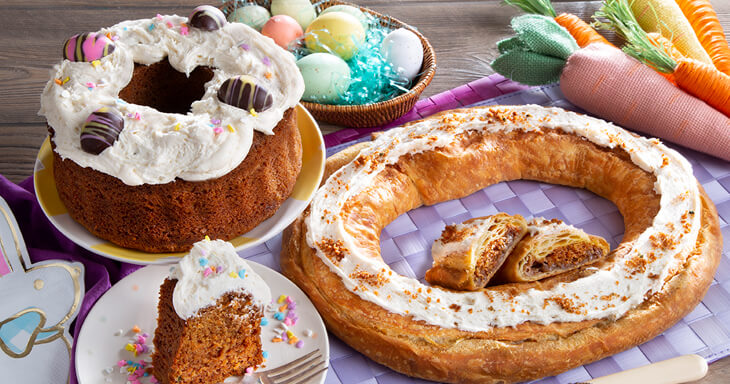 Have a hopping-fun time at your celebration with our sweet carrot desserts. Our Easter Bunny Pair includes our great-grandma's special carrot cake and Easter Kringle. We top these desserts with cream cheese frosting and festive garnishes for eye-catching and mouthwatering treats. Two desserts are always better than one - that's a rule we live by!
Get Easter Brunch Desserts from O&H Danish Bakery Delivered Straight to Your Door
At O&H Danish Bakery, we make it as easy as possible for you to pull off an Easter brunch that won't soon be forgotten. Go ahead and fill your table with tasty treats — order online, and we'll even deliver them straight to your door anywhere in the U.S. We love sharing our family's Easter traditions through homemade sweets created just for you.