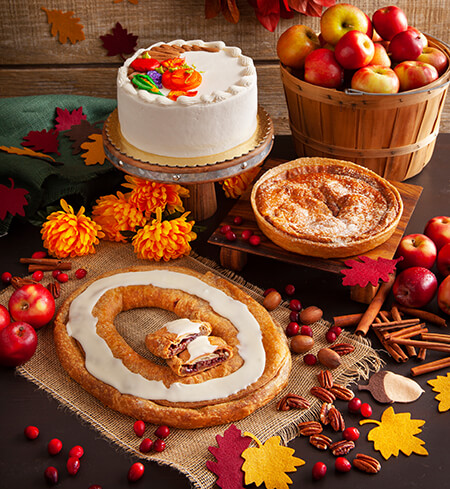 Try Our Handmade, Hand-decorated, Danish Layer Cakes for Thanksgiving
---
By Eric Olesen - 3rd generation owner
Saturday, September 14, 2019
Turkey, stuffing, potatoes, green bean casserole, yams, cranberry sauce - whatever you like on your Thanksgiving table, it's never too soon to start planning this year's spread. As good as all holiday appetizers, entrees, and sides are, though, we get particularly excited about planning our Thanksgiving desserts. If you haven't considered Danish cakes for Thanksgiving, or some of our other traditional Danish sweets, it's time to take a look at our array of desserts and choose a few for your upcoming family gathering.
Danish Layer Cakes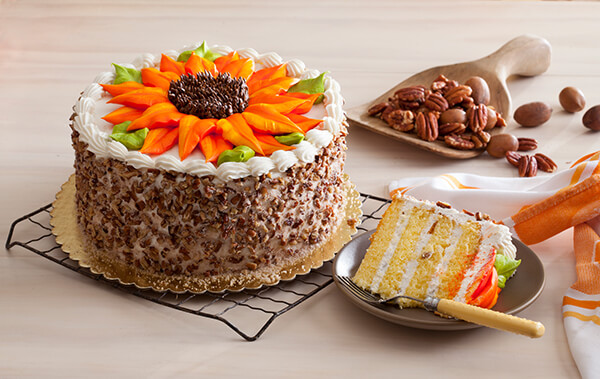 There are many types of Danish layer cakes but, in Racine, there is just one traditional Danish Layer Cake. Our Fall Danish holiday cake is made by layering sweet homemade ruby, red raspberry jam and smooth vanilla custard between homemade yellow sponge cake - then covering the outside in silky luscious buttercream frosting. These cakes are often served at festive celebrations and family meals - which means they're perfect Thanksgiving desserts. And while we're known as a Danish pastry store in Racine, for years and years we have perfected the art of making great cakes. Over the years, we've learned that the right balance of cake and frosting and personal attention are the two most important things that go into an irresistible gourmet cake. We offer several types of Danish layer cakes, including:
Three layers of chocolate silk mousse mixed with fudge chunks and sandwiched between layers of moist midnight chocolate cake, then topped with chocolate buttercream and decorated with gorgeous buttercream flowers - enough said.
Thanksgiving Pies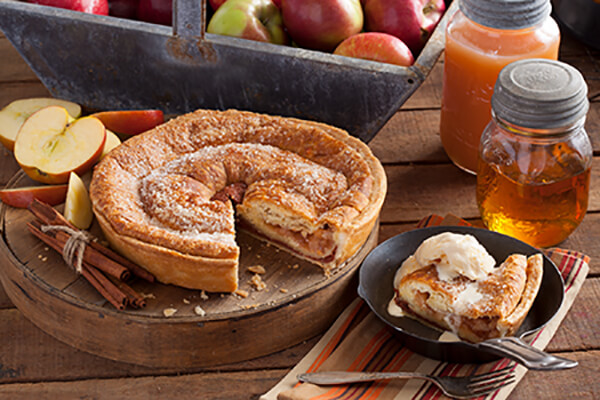 When it comes to Thanksgiving dessert ideas, there are endless options - but pie is a classic. We love pie, too, so we've created several pies and pie-like desserts to satisfy even the most traditional Thanksgiving purist. For example, our Dark Chocolate Croissant Pie is a super-special addition to any holiday table. This irresistible dessert is a bread-pudding-style pie that begins with fresh, homemade croissants cut into pieces and soaked in buttermilk, cinnamon, and cocoa. Then, we add in rich chunks of dark chocolate and top the whole thing with smooth, creamy hazelnut spread and crumbly, buttery streusel. A slice of this uniquely delectable pie - especially topped with a scoop of vanilla ice cream - couldn't be more perfect as a delicious holiday dessert.
We also offer our popular Apple Cinnamon Kringle Pie, a delicacy we make taking a layer of buttery sweet cinnamon filling and topping that with our Apple Kringle. We add coarse sugar for a delicate crunch. It takes that old family apple pie recipe and adds a little twist that makes it a modern-day favorite. Or, choose our Danish Cinnamon Apple Bread Pudding, a dessert you truly have to taste to believe: Danish pastry pieces soaked in vanilla egg custard, then topped with apples and cinnamon and streusel - be sure to have caramel or rum sauce on hand for drizzling over warm slices of this festive "pie." No matter what we make, we never skimp on scratch-made quality, which is why every dessert we sell is better than the last - so you can't go wrong, even on Thanksgiving.
Kringle and Other Traditional Danish Sweets
If you're looking for Thanksgiving dessert ideas to serve up on this year's family table, you aren't limited to cakes and pies - although those are both fabulous choices. If you like the sound of something a little different. Browse our selection of sweets we offer at our Danish pastry store in Racine. A few of the Danish sweets you'll find here that would be well-suited for a holiday get-together include:
Huge, freshly-baked, crispy and light pastry shells filled with butter-sweetened custard cream are then topped thickly with smooth chocolate fudge. Order these online, and you'll receive them frozen for maximum freshness - just thaw and serve.

It's just not Thanksgiving without something pumpkin on the table, and our Pumpkin Brownies fit the bill. We cover our incredibly moist and delicately flavored Pumpkin Brownies with our famous cream cheese frosting and a caramel drizzle for a perfect fall dessert.

Another pumpkin option, our Pumpkin Crown Cake looks, smells, and tastes amazing, with a drizzle of icing and butter brown sugar glaze and a sprinkling of pecans. Don't forget the Gokstad coffee to serve with this heavenly Danish delight.

The Kringle is the heart and soul of what we do, and our recipes and methods have been passed down through our family for generations. Layers and layers of light, flaky, handmade pastry filled with dozens of different scratch-made fillings are the perfect award-winning Thanksgiving dessert. They are great for Thanksgiving breakfast too!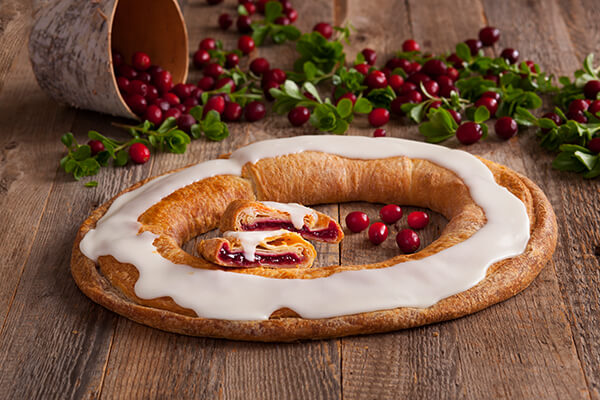 You may not have considered Danish cakes for Thanksgiving before, but we think our Danish holiday cakes and other traditional Danish favorites can open up a whole new world of holiday indulgence for you and your family and friends. At O&H Danish Bakery, we are passionate about sharing our love for baking and our delicious family recipes, perfected over the years, with our valued customers. We treat our customers like family and give them the same friendly welcome, attention to detail, and homemade quality we would give our own families. We have several locations throughout the Racine area, as well as a full range of home-baked treats available online so that no matter where in the country you are, you can experience the good life with us - and there's no better time to do so than this Thanksgiving. Happy Holidays from the Olesen family and O&H Danish Bakery!