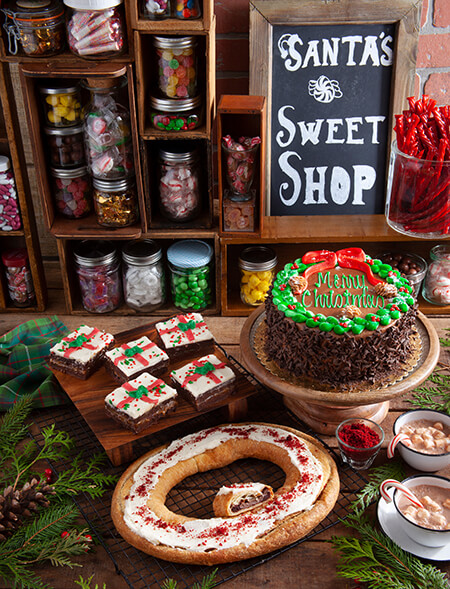 Danish Cakes & Pastries for your next Company Holiday Outing or Potluck
---
By Eric Olesen - 3rd generation owner
Saturday, September 21, 2019
The holiday season is an exciting time of the year filled with festivities and fun events, including Company Christmas parties. Yet, it also means deciding what to take to your work potluck (it is your work family, after all!). You will amaze your co-workers at your company outing with our dessert ideas from our delicious and mouthwatering range of Danish sweets, cakes and pastries. Our Danish Bakery in Racine bakes from scratch using the finest ingredients and traditional baking methods to create decadent, flavorsome and comforting cakes and pastries. From our tender and flaky Kringle to indulgent layer cakes and royally flavored crown cakes, any order from our Kosher bakery is sure to impress.
Bring a Danish Layer Cake or Crown Cake to your Company Christmas Party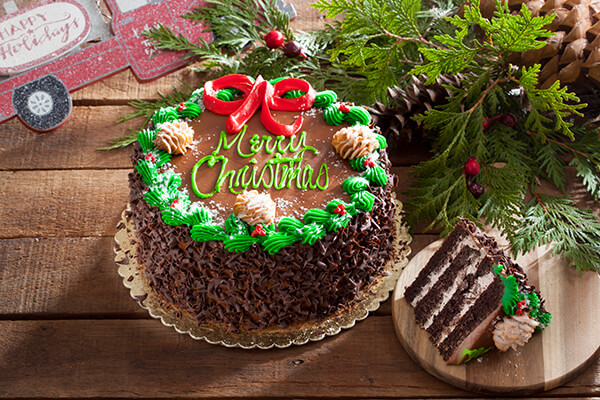 If you drew the Company short straw and need to bring a dessert to the potluck, turn some heads with delicious treats that will cater to everyone. You'll look smart and we'll make it easy on you! You can impress your colleagues, whether they are a Ralphie or even a Scut Farkus, with our unforgettable Ohhhh Fudge! Layer Cake. It's made with midnight chocolate cake and then we add three layers of chocolate silk mousse chock full of fudge pieces between cake layers. We then hand decorate the cake in chocolate buttercream and a beautiful wreath. We triple dog dare ya to try to have just one slice!
Alternatively, our Christmas Danish Layer Cake highlights the local Racine favorite, made with three layers of homemade raspberry jam and creamy custard between four layers of moist yellow cake and finally frosted with super-smooth buttercream. This beautifully hand-decorated cake will receive oohhs and aahhs at your holiday dessert table. The weather outside may be frightful but this cake is sure delightful!
We have perfected the art of handmade and hand-decorated Danish layer cakes over the years to create the perfect balance of frosting, filling and cake. Our personal care and attention every time we make these delicious and moist cakes means that you get a gourmet creation made just for you. We also lavish the same careful dedication on our Danish Crown cakes that are fit for royalty. We use our secret family recipe for baking soft crown cakes with Danish-inspired flavors including our eggnog flavored White Christmas Crown Cake, Scandinavian Almond Crown Cake, Copenhagen Crown cake and more. Whichever Danish cake you choose for your company Christmas potluck, everyone is bound to be talking about it for weeks.
The Famous Kringle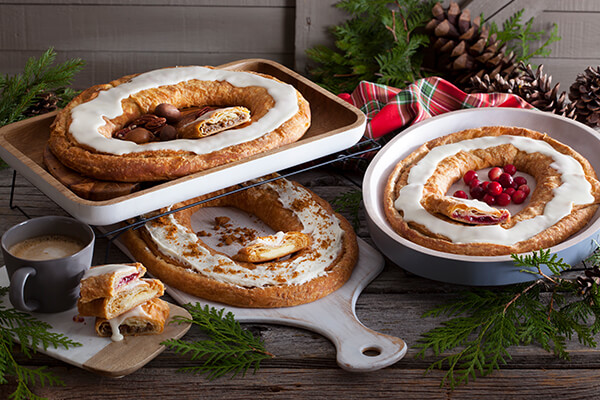 For something irresistible, flaky, buttery and noteworthy to take to your company outing, you can't pass up our famous Kringle pastry. With patience and dedication, we make our Danish pastry dough from scratch. Our grandparents taught us the value of sticking to tried and true Old Denmark techniques and methods when it comes to making a melt-in-your-mouth pastry. After more than 70 years of baking Danish sweets, we continue to gently roll, layer with butter, fold and rest our Kringle pastry dough over three consecutive days. The 36-layer pastry dough does not disappoint when the baking of it always results in a tender, flaky and flavorful treat.
We fill our Kringles with the finest ingredients from near and far, including the sweet and delicious Door County, Wisconsin montmorency cherries and fresh Wisconsin Cranberries. These tasty fruits are cooked into luscious homemade fillings that pack a powerful punch of flavor from the first bite. You can be assured that these Kringles will be a creative festive treat at any Christmas party with their intense red center filling and snow-inspired smooth, white icing on top.
If spiced apple and cinnamon rolls are your favorite Christmas aromas, then warm up our family-sized Apple Kringle or Cinnamon Roll Kringle and let the decadent scent help get your work colleagues into the festive spirit. We pick the best ingredients, like crisp Michigan apples and exotic Indonesian Cinnamon, because when they are combined with our buttery, flaky Kringle pastry, it makes a truly heavenly treat. We pretty much guarantee it will have people going back for more (and remembering you!).
O&H Danish Bakery History
Our bakery is dedicated to enjoying a taste of the good life, great quality baking and giving back to our supportive community. We accredit these values to our bakery's founder, Christian Olesen, who worked the trade for 25 years after immigrating from Denmark as a teen. Christian learned the craft and improved his skills before opening the first O&H Bakery in 1949. During the 1950s, Christian's son, Ray began to develop a passion and love for the baking trade despite originally wanting to attend engineering school. Alongside his father and wife Myrna, he helped to grow the business and eventually bought the bakery himself in 1963 and took over full ownership.
Ray's time in charge saw the bakery continue to grow, first moving to larger premises, opening a second store in Racine and shipping the delightful, tasty Kringle via mail to excited recipients. The arrival of Ray and Myrna's three sons only added to the family feel of the business and eventually as the boys grew older and married, their wives brought their unique talents such as generosity and love for people, creative advertising and innovation for new Danish treats, all of which caused the business to flourish even more. Now owned and operated by the third and fourth-generation Olesen family members, we continue to honor the foundation laid before us and ensure that we always represent our family values in our delicious cakes and pastries.
Order Your Danish Desserts Online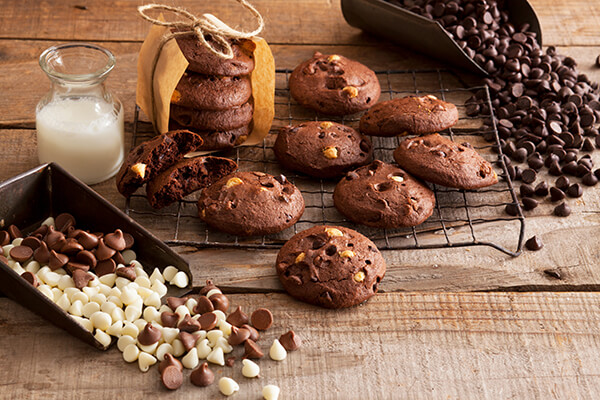 Let your favorite Christmas flavor be the inspiration for your potluck treat and then order your Danish dessert online from our Racine bakery. Our guarantee of quality baked cakes and pastries are an extension of our strong family values and belief of sharing in the good life through a taste of happiness. We believe there is nothing more comforting than a slice of Kringle or cake, a good cup of coffee and lively conversation.
And we know it can be tough to satisfy everyone's requirements, but regardless of dietary requirements, everyone can enjoy a festive treat at your company outing when you order Danish sweets from our gluten-free and special diet range. From delicious, classic sweet rolls with fruit topping to a gluten-free Trinity layer cake and Triple Chocolate Cookies, no one needs to miss out on holiday comfort food. They taste so good, you won't even know they are Gluten Free! So, why are you waiting? It is never too early to place your Christmas order for a Danish treat to ensure that you celebrate with a delicious and flavorful dessert. Check this one off your to do list!