Celebrate Valentine's Day
Sunday, January 12, 2020 by Eric Olesen - 3rd generation owner
Celebrate Valentine's Day with O&H Bakery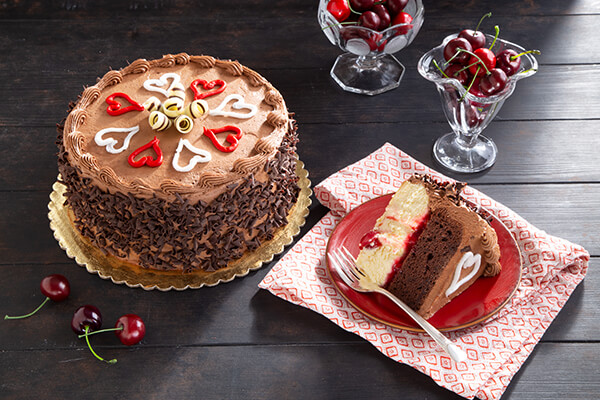 Valentine's Day is coming up, and we have been busy at O&H Bakery, creating delectable desserts inspired by the holiday dedicated to matters of the heart. Each year on February 14th, we spend the day celebrating love in its many expressions thanks in part to Saint Valentine, a priest from the third century who married Roman soldiers in secret when the emperor forbade it. Now on Valentine's Day, we celebrate all kinds of love by sending Valentine's Day cards, flowers, and sweets to express the love we feel for our friends, children, parents, siblings, and romantic partners.
At O&H Danish Bakery in Racine, we wanted to express our love for baking with specially made Valentine's treats. After a decadent Valentine's Day dinner or even in the morning at breakfast, enjoy a special treat with a one-of-a-kind, scratch-made dessert from O&H. You can visit one of our bakeries in Wisconsin or order your sweets online for a scrumptious Valentine's Day treat wherever you or your loved ones may be. We have lovingly prepared an array of Valentine's desserts that will sweeten anyone's day!
Order Valentine's Kringles Made with Love
In the O&H family, our love language is baking tasty treats that will melt you from the inside out with hand-picked ingredients and that homemade touch that makes everything taste that much better. Our signature O&H Danish Kringles are made lovingly with recipes passed down through generations in our family-owned bakery. Our hand-rolled pastry dough is folded over the course of three days to create an unbelievably flaky pastry of rich buttery layers that are the perfect complement to the sweet, creamy, and juicy fillings for scrumptious flavor in every bite.
We have delectable ingredients in our kringles inspired by the sweets and candies traditionally sold for Valentine's Day. Our Valentine Cherry Kringle takes one of our classic fruit flavors and gives it a Valentine's day twist in a heart-shaped buttery kringle pastry filled with juicy, scratch-made cherry filling and decorated with pink icing and red sprinkles that will tickle the fancy of anyone with a sweet tooth.
For those who prefer nutty flavors, we also give our most popular pecan flavored kringle the Valentine's treatment: the Valentine Pecan Kringle is a heart-shaped pastry filled with delicious pecans and a smooth brown-sugar and cinnamon-spice filling for a mouth-watering treat no one will be able to resist. This hearty kringle will melt in your mouth and fill you with the warmth of Hygge, that cozy feeling you get when sharing special moments with your loved ones.
If you want to show you really care, splash out with A Valentine Conversation gift package that combines the heart-shaped cherry kringle with conversation heart petit fours in a deliciously sweet spread that will make your sweethearts swoon.
Danish Kringles and Desserts Say, "Happy Valentine's Day" in the Sweetest Way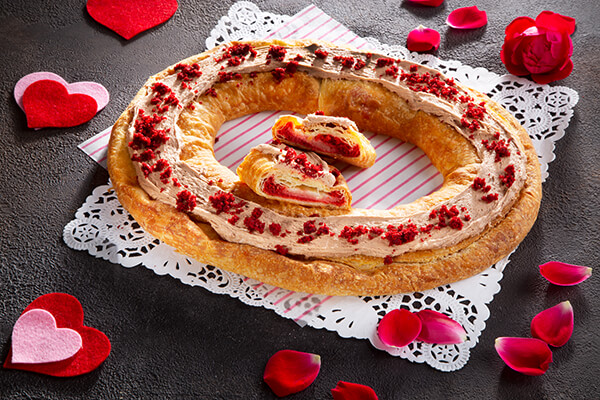 At O&H Danish Bakery, we cherish any excuse to bake delicious desserts, and Valentine's Day is no different. The holiday devoted to love in all forms is celebrated in countries around the world. In Denmark, families, friends, and couples exchange love notes and flowers as gifts, but here in Racine, Wisconsin, we think sending something sweet is the best way to express your affection.
While not heart-shaped like other Valentine's kringles, our Danish Sweetheart Kringle is certainly layered with love. This Valentine's day special recipe is made with a rich red velvet cake filling over a layer of creamy vanilla pudding and frosted with yummy cocoa cream icing topped with red velvet crumbles.
If kringles aren't your favorite, we make other tantalizing treats for the sweethearts in your life. Serve an O&H heart-shaped Valentine's Day Coffee Cake with cream cheese and cherry filling at breakfast, and you'll have everyone pining for more. You might also try the Danish Cherry Bread Pudding inspired by Wisconsin fruits. We soak Danish pastry in our vanilla egg custard topped with a layer of tart, Door County cherry filling and buttery streusel for a decadent breakfast or afternoon treat. Enjoy these best with a hot cup of Gokstad Danish blend of light and dark roast coffee for an extra-special start to the day.
For chocolate lovers, we have three irresistible Valentine's options to sweeten the day with chocolatey goodness. Our Valentine's Chocolate Cherry Pie is an indulgent creation that combines dark chocolate cake full of chocolate chips with a layer of local Door County Cherry filling inside a streusel crust with decorative sugar cookie hearts to top it off. It looks as lovely as it tastes.
Our Valentine's Chocolate Cherry Brownies are a decadent blend of rich fudge brownie layers hugging a cherry filling and frosted with vanilla bean icing and heart-shaped sprinkles in red and pink. These classic treats will strike an arrow through the heart of your Valentine without any help from cupid.
If your Valentine prefers a gluten-free sweet, look no further than our Three Layers of Love chocolate buttercream frosted cake that combines a layer of silky, smooth cheesecake with a layer of cherry filling and gluten-free chocolate cake. It's three layers of gluten-free goodness that will impress your Valentine with a kiss of chocolate and cream cheese with tart cherry that will linger in memory for years to come.
Spread the Love on Valentine's Day with O&H Danish Bakery in Racine
Wherever you are and whomever you love, there's no better way to express your feelings than sharing the sweetness of home-baked treats. Whether you buy our heart-shaped Danish kringles as a special Valentine's Day gift for friends or you order a decadent Valentine's layer cake and brownies to celebrate with family, you will taste the love baked into each bite of O&H desserts. If you are a Racine local or you live in Wisconsin, you can visit one of our five locations to order your Valentine's Day sweets in person from our friendly staff. To order kringles and desserts online, be sure to place your order ahead of time to ensure your treats arrive for February 14th! We guarantee two-day shipping, but it's always better to be safe and order in advance.
We wish you all a happy, heart-warming Valentine's Day filled with the joyful warmth of Hygge and expressions of love in all forms!