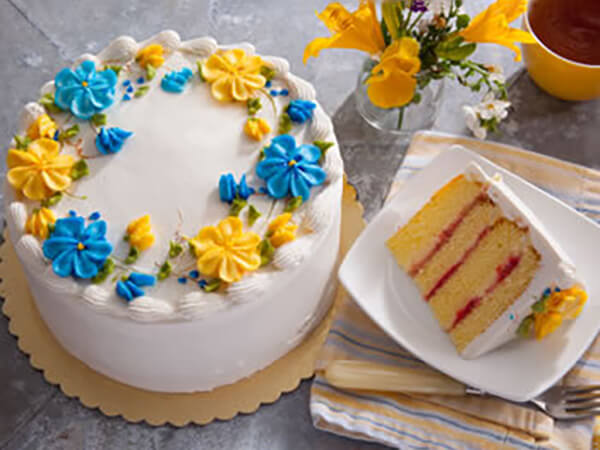 Celebrate the New Year With Desserts Everyone Will Love
---
By Eric Olesen - 3rd generation owner
Saturday, December 3, 2022
New Year's festivities are all about saying goodbye to the past 12 months and hello to new beginnings. Regardless of what you're toasting this New Year's Eve, we have desserts to make your celebrations a little bit sweeter. From indulgent chocolate eclairs to sweet fruit-filled Kringles, you can find a delicious New Year's Eve dessert to impress your guests and satisfy every taste bud.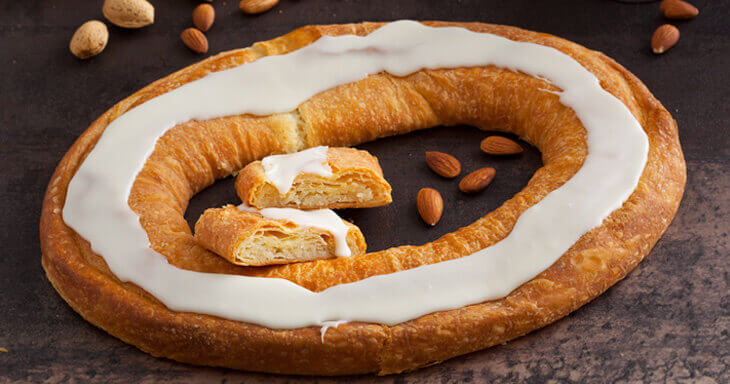 Whether you're ringing in the new year by hosting a large celebration for family and friends or settling in for a cozy, quiet night at home playing games or snuggling in front of the TV, we have a delicious array of festive treats to suit every occasion.
The Grand Trio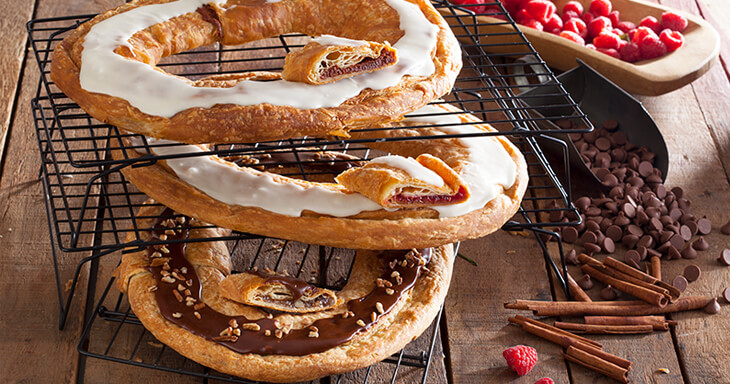 If you want to ensure there are enough fun New Year's Eve desserts to feed a crowd, our Grand Trio package is perfect. Flaky, crispy, buttery pastry surrounds our homemade fillings for a delicious dessert that will be the star of any celebration. You can cut each Kringle into as many servings as you require, and with raspberry, cinnamon, or chocolate fillings to choose from, you can easily please every party guest.
Strawberry Champagne Kringle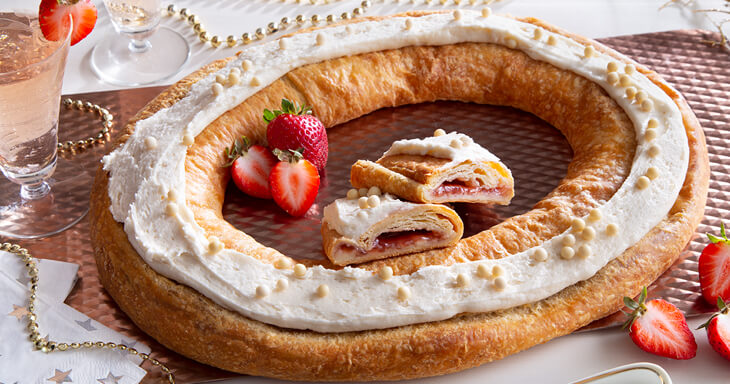 Make getting our Strawberry Champagne Kringle your first resolution for the new year! We fill our famous pastry with silky smooth cheesecake and layer it with delicious strawberry filling. Garnished with a creamy champagne flavored frosting and finished with white chocolate crisp pearls, this dessert is the perfect way to bring in the new year!
Sinful Chocolate Eclairs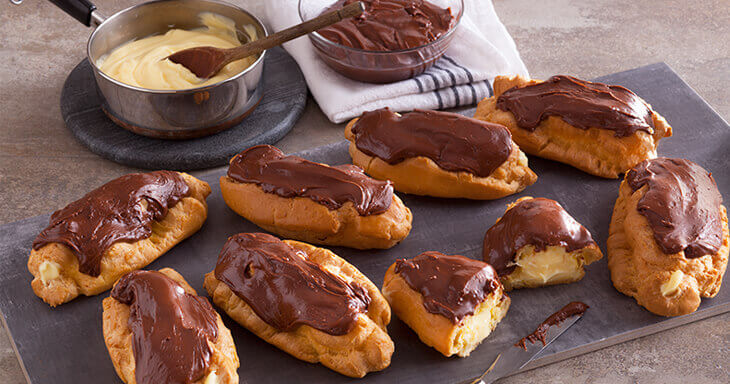 Our Sinful Chocolate Eclairs, with their buttery-sweet custard, crispy light shells, and chocolaty fudge topping, are the perfect indulgent treats for a quiet night in, as well as an intimate gathering. As you and yours take a moment to reflect on making it through another 365 days, you'll revel in this decadent dessert that was first created for French royalty.
Danish Pecan Sticky Buns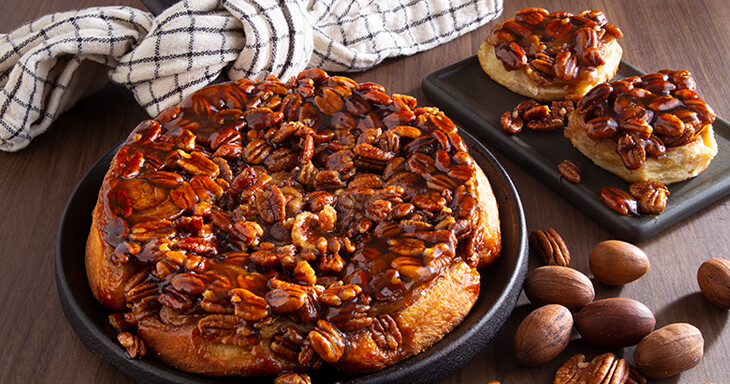 All caramel and pecan lovers will enjoy this tasty combination of sweet and nutty. Our Danish Pecan Sticky Buns, the perfect balance of holiday flavors, feature soft artisan pastry, a brown sugar-and-cinnamon filling, and a generous layer of caramel topping dressed with fancy pecans. This one is a delicious bite to warm you up on a cool New Year's Eve night!
Cinnamon Roll Kringle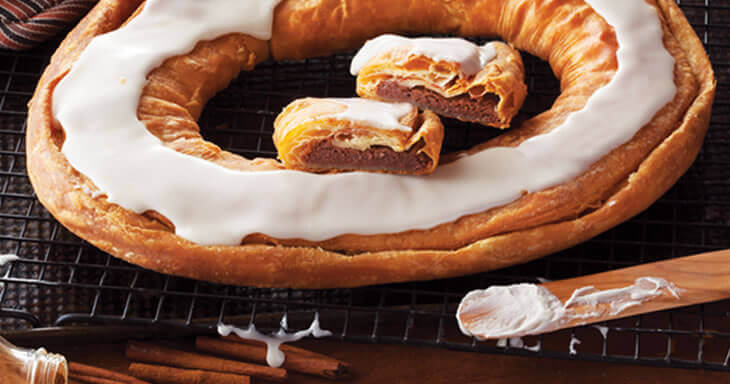 For a sweet and easy delight your guests can enjoy while holding a drink or mingling with the crowd, treat them to a tasty slice of our Cinnamon Roll Kringle. We pack our famous pastry with a cinnamon-and-sugar filling, then top it with smooth icing for a crowd-pleasing dessert.
Almond Macaron Kringle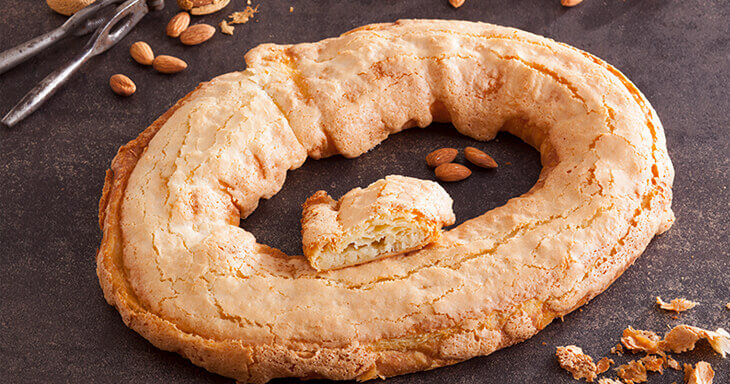 We believe every dessert should have a standout flavor, and that is certainly true of our Almond Macaron Kringle. Adding an almond paste filling to our Kringle wasn't enough, so we also top this dessert with a light almond batter. We then bake it to perfection to create a crunchy almond topping, resulting in a dessert that is full of flavor.
Pecan and Raspberry Pair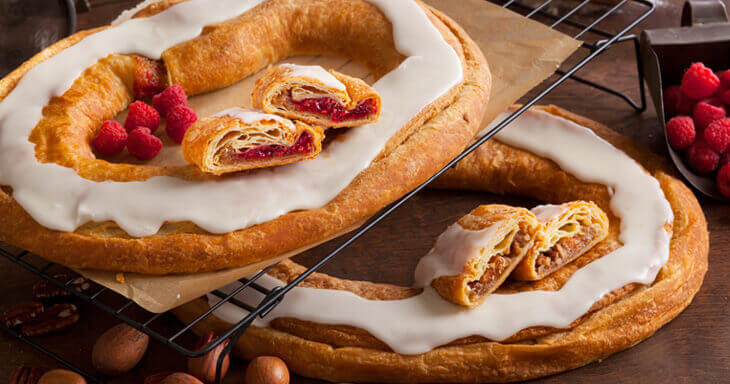 Celebrate New Year's Eve by spoiling your guests with two delicious Danish desserts. The holiday season festivities are a time to indulge and try new things, so rather than having only one sweet dish, elevate your dessert table with this tasty duo: our sweet raspberry-filled Kringle plus our pecan, cinnamon, and brown sugar pastry.
We're here to support you with desserts for every occasion, celebration, and milestone. If you're setting new goals and making seasonal resolutions regarding your health in the new year, be sure to browse our delicious range of gluten- and sugar-free desserts.
Gluten-Free Desserts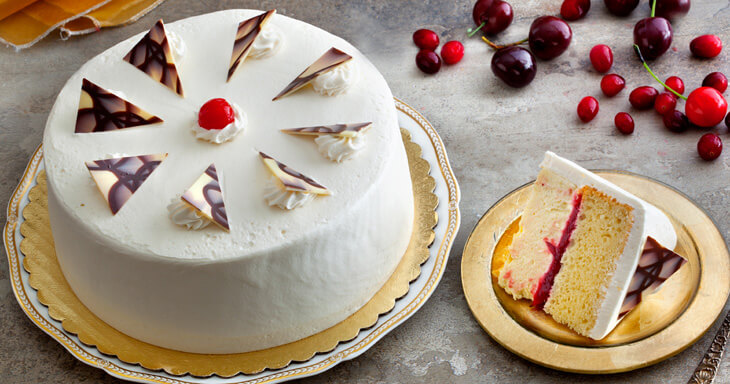 Our gluten-free desserts are packed full of flavor and taste just as delicious as our other cakes and pastries. Celebrate the start of the new year with our famous Gluten-Free Trinity Layer Cake. We combine our silky-smooth cheesecake with our famous Wisconsin cherry-and-cranberry filling and gluten-free cake, then hand-decorate the whole thing to create an eye-pleasing dessert that will make mouths water.
Our Gluten-Free Triple Chocolate Cookies are ideal when you want an unfussy, mess-free dessert to take out and about on your New Year's Day adventures. These milk, dark, and white chocolate chip cookies come portioned into the perfect serving size. Of course, if one isn't enough, you can always have more!
No Added Sugar or Salt Desserts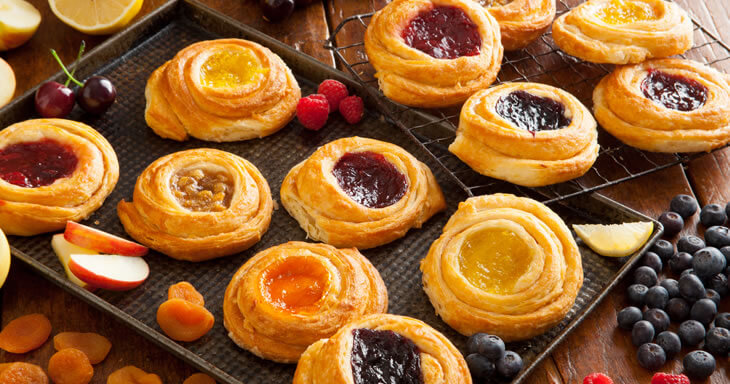 Start your low-sugar, low-salt diet with our delicious fruit-filled Danish rolls. You can get all the sweetness you need from our quality homemade fruit filling wrapped up in our tender and flaky pastry. And if you're hosting friends and family this New Year's, try our No Added Salt and Sugar Kringles.
Order Your New Year's Desserts From O&H Danish Bakery
You can find the perfect desserts for your New Year's Eve and New Year's Day celebrations from our range of tasty cakes, pastries, and cookies. Order your treats online for delivery or reach out to our team for more dessert ideas to suit your occasion.