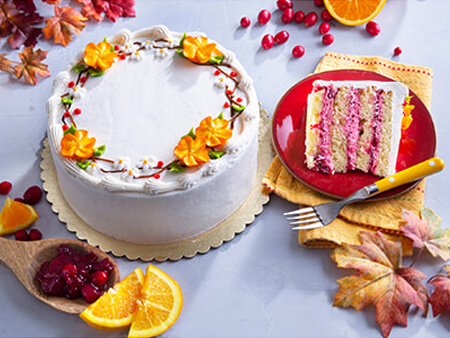 The Best Cakes for Delivery
---
By Eric Olesen - 3rd generation owner
Saturday, September 26, 2020
One of the fantastic things about being an adult is that you get to have cake whenever you want to. In fact, sometimes we have cake for breakfast because it just sounds right! With our cake delivery service, having your cake and eating it is as simple as clicking a button and waiting for it to arrive. Our cakes also make exquisite gifts for any occasion because let's face it: everyone loves a tasty, fresh cake!
How can I send someone a cake?
If you think handling delivery yourself is the easier option at your disposal, think again. Our mail-order cakes service works around the clock to bring efficient cake delivery to your (or another lucky person's) door. Feel free to browse online or call us at 1-800-709-4009 and we'd be happy to assist with any order. Each step of our process includes getting our baked goods to its destination as soon as possible with the bakery arriving in great shape. At O&H Danish Bakery, we guarantee our cakes arrive fresh, so do not be surprised when your mouth starts watering as soon as the delicious aromas and tasty looking treats are in front of you. We also work with UPS so we can easily accommodate Saturday deliveries.
Best Cakes to Order Online
Everyone has a favorite cake, which can sometimes make ordering one as a gift slightly tricky. Luckily, our online bakery provides enough options to satisfy even the most distinguished cake connoisseur. You might want a birthday cake that can keep up with your sweet tooth and overflows with chocolate, or something like our classic raspberry and custard for the family after dinner. Whatever your preferences are when it comes to cake, including to celebrate your favorite holiday, we can deliver it.
Custom Decorated Layer Cake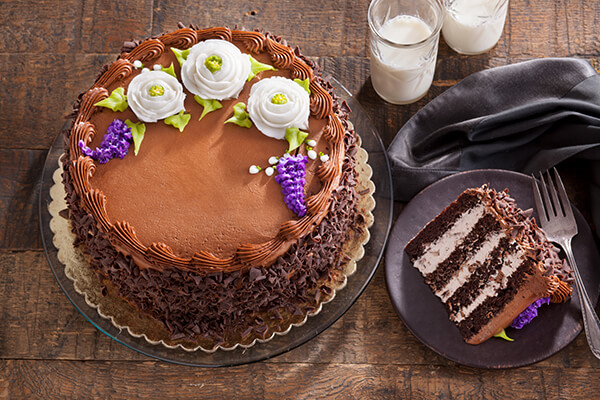 Our famous Danish Layer Cake is the perfect choice when you need a delectable treat for any occasion that also includes custom decorations. Whether you want these as birthday cakes delivered to your door or simply to thank someone for being in your life, our beautiful script writing will ensure they get a tasty message they will love. Our custom cakes also include our Fudge Layer Cake, King's Chocolate Layer Cakes, Fall Danish Layer Cakes, Danish Apple Layer Cakes, and more. Our expert cake decorators are ready to make your order by hand and decorate it personally for you. These artists will work to create the perfect cake and then we will prepare it for shipping.
Coffee Cake
If you enjoy your cake and coffee combined, you should try our Pecan Custard Coffee Cake. Starting with a flaky pastry and a generous layer of custard on top of a brown sugar butterscotch filling, we top this cake off with buttery streusel and a whole lot of fancy Grade A pecans. Perfect for enjoying with a hot cup of coffee to round off any delectable meal during any part of the day. It truly is an excellent choice for delivering to all the coffee lovers out there!
Crown Cake
We have plenty of delicious options for those who love bundt cakes. We have an Imperial Chocolate Crown Cake, a Scandinavian Almond Crown Cake, a Copenhagen Crown Cake, a Pumpkin Crown Cake, and a Danish Crown Cake. Whether you have a picnic planned or a classy tea party coming up, all of these options make our crown cakes the perfect choice for any part of any season.
Gluten-Free Trinity Layer Cake
If you prefer your layer cake without gluten, why not try our insatiable gluten-free Trinity Layer Cake? This cake starts with a layer of cheesecake before we add our Wisconsin filling and finish it off with our gluten-free batter. Beautifully decorated by hand, these cakes look as good as they taste. Such a beautiful cake deserves to be present during any big event - whether during a party, celebratory afternoon lunch, or even a bridal shower.
Order a Cake Online Today from O&H Danish Bakery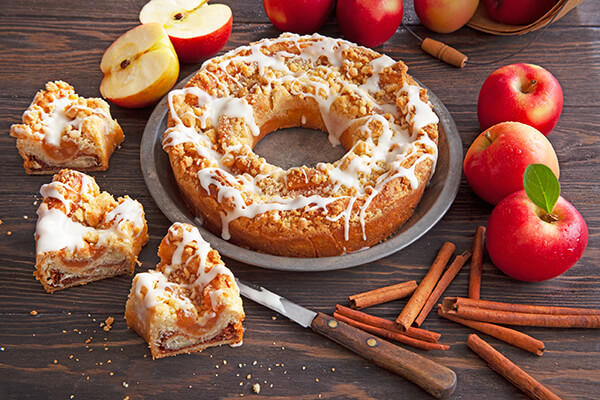 Ordering a cake has never been easier. When you choose O&H Danish Bakery, you never have to worry about quality or taste, because our cakes will arrive fresh and remain full of flavor from the first bite to the last. Make a call or place your cake order online for delivery to treat your senses to something delicious.