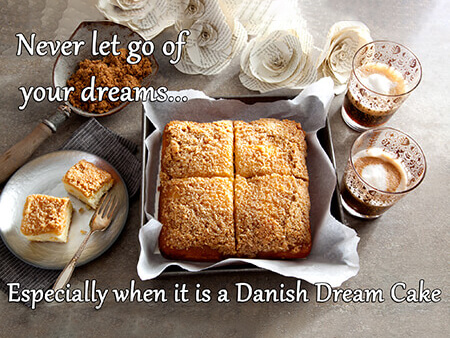 What is a Dream Cake?
---
By Eric Olesen - 3rd generation owner
Saturday, August 8, 2020
You got to give it to the Danes, they do think of creative names! We think that if your dreams had a flavor then it would probably taste like a decadent Danish Dream cake. The soft and incredibly moist sponge cake makes for a perfect bed to hold the sweet coconut and sugar topping which caramelizes as it bakes and results in a wonderful melt in your mouth treat. As proud Danes, we love the opportunity to showcase our heritage through sweet delights and with an epic tale to tell we couldn't pass up the opportunity to add this history-making dessert to our assortment of yummy bakery treats.
Why is it Called a Dream Cake?
The simple sponge cake coated with a coconut caramel topping goes by the Danish name Drømmekage which translates to Dream Cake. While the cake itself seems fairly simple, it requires the perfect balance of technique and patience to get right. And sometimes, the simplest things often taste the best! Once you take your first bite, you will heartily agree that the delicious dessert lives up to its name, tastes like a dream and, like every good thing, you will be left wanting more.
What is Dream Cake Made Of?
Our talented bakers combine flour, sugar, butter, eggs, milk and vanilla to create a soft and moist sponge cake which may seem simple yet is the perfect base for showcasing the sweet coconut topping that makes this dessert such a winner. We perfectly balance the coconut sugar mix that gives this cake its characteristic taste and caramelized topping. The thick caramel covering is sure to linger in your taste buds, similar to the lasting memories of a beautiful dream. We can certainly eat it all by itself, but it's great with whip cream and fresh fruit too!
A dream cake tastes best at room temperature, and it freezes well so you can enjoy a slice for many months, or if you simply can't resist its divine flavor, then you can store it in the refrigerator for up to ten days. However, if you invite your friends over to share in a slice, it will probably disappear in one sitting as they are sure to want a second helping before heading home. Just pour the coffee and enjoy a little (or a lot) of Hygge!
Dream Cake History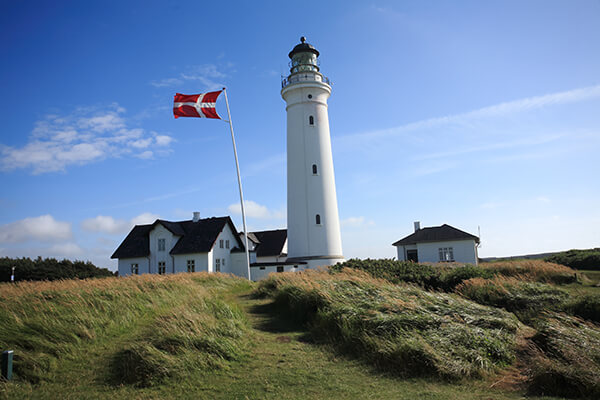 We have a strong commitment to our traditional family recipes that have been passed down through the generations; however, the dream cake only rose in popularity after it was entered in a baking competition in the 1960s. A young schoolgirl took her grandmother's recipe for the delicious dessert and went on to win the competition, which caught the attention of a large food company. The cake recipe that was originally baked in a small family kitchen in the Danish town Hjallerup was printed in a cookbook and soon became a firm favorite for many Danes. This town is located in North Jutland and only about 30 minutes by car from where our ancestors emigrated from, so it's truly from our home!
As it rose in popularity, the cake has gone on to fill many bakery shelves throughout Denmark, and it is still known as a national delicacy today. Tourists flocking to Denmark may not know about the famous Dream Cake, especially with the overwhelming decadent pastry selection, yet it is definitely worth a taste. If heading to Denmark to get a slice of the dream is not possible, don't fret, you can still relish its sweet flavor and soft texture with our authentic O&H Bakery Danish Dream Cake.
Order Your Dream Cake Online Today
Our bakery is steeped in family tradition, authentic Danish recipes and using the finest ingredients from around the world. We believe that great conversations can happen around a delicious slice of cake or pastry, which is why we are passionate about delivering quality scratch-made baking for everyone to enjoy. Regardless of where you live, our flexible ordering and worldwide delivery system means that you can enjoy a taste of Denmark's sweet delights anytime. Feel free to reach out to our friendly team who are always happy to answer any questions you have about our yummy treats or if you know what you have a craving for then place your order today.