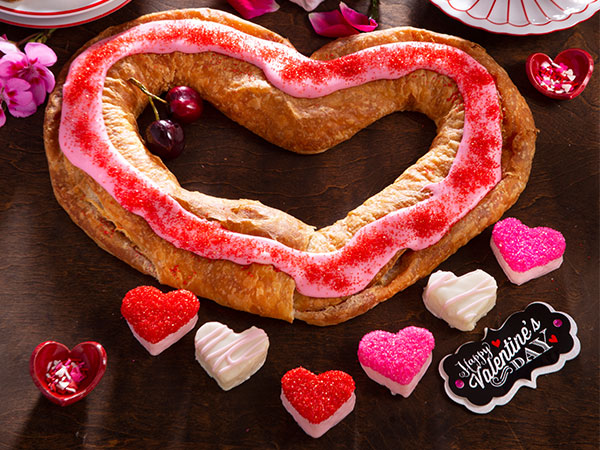 Celebrate Love with Swoon-Worthy Valentine's Day Desserts
---
By Eric Olesen - 3rd generation owner
Sunday, January 16, 2022
Valentine's Day party ideas in Denmark are usually very traditional, with the Danish exchanging cards, flowers and love notes with their sweetheart. However, we think nothing tops a sweet treat! As we start to have more opportunities to gather with friends and family, Valentine's Day is the perfect time of year to host a dessert party. We have a full list of decadent and amazing Valentine's desserts your guests are sure to love, plus creative themes to make your event a success!
Sweet Treats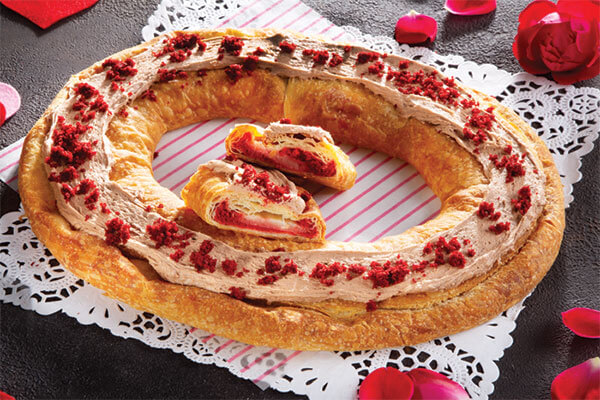 Valentine's Day themed desserts are ideal for any party, including your kid's classroom celebration, a festive office brunch or showing your special love how much you appreciate them.
Danish Sweetheart Kringle
We make the Danish Sweetheart Kringle using decadent red velvet cake layered with vanilla pudding, frosted with cocoa cream icing and garnished with red velvet pieces. Perfect for the sweetheart in your life who adores red velvet!
Valentine Cherry Kringle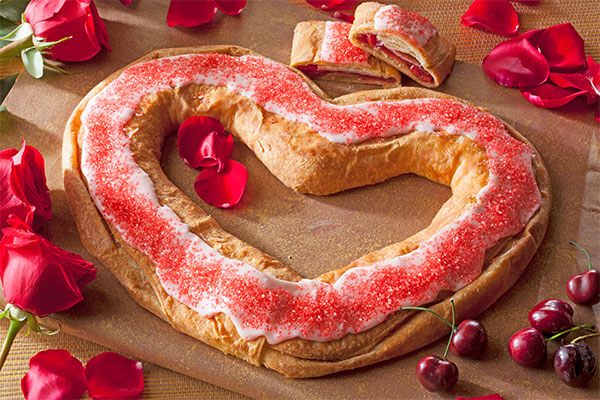 In Denmark, the heart is a symbol of the good life. It represents Hygge and everything the Danes embrace, such as a little happiness every day. To make the Valentine Cherry Kringle, we hand-shape our traditional Kringle into a heart for Valentine's Day and decorate it with pink icing and red sugar. With our delicious Door County Cherry filling in this Kringle, you get a special heart that's meant to be shared.
Valentine Pecan Kringle
When your love requires Valentine's dessert ideas that are a touch less sweet, this heartfelt Kringle is the way to go. Made with fancy pecans, brown sugar and cinnamon, the Valentine Pecan Kringle is our most popular and well-loved Kringle! We carefully craft each one into a Valentine heart and decorate it with pink icing and red crystal sugar for that special holiday touch.
Valentine's Chocolate Cherry Brownies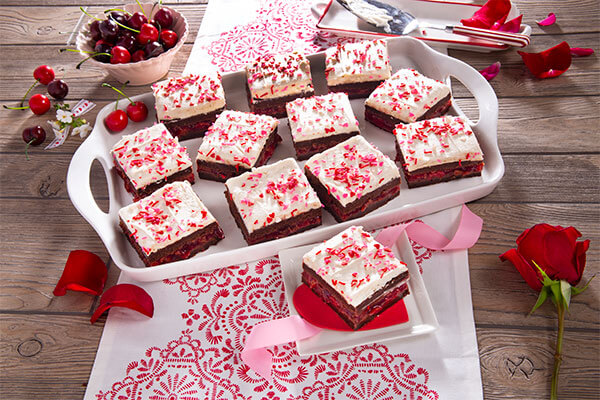 Mmmm… the combination of cherries and chocolate is pure decadence. Impress your true love with these delicious Chocolate Cherry brownies on Valentine's Day. We start with a fudge brownie layer, top that with our Door County Cherry filling, and then cover it with another layer of fudge brownie. We then frost with vanilla bean icing and hand-decorate to celebrate a lovely holiday.
Three Layers of Love Cake
Will you be my valentine? The Three Layers of Love cake is sure to make your sweetheart say "yes!" The first layer is our silky smooth and melt-in-your-mouth gluten-free cheesecake which we layer with our handmade Door County Cherry filling before topping it all with our gluten-free chocolate cake. Our talented bakers then frost with chocolate buttercream and carefully decorate for your sweetie. Not only does this taste yummy, but it's gluten-free too, all with three layers of love that are sure to please.
Valentine's Day Party Ideas
The best thing about Valentine's Day party themes is that you can make them as unique as your love for those around you. To get you started on choosing a theme for your party, here are our top suggestions for making your day fun and festive.
Valentine's Day Party Desserts Baked with Love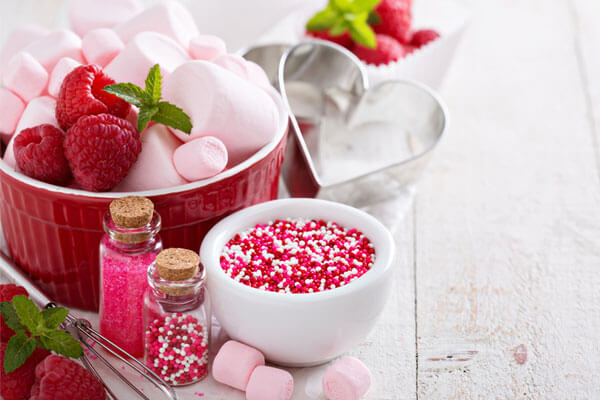 Whether it's home-baked or store-bought, organize a potluck style dessert bar and encourage all of your guests to bring their favorite sweet treat. Prep your party space with plenty of serving platters, baking sheets, rolling pins and hearts for a fun baking themed atmosphere. If you're hosting lots of little ones, you can take the opportunity to let them decorate heart-shaped sugar cookies with red and pink icing and plenty of sprinkles.
Love is in the Air
Make Valentine's Day cozy with a little bit of Danish hygge! It can still be pretty chilly out when Valentine's Day rolls around, so gather up mugs of decadent hot chocolate, some sweet treats and the softest blankets you can find to host a movie marathon featuring all of your favorite on-screen romances. You can also use these re-watches to set up a movie-themed trivia night.
Be Mine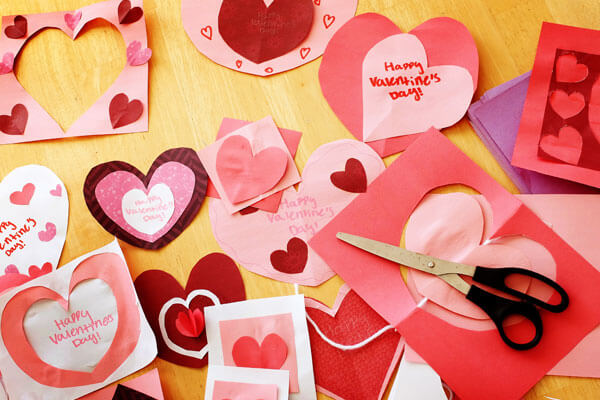 Break out the markers and construction paper for a classic Valentine swap! Romantic paper garland and conversation hearts are sure to help set the mood, while classic activities like bingo and pin the arrow on the heart are sure to bring out the kid in everyone. Make some cute Valentine mailboxes for each of your guests and invite them to create unique cards for each other.
A Classy Valentine
For a more sophisticated party, go for glitz and glamour with a fancy dress code that will give you an excuse to wear that handsome suit or lovely dress for the occasion. Mix a signature Valentine's punch or break out the champagne to pair with more decadent desserts, then dance the night away to classic love songs in the arms of your Valentine.
Get Valentine's Day Desserts from O&H Danish Bakery Delivered Straight to Your Door
You can effortlessly cater your Valentine's Day party with desserts from our bakery and save all your energy for decorating and celebrating. Browse our range of heart-shaped Kringle, sweet treats and other delicious pastries online, order for delivery to your door, then sit back and wait for your guests or special Valentine to arrive.