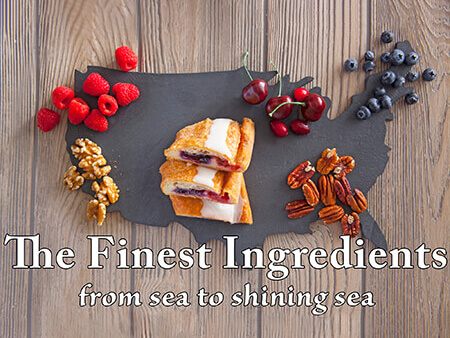 Get your Red White and Blue on with O&H Danish Bakery this Memorial Day
---
By Eric Olesen - 3rd generation owner
Sunday, April 19, 2020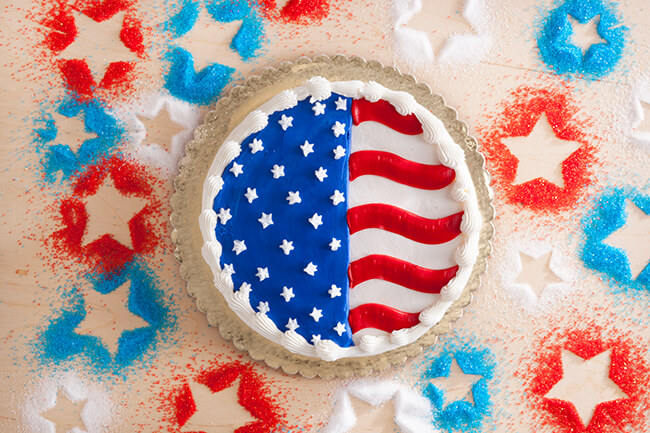 If red, white, and blue are your favorite colors, you are in for a treat on Memorial Day. Whether you dress the part, sing your favorite patriotic songs, or decorate your home with flags and streamers, we can enhance your holiday with festive bakery items.
Memorial Day is all about commemorating those who served our country. We gather in remembrance, and to celebrate our freedom. This year we may stay closer to home as we honor those who have fallen for our country. Discover ways to celebrate Memorial Day closer to home this year, and foods to enjoy in a color theme of red, white, and blue.
Breakfast Kringles and a Lesson in History
Begin the day with coffee and our Red, White, and Blue Kringle. This patriotic pastry will kick-start the day, reminding your family why both young and old celebrate this Monday in May. Did you know that General John A. Logan of the Union Army declared the first Memorial Day in 1868? He chose May 30 to commemorate the more than 620,000 soldiers killed in the Civil War. It was called Decoration Day, and Americans would adorn the graves of those who died, with flowers. There are questions as to why he chose May 30, as some historians surmise it was to ensure that flowers would be in full bloom throughout the country.
Whatever the reason for the date chosen, it gave Americans a chance to gather. As we gather as families this Memorial Day, enjoying our kringles and coffee, it is an excellent time to share with those close to us the origins of this national holiday.
America's Bounty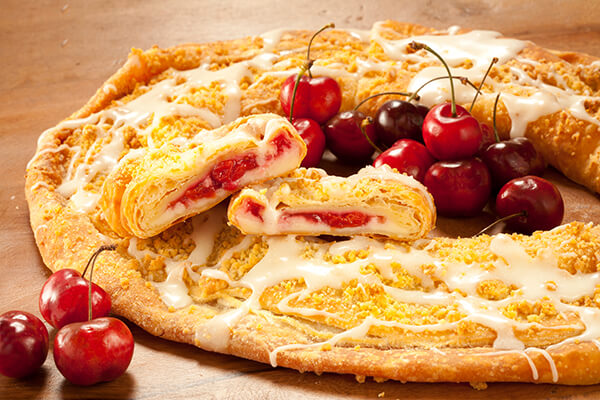 We have red, white, and blue treats to celebrate summer, which arrives with Memorial Day. Choose a kringle with a filling that matches the colors of our flag. Delicious fruit fillings represent the best of American produce, and we also like to highlight that we source the best ingredients across the US. We fill our Wild Blueberry Kringle with wild berries harvested in Maine at their peak. Our Cherry Cheese Kringle oozes with montmorency cherries picked when they are ripe and sweet in Door County, Wisconsin. A Local Wisconsin creamery makes the cream cheese that fills the flakey pastry. We drizzle sweet white icing on top for the perfect treat as a mid-morning or lunchtime treat.
Mid-morning is an excellent time to read a military memoir of a hero's journey in wars fought by brave Americans. Stop by your local library or download a book on one or more wars that pique your interest. Enrich your child's imagination with picture books describing how others fought for their freedom. Maybe you want to gather to listen to a podcast voiced by people who served in a war, as they will relate their experiences of having boots on the ground. Hearing their reflections allows you and your family to imagine what it was like to be there.
Afternoon Tea and the Memorial Day Poppy
After lunch, gather for an arts and crafts hour. Put on a pot of tea, and serve our Danish Cherry Bread Pudding. The red cherries will complement the red poppies that you can make out of tissue paper.
Wearing a red poppy on your lapel or dress began as a symbol of soldiers lost during WWI. A surgeon for the Allies noticed poppy-covered fields across northern France and Belgium, where many died in battles. He wrote a poem about the colorful poppies inspiring hope in dark times, and before long, the flower became a symbol of all who died in the war.
In America, we wear the red poppy on National Poppy Day, which is the Friday before Memorial Day, to honor soldiers from all wars of our country. Other traditions include hanging the flag at half-mast until noon on Memorial Day and pausing in silence at 3 PM local time for a National Moment of Remembrance.
Google 'tissue paper poppies' and then gather your clan for an afternoon of fun. There are many different variations of the flower to create. The Danish Cherry Bread Pudding will keep you energized as you fill your house with red flowers.
Rest and Enjoy the Music
Part of Memorial Day is the concerts across the country. Round up the family and stream your favorite musicians in the comfort of your living room. As you sit and sway to the music, enjoy some of our Gokstad coffee and a slice of our sandwich bread topped with our lingonberries jam and some blue cheese you may have in the refrigerator. You have a red, white, and blue treat to enjoy as you rock to the music.
If your youngest doesn't connect to the grown-up music, offer them "Ohlaf the Kringle Baker", which is our home made book about our lovable mascot. They will learn how O&H Danish Bakery makes everything from scratch with only the highest quality American produce, and how we value family above all else.
After-Dinner Celebration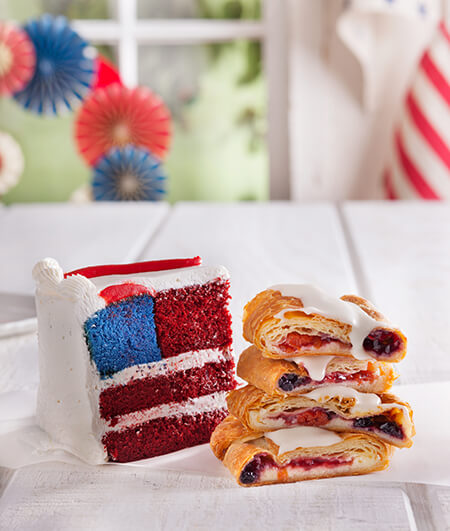 After a full day of Memorial Day enjoyment, there is no better way to end the day than enjoying our Flag Layer Cake. Bring out the sparklers and sing a patriotic song around the most delicious cake imaginable.
What is more inspiring than the festive cake sitting front and center on your table? The white frosting is topped with red and white stripes on the right half of the cake, and white stars over the bright blue icing on the left side of the cake. White-iced piping surrounds the diameter. When you cut into the red velvet cake with cocoa, layered between white icing, you are in for a surprise. Blue velvet cake sits in the upper left corner so that each piece looks like a flag. Grab a mason jar tied with a blue ribbon, and fill it with delicious milk, and your treat is color-coordinated for Memorial Day. The entire family will break out singing "Yankee Doodle Dandy" before you know it.
Memorial Day brings families closer together. We remember the people who made it possible for us to enjoy our freedom and our country. We at O&H want you to celebrate all that is important to each of us. Food strengthens family bonds through traditions we repeat year after year. Please contact us to organize a day to commemorate all that you hold dear. Start planning Memorial Day by ordering kringles and cakes today.