Spring 2021 Desserts
---
By Eric Olesen - 3rd generation owner
Sunday, March 28, 2021
Springtime is full of bright colors and lush scents — and it's not just the flowers. When it comes to sweets, tastes shift from winter's warm and cozy comfort foods into a brighter landscape filled with the lighter flavors of fresh fruits and ripe berries. One of the things we always take pride in is to search for the finest ingredients and flavors and let nature do the work. At O&H Danish Bakery, we have lots of great spring dessert ideas for the new season. These tempting desserts are sure to put a "spring" in your step.
Easter Kringle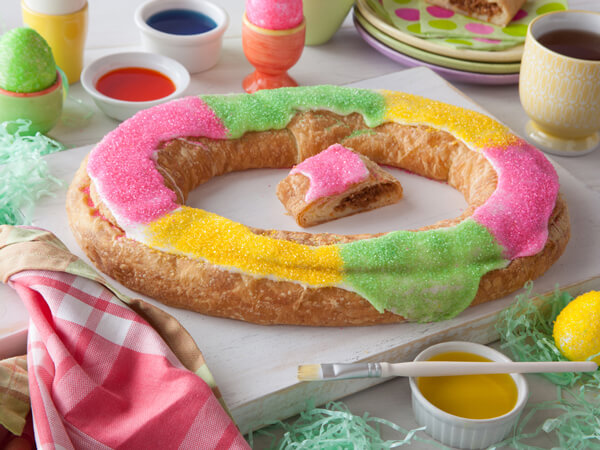 For many, the official symbol of spring and renewal is Easter. That's why our Easter Kringle is the perfect way to celebrate the holiday and one of our favorite spring desserts. We bake our famous Grandma's Carrot Cake, made with Grade A carrots, inside our signature flaky pastry and top it with velvety-smooth cream cheese frosting and finally adorned with the colors of spring. Our Easter Kringle is only available for a short time, so don't miss out!
Churro Kringle
Springtime means two of our favorite holidays: Mother's Day and Cinco de Mayo. You can celebrate both with our Churro Kringle. This festive treat features our amazingly flaky homemade pastry, filled with caramel and premium Indonesian cinnamon. To make it even better, we top this Kringle with sweet white icing and sprinkle it with cinnamon sugar for a party-worthy dessert. Try warming it up and serving with vanilla ice cream for a truly over-the-top treat.
Mother's Day Raspberry Heart Kringle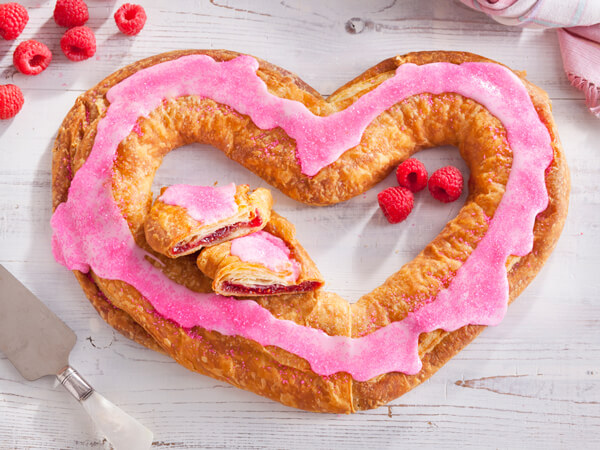 Our Raspberry Heart Kringle is perfect for Mother's Day — or any spring day, for that matter. Show Mom or another special person in your life how much you care with this adorable heart-shaped dessert. We make it by filling our flaky pastry with ruby-red, homemade raspberry filling and then topping it with cute pink icing. The raspberries are sourced from the Pacific Northwest, where the climate is perfect for the juiciest raspberries. Then we finish it off with a sprinkle of pink sugar for a beautiful and delectable treat.
Mother's Day Tea Cake
Our Mother's Day Tea Cakes are a lovely way to show your gratitude for all your mom has done for you. These tasty spring treats are made from our smooth and creamy Copenhagen cake and frosted with pastel pink icing. We then garnish them with heart sprinkles and pink chocolate roses, using only the finest ingredients to ensure flawless flavor. This one is great by itself, but you can add fresh fruit and whipped cream to it to make it even better!
Mimosa Kringle
There's nothing quite like a mimosa on a relaxed weekend morning. Go ahead and take a swig — and while you're at it, serve your drinks alongside a delicious Mimosa Kringle. We fill our flaky pastry with an irresistible orange filling and top it with champagne-flavored icing and white chocolate pearls for the perfect accompaniment to any brunch. Plan for your brunch meal outside, just like we always try to do!
Cherry Kringle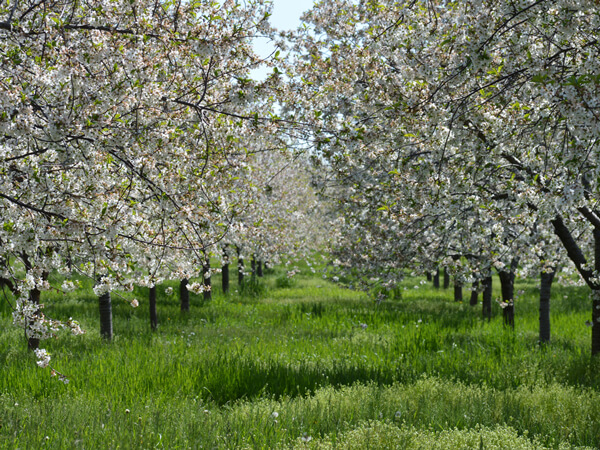 We're fortunate to be located in Wisconsin where we source our cherries from local sources. Trips to the cherry orchard to see the trees blossom leads to dreams of scrumptious cherry filling in our Cherry Kringle. It's made from freshly-picked Wisconsin Door County cherries and baked with layer after layer of light, flaky homemade pastry. Topped with smooth white icing, our Cherry Kringle is exactly what you need to get you in the mood for spring.
Rhubarb Kringle
The return of the rhubarb is an event we look forward to every year. If you like rhubarb pie the way your grandmother made it, then you'll love our Rhubarb Kringle. We transform the crisp, firm stalks into a mouthwateringly tart and sweet filling in this unique Kringle. As always, we stick to our long-established family method of rolling butter into dough over three days to create an impossible flaky, tender pastry that perfectly compliments this Kringle.
Strawberry Rhubarb Bread Pudding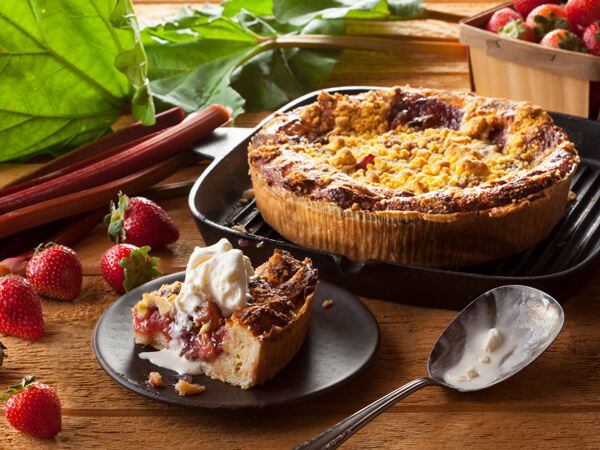 Our Strawberry Rhubarb Bread Pudding is perfect when you want to serve something extraordinary. Tart pieces of rhubarb and sweet, ripe strawberries come together in a deliciously refreshing filling, which we top with buttery, crumbly streusel. Warm this up and add some vanilla ice cream for a true springtime treat. Rhubarb season doesn't last long, so be sure to try this dessert masterpiece while you can.
Get Delicious Spring Desserts from O&H Danish Bakery Delivered Straight to Your Door
At O&H Danish Bakery, we believe in tradition. That's why we have been using the same tried-and-true methods for producing incredible desserts and bread for generations. We make it as easy as possible to enjoy our seasonal desserts without even leaving your house. In fact, you don't even have to live anywhere near one of our stores – we'll ship your Kringle or other pastry directly to your door. Don't miss out on one of the best parts of spring – our fruit-filled Spring desserts.