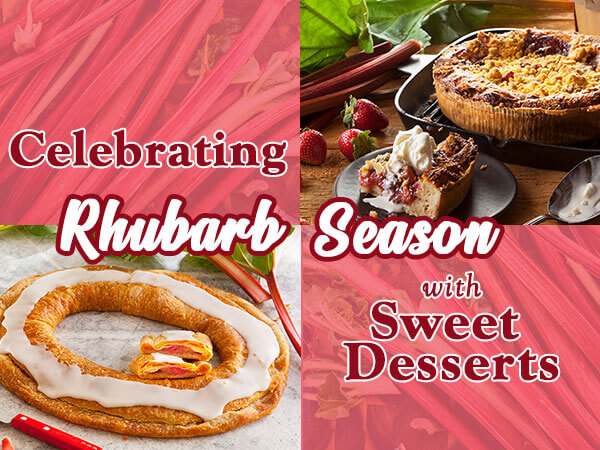 Celebrating Rhubarb Season With Sweet Desserts
---
By Eric Olesen - 3rd generation owner
Tuesday, April 26, 2022
Just as spring begins moving slowly towards summer, we start seeing bountiful harvests of one of our favorite vegetables: rhubarb! Tart and sour, rhubarb has played many different roles in society, with baking being the most recent. Here in Wisconsin, it's common to have your own rhubarb growing in the family garden, and this easy access has only increased our appreciation for the unique and often misunderstood ingredient.
What is Rhubarb?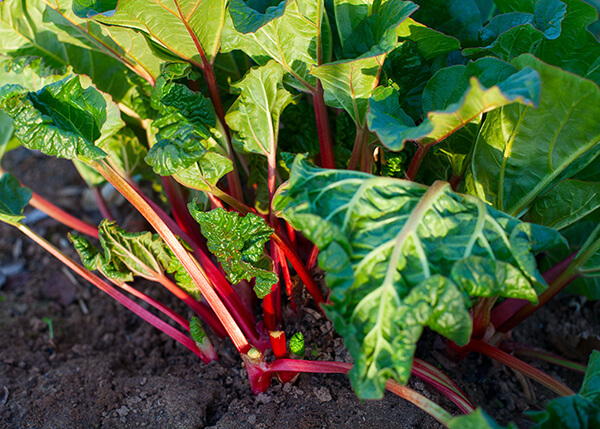 Despite being legally classed as fruit within the United States, rhubarb is technically a vegetable. In 1947, this legal definition came into play in New York because it is more often cooked like fruit in pies, cobblers or rhubarb crumble. This category change made it easier for producers and suppliers to market their crops effectively. With its large red, pink or green stalks surrounded by a bouquet of leaves, the unique rhubarb looks more like celery than strawberries or apples, so you can understand the early hesitation about the vegetable. Its leaves are also quite toxic, though a similar non-toxic compound within the stalk is what creates rhubarb's signature tart flavor.
Rhubarb Uses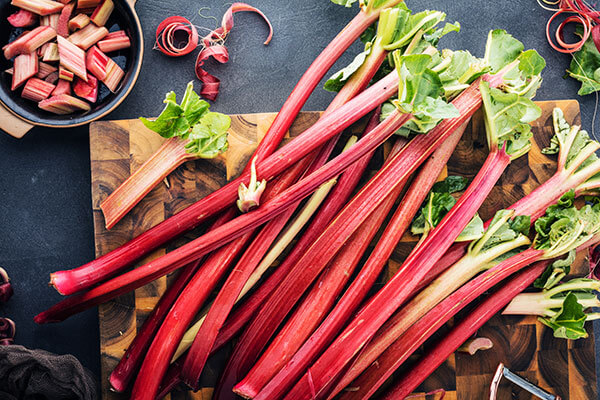 For centuries, rhubarb's main application was medicinal. This began over 5,000 years ago in China, continuing during the Greek and Roman Empires and eventually moving to Great Britain. The first recorded case of cooking with rhubarb is from Britain in the 1800s when it was added to a fruit tart. Part of what makes rhubarb a smashing success is its early harvesting period. Rhubarb grows best in cool and temperate climates and is cultivated in early spring, well before other fresh fruits and vegetables are available. It was also common to "force" rhubarb to grow over the winter by preventing light from reaching it, which forces the stems to grow faster as they try to reach sunlight.
Today, rhubarb has become a popular cooking and baking ingredient in the U.S., Great Britain, Australia and New Zealand. Some of the most common desserts for rhubarb include pie, cobblers, tarts and even ice cream. For those lucky enough to have their own supply of this tart vegetable (like our family), it can even be eaten raw with loads of sugar for dipping or crafted into a delicious rhubarb jam.
Rhubarb and Strawberry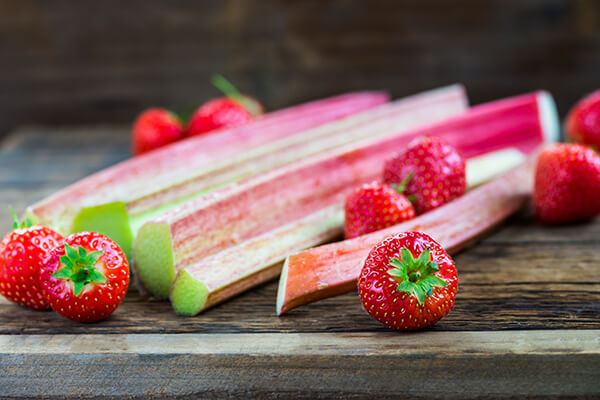 Perhaps the most common pairing for rhubarb is strawberries. The balance of sweet and tart creates a wonderfully complex flavor that lets both ingredients shine without being overpowering. Of course, this pairing can also be credited to their overlapping harvests: rhubarb is traditionally available from April to June, while certain varieties of strawberries also peak in June.
Baking with Rhubarb
Creating the perfect dessert with rhubarb has become a time-honored tradition in our family. There's something so incredibly refreshing and delightful about that first bite of rhubarb from the harvest. But don't just take our word for it — try one of our specially made rhubarb pastries and discover the wonderful world of rhubarb for yourself!
Rhubarb Kringle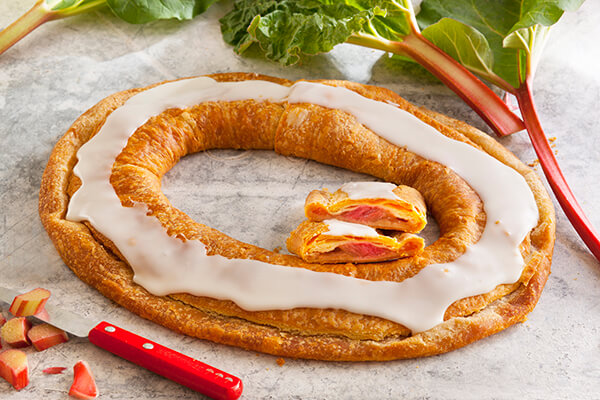 With our affinity for rhubarb, we can't resist including it in one of our famous Kringle! Seasonally tart rhubarb pieces are wrapped in our tender, flaky pastry and topped with the perfect amount of sweet icing for a delicious seasonal treat.
Strawberry Rhubarb Bread Pudding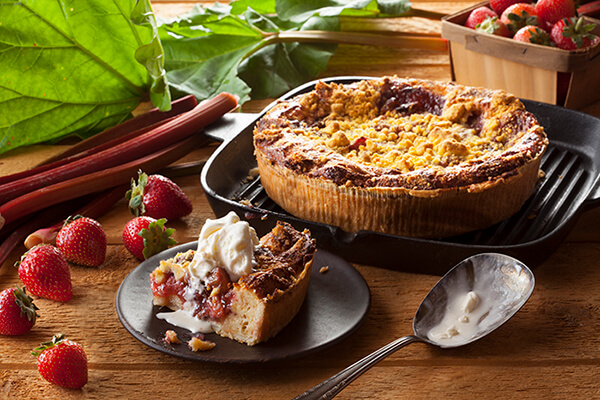 Invite your family and friends over to share the yummy combination of sweetly ripe strawberries and tart rhubarb pieces with our perfectly crafted bread pudding. Warm up this crumbly streusel-topped dessert and pair it with your favorite ice cream for a delicious treat. A perfect flavor combination that's only available while the rhubarb lasts!
Get Your Favorite Desserts from O&H Danish Bakery Delivered Straight to Your Door
With decades spent perfecting our rhubarb recipes, you are sure to relish the delicious flavor of our sweet and tart pastries and cakes. Our skilled bakers carefully craft every pastry so our customers can delight in a perfectly balanced treat. You can order your favorite dessert online and enjoy the convenience of our flexible delivery options that get your baked goods sent straight to your door.