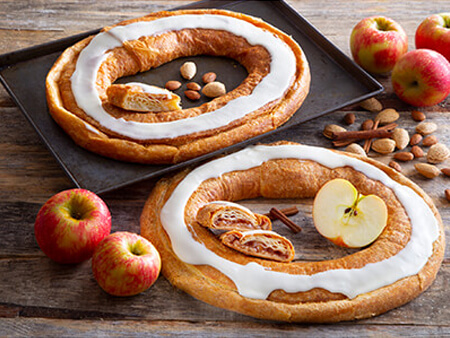 Remote Employee Gift Guide
---
By Eric Olesen - 3rd generation owner
Saturday, August 29, 2020
With the number of employees working from home on the rise, sending a gift to celebrate a special occasion is the perfect way to boost your workers' self-esteem, show your appreciation and reassure them that, while they may not be seen, you haven't forgotten them. If you are looking for birthday ideas, need thank you gifts for your remote employees, or simply want to brighten someone's day, we have a range of delicious baked goods that are sure to put a smile on their face and create a lasting memory of your thoughtfulness.
While traditional gifts such as drink bottles, gift cards and tech items can be an easy go-to option, decadent cakes and pastries show that you have thought outside the box when it comes to gift ideas and they are sure to be something that every employee loves. We know that receiving a decadent layer cake in the mail is a lot more exciting than receiving a mug! You can also create an enduring connection between your company and employees as every time they smell the sweet aroma of a cake or pastry, they will remember your generous gift.
Gifts for Employees Working from Home
Surprising your employees at home is easy and simple with our assortment of scrumptious and mouth watering treats that make the ideal gift.
Coffee Cakes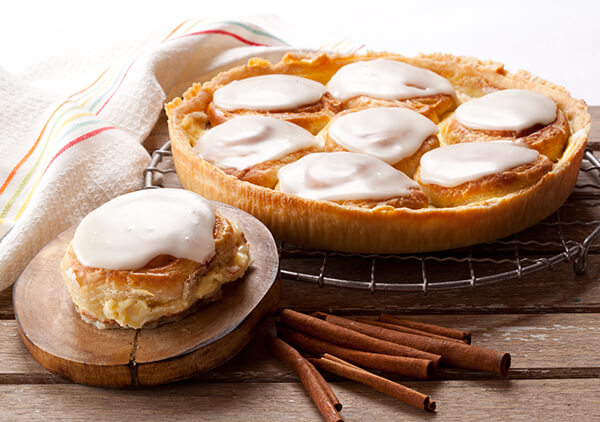 Made using an authentic family recipe that has been passed down through the generations, our coffee cakes are ideal when you want to say 'thank you'. A long-time favorite and classic Danish treat, the Seven Sisters Coffee Cake features a creamy almond filling with smooth custard that is crafted and baked into seven spiral rolls. One for each day of the week, perhaps? We have the classic Almond Custard or our delicious Cinnamon version too. Our traditional coffee cakes boast a flaky center with scratch-made filling and a delicious crumbly streusel topping that pairs perfectly with a hot cup of java. We think coffee cakes are a fantastic way to say 'thank you and have a coffee break on us'.
Danish Crown Cake
What better way to celebrate a company milestone or anniversary than with a Danish Crown cake that is fit for royalty? We use our secret family recipe to create a delicious, incredibly soft and moist Bundt cake that your employees will love. These cakes are ideal when you want to share the success of your business' achievements with a little remote celebration for your employees. Our crown cakes are beautifully offset with Danish-inspired flavors such as our vanilla and cream cheese Copenhagen Crown cake. Of course, our Scandinavian Almond Crown Cake, Imperial Chocolate Crown cake with premium chocolate chunks and our classic Danish Crown cake with buttery sweet cinnamon and golden walnuts are sure to awaken your employees' taste buds and have them equally as excited to celebrate a work anniversary.
Layer Cake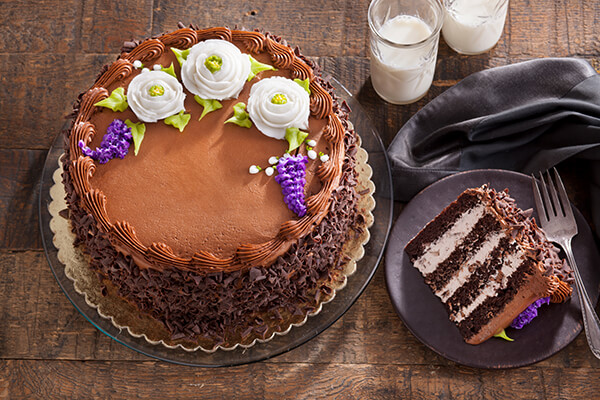 These cakes are perfect when you need birthday ideas for remote employees, and you can take it one step further by adding a personal message on top. Our Danish layer cakes truly showcase our bakers' skills and talents as each dessert is handmade and hand-decorated. We build the perfect balance between cake layers and frosting, so you get a moist and delicious treat with every bite. We have a yummy assortment of gourmet cakes including our decadent chocolate Fudge Layer cake and refreshing Raspberry Lemonade Mousse Cake that tastes like a slice of heaven.
Kringle
Kringles make any celebration better. You can send these to your employees as a delicious 'just because treat' to remind them they are a treasured part of your team. With more than thirteen tasty flavors to choose from, everyone is sure to have a favorite. The flaky, rich and buttery pastry dough is crafted over three consecutive days to result in the perfect casing for our various homemade fillings. Once you start sending these out to your employees, be ready for the influx of emails saying how good they taste!
Bread Pudding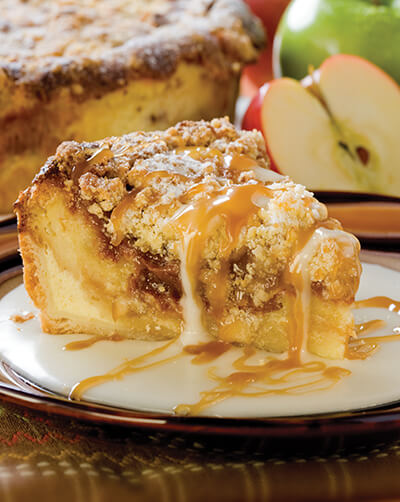 Thinking of a winter celebration gift for your employees? Nothing warms the heart and satisfies hungry stomachs like our Danish bread puddings. These desserts make a yummy Christmas gift for your workers or just a memorable thank you for a project well done at any time! Our Cinnamon Apple and Cherry Bread puddings feature Danish pastry pieces soaked in a vanilla egg custard that will have everyone wanting more than one serving.
Place Your Order Today
We make our baked goods using the finest ingredients from around the world and faithfully follow time-honored baking methods that have been passed down through the generations. Our order and shipping service offers you the flexibility of sending your remote employees tasty gifts that they are sure to appreciate, regardless of where they live. And if you are not quite sure of the flavor or item, you can reach out to our friendly team if you have any questions about our delicious desserts or shipping methods; otherwise, place your order for the perfect gift that is sure to brighten your worker's day.