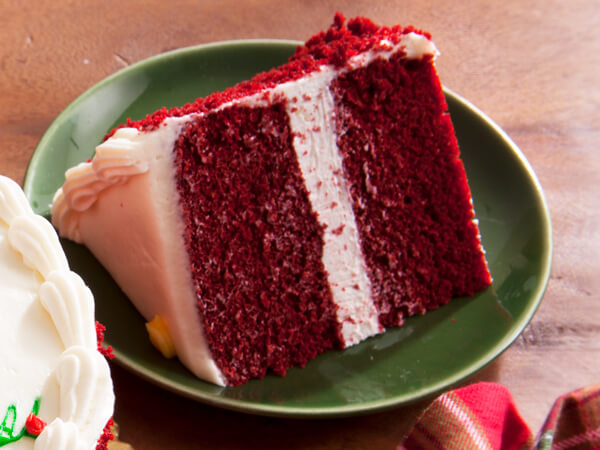 Red Velvet Cake: A Christmas Tradition
---
By Eric Olesen - 3rd generation owner
Sunday, November 28, 2021
Red velvet holiday cake has become a staple of the American Christmas table, only growing in popularity since the early 20th century and inspiring an entire category of red velvet themed items — cookies, brownies, cocoas and, of course, Kringle. But what makes something 'red velvet'? Dive into the makeup of this iconic cake with us, and we'll share some of our favorite desserts that make it the star!
Red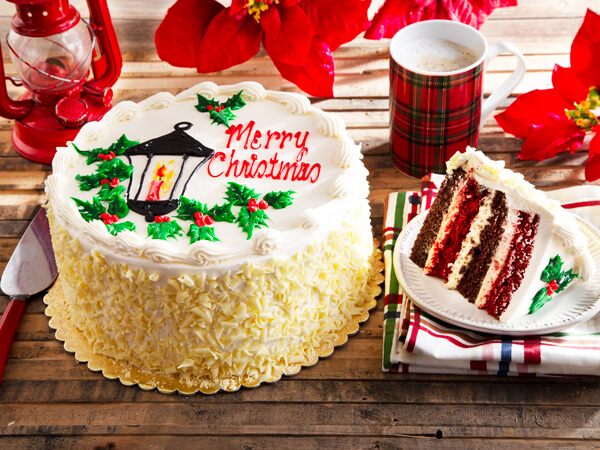 The reason behind that classical red color has different origin stories. In World War II, during the rationing of sugar and butter, bakers needed an ingredient to keep their cakes soft and moist and found that beet juice had the benefit of a cheerful red color that appealed to their customers. Even earlier, a look at the ingredients in original recipes would show that red velvet used cocoa, baking soda and buttermilk among others. Before the development of Dutch processing for chocolate, the acidity of natural cocoa would react to the acidity in baking soda and buttermilk to produce a red hue. Regardless of the origins, the red velvet color has defined this cake, and modern bakers use food coloring from early Adams Extract discoveries in the field.
Velvet
The light and fluffy texture that makes red velvet such a wonderful cake boils down to air, as in lots and lots of air bubbles. Most recipes call for baking soda and buttermilk and/or vinegar — if you've ever made a volcano project for school, you know that the soda reacts to the acid in vinegar to make bubbles. Like vinegar and cocoa, buttermilk is more acidic and causes the same type of reaction, though we prefer to keep things less explosive in the kitchen! Once you have the ingredients working for you, you have to focus on mixing your batter with just the right technique to trap even more air. From creaming your butter and sugar to beating your eggs, you need to think light and airy every step of the way to get the perfect texture.
Frosting
When you think of Christmas desserts such as red velvet cake, we're betting that a nice layer of cream cheese frosting is involved. The tangy nature of cream cheese frosting pairs deliciously with the fluffy sweetness of the cocoa cake. Its bright white color frames the redness of the cake so that it looks even more appetizing and festive with its complementing Christmas colors!
Cakes and More!
Just talking about holiday red velvet cake makes us hungry, so we've baked a few special Christmas treats to satisfy that craving. Don't wait to order yours because these sweets sell out fast!
Santa's Secret Christmas Kringle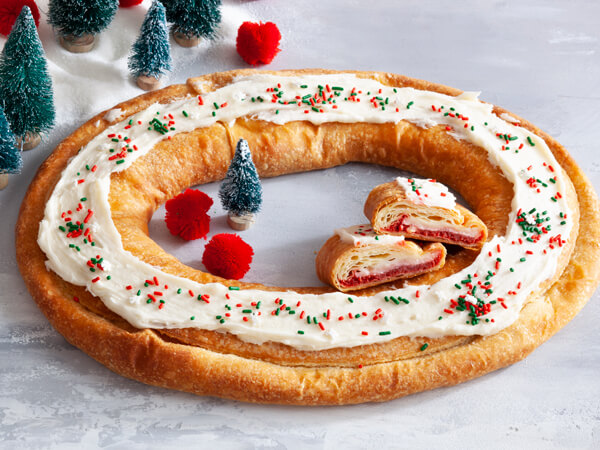 We can't talk about red velvet Christmas cake without sharing our specially crafted Kringle. We first start with Santa's secret red velvet cake recipe and then layer that with a silky-smooth vanilla pudding. If that isn't enough, we then finish it with our signature creamy frosting and Christmas sprinkles. We have a feeling this Kringle won't be a secret for long!
Merry Little Christmas Cake
Our newest Christmas dessert takes red velvet cake and decoration ideas to the next level: two layers of red velvet alternated with two layers of our decadent chocolate cake, with sweet cream cheese frosting between each one. A top layer of buttercream allows us to add a beautiful, handcrafted Christmas lantern and holly decoration.
Rudolph's Red Velvet Marble Layer Cake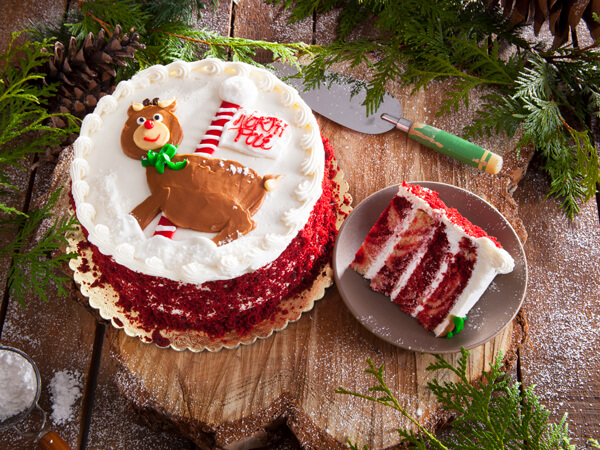 For a playful take on red velvet cake, you have to try Rudolph's Red Velvet Marble Layer Cake. We hand swirl our red velvet with just a touch of white cake to create a beautiful marbling. We separate each layer with silky-smooth cheesecake mousse and decorate with an adorable Rudolph hanging out at the North Pole.
Get Holiday Desserts from O&H Danish Bakery Delivered Straight to Your Door
For red velvet cake Christmas ideas, look no further than our tasty selection of treats. You can browse our delicious range of cakes, pastries and brownies online and order for delivery to your door so you can concentrate on other holiday festivities. We provide flexible delivery options and carefully package our desserts to arrive fresh and ready to serve. For more mouthwatering dessert options you can share with family and friends this Christmas, reach out to our team.