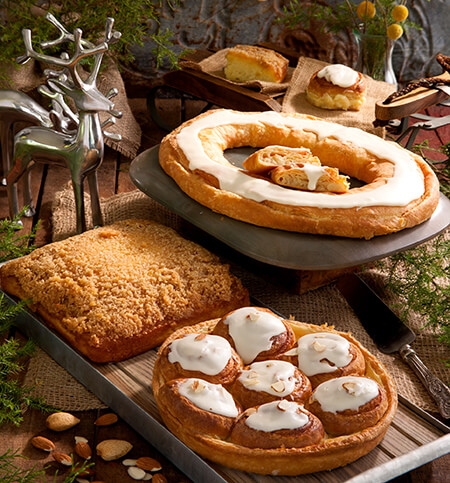 A Perfect Gift: Danish Kringle Gift Packages
---
By Eric Olesen - 3rd generation owner
Saturday, August 31, 2019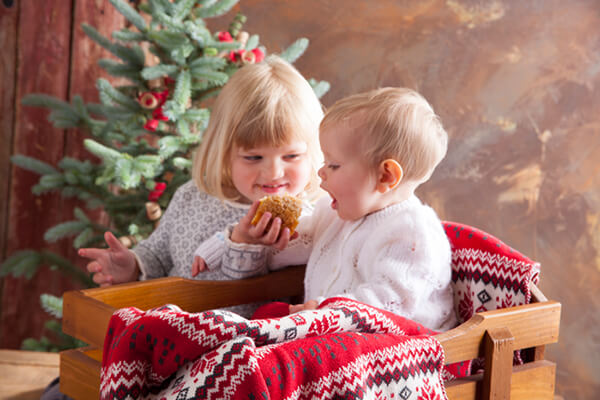 When it comes to Christmas shopping, sometimes it is difficult to know where to start. From partners and children to parents and in-laws, from siblings to friends and coworkers, it can feel like there is a never-ending list of people you need to buy gifts for. Then there is the running around shopping in crowded stores and bringing it home and wrapping those gifts. But the right present always seems to have a few things in common: it must be thoughtful, personal, enjoyable, and evoke a little bit of happiness. In our experience, the best gifts always make it easy for you and memorable for your recipient. That's why we hand select the best of our items to go together in these O&H Bakery gift packages.
What's so great about our Danish sweets? First and foremost, we believe in old-fashioned family service, the kind you get when you stop in our local bakery and have that personal service right up at our bakery counter. And we're obsessed with quality. That means that we bake our Kringle and other Christmas breakfast and dessert items the right way - without shortcuts. We use the traditional methods passed down through the generations of our family, using only the best ingredients and baking with skill and passion. We make our pastries and fillings from scratch fresh every day to bring you the absolute best in quality and taste, no matter which Danish Christmas dessert you choose.
Give Danish Kringles as Gifts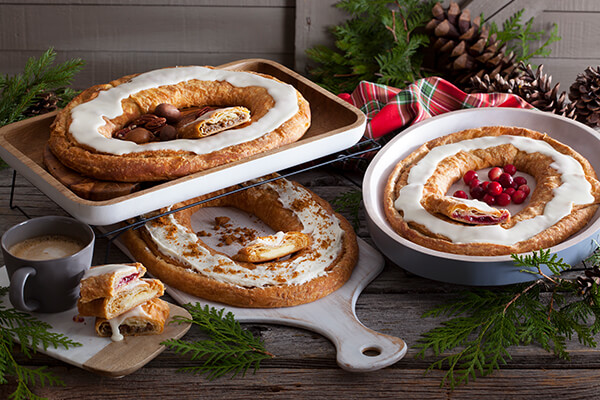 Sweets and other foods make fantastic Christmas gifts because they're tasty, fun, and made for sharing, and the holidays are all about gathering together and reconnecting. Kringle is a perfect gift because not only is it irresistibly delicious, but it's also steeped in history and family values. Baking is an important holiday tradition in Denmark, with families delving into weeks of baking from scratch to produce all manner of delicacy - ginger cookies, vanilla biscuits, deep-fried crullers, and heart-shaped gingerbread are just a few of the recipes you might find being prepared in a typical Danish household during the holiday season. Whether or not you are Danish, we'd bet that we all have our own personal memories and traditions of spending cold days in warm kitchens, enjoying the aromas and comfort of freshly baked treats.
If you don't have the time to bake all your Christmas gift items from scratch or want an artisan quality treat without spending the full three days to make a Kringe, don't worry - we'll handle it! It's what we have loved doing for 70 years, and it shows in our tempting array of Kringle, cookies, crown cakes, coffee cakes, and more. Our baked goods are perfect for Christmas morning breakfast, a traditional Danish Christmas luncheon, an office party, or a get-together for your family and friends. Heading to a holiday pot luck? Order Kringle online ahead of time. You'll get to skip the baking (or more importantly clean up!) and show up with a memorable dish that everyone will be talking about.
Danish Kringle Gift Packages in Racine
If you're looking for traditional Racine Kringle and where to buy, you've come to the right place. We offer a range of Kringle flavors and other authentic Danish sweets to bring you a taste of Denmark and the care and quality for which our family is known. For four generations we have been carefully crafting danish pastries and holiday treats. We do our best to make gift giving simple with one of these tempting O&H Bakery gift packages that include homemade Kringle and another Danish Christmas dessert or two.
Are you planning Christmas morning breakfast for a crowd? This gift package is for you. It includes one Pecan Kringle, one Cranberry Kringle, one Almond Custard Seven Sisters Coffee Cake, and two Gokstad Coffee Packets - all you need is enough hungry people with which to share.
If you're looking for Racine Kringle and where to buy it, we're confident O&H Danish Bakery has something for everyone on your gift list. We let you pick and build the perfect gift for anyone on your list. Having a smaller get together with close family? We have a range of Kringle flavors and other sweets you can buy alone, perfect as a gift for a friend, family member, coworker, or boss. Does everyone in your family have a favorite flavor? No problem, order as many Kringle as you like! Some of our most popular (and holiday-worthy) items include:
Our juicy cherry filling is made from fresh-picked, world-renowned Wisconsin Montmorency cherries, and we layer that on top of silky smooth Wisconsin cream cheese. It's topped with buttery streusel and drizzled with sweet icing.

When only chocolate will do, our Turtle Kringle is the answer. We fill our flaky pastry with creamy caramel, chopped pecans, and homemade chocolate sauce, then top off the whole thing with a special blend of semi-sweet chocolate and more fancy pecans. This one's guaranteed to satisfy any sweet tooth!

One of our best-loved pastries is our Almond Kringle, an exceptionally flavorful choice that we've been making for generations.

For a Christmas dessert that's sure to steal the show, try our Merry Cherry Christmas Pie. We start with a layer of smooth almond cake and then layer that with our scratch made Door County Cherry filling that is oh so delightful. It's then beautifully garnished with sliced almonds and star cutouts topped with crystal sugar.

Our Danish Crown Cakes are made with a secret family recipe you and anyone on your shopping list will love. With flavors such as almond, eggnog, and chocolate, there's a Crown Cake for everyone.
Do you have someone on your gift list who can't have gluten or sugar, for example? Our selection of many special dietary needs and Gluten-Free Triple Chocolate Cookies and Gluten-Free Trinity Layer Cake, make great options, as well as coffee cakes, sweet rolls, and Kringle made with no added salt or sugar. This Christmas, make gift-giving easy for you and memorable for your recipient when you order Kringle (and Christmas treats!) online from O&H Danish Bakery.