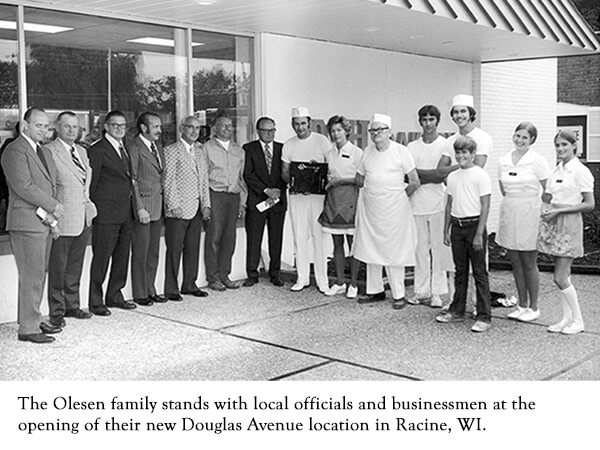 Our Family History: Expanding on the Tradition
---
By Eric Olesen - 3rd generation owner
Sunday, November 21, 2021
You don't pass on a family bakery to multiple generations without also passing on passion, dedication, and love for Danish recipes and sweet desserts. However, just like any good tradition, each successive generation in charge of our family-owned bakery has taken their love and knowledge of Danish baking traditions and instilled their unique flavor to grow the business and share a delicious slice of goodness with more people around the world. From humble beginnings and a few select desserts, we have seen our bakery embrace its Viking roots and expand our flavor selection to include the finest ingredients and seasonal tastes from around the world while maintaining our commitment to quality baking and delicious pastries.
After more than half a century and four generations in business, we honor our family tradition by continuing to create a yummy range of cakes and pastries using authentic Danish recipes and scratch baking techniques passed down from our grandfather.
The Road to "O&H"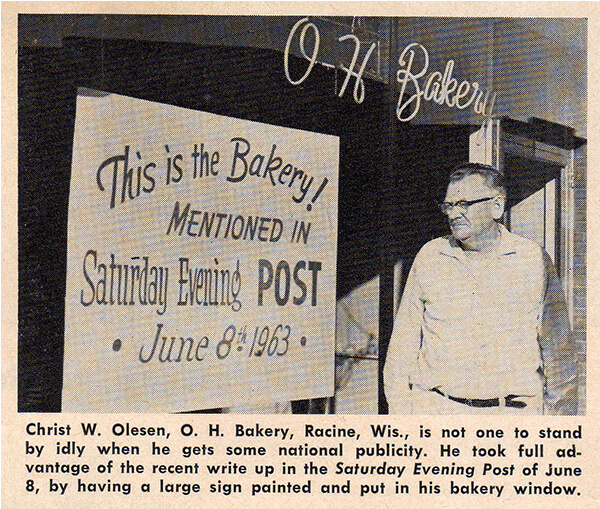 While we can trace our family history back to Old Denmark, the road to O&H Bakery began when our great grandfather, Christian Olesen, started his baking career in America. He dedicated himself to perfecting the techniques he learned and developed over the years at local bakeries. At the same time, he put down roots and started his own family, marrying Eunice Jensen — a local of Danish descent — in 1931. The couple had their first son (our grandfather), Raymond, in 1932, followed by two younger siblings. In May of 1949, after 25 years of hard work in the industry, Christian and a partner officially opened the first O&H Bakery.
The Kringle Takes Shape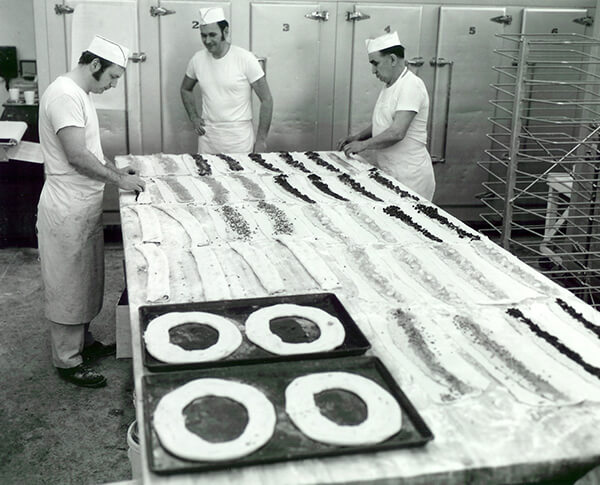 During this time, a shift occurred that would change the Kringle's footprint in Wisconsin and the baking world at large. American customers were more interested in the fillings they could add to a Kringle as opposed to the Danes, who liked a good portion of dough. To accommodate these different tastes, Racine bakers shifted away from the traditional crossed Kringle shape and began making ovals. This change eliminated the crossed, doughy portions that couldn't be filled to allow for a wider range of filling options. While our family still appreciates a classic almond or cherry Kringle, we can't deny the endless opportunities this seemingly small innovation has afforded us.
The popularity of Kringle largely increased after President and First Lady Eisenhower received this delicious pastry as a thank you for a 90th birthday gift in 1956. They didn't hesitate to publicly share that Kringle was their favorite pastry and then watched as the popularity of this sweet delight soared!
New Locations, New Opportunities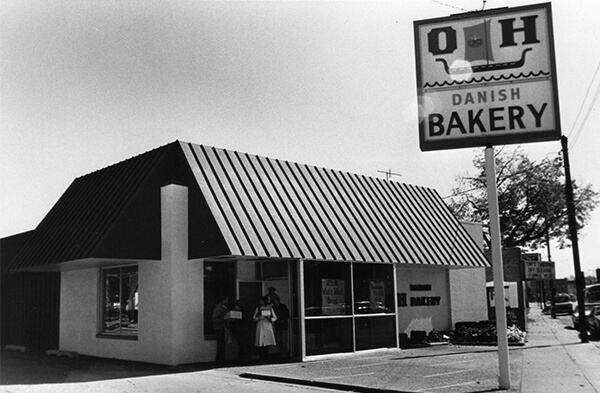 O&H Danish Bakery became a true family affair in 1963 when Ray and his wife Myrna purchased the second half of the business, putting ownership solely in Olesen hands. Within the decade, as business boomed and locals clamored for their Kringle, Ray and Myrna relocated to a larger location down the street — the same one that still houses our Gluten-Free baking department! Around the same time, Christian retired and Ray officially purchased his father's share of the company. Just ten years later in 1982, a second O&H location opened its doors on the South side of town. Now customers on the North and South sides of Racine could easily enjoy their favorite O&H treats. The second generation of Olesens had begun their impressive expansion of Christian's dream — but they weren't done yet!
Wondering what happened next for the Olesen clan? Keep an eye out for more of our story, from new ways Kringle was shared to even more innovations and expansions as the third generation carries on the family tradition.
Get Kringles from O&H Danish Bakery Delivered Straight to Your Door
You can enjoy a slice (or two) of Danish cooking and baking traditions with our tasty selection of cakes, slices and pastries. Our friendly team is on hand to offer you recommendations of their favorite Kringle flavors to try and can update you on our latest limited-edition fillings. Alternatively, you can browse our selection of everyday and seasonal Kringle flavors online and order for a delivery straight to your door. If you love to try a little taste of everything, then take an exploration of flavor by joining our Kringle of the Month or Explorers club, so you never have to miss out on our tasty goodness.