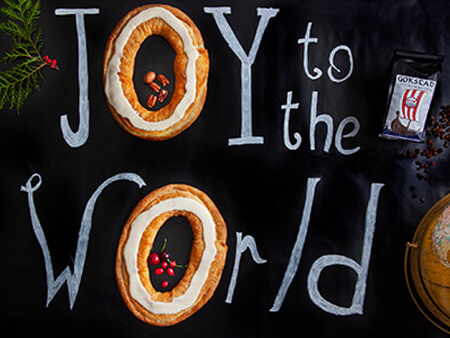 Order Danish Kringles in time for Christmas from O&H Bakery
---
By Eric Olesen - 3rd generation owner
Saturday, September 28, 2019
Create a family Christmas morning filled with warmth and comfort from the dazzling lights of the tree, the crackle of the fire and, of course, the irresistible calling of a delicious, tender Danish Kringle on your table. At O&H Danish Bakery, we are passionate about taking any opportunity to celebrate and enjoy the good things in life through the taste of a mouthwatering Kringle. This passion, is the reason why we keep baking our delicious Danish sweets and sharing it with our loyal customers - helping to spread the joy of a Danish Kringle on Christmas morning.
The Making of a Christmas Kringle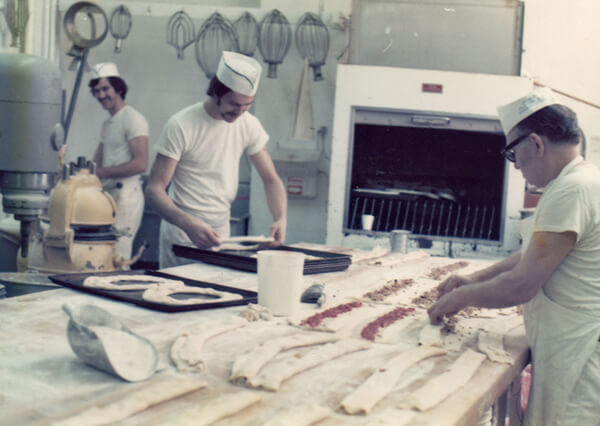 Our Danish, Racine-made Kringle begins with our dedication to baking from scratch. By following the traditional baking methods and techniques that have been passed down through the generations, we continue to produce succulent, flaky and buttery Danish pastry that is perfect for any filling. This Danish pastry that we still use today is a result of the baker's strike that occurred in Denmark around 1850.
While Danish bakers were protesting labor disputes, bakery owners hired workers from Austria who brought with them their technique for making pastry dough. The Austrian baker's method consisted of layering yeast dough with shortening. Once the Danes got a hold of this technique, they adapted the taste to their liking, by adding in more eggs or fat, and perfected the consistency of the dough to hold their delicious homemade fillings and produce what we now know as the "Danish".
To continue with this traditional method of making Danish pastry, our diligent and talented bakers thinly roll out the dough, layering it with butter, fold and repeat over three consecutive days. The result is our 36-layer pastry dough that becomes rich, light, tender and flavorful when baked.
Christmas Kringle Flavors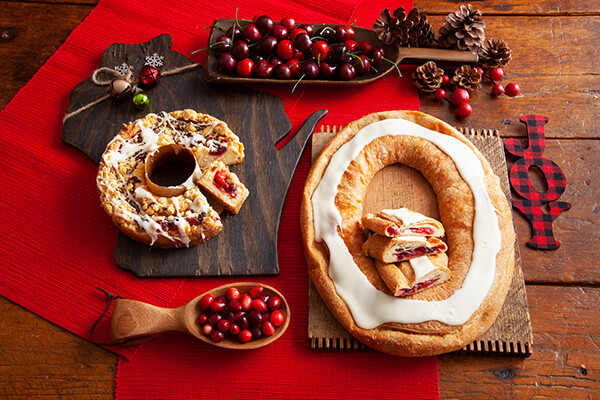 Regardless of whether you select your family's favorite Kringle flavor, a seasonal Christmas treat or branch out and taste a new filling every year; we guarantee that we only use the finest ingredients. Our passion for great food, has led us to discover new flavors, ingredients and ideas. These personal experiences have led us to blend the classic Christmas flavors of chocolate and a touch of peppermint, which we frost with creamy icing and top with red velvet bits as our delightful Christmas Kringle. This Danish sweet treat is sure to tempt everyone into a bite on Christmas.
As much as we love the divine ingredients and flavors of Christmas, we ensure not to miss the delicious flavors sitting right at our back door. Wisconsin is famous for being a top dairy producer, so when we went looking for cream cheese to add to our fillings, there was none better than the pure, silky smooth texture created at our local factory. We meet the same desire for using the finest fruit that nature produces with our use Door County, Wisconsin cherries and Wisconsin cranberries which only adds to the red symbolism entwined by Christmas one sweet Cranberry or Cherry Kringle bite at a time.
While we scour the world for quality ingredients and lovingly make our sweet, flaky treats, all you need to do is sit back, order a Danish Kringle online, and enjoy the tantalizing taste of your chosen flavor. We take away the hassle of finding and creating the perfect mouthwatering treat that everyone will enjoy. Our family sized Kringle is an excellent addition to any festive breakfast, lunch or dessert and the only hard part is deciding which heavenly flavor to choose online for a bakery delivery.
Family Tradition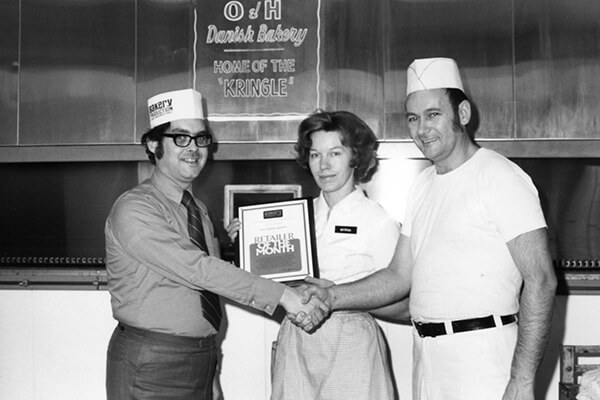 Our bakery in Racine creates Kringles and Danish sweets from a place of love and appreciation for family values and tradition. Now owned by third and fourth-generation family members, our bakery story began back in the early 1920s with the emigration of Anton Olesen who ventured to America in search of a better life for his family. After working various jobs to support his family back in Denmark, Anton saved for two years before finally having enough money to bring his children over right before Christmas in 1923, which he declared, "the best Christmas I ever had". He spent $550 to bring his children to Wisconsin and only had $5 left to his name, but still found that family is truly what makes the holidays special.
Anton's son, Christian, went on to work in a local bakery where he mastered the trade for 25 years before opening the first O&H bakery in 1949. Christian's passion and love for baking were passed onto his son, Ray after he convinced Ray to take a year off before heading to engineering school. Ray also fell in love with his sweetheart Myrna, and after marrying in 1952, they worked hard to grow the business together before eventually buying and taking over the bakery in 1963. It was during his time at the helm that Ray expanded the bakery by moving it to bigger premises and a few decades later, opening a second store in Racine. Ray and Myrna ensured that the Danish heritage and family values remained strong in the running of the bakery, even incorporating a Viking long ship as the symbol at the center of the bakery name.
As our bakery moved through the generations of ownership and celebrated 50 years in business, the availability of the internet and ordering online meant that our delicious treats could be sent far and wide to satisfy the taste buds of everyone who had heard about our light and buttery Kringles.
Danish Kringles Available for Order Online from O&H Bakery
With more than 16 different Kringle flavors filling our rich, tender pastry, you can select your favorite fruit, nut or spice to celebrate the festive season. Our notion for baking from scratch and homemade fillings means that we create our delicious delights without the shortcuts. No matter where you live, our warm and welcoming service is extended to you through our easy online ordering system and fast delivery to ensure that you can begin or continue, your family tradition of eating Kringles on Christmas day. Our Kringles freeze and thaw well, so it is never too early to order your sweet festive treat. You simply need to decide what decadent aroma you want filling your home on Christmas day.