Celebrate hygge with family and friends
Saturday, October 26, 2019 by Eric Olesen - 3rd generation owner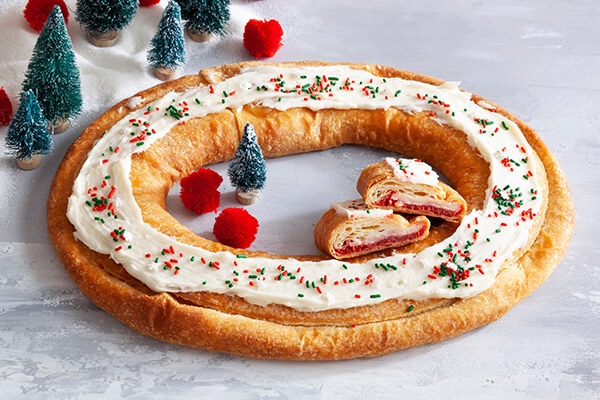 As fall quietly becomes winter, we look forward to the long, cold nights illuminated by Christmas lights that twinkle like stars shining in the darkness. Inside our homes, we indulge in the comfort of wrapping ourselves in blankets as we warm up by the fireplace surrounded by loved ones - this is hygge. It is the feeling we create when old friends come home for the holidays, and we gather to reminisce about the good times, full of appreciation for having shared these moments of our lives. We feel hygge sitting in grandma's kitchen sipping hot cocoa as she hands us one of her buttery coffee cake rolls, fresh from the oven, while it snows outside.
During the Christmas season, we must remember to savor these little joys and to recognize hygge when we feel it warming us from within because this is what will fortify us through the long winter ahead. Everyone at O&H Bakery is grateful for the feeling of hygge we get from sharing our family's Danish holiday culture with customers new and old through our favorite tradition of all: Christmas desserts!
Danish Sweets are an O&H Family Holiday Tradition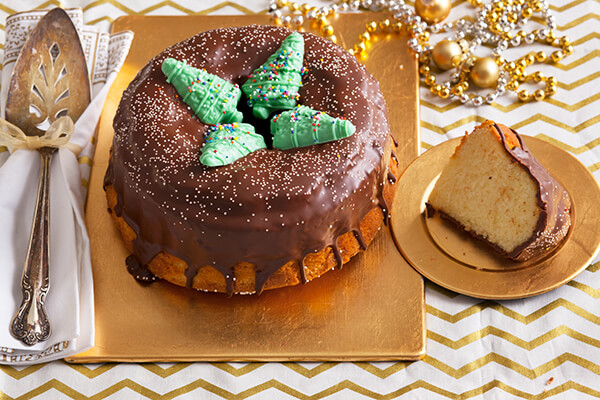 This time of year, we recall fond childhood memories of heading to our grandparents house as the snow gently fell on a dark December night. We'd see the driveway filled with cars and with armfulls of presents enter into their home that was just a little too small for the large family gathering. As we entered the house, you were greeted with hugs and smiles and the feeling that all was well. Christmas in Wisconsin was here and with it, the aroma of fresh-baked sweets and Danish food for celebration. Baking with the same techniques that have been passed down for four generations at O&H Bakery, these Danish sweets have long been a part of our family's holiday traditions:
Kringle - Danish Kringles have been a Wisconsin Christmas tradition since the first wave of Danes settled here in the 1840s. For us, a warm slice of buttery, flaky Kringle with a cup of coffee on Christmas morning surrounded by our loved ones, is yet another example of hygge, a truly special feeling. This year we have a brand-new flavor for you to try - Santa's Secret Christmas Kringle, a special recipe that layers creamy vanilla pudding on top of red velvet cake inside tender pastry, frosted and garnished with Christmas sprinkles. Another one of our favorites this time of year is the classic Christmas Kringle filled with rich chocolate and a hint of peppermint topped with vanilla bean icing and sprinkled with bits of red velvet cake.
Crown Cakes - In December, Danes celebrate the coming Winter Solstice on Saint Lucy's Day with a morning breakfast of crown cake, a delicious yellow Bundt cake made with saffron to give it a golden hue. We bake a variety of scrumptious, moist crown cakes, and this season you can try our White Christmas Crown Cake made with our secret eggnog recipe with a pinch of nutmeg and the Christmas in Copenhagen Crown Cake that takes our classic cream cheese and vanilla cake, covers it in a layer of chocolate ganache with white Christmas trees iced on top.
Almond Custard Seven Sisters Coffee Cake - This almond paste and custard-filled ring coffee cake is named for the winter constellation, Seven Sisters of the Pleiades, used by Danish sailors to navigate the seas. This sumptuous ring of seven coffee cake rolls has been an O&H favorite for six decades, and we include it in our Christmas Morning Danish Style package with pecan and cranberry Kringles as its one of our family traditions to have these on Christmas morning!
As we reflect on these memories while we come to the end of another year of hard work at O&H, we feel inspired to seek new, creative ways to incorporate the seasonal ingredients we grew up with into our scratch-made desserts.
Cute Christmas Desserts to Dress Up Your Holiday Table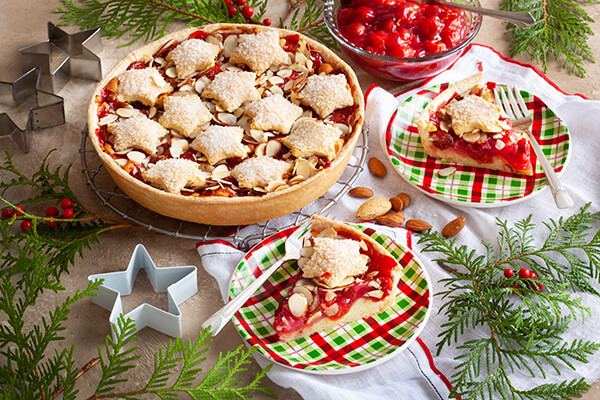 As you prepare for holiday parties at work and family Christmas celebrations, consider adding a decorative touch to any spread with our elegant Christmas layer cakes, pies, and brownies. There are so many Christmas party foods to consider, whether you are planning a gathering or attending a potluck. If you want to impress party guests, colleagues or customers, the best way to win over hearts and minds is with a dessert that is as beautiful as it is delicious.
O&H's most decadent Christmas desserts are our signature Danish layer cakes, which combine delicious flavors with beautiful hand-iced designs. The King's Poinsettia Cake is sure to leave an impression from first sight to the final bite! This Danish layer cake is made with Dutch cocoa and buttermilk incorporating three layers of silky, dark chocolate filling with creamy chocolate frosting garnished with shaved chocolate outside. For yellow-cake lovers, the Wisconsin Christmas Layer Cake has three locally-inspired fillings; Door County cherry mousse, smooth cream cheese, and tart Wisconsin cranberry bits inside more cream cheese with a layer of vanilla icing hand-decorated with a holiday motif of pine and mistletoe.
This year we crafted the scrumptious new Merry Christmas Pie to bring good tidings to all. It begins with a layer of creamy almond cake beneath a layer of smooth cherry filling decorated with star pastry cutouts and sliced almonds, finished with a sprinkling of crystal sugar. As lovely as it is to look at, we guarantee you and your guests will be even more eager to have a second slice.
And not to be forgotten - our moist Christmas Present Brownies wrap creamy caramel between two layers of fudge brownie iced with our vanilla bean frosting and decorated to look like packages of joy, which is what they are after all.
Order Online and Spread a Little Sweetness This Season
Spread a little sweetness both near and far by ordering from our Danish bakery online. With so much happening throughout the holiday season, it can feel like Christmas is suddenly here, catching us unprepared. O&H Bakery's delicious holiday desserts and gift packages make it easy to check off your shopping list with Christmas Kringles, cakes, and pies that friends and family will love. All our packages are made with care, so all you need to do is visit our website to send lovely, thoughtful gifts with ease. We guarantee two business-day shipping, but to be on the safe side, we recommend getting your orders in early to ensure that you will have your favorite Danish sweets in time for your Christmas celebrations.
Finding the feeling of hygge this holiday season can be as simple as sending a sweet gift to friends and loved ones who are far away. We wish you a heartfelt Merry Christmas and hope you enjoy a happy and healthy holiday season filled with friends, family, and good food.