O&H Danish Bakery - History & Tradition | Danish Cakes and Pastries
Saturday, June 1, 2019 by Eric Olesen - 3rd generation owner
If you've never had Kringle, you should probably add it to your gourmet food list. In our family, we have a saying "There's nothing as comforting as a delicious slice of Kringle and a hot cup of coffee". It's a tradition that many of us in Racine, Wisconsin have indulged in for years and years. In fact, this is why our family loves baking. Since the 1940's, we have baked all our pastries and other artisan treats with the same techniques and passion that we learned from our grandfather, Christian Olesen. Our family is now in its fourth generation of family bakers, and we pledge never to part from the scratch-baking methods we learned so long ago.
What Is a Danish Pastry?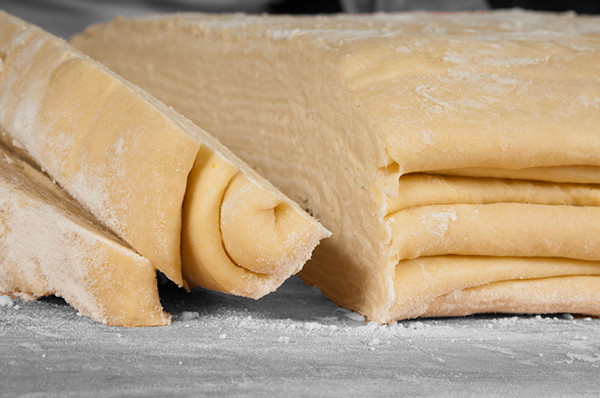 A Danish pastry, often known as simply "a Danish", is a layered, sweet pastry baked with Danish pastry traditions. This type of baking involves using yeast-leavened dough or puff pastry with added ingredients such as butter, eggs, milk, cream, and sugar to make the pastries richer and sweeter.
The Danish baking technique involves rolling out the yeast dough thinly, layering it with thin slices of butter, and folding and rolling several times to create many layers. This process allows the dough to become rich, buttery, airy, and tender when baked.
Once a baker masters the art of Danish pastry dough, they can then shape the dough in endless different ways to form individual pastries or large pastries meant to be cut into serving-size pieces. There are many types of Danish pastries besides Kringle, including turnovers, envelopes, pinwheels, and more but nothing quite compares to a Kringle.
History of Danish Cakes & Pastries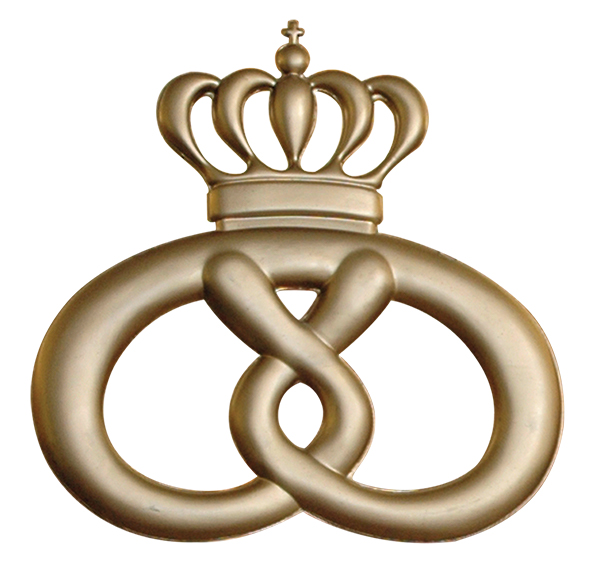 The history of Danish pastries as we know it, is quite an interesting story. Back in Denmark around 1850, the Danish Bakers Association went on strike, and the Bakery owners needed to find a way to continue to satisfy the sweet tooth of their customers. As a result, Austrian bakers were brought to Denmark to work in place of the striking Danes. These Austrian bakers brought with them something very important to Danish bakeries: a new technique of layering pastry dough. Once the Danish bakers returned they contributed their own ideas to this method, adding butter, eggs and fruits to form what we now think of as Danish pastries.
As this was going on, in the 1840's, Danish immigration really begun, quickly turning Racine, Wisconsin into "the most Danish city in America". In fact, this is where 10% of all Danes in the US resided. Kringle itself was likely introduced in Racine around the turn of the century. At first, it was made in the traditional "pretzel" shape and featured only a few different fillings. By the 1930's, there were many Kringle bakeries in Racine.
Then in 1921, Anton Olesen (our great-great-grandfather) was finding life too difficult in Denmark for himself and his six children. He emigrated to Racine and it took him two years of working various jobs to save enough money to bring his children, including his teenage son, Christian (our great-grandfather), who took a job at a local Danish bakery when they arrived.
Christian Olesen spent 25 years learning the baking trade before opening O&H Danish Bakery with a partner in 1949. Christian established the bakery and convinced his son Ray to join him. Ray and his wife Myrna, took over the bakery in 1963, and began transforming it into a thriving local destination offering a range of delicious pastries, bread, cakes and more. Racine customers, many who were of German, Polish, Italian or other heritage, began asking for fillings that they were fond of like: blueberry, prune or apple. This prompted bakers in Racine to come up with a new, oval shape for the pastry to fulfill their customers' requests. Why? Well the thought is that the traditional pretzel shape had more "ends" where there was less filling and more pastry. The new oval design only resulted in one overlapping section that had more pastry than filling! The popularity of Kringle truly began to climb when, in 1956, Dwight and Lady Mamie Eisenhower received a gift of Kringle and proclaimed it one of their favorite pastries.
Then in 1972, with a few years of growth and success, Ray Olesen moved O&H Danish Bakery to its new location, a larger store on Douglas Avenue. Ten years later, he opened a second store on Durand Avenue so that people all over Racine could easily enjoy the freshly-baked treats at O&H Danish Bakery. By the 2000's, the Internet had made O&H pastries available to more customers than ever, many who had tried it by chance and just had to share it with family and friends. In July of 2013, after more than a hundred years of baking products daily in Racine, Kringle became The Official State Pastry of Wisconsin.
O&H Danish Bakery History & Tradition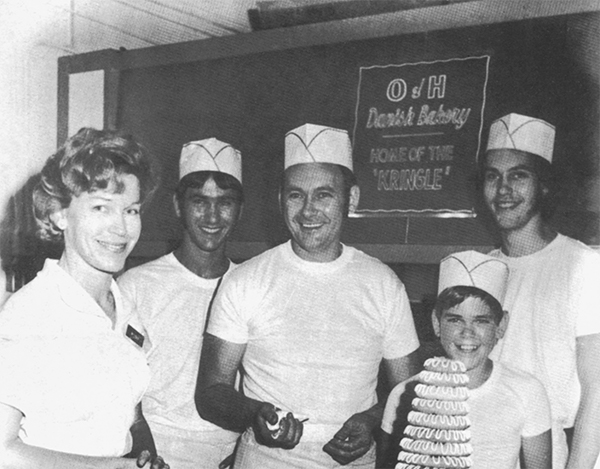 At O&H Danish Bakery, we approach baking the same way we approach most everything: one Kringle at a time. Our fourth-generation family business is dedicated to ensuring that we produce the highest quality Kringle for our valued customers so that they might experience the delicious, authentic taste that we love so much. Once you've tasted our Danish pastries in Racine, we're confident that your family will want to make it a tradition just as our family has.
Early each morning, our bakers start handcrafting our buttery, flaky Danish pastries. Every handmade Kringle we produce is filled with the highest-quality gourmet fillings such as fancy pecans or locally grown Wisconsin cherries, then baked to perfection to be ready to enjoy or share with coworkers, friends, or family. We're extremely proud of our family bakery and committed to bringing you the same time-honored recipes used by Danish bakers here in the late 1800's. Our family started baking simply because it was a passion, one that we still have today. It's something that we hope to share with each of you, one slice of Kringle at a time.
The O&H Difference
At O&H Danish Bakery, not only are we passionate about Danish pastry and great bakery, but we do it with an immense family pride. At the center of what we do is a warm, welcoming family service, striving to provide the same kind of care and attention that we would when baking for and serving our own family. We want your pastries to be absolute perfection to the very last bite, so we never take shortcuts – we use the traditional baking methods that our family has passed down through the generations.
And we also love Racine and its small-town feel. We know that we wouldn't be where we are without the support of this great community, so we often take the opportunity to give back. Whether you walk into one of our stores, email us, or call us on the phone, you'll receive friendly, personal service every time. When you're looking for Kringle bakeries in Racine, we hope you'll give us a chance to share our old-world family recipes with you.