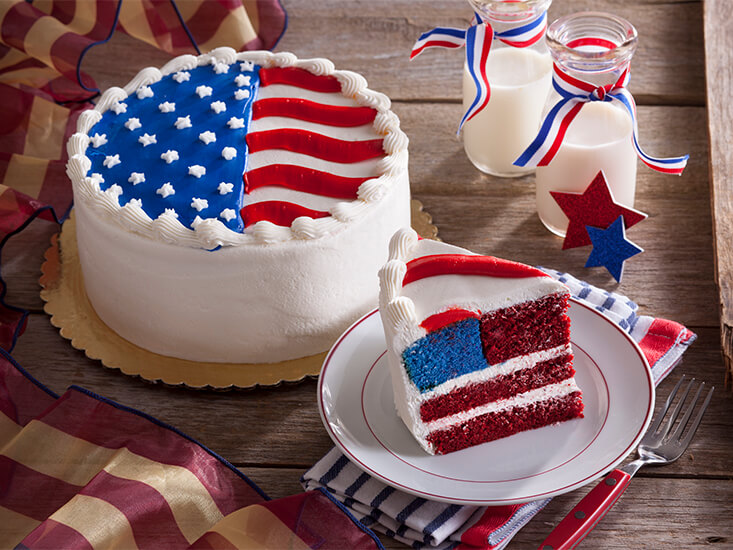 Try Our Fourth of July Themed Danish Cakes from O&H Danish Bakery
---
By Eric Olesen - 3rd generation owner
Wednesday, June 15, 2022
Are you looking for the perfect dessert for the Fourth of July? At O&H Danish Bakery, we love any excuse to celebrate, and Independence Day is one of our favorite holidays. We enjoy creating delicious Danish kringles, desserts, and other pastries in line with the spirit of our country's birthday when people are gathering to share good food, good drinks, and good company. To this end, we have come up with lots of tasty and patriotic baked goods, cakes, and treats for you to share at your 4th of July shindig.
Red, White, and Blue Kringle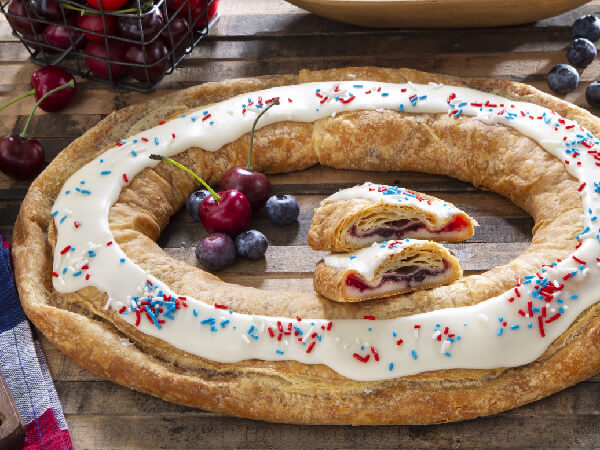 The Red, White & Blue Kringle is one of our most popular items, and we make ours from scratch the traditional way. This special Kringle is made with a colorful selection of summery fillings from across the US - wild blueberries from Maine, Door County Wisconsin cherries, and silky smooth Wisconsin cream cheese - all baked into a flaky, buttery pastry and drizzled with sweet icing. We make our Kringles pastries with the best ingredients, this is evidenced by the popularity of this tempting and patriotic dessert. The reviews speak for themselves, but we are partial to one in particular: "My Norwegian mother used to make it all the time, but yours was as good." We can't think of a higher compliment.
Flag Layer Cake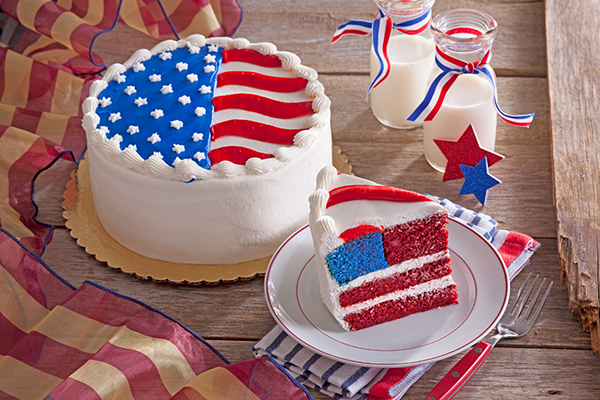 Cake is always a welcome addition to any picnic, cookout, or party - and our Danish layer cakes are nothing short of scrumptious. We offer a beautiful Flag Layer Cake featuring red and blue layers of moist velvet cake infused with cocoa for rich flavor. We hand decorate it with buttercream frosting and decorate the top in a colorful American flag design. As you cut into it, you'll notice that each slice looks like an individual flag, making it delightful for serving at your 4th of July get-together or taking along with you to a potluck. Be sure to have some cold milk on hand - the perfect accompaniment to this irresistible 4th of july themed cake.
Apple Cinnamon Coffee Cake
There's nothing more American than apple pie, but there's also something fun about taking a unique approach to a traditional favorite. This cake is one of our favorite types of Danish coffee cakes. Fresh apples and cinnamon are perfect partners in this fresh, delicious coffee cake. Our Apple Cinnamon Coffee Cake is made with layers of cinnamon blended into a ring of apple goodness, all baked together in our famous Danish pastry. This cake is topped with crumbly streusel and a drizzle of creamy icing. It will travel well, so consider it when you need to take something along with you to a party, or when you're just having friends over for coffee.
Danish Cherry Bread Pudding
Looking for Fourth of July Danish cakes that will look great on your red, white, and blue tablescape? We are particularly proud of the fruits grown in our home state of Wisconsin. In this beautiful and delectable bread pudding accented in festive red and white, you'll find our homemade cherry pie filling made from Door County-grown tart cherries and a traditional Danish pastry drenched in vanilla egg custard and topped off with crumbly, buttery streusel. For a truly special 4th of July dessert, warm this bread pudding slightly and add a scoop of whipped cream or vanilla bean ice cream.
Blueberry Kringle
Do you have plenty of red on your table and prefer to add some blue with your dessert? Then our Blueberry Kringle is the answer. There's something special about a Kringle that showcases simple yet amazing flavors, and this Blueberry Kringle is one of our favorite 4th of July themed pastries. We use only the best wild Nova Scotia, and Maine blueberries picked perfectly ripe and blended into sweet perfection. Then we fill our traditional Kringle pastry generously and finish it with our sweet icing for a real crowd pleaser. Serve this at your Independence Day gathering, and you're sure to make the right impression on your guests.
Lemon Crown Cake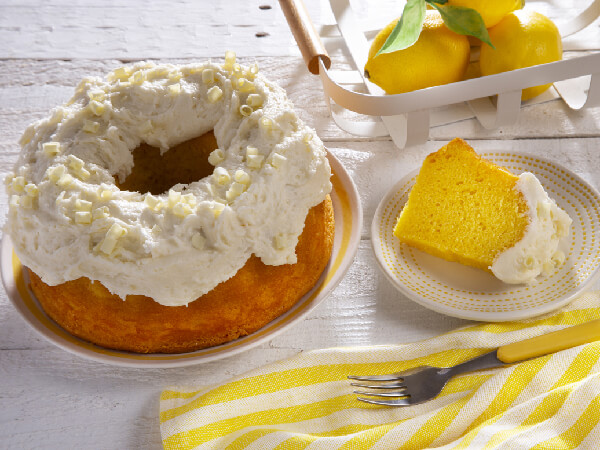 Danish crown cakes are truly something special. Our crown cakes combine our scratch made recipes with premium ingredients like fine artisanal cocoa, premium vanilla or rich buttermilk. Any of our crown cakes are perfect for coffee, brunch, or dessert, and our Lemon Crown Cake is a special choice ideal for holidays. This seasonal cake is available only through August and features brightly tart lemons and infuse them into our soft cake for a refreshingly delicious flavor. We then top this in creamy vanilla frosting and garnish it with beautiful white chocolate curls to brighten anyone's disposition, so if you want leftovers, you should probably order two.
Key Lime Kringle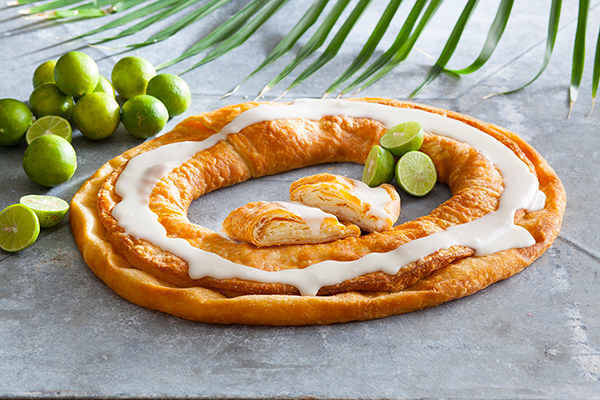 Everyone loves a delicious and refreshing key lime pie, and we bring you the flavors of the season with our take on this classic favorite - a Key Lime Kringle. This dessert is refreshingly cool, making it perfect for serving during the hot summer months, especially on the Fourth of July. We created this special Kringle dessert years ago as our July Kringle of the Month and found that it quickly became an in-demand item. We make this Danish pastry with fresh key lime juice for a creamy and tart filling that's so stunning; you won't believe it. Take advantage of this Florida Keys flavor while it lasts - Independence Day is the perfect excuse!
Almond Custard Seven Sisters Coffee Cake
Our Almond Custard Seven Sisters Coffee Cake has been a favorite around here for six decades. These classic Danish coffee cakes contain smooth custard and a creamy almond filling, then are baked into seven distinct spiraled rolls that are perfect for sharing at a potluck. This delicious cake is so named for the prominent constellation of stars known as the Seven Sisters of the Pleiades that guided Danish sailors. This winter constellation would warn the sailors when there were stormy seas. Serve this traditional and perfectly shareable treat at your 4th of July party this summer.
There's nothing we love more than a good party - except, perhaps, scratch-made, traditional, 4th of July themed cakes. Place your order today or stop by one of our Racine stores and get ready to be showered with compliments by your hungry guests.