O&H Danish Bakery: Halloween Cakes & Fall Desserts
Saturday, August 10, 2019 by Eric Olesen - 3rd generation owner
Are you looking for something a little different to add to your upcoming Halloween party? We have a few suggestions to make your party unforgettable by merely adding a few of our delicious treats to your plan. From cakes to Kringles (the official Wisconsin pastry), we have everything you need to satisfy the sweet tooth of every ghost...ah, we mean guest.
At O&H Danish Bakery, we aim to provide you with beautiful and delicious cakes and pastries. As a fourth-generation Danish bakery we are proud of our heritage, which is why we still like to share the recipes passed down from our great-grandfather who moved to the USA with his father to make a better life for his family.
Our Viking History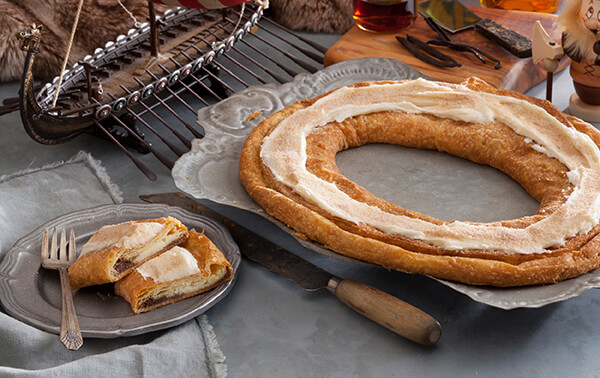 The Danish people have a fascinating Viking history, which we are very proud to continue celebrating with our delectable sweet treats. If you're looking for something a little different this Halloween, why not plan a Viking themed party, and get everyone to dress up as Vikings! And while your embracing a little history why not raid our website and stock up on our tasty Viking Danish sweets for a party that everyone will remember for years to come? (No worries if you don't want to take our party recommendation...being of Viking descent sometimes means you're a little too blunt!)
The Count's Chocolate Layer Cake. In Danish history, there are many stories about Vikings haunting castles, the ghosts of kings and queens, and scary tales of Viking horrors. This decadent cake celebrates all that is spooky with rich layers of chocolate cake, Dutch cocoa, and buttermilk all wrapped in stunning dark chocolate shavings. While this cake does showcase the Viking history of Denmark, we have added some more classic Halloween elements such as spiderwebs, ghosts, and spiders decorating the top of this epic cake.
Valhalla Brownies. In Norse mythology, Valhalla is an enormous hall in Asgard, ruled over by Odin, father of Thor, where those who fought and died in battle were celebrated once they entered the afterlife. These brownies will undeniably make you feel as though bards are singing songs of your victories when you take a bite. Eight large triple-layered brownies starting at the bottom with a fudge brownie layer, followed by a layer of smooth caramel, and a final fudge brownie to top it all off masterfully. Four of the brownies are called 'The Odin' and are frosted with mouthwatering vanilla bean icing, caramel, and chocolate chips. The other four brownies are called 'The Thor' and are frosted in pure fudge and topped with chocolate shavings. These are sure to be a huge crowd-pleaser at any party and still feed a dimly lit hall full of hungry Vikings, ghouls and boys.
The Viking Toast Kringle. O&H Danish Bakery is known across the United States for our flaky O&H Danish Kringles stuffed with all kinds of exciting fillings that people adore. Speaking of the french word adore, did you know that the Vikings visited Paris in the year 845 A.D.? Now what would a Viking visiting the City of Light do? Enjoy the vibrant culinary scene of course! In admiration of this visit, we created this Kringle. We take a buttery maple cinnamon filling and layer it with silky smooth cream cheese, for that classic French Toast flavor. But all Vikings need a little extra uff-da, so we frost this Kringle in a Bourbon Vanilla icing and doused it in cinnamon sugar, for wonderfully balance combination of flavors. We only make this Kringle for a couple weeks in September so be sure to order it ahead of time and keep it in the freezer for your Halloween party. If you need additional instructions for how to reheat and eat this Kringle after freezing, please contact us or take a look at the reviews at the bottom of the web page.
Halloween Party Dessert Ideas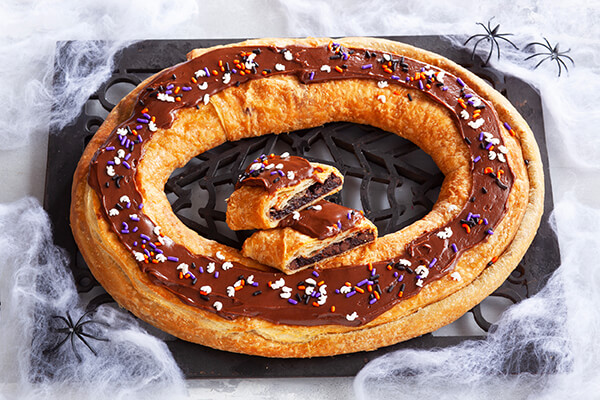 If you feel like something sweet, but you aren't into going full Viking this Halloween, then we have layer cakes, coffee cakes, and fantastic Kringles that everyone will enjoy.
The Spooktacular Creepy Crawly Crown Cake. This magnificent bundt cake is made using only the best ingredients that we trust and have used for years. Premium cocoa, chunks of bittersweet chocolate, and creamy chocolate icing and then topped with cookie pieces and gummy worms. It is deliciously creepy and will have every monster at your party asking for an extra slice. We recommend getting at least two just to be safe - you wouldn't want to start a Halloween riot.
Our Gluten Free Trinity Layer Cake. We know that some monsters have specific diets (we're looking at you Vampires...red blood, no garlic, blah blah blah), so this triple layer cake is perfect for those with a more specific desire. We start with a layer of silky smooth cheesecake and then we add our Wisconsin filling, made with 100% Wisconsin cherries and cranberries and then we finish this cake with a layer of our soft gluten free cake. You'll kick that graveyard smash into high gear, when you cut into this delicious cake, and the 'red goo' starts leaking out. It's sure to make a perfect 'oozy' impression at your party and it tastes so good, you won't even know it's gluten free! Like all our cakes it is handmade, and this one has a 100% recommendation rate as our customers enjoy it so much.
Wicked Good Kringle. Don't let the clock strike midnight on our Kringle! We spent hours at the cauldron cooking up this recipe and it does not disappoint. Made with our Midnight Chocolate filling, it's finished with chocolate icing and garnished with Halloween sprinkles. This Kringle arrives just in time for Halloween and there are no tricks with how good it tastes. But beware: It is Wicked Good.
Trick or Treating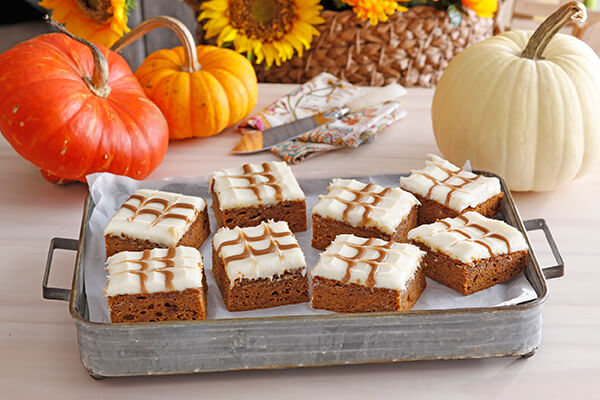 Trick or treating for candy may be just for children, so why not have some sweets for adults too? Brownies, Kringle slices, or coffee cakes can be something to make the parents just as happy as the kids who will undoubtedly be excited from their candy exploits. We are proud to be the home of the Racine Kringle, an original Danish recipe that has developed its signature style over the years to appeal to American culture. Here are a few desserts you can offer to both children and adults on Old Hallows Eve.
Pumpkin Brownies. When autumn arrives, nothing signals it arrival more than the silky smooth flavor of pumpkin. Incredibly moist and beautifully flavored, these brownies are delicious all by themselves. But we don't stop there, as we add our famous cream cheese frosting and a drizzle of caramel on top of each brownie. There will be more than enough for adults to sample while you hand out candy to the kids. Grab a few of these and carve 'em up for your guests!
The Almond Custard Seven Sisters Coffee Cake. In Norse mythology, the Harvest Moon is said to be the most powerful of the moons that leads to a bountiful harvest of plenty. This coffee cake has been a crowd pleaser for over 60 years in our bakery. Made with traditional Danish pastry, a velvety almond filling, silky custard, and baked into seven spiral rolls, this cake is named after the constellation of stars called the Seven Sisters of the Pleiades which helped Danish sailors make sure they were heading in the right direction during stormy Winter sailing trips. So whether you are swayed by the moon or the stars, this coffee cake is sure to be a huge autumn hit.
Some of Our Fall Favorites: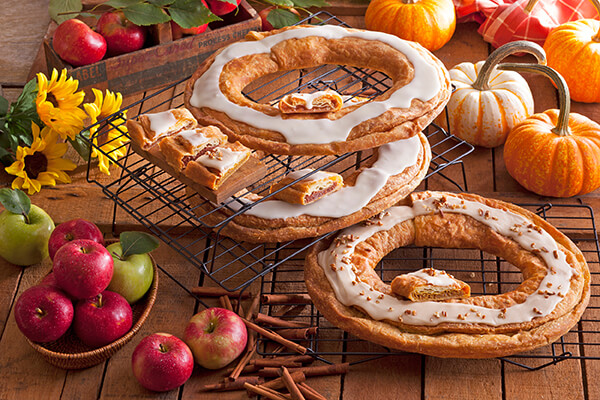 Pumpkin Crown Cake. Baking this flavorful bundt cake recipe fills our ovens with a scent so heavenly we almost can't resist taking a piece for ourselves! Our moist Pumpkin Crown Cake is drizzled with icing, a butter brown sugar glaze and sprinkled with pecans. Pour some coffee and warm this pumpkin cake ever so slightly to create a perfect accompaniment of flavors.
Cinnamon Roll Kringle. For a fresh take on the cinnamon rolls we all know and love, why not try our Kringle version? Danish flaky Kringle pastry made with sweet buttery cinnamon and sugar filling then topped with sweet icing is a Fall favorite that all your party guests will love.
The Festival of Fall Kringle Flavors Collection. For a true taste of Fall, why not pick up this set of three Kringle flavors that we believe define what Fall means. You can sample the Apple Kringle, the Cinnamon Roll Kringle, and the Pumpkin Caramel Kringle all stuffed into one box filled to the brim with Fall goodness.
Almost every cake or Kringle we have is available to order online and will be shipped directly to your door and you don't even have to leave the house to get your party snacks ready. If you have any questions about our treats or the ordering process, please don't hesitate to contact us, we are always happy to help our customers.