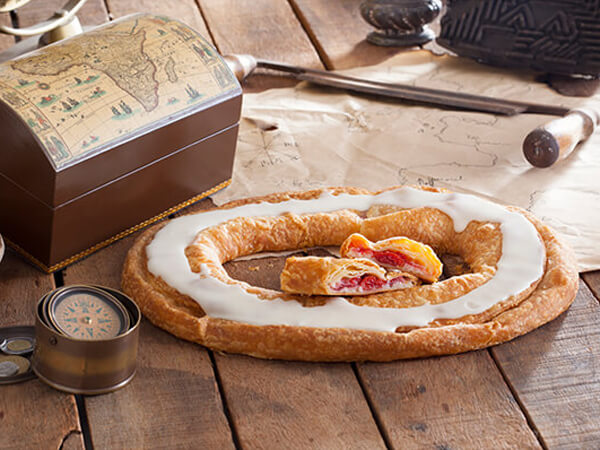 A Journey Through Kringle Flavors
---
By Eric Olesen - 3rd generation owner
Sunday, April 12, 2020
Take a quick journey around the world and explore the different cultures one bite at a time with our Viking-inspired Kringles. Just like our Danish ancestors had travel in their blood and sailed the seven seas in search of new flavors and adventures, we keep the tradition going through our decadent and crispy Explorer's Series Kringles. From the sprinkled sugar delight of a Spanish Churro to the distinct and unique flavor of Key Lime, our limited-edition Kringles are something that should not be missed. Our bakery in Racine uses the exotic flavors of faraway places to transport you to new destinations around the world while the comforting tastes of our Smores Kringle will bring you back home and remind you of your childhood vacations.
O&H History
Combining a love of travel and delicious worldly flavors can be traced back through many generations in our family, yet the most significant journey begins with our great grandfather, Anton Olesen. Leaving Denmark in search of a better life for his family, Anton found himself in the early 1920s setting sail for the great United States of America just as many other Danes before him had done. Anton initially found work on a farm where he scrimped and saved to send most of his wages home to his large family in Denmark. Yet, it was his job as a gravedigger, a pretty good gig at the time, that allowed him to save enough money and eventually bring all his children over to his new home in 1923.
Anton's son, and the founder of O&H Bakery, Christian, spent his teenage years working in a local bakery where he dedicated himself to learning traditional techniques, authentic Danish recipes and honing his baking skills. After 25 years of mastering the bakery trade, O&H Bakery was born allowing Christian to create a wide range of treats that represented his Danish heritage, the Viking's explorations and strong family values. Now in the fourth generation of owners, we continue to commit to the use of time-honored methods, authentic recipes and the finest ingredients to produce quality, mouthwatering Danish treats.
Tender Kringle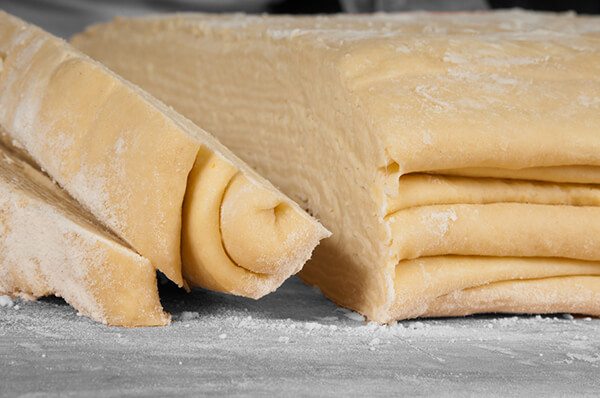 The perfect Kringle is made with a lot of patience, it is truly worth the time and effort to ensure a light, buttery and tender pastry to encompass our array of delicious flavors. While we love to deliver new flavors of decadent homemade fillings throughout the year, we guarantee that our authentic flaky pastry dough remains true to the original recipe and method.
Our talented bakers gently roll butter into the dough and then rest it overnight for three consecutive days to result in a 36-layer rich, tender and mouth watering Kringle pastry. The distinctive oval-shaped treat encloses various delicious scratch-made fillings including tasty fruit flavors, silky cream or custard middles and nutty centers. To top it off, we add a smooth and creamy icing as something a little extra for the taste buds. Our delicious Kringles are an experience that you will not forget and, depending on the home style filling you select, each bite can take you on a virtual exploration of another culture and taste from around the world, all from the comfort of your home.
Explorer's Series
We love summertime at our bakery with the warmer weather giving us the chance to travel back to places we have previously fallen in love with or to new cultural surroundings where we discover local customs and traditions. On our travels, we are always on the lookout for fresh flavors that we can use as inspiration to create new home style fillings that burst with flavor and beautifully complement our sweet Kringle pastry. The Explorer's Series Kringle is the perfect opportunity to introduce you to some of our favorite tastes from near and far.
Churro Kringle
Vacations mean fun activities, celebrations, quality time with family and friends - really, it's an ongoing party for a few weeks. Which is why we think the sweet taste of our Churro Kringle is the perfect addition to any celebration, especially if you are having a fiesta for Cinco De Mayo. Warm-up this caramel and cinnamon layered Kringle to share among your friends as it is sure to be a crowd-pleaser. We douse the smooth icing in cinnamon sugar to get your taste buds tingling and have you going back for one more bite.
Lemonade Kringle
Nothing quenches your thirst on a warm summer's day like a refreshing glass of lemonade. Prompted by our own travels North, where we spend sunny days at one of the many Wisconsin lakes, we created our own delicious Lemonade Kringle filling to reminisce about these good times. Our combination of lemon pie filling with flavorful cranberries is the perfect pink lemonade blend. Be sure to get in quick because just as summer feels like it passes in the blink of an eye, our Lemonade Kringle won't be around for long.
Smores Kringle
You will be asking for some more after biting into one of our campfire classic desserts. Share a slice with your family as you recall many childhood vacation memories and holiday gatherings. This yummy treat blends the tasty flavors of marshmallow, Graham crackers and chocolate into our decadent Kringle pastry, so you can enjoy the treat all summer long without lighting a campfire.
Peach Cobbler Kringle
Late summer means perfect seasonally sweetened fruit. We love to source the finest peaches for our Cobbler Kringle as a delicious end to your summer. This sweet treat is only here for a few weeks, so be sure to get in quick. Our butterscotch and cinnamon filling layered with decadent sweet peaches are baked with a crunchy streusel then drizzled with delightful icing for a mouthwatering summer treat. Add a scoop of vanilla ice cream, and you will be in sweet delight heaven.
Key Lime Kringle
While our unique Key Lime Kringle is from years ago, the popularity of the flavor means we love to keep bringing it back and making our customers happy. A refreshingly cool taste, we use the iconic Key Lime to make a tart and creamy filling that pairs well with our delicate Kringle pastry. This special combination will be nothing like you have had before and will instantly make you want to visit the Florida Keys.
Take a Trip to Our Racine Bakery
When it comes to exploring new flavors, we have got you covered with our delicious Explorer's Series Kringles at our bakery in Wisconsin. You can travel on down to one of our Racine store locations over the summer and take your taste buds on a journey of flavor. We use our travels to discover the finest ingredients which inspire our new Kringle flavors so that we can share our love for exploring and quality tastes with our customers. Just like a good vacation, our Churro, Lemonade, Smores, Peach Cobbler and Key Lime Kringles are around for a limited time, so be sure not to miss out.