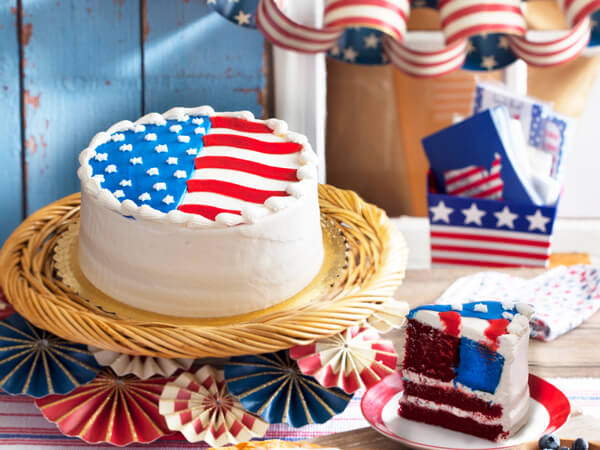 Desserts to Add to Your Memorial Day Cookout
---
By Eric Olesen - 3rd generation owner
Sunday, May 9, 2021
Memorial Day is the unofficial kick-off of summer and after the long Wisconsin winter and cool spring, we are all certainly ready. It's a wonderful time to get together with friends and family members to remember those who gave the ultimate sacrifice to our country and enjoy the growing warmth of the season. Although hot dogs and hamburgers tend to be staples of any Memorial Day celebration, dessert usually takes center stage at our party. Do you need to find some scrumptious Memorial Day dessert ideas that are sure to keep your guests asking for more? O&H Danish Bakery has you covered.
Red, White & Blue Kringle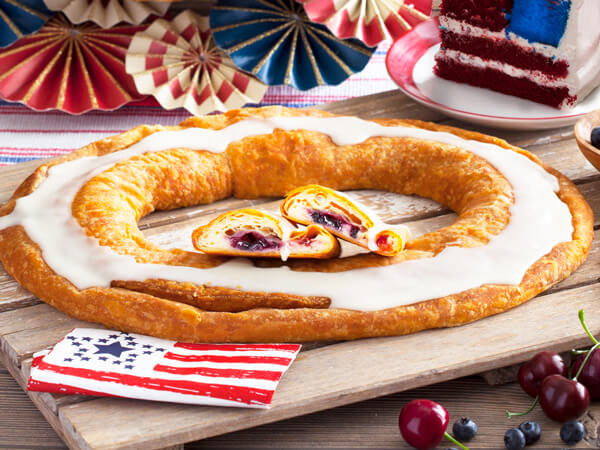 The Red, White & Blue Kringle is one of the most delicious options among our red, white and blue Memorial Day desserts. This Kringle is true Americana and incorporates a mouthwatering blend of flavors, including Wisconsin cream cheese and cherries and wild Maine blueberries. This Kringle serves up to 12 people, so it's the perfect addition to any Memorial Day get-together. Don't forget to put your Kringle in the refrigerator when you receive it so that it stays fresh until you're ready to serve it. You can also pop it in the microwave or oven for a few minutes for a warm treat.
Flag Day Cake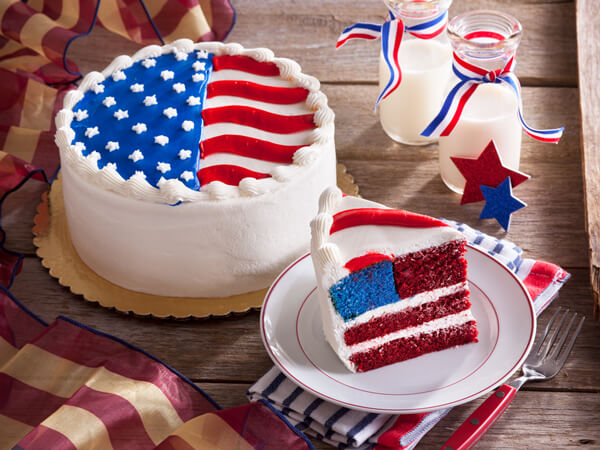 If you're in search of more traditional yet unique Memorial Day desserts, our Flag Day Cake is sure to impress your guests. Not only does this cake feature an American flag across the top, but each slice showcases red and blue cake with delicious white icing to represent an American flag, which makes this one of our true patriotic desserts. This cake is large enough to serve 15 people and can be shipped to you anytime between May 10th and July 5th. We ship the cake in a dry ice container, so it's sure to stay cool and in perfect condition even on hot days. You will need to let the cake thaw for at least six hours before serving but they always say patience is a virtue. You can also store it in the refrigerator for several days and still count on enjoying its delectable taste at every bite.
Rhubarb Kringle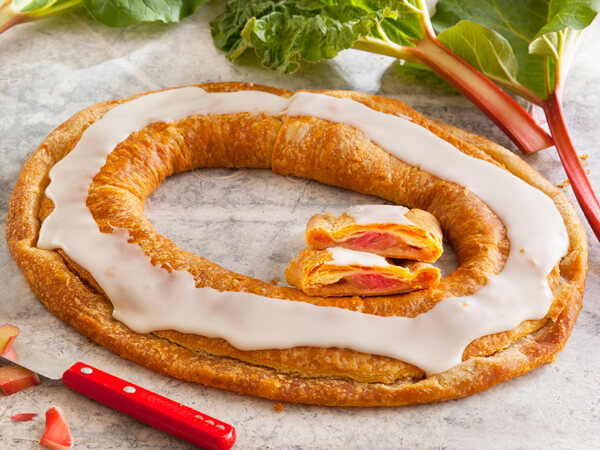 Our Rhubarb Kringle is always one of our best-selling Memorial Day treats. This Kringle provides a delicious assortment of flavors as you transition from the cooler weather into the warm summer heat. We select the finest seasonal rhubarb and the tart taste of the rhubarb perfectly complements the sweetness of our icing. Remember, the rhubarb season is short, so be sure to order your Kringle before June 20th to enjoy this exceptional dessert!
Strawberry Rhubarb Bread Pudding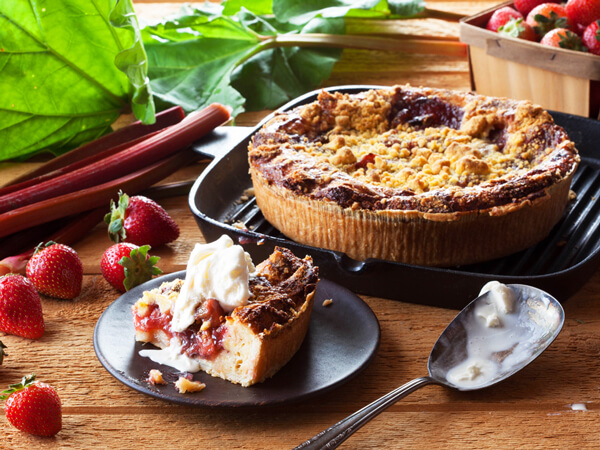 Another seasonal favorite! Our Strawberry Rhubarb Bread Pudding will unquestionably usher in the summer season in an unforgettable way. Our bread pudding contains both rhubarb and strawberries to find an outstanding balance that will have your tastebuds asking for more. Enjoy the sweetness of ripe strawberries perfectly blended with tart rhubarb. We recommend warming this up and adding a little vanilla ice cream! And with a serving size of 13, this dessert can efficiently serve a large gathering.
Gluten-Free Triple Chocolate Brownies & Cookies
Trying to eat within specific dietary restrictions can be difficult for finding the proper Memorial Day dessert. Our gluten-free triple chocolate brownies can fulfill your chocolate craving without any gluten guilt. A single order of these brownies includes two six-inch brownies, enough to serve at any party or for a quick midnight snack under the night time stars.
If you're not a brownie person but still want a gluten-free chocolate treat, we have you covered. It will be hard to have just one of our gluten-free triple chocolate cookies. Not only do these incredible cookies pack a delightful taste, but they also come in traditional chocolate and white chocolate so that you can provide your guests with more options. Each order comes with 12 cookies, so you may want to purchase two and keep some for yourself after your party. And here's a tip: Use these for ice cream sandwiches!
Memorial Day Desserts Delivered from O&H Danish Bakery
Whether you're in the mood for one of our more traditional Memorial Day desserts or you want to include a delicious chocolate treat, you can count on the O&H Danish Bakery to provide you with a fresh dessert delivered to you in time for Memorial Day. We begin to work on your order right away and have the flexibility to ship it to your location or a friend or loved one as a patriotic surprise.
Contact us today for more information about our fantastic selection.