Desserts for St. Paddy's Day
---
By Eric Olesen - 3rd generation owner
Sunday, February 28, 2021
While Guinness and Irish cream are popular treats, we love something a little bit sweeter when celebrating St. Patrick's Day. Desserts are the perfect addition to this Irish celebration, and although our desserts are not all the traditional lucky green color, you can always pair mint chocolate with any chocolate dessert to give it that extra little Irish push. Whether you are having a small family St. Paddy's Day celebration or going all out with a large crowd, we have an extensive selection of mouthwatering desserts that are sure to satisfy everyone.
1. St. Paddy's Day Kringle
A chocolate St. Patrick's Day dessert may not be your first thought when planning your celebration, but you are sure to feel the luck of the Irish when you serve up this crispy Kringle treat. We surround dark chocolate cake and mint-flavored custard with our light, rich, and flaky pastry before topping it with decadent chocolate icing and mint chocolate pieces. Be sure to get in quick, as this holiday treat is only around for a limited time!
2. Gluten Free Triple Chocolate Cookies with Mint Chocolate Chip Ice Cream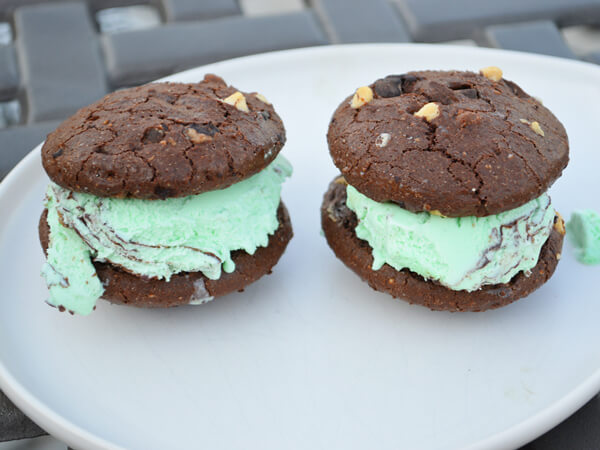 Like a pot of gold at the end of a rainbow, our Triple Chocolate Cookies will have you thinking that you've found treasure. Made with dark chocolate, milk chocolate and white chocolate, these cookies are so good, you won't be able to eat just one! We recommend that you grab your favorite mint chocolate chip ice cream and create delicious ice cream sandwiches with these. It's the perfect way to add a little classy dessert for St. Patrick's Day.
3. Danish Cinnamon Apple Bread Pudding
This is where you can add the sauce, or in regards to bread pudding the Irish Cream or Whiskey Caramel sauce. Start with our delicious Danish cinnamon apple bread pudding and then make your own cream or caramel sauce. We fill our special handcrafted crust with vanilla egg custard-soaked pastry pieces, crisp apple, cinnamon, and sweet streusel. When you add your homemade topping, this tasty combination is the perfect treat when you need desserts for your St. Patrick's Day dinner.
4. Apple Cinnamon Coffee Cake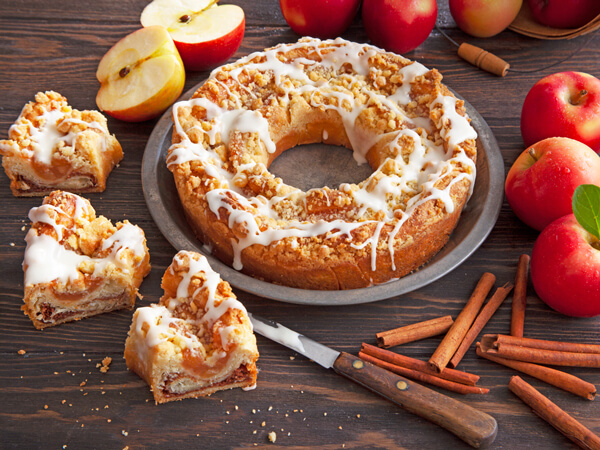 If you are looking for something as a complement to your Irish themed food and drink, nothing goes better with Irish coffee on St. Paddy's Day than a warm slice of our Apple cinnamon coffee cake. With layers of cinnamon spread over our sweet homemade apple filling and famous Danish pastry, you'll find it hard to resist a second slice! The crumbly streusel and creamy icing on top will leave you relaxed and enjoying every bite after a fun-filled day of Irish celebrations.
5. Irish Coffee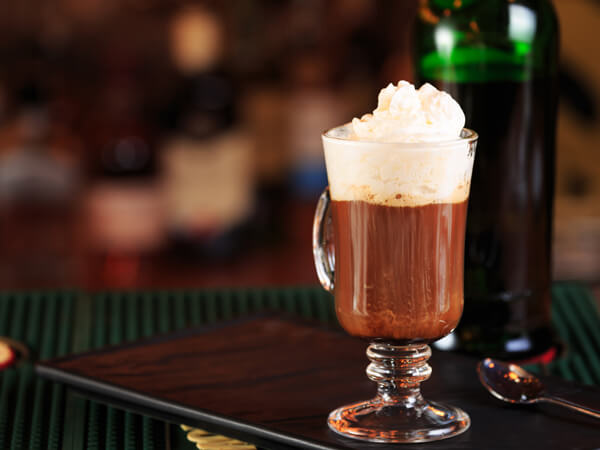 The key to making a tasty Irish coffee is a full-bodied coffee blend. Named after one of the finest Viking longships, our Gokstad coffee is the perfect blend of flavors with a craftsman combination that includes a rich, dark roast with a sweet-and-clean light roast.
We know that our desserts and pastries deserve the best coffee to accompany them, which is why we partner with trusted suppliers and roasters. We source our coffee beans directly from the origin and roast them locally by hand to ensure that you receive the finest and freshest coffee for your Irish brew. We'll let you decide which of your favorite Irish whiskeys to include in this drink, but even without the extra ingredients, enjoying our delicious coffee blend is a memorable experience.
Get St. Paddy's Day Desserts from O&H Danish Bakery Delivered Straight to Your Door
You can celebrate like the Irish yet eat like a Dane with our extensive selection of sweet treats. Whether you're throwing a party or having a special dinner with friends, our delicious assortment of treats is perfect for any St. Patrick's Day feast.
You can place your order online and have desserts delivered straight to your door so you don't have to worry about missing out or leaving the Racine St. Paddy's Day Parade early to collect your desserts. Reach out to our friendly team for even more dessert ideas.