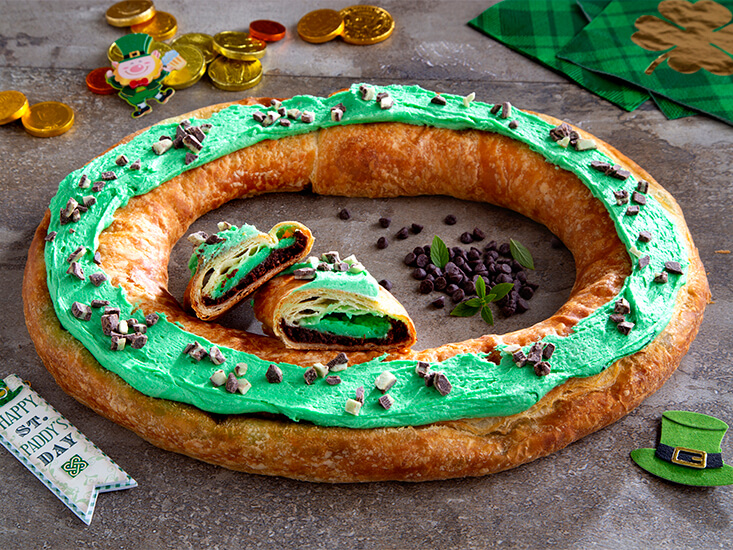 Desserts for St. Paddy's Day
---
By Eric Olesen - 3rd generation owner
Saturday, February 18, 2023
Pints of Guinness are popular on St. Patrick's Day, but no spread is complete without a little something sweet. Crowd-pleasing desserts are the perfect addition to your celebration. Pro tip: For those treats that may be missing the traditional green color associated with the holiday, just pair them with scoops of mint chocolate chip ice cream to give them a little Irish-inspired flair. Whether you're having a small family celebration or going all out for a large crowd, we have an extensive selection of mouthwatering St. Patrick's Day dessert ideas that are sure to satisfy everyone in the room.
1. St. Paddy's Day Kringle

A chocolate St. Patrick's Day dessert may not be your first thought when planning your celebration, but you are sure to feel the luck of the Irish when you serve up this crispy Kringle treat. We surround dark chocolate cake and mint-flavored filling with our light, rich, and flaky pastry before topping it with decadent Irish green icing and mint chocolate pieces. Be sure to get yours quickly, as this holiday treat will be around only for a limited time!
Get St. Paddy's Day Desserts From O&H Danish Bakery Delivered Straight to Your Door
You can celebrate like the Irish yet eat like a Dane with our extensive selection of sweet treats and seasonal Kringle flavors. Whether you're throwing a party or having a special dinner with friends, our delicious St. Patrick's Day baked goods are the perfect treats to enjoy before, during, and after your festive feast.
You can place your order online and have desserts delivered straight to your door, so you don't have to worry about missing out or leaving the Racine St. Patrick's Day Parade early to collect your desserts. Reach out to our friendly team for even more dessert ideas.