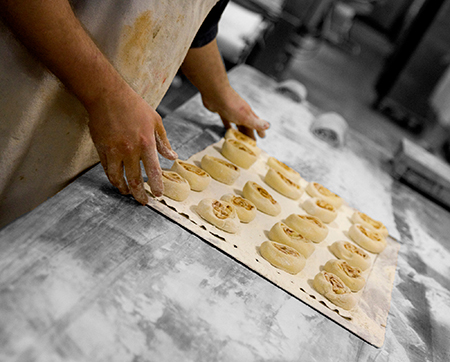 Exploring the Danish Heritage - What Is the Best Danish
---
By Eric Olesen - 3rd generation owner
Monday, June 8, 2020
You already know that the Danish know their pastries and desserts-we've proven it worldwide, with many people calling all sweet pastries "Danishes"! A Danish might be the most famous sweet treat coming out of Denmark, but if you think that a classic Danish is the best that Denmark has to offer in Danish desserts, think again.
Ever heard of a Kringle? Want to know the difference between a Danish and a Kringle? We will answer these questions and more to help you discover which sumptuous Danish dessert to try next.
What Is the Best Danish Pastry?
If you ask this question of any Danish person, don't expect a simple answer: pastries are in our blood, and we love them so much that it is hard to pick a favorite. The beauty of food is that everyone has different tastes and preferences, so while you might like a strudel your best Danish friend might like a sweet roll. We're not here to change tastes, but we can, however, attest to which ones are preferred worldwide.
Cinnamon Roll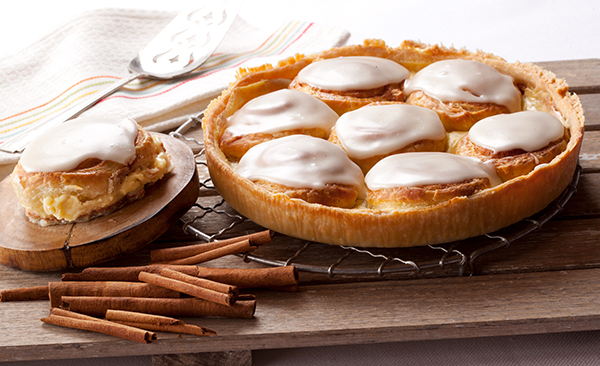 The first thing that comes to mind when you hear the word "cinnamon roll" may be a super-sweet roll dripping with gooey sauce, made the American way. Let us introduce to you the Danish cinnamon roll, also known as our Cinnamon Seven Sisters Coffee Cake.
Cinnamon plays a big role in Danish traditions, especially for birthdays, and can be traced back to the nomadic lifestyle of spice merchants. While the Vikings travelled, they often did so with commerce in mind, tasting new ingredients and expanding their taste horizons. This coffee cake is made with seven spiraled rolls, very similar to the shape of its American cousin. So what makes the difference? We start this coffee cake with a smooth and silky base of Wisconsin cream cheese, which pairs wonderfully with cinnamon. Then we take seven strips of dough and layer them with buttery sweet Indonesian cinnamon. The sweet dough adds just the right amount sweet to this fluffy, light "kanelsnegle." And of course you have to finish it with a dollop of sweet icing.
Danish Butter Cookies
If you have ever been to Denmark or received a gift from a friend who returned from a trip there, you have likely seen or experienced a tin of Danish Butter Cookies. This treat is quite common as a souvenir gift due to its beautiful packaging, making it one of the biggest Danish export products.
During your life, you have surely come across a butter cookie equivalent produced by a mainstream manufacturer. Nothing beats freshly-made crunchy cookies brushed with sugar and fresh out of the oven. These cookies are traditionally made and enjoyed during Christmas time in Denmark. We specialize in making our own butter cookies that you can find in our stores. They are so soft that they melt in your mouth. The only downside is that because they are so delicate, we can't deliver them!
Pancake Balls (Æbleskiver)
Also in the family of Danish Christmas desserts, a treat that you'll find in the Danish kitchen during December is pancake balls. Closely resembling a donut hole, they are incredibly soft and fluffy made with buttermilk. While some use it for dessert, our family makes these as a special breakfast and when cut open you can serve with powdered sugar or lingonberry jam. Biting into one of these, you will experience a fluffy, light texture rather than the crumbly inside of an English scone. Once again, the Danish prove that they can perfect any pastry as a fluffy or flaky piece of heaven.
Dream Cake ( drømmekage)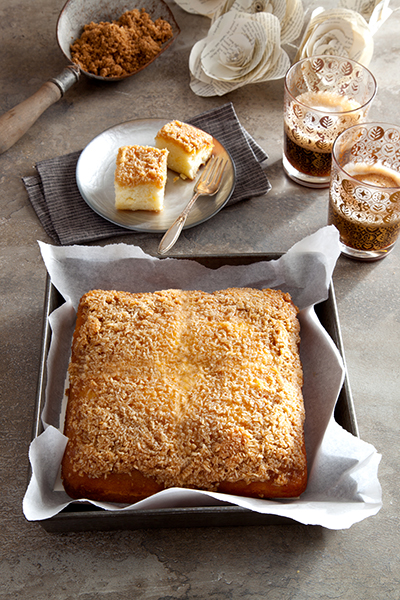 An absolute must-try cake when visiting Denmark is the Dream Cake.

Although most pastries that we bake are on the sweet side, this cake speaks to simplicity with a hint of coconut and caramel.

History proves that it is not just any cake: a 13-year-old used her grandma's "dream cake" recipe to enter a Danish food company contest, and it was such a hit that this square piece sponge cake topped with a layer of caramel and coconut can now be found across Denmark.
Fastelavnsboller
No Danish holiday tradition is complete without pastry, but some Denmark sweet treats are typically reserved for Fastelavn. A week before the start of Easter, children will dress up in costumes and roam the streets of Denmark with a simple aim: to obtain as many Fastelavnsboller as they can. During this celebration, they fill the streets with cheer, singing Danish songs as they go from door to door to trade candy for these cream-filled buns that a family has baked fresh for them on that day to enjoy at their best.
Kringle
As with many Danish pastries, Kringle is made from a dough called wienerbrød, which originated in Austria and migrated to Denmark to reach perfection. It's a delightfully rich yeast dough topped with butter, folded, and rolled out with more butter added dozens of times over. This process proves to be the secret to this flaky, delicious bread's appeal. Kringle can be made into different shapes and can include fillings such as custard or raspberry jam and be topped with cream or icing. It takes on some of the flaky appearance of an American apple pie.
Patience is certainly a virtue with Kringle as each one takes a full three days to make. We prepare as the dough needs to set in the refrigerator before it can be baked. Traditional fillings include almonds, cinnamon sugar, pecans, or fruit with a bit of icing on top for the sweet tooth. You may love these pastries so much that you want to keep some for later. Wondering how long Kringles last? We recommend eating them within seven days of purchase, but they also freeze well for up to six months.
We weave our Kringles in the traditional Danish way, but you can enjoy many different shapes and sizes for special seasonal observances. Many people adore Kringles over Christmas time. What is a Christmas Kringle, you may ask? We prefer almond and cinnamon-filled Kringles, which we shape into a special wreath for Christmas.
You will not experience this tasty Danish pastry the right way unless you visit O&H Danish Bakery. You can order online from us and indulge in the appeal of our other popular Danish desserts.
About O&H
At O&H Danish Bakery, we love our heritage. We always enjoy introducing new customers to our traditions as they seek the answer to, "is Denmark known for pastries?" With skill in Danish delicacies, we fold the dough to produce the exceptional number of light, flaky layers that makes our Danish Kringle famous. By folding butter and dough together with special skill, we create the most tender layers of pastry possible.
It is fair to say that pastries are as much a part of our heritage as riding bicycles. We bring Danish desserts to you with the same quality and taste as a picturesque cafe in Copenhagen.