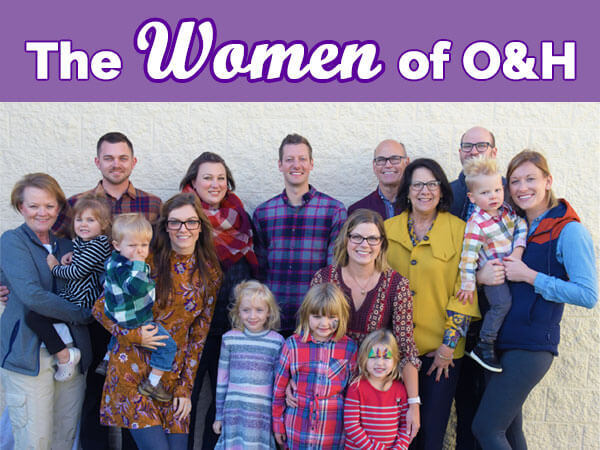 Get to Know the Women of O&H Danish Bakery
---
By Eric Olesen - 3rd generation owner
Tuesday, April 19, 2022
Our team here at O&H Danish Bakery would like to take the opportunity to honor the many women in our family. They continually inspire us and help our family and business continue to grow.
Myrna Olesen
Myrna Olesen (pictured 1st on the left) has answered to many titles in her lifetime: Mom, Grandma and Great-Grandma being the most recent. With her late husband, Raymond C. Olesen, she was a second-generation owner and operator of our bakery. She and Ray raised their three sons and grew O&H Danish Bakery from a local store to a national presence. Myrna is accomplished at many things, including cake decorating, quilting and golf — she even designed the current ship logo for the company.
Myrna's Favorite Item: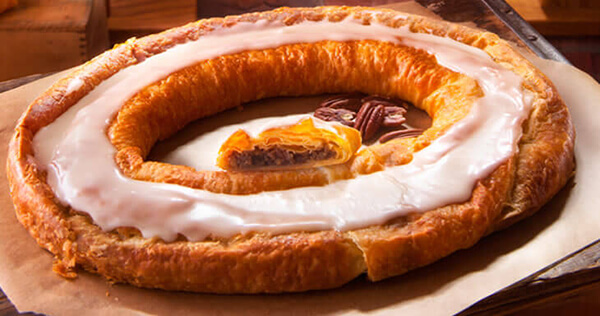 Myrna's taste favors the old-fashioned way of doing things and she has a preference for sugar-topped Kringle versus the more recent method of icing. For Mother's Day, she loves to "hyggelig" (enjoy hygge) with family while relishing a slice of classic Pecan Kringle with a hot cup of coffee.
Lisa Olesen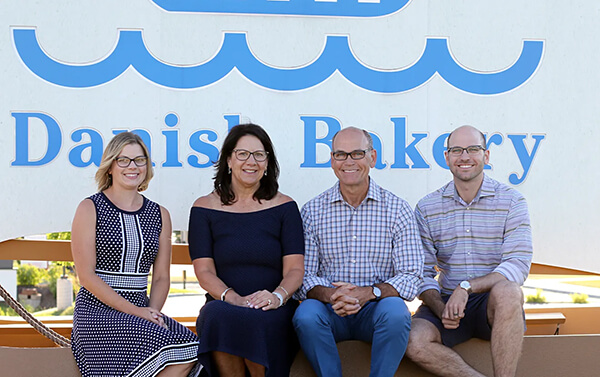 Lisa Olesen is a part of our third-generation owners and has been married to Eric for 40 years. She is a mother of two, with both her son, Peter, and daughter, Alyson, following in her and Eric's footsteps and joining the family business. She loves being a grandma to her five adorable, fun-loving grandchildren. While Lisa's hobbies and interests are constantly evolving and include recently learning pickleball, she has trekked many miles power-walking, and she loves to read. Her hidden talent is crochet, which she learned from her grandma during her teens.
Lisa's Favorite Item:
Anything coconut! Lisa loves the new Chocolate Coconut Kringle that was available this winter and was a big inspiration for the flavor! She's also partial to a slice of one of our Layer Cakes.
Robin Olesen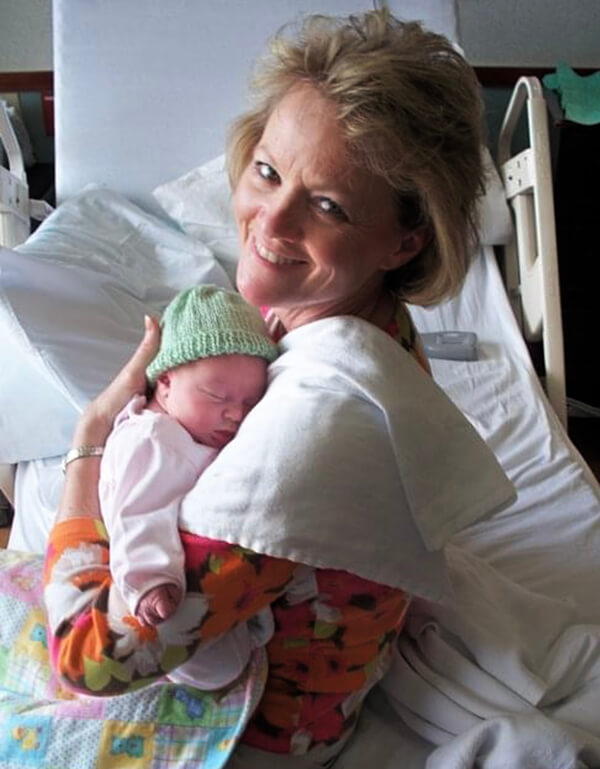 Robin Olesen is the wife of the late Dale Olesen, the eldest of Myrna and Ray's three sons, and mother to Ashley and Nathan Olesen. When it comes to her favorite things, Robin loves the beach, palm trees and flamingos. In her words, "anywhere that I can see the palm trees is time well spent." She also loves spending time with her children and grandchildren, with some of her best memories being from family get-togethers and trips up north to the "little red cabin," as her family calls it.
Robin's Favorite Item: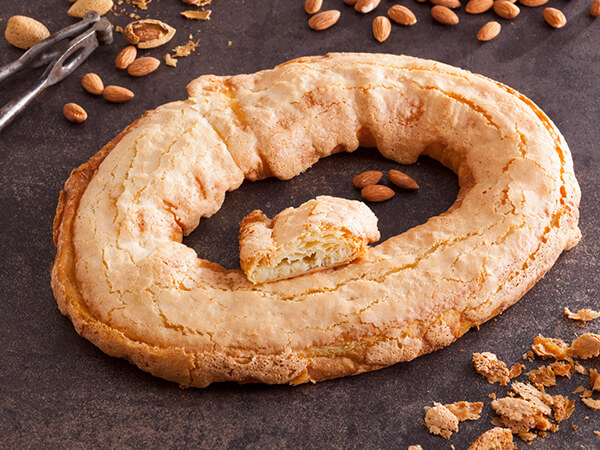 Robin's favorite item from the bakery is the Almond Macaron Kringle. With traditional almond paste filling and a crunchy almond shell, it's a great mix of classic flavors and unique O&H flair.
Alyson Horton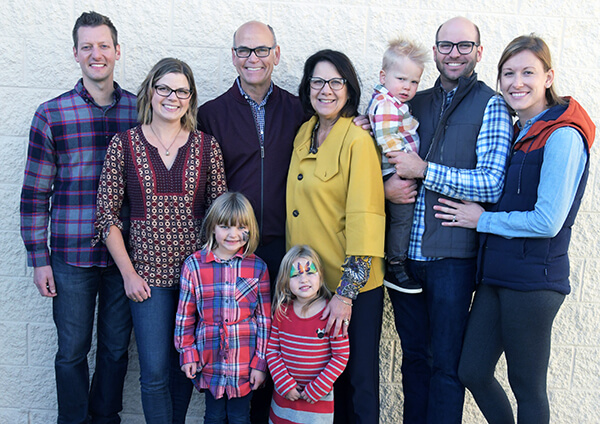 Alyson Horton (pictured 2nd on the left), daughter of Lisa and Eric, has held many different roles at O&H Danish Bakery in her life, and currently works as a buyer for our local stores and makes up the displays. Besides work, she enjoys spending time with her family and friends and cheering on her two daughters in all of their activities, as well as traveling and reading.
Alyson's Favorite Item: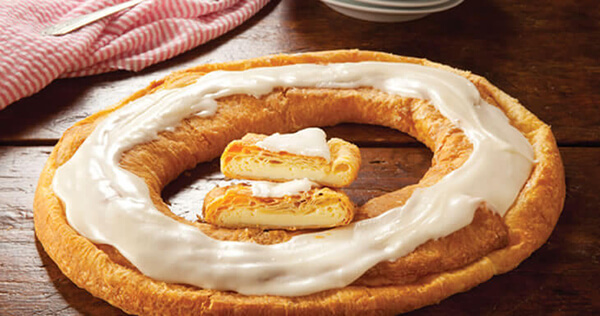 Alyson has always been a big fan of the Cream Cheesecake Kringle and, much like her grandma Myrna, actually prefers it without icing. Growing up, all of the bakers knew this, and if any Cream Cheese Kringle were misshaped or otherwise not visually acceptable, they would send them home to Alyson.
Ashley Olesen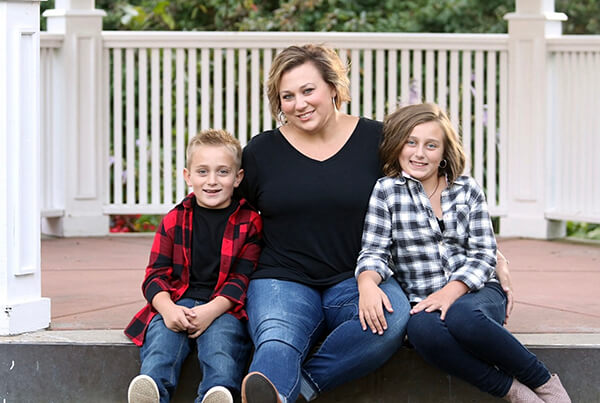 Ashley Olesen is the daughter of Dale and Robin Olesen and began working for the family business when she was 13. Even though she has had other jobs along the way, she always helps out when needed. She has two beautiful children, Isabella and Jackson, who are her world. She loves seeing their individual interests and personalities developing. The two of them definitely keep her busy, but when she has time to herself, she's always had an interest in art – a passion she and her dad shared.
Ashley spent about six years as a cake decorator with us and occasionally gets pulled back into it when we need another set of talented hands. Her favorite place to go is the family cabin up north, where she can be out on the water kayaking or fishing and spending time with her family.
Ashley's Favorite Item:
Ashley's favorite dessert from O&H is our Gluten Free Trinity Layer Cake. With layers of smooth cheesecake, Wisconsin cherries and cranberries, and gluten-free cake, we have to agree that this is a dessert that truly tastes as good as it looks.
Get Your Favorite Desserts from O&H Danish Bakery Delivered Straight to Your Door
You can spoil the women in your life with a special Mother's day recipe from our selection of delicious cakes and pastries. Whether they love the nutty taste of a pecan pastry, the sweet and smooth flavor of cream cheese, or an indulgent chocolate cake, you can effortlessly find the perfect treat to order online for delivery.