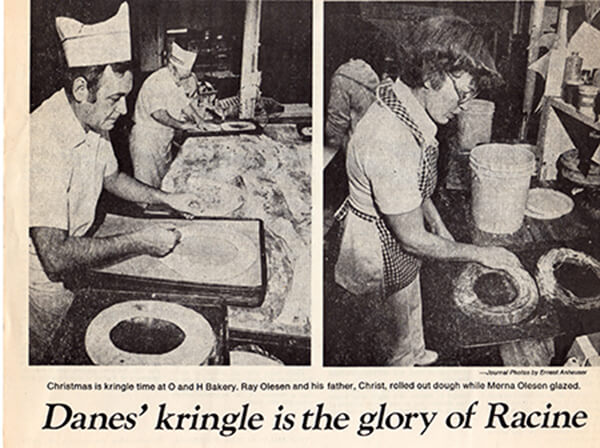 Cakes & Pastries inspired by our Viking Heritage
---
By Eric Olesen - 3rd generation owner
Thursday, September 9, 2021
At O&H Danish Bakery, our motto is "there is nothing quite as comforting as a slice of delicious Kringle and a cup of hot coffee", and that's what it has been since 1949. Racine, Wisconsin is our home, and it is the place that allowed our traditional Danish family to integrate into American culture that accepted all the Danish traditions we had to offer with open arms. To truly experience the joy of our Danish cakes and Viking desserts, you have to know where we came from and the history we are still proud to celebrate to this day.
Our Viking Heritage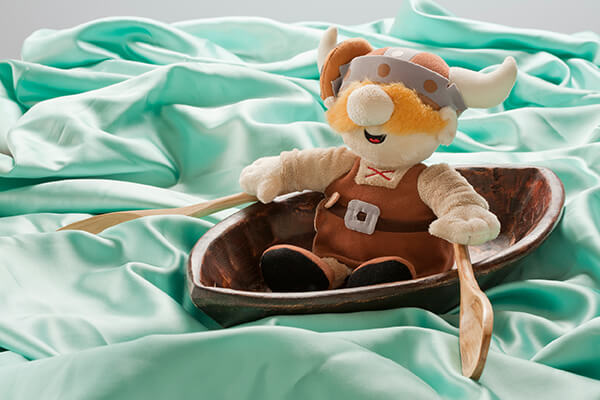 Maya Angelou was quoted as saying, "You can't know where you are going, until you know where you have been" and we happen to agree whole-heartedly with her wisdom. That is why we have spent many hours learning about our Viking heritage and how it shaped the history of our Danish pastry as well as who we are as a family.
What we now call the 'Viking Age' is the period from 793 to 1066 (the late 8th to 11th centuries). Scandinavian people from Denmark, Norway, and Sweden took to the water and traveled into Europe and in doing so, made history. The mighty Vikings were known throughout Northern Europe and were equally as feared as they were greatly admired. Many people think of the Vikings only as plunderers, but they were also extremely skilled sailors and navigators, massively successful traders, and explorers that changed the way we think about the world today. And while raids and conquests were the order of the day for the Vikings, and they did everything with a passion and desire to be the strongest and fastest seafarers and warriors, they were always rooted in a spirit of adventure and exploration.
Vikings spread out from the Scandinavian region into North-Western Europe, Belarus, Ukraine, and European Russia which means that Danish people have distant cousins now living all over the world thanks to the Vikings. Denmark as a country is exceedingly proud of its Viking history with plenty of museums dedicated solely to the history and advances of the Vikings. As a proud Danish bakery, we aim to remember our heritage and our Viking ancestors the only way we know how to, and that's by making and sharing incredible Viking cakes and Viking pastries inspired by traditional Danish recipes passed down through many generations.
Our Danish Cakes and Pastries
Also referred to as a Kransekake or a Viking Wedding Cake, this famous cake resembles a small tower built of 15 rings of pastry made from almond paste and sugar. Traditionally there is a bottle of Cherry Kirsch or wine inside the rings which guests enjoy with a piece of the cake. This Scandinavian traditional treat is usually made for anniversaries or weddings but is enjoyable at any special occasion. Our Kransekager comes with 15 concentric rings and one top ring stacked on top of each other, four S-shaped biscuits, and 20 almond paste and sugar bars so there will be more than enough pieces for everyone. To celebrate our beautifully mixed American-Danish culture, this cake comes with six U.S. flags and six Danish flags so you can show your support for the combination of cultures. Traditionally a Viking wedding cake, the Kransekager was served at our family's weddings and made into our traditional groomsmens cake to celebrate the big day.

This cake is a classic Scandinavian treat that has been enjoyed for generations. The moist, dense almond cake has an intense and distinctive flavor that any almond lover will enjoy. Serve this cake with whipped cream, your choice of fresh fruit, and a hot cup of coffee for a crown cake that has been at the heart of Scandinavian home celebrations for years.

Apple orchards have a very significant place in Denmark. Beginning in the early 1800s, the Danes started to cultivate the apple, founding a royal tree nursery. They would use these apples, especially in the fall, in many of their favorite autumn treats. Our Harvest Kringle takes our scratch made filling of crisp and juicy apples sprinkled with cinnamon and we layer it with sweet toffee bits. This Kringle is then topped with creamy icing and more toffee bits for a delicious harvest specialty that would make our ancestors proud.
How O&H Bakery Embraces Danish Culture & Viking Heritage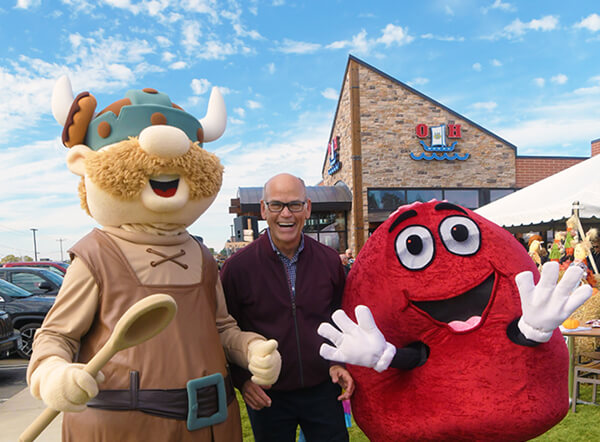 These Viking pastries and cakes will help you celebrate the traditional Danish way by creating what we call "Hygge" (hoo-ga) which means to create a warm atmosphere in which you can enjoy the good things in life surrounded by your nearest and dearest. The warmth of a candlelit dinner with your partner is Hygge, opening presents with your family on Christmas morning by a fire is Hygge and at O&H Danish Bakery, we aim to share incredible traditional Viking desserts with you that will help you create Hygge the way the Danes do and always have.
The Danish people are considered to be the happiest people in the world, and maybe the reason for being so joyful is our constant use of Hygge and putting the good things in life above all else. Our families, our bonds, and the good life are the things that make us who we are, and those are the things that we focus on personally and through O&H Danish Bakery. We are a fourth-generation family-owned and operated traditional Danish Bakery and to this day we still use traditional Viking dessert recipes and methods passed down from our great-grandfather, the founder of the bakery.
Our family has found that over 70 years, it is the small things in life that often bring us the most happiness. Christian Olesen had a passion for baking, which he applied every day to work his way up until he felt that he was ready to start his own bakery in 1949. Christian passed down his love of baking and his passion for making incredible baked goods to his children and their children and their children, and here we are today, still making Danish treats and sharing them with the world. We're honored to be able to be invited into our customers' homes, where we share a little slice of hygge with all of you.
Get Viking Cakes & Pastries from O&H Danish Bakery Delivered Straight to Your Door
We make each of our incredible Viking pastries and cakes carefully from scratch. Order your slice of Danish history for yourself or a friend today.