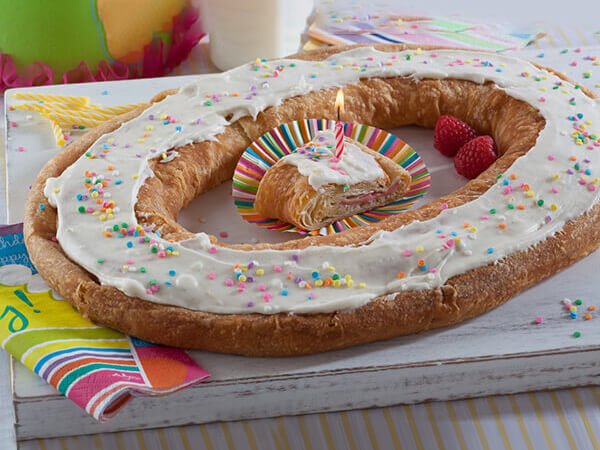 Creative Birthday Desserts & Treats
---
By Eric Olesen - 3rd generation owner
Sunday, May 30, 2021
While traditional birthday cake will always hold a special place in our hearts, we understand that many people are trading it in - at least on occasion - for something a little more creative. O&H Danish Bakery offers a wide variety of sweet treats to help you celebrate another trip around the sun.
Non-Cake Birthday Ideas
If you're wondering what desserts you can serve instead of birthday cake, we have you covered. And if you are still a traditionalist, don't worry, we've got the cake covered too! Here are some alternative cake ideas for your next birthday:
Danish Kringle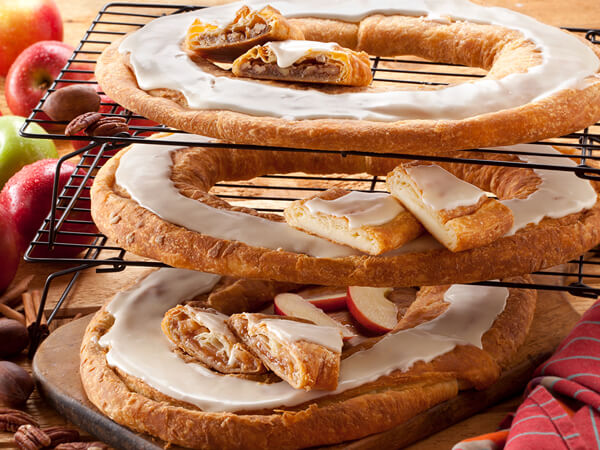 A birthday is a perfect day for Kringle. What is Kringle: It's layers and layers of flaky pastry perfection featuring a filling such as fruit or nuts and a sweet icing drizzled on top - and it's incredibly delicious and the perfect birthday cake substitute. At O&H, we make our Kringle from scratch using the same methods passed down through our family for generations. Here, you'll find a wide array of Kringle flavors to satisfy any preference. Some of our most festive cake substitutes include:
If you're trying to figure out how to celebrate a birthday without cake, a Birthday Kringle is a fabulous cake alternative. This tempting Kringle contains a layer of creamy custard and raspberry jam wrapped in layers of flaky, buttery pastry and topped with sweet white icing and festive sprinkles. It's a classic flavor here in Racine, when layering raspberries with custard, we call it Danish Layer - which also happens to be one of our most popular birthday cakes.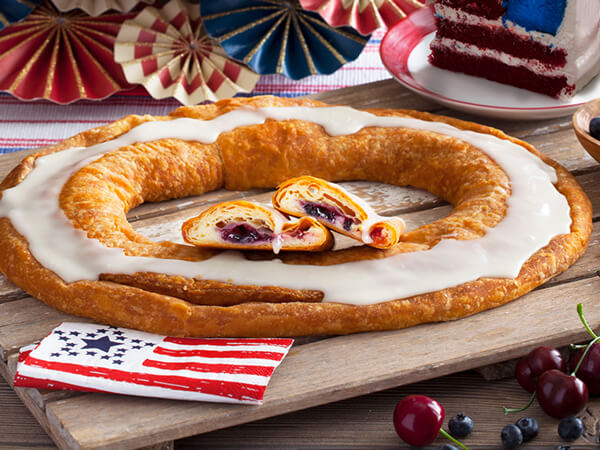 Depending on when the birthday in question takes place, you may want to let the season choose your filling for you. Key Lime for a summer birthday, pumpkin for fall - or how about a Red, White, and Blue Kringle for a birthday that falls near July 4th: These are just a few of the endless possibilities.
Why give one Kringle when you can give several: Especially if you're sending your creative birthday desserts from afar, go ahead and choose one of our irresistible Kringle gift packages, such as the Pecan and Raspberry Pair or The Three Kringleteers. Alternatively, go all out with a Choose Your Own Kringle subscription to knock their socks off for months to come.
Wondering how to serve Kringle at your birthday get-together or one that you're hosting for someone else: It couldn't be easier. We recommend serving slices of our delicious Kringle either at room temperature or slightly warmed - simply place it in a 350-degree oven for a few minutes or microwave it for seven to ten seconds until warm and soft. For a birthday-perfect treat, feel free to serve up a scoop of ice cream with every delectable slice.
Chocolate Eclairs
These handcrafted treats are a perfect cake alternative for any birthday party or celebration. No need to cut into individual serving sizes - these light, custard cream filled and smooth fudge covered pastries are ready to be enjoyed.
Chocolate Croissant Pie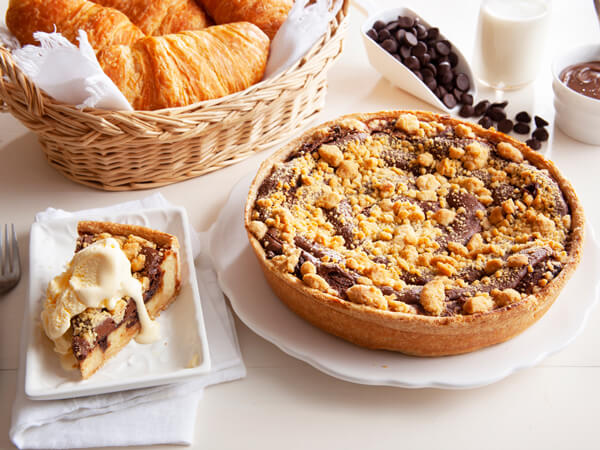 Love chocolate but want something different than chocolate birthday cake: Our dark chocolate croissant pie is the perfect birthday cake alternative for any chocolate lover, with its signature filling of dark chocolate chunks and creamy, smooth hazelnut spread. No one is going to want to miss out on a piece of this decadent birthday treat.
Danish Cinnamon Apple Bread Pudding
If you are looking for birthday treats other than cake, this moist bread pudding is sure to delight. Our Danish Cinnamon Apple Bread Pudding is filled with Danish pastry pieces, soaked in a vanilla egg custard, and topped with apples, cinnamon, and sweet butter streusel. Serve warm with vanilla ice cream for the ultimate birthday treat.
Birthday Cake Substitutes
Still like cake, but looking for something new: Try these birthday cake substitutes instead:
Danish Coffee Cakes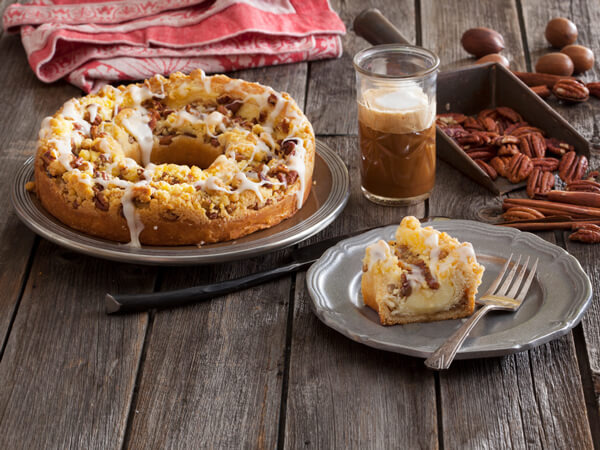 What is a good birthday treat to bring to work: Coffee cake, of course! Your entire office will love one of our incredibly fresh and delicious Danish coffee cakes - moist, sweet, and perfect with a cup of our Gokstad premium coffee. A few of the coffee cake options we offer include:
We are firm believers that custard simply makes things better. This ring-shaped coffee cake features flaky pastry, a generous helping of silky-smooth custard, and a rich butterscotch filling. The whole thing is topped off with buttery streusel and flavorful fancy pecans.
Who doesn't love cinnamon and fresh apples: Our Apple Cinnamon Coffee Cake starts with our famous Danish pastry and layers of cinnamon-infused apples. Crumbly streusel and creamy icing finish it off. Warm up this delicious cake and serve it with coffee for a memorable birthday treat.
Another charming custard creation, this item has been a favorite around here for decades. This classic Danish pastry is made with smooth custard and creamy almond filling and baked into seven spiraled rolls. Named for the famous constellation that Danish sailors used for navigating the winter seas, the Seven Sisters Coffee Cake is always a crowd-pleaser.
Gluten-Free Birthday Treats
When you're debating which birthday treats to bring to share, you might want to consider your guests who may have dietary restrictions such as a gluten-free diet. Our gluten-free birthday cake alternatives will allow them to enjoy the occasion just as much as everyone else.
Cookies make a great alternative to birthday cake, and these gluten-free cookies made with dark, milk, and white chocolate are no exception. All your guests will love them - and we bet they won't even know they're gluten-free. And for those with summer birthdays, add a little mint chocolate chip ice cream to the middle of two cookies for an ice cream sandwich!
You can still serve coffee cake even if your audience gives gluten a wide berth. We offer two tasty coffee cakes with no gluten: our Cranberry Almond Coffee Cake and our Apricot Streusel Coffee Cake.
It's hard not to love chocolate, and these thick, chewy brownies are the perfect way to enjoy three different kinds. Semi-sweet, milk and white chocolate chips make these gluten-free delicacies amazingly enjoyable.
So, if you're trying to figure out how to celebrate a birthday without cake, never fear - we've got you covered. These are just some of the vast selection of cake and non-cake desserts alike that we offer online and in our many Racine-area stores. Whichever way you decide to order your birthday treats, whether from our website or in-person from one of our friendly associates, we guarantee that you'll love our pastries and be able to taste the love, tradition, and "hygge" that goes into every one.